5 places in Bangladesh that are attractive to tourists
5 places in Bangladesh that are attractive to tourists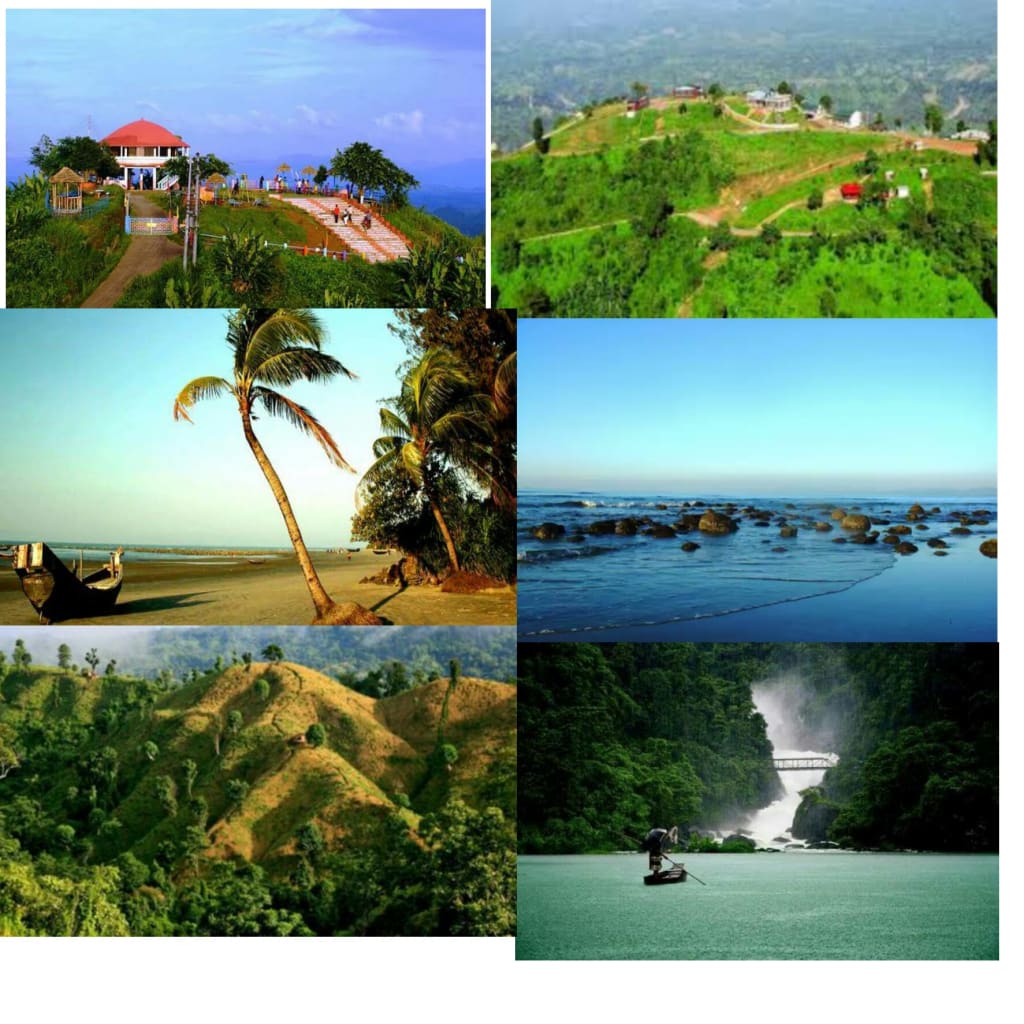 5 places in Bangladesh that are attractive to tourists
There are several places in Bangladesh that are a favorite destination for many tourists.
I am sharing with you some such places. Find out the names of the places that get more space in the list of favorites.
Bandarban:
Bandarban is an interesting place to visit for many people in Bangladesh.
The hill-district of Bandarban tops the list of favorites. Many people have mentioned different places here.
Combined with mountains, rivers, waterfalls and greenery, this is a favorite hill station of many.
Nafakhum Jharna: Many people are trekking here.
The main tourist attraction is the Nafakhum waterfall located here. Located in Thanchi upazila of the district.
It is considered as one of the waterfalls of Bangladesh. There is a Nilachal tourist center.
From there, when you rise about two thousand feet above sea level, you will go to the land of clouds. There is also Bagalek, the gold-temple and also the Keokradong episode which is located in Ruma upazila.
Bandarban Travel Guide.
Bandarban is one of the hill districts of Bangladesh. Bandarban, the daughter of the hills, can be a good destination for those who want to see the winding paths of the hills, the game of clouds and the greenery. When and how to go to Bandarban? What do you see? This article is titled Bandarban Travel Guide to provide all the details.
Appropriate travel time:
When will you go to Bandarban ?? You can go any time of the year. In different seasons, the hill girls look different. One form in monsoon, another form in winter, another form in autumn or autumn is Bandarban.
During the winter, i.e. from November to mid-February, there are a lot of tourists in the tourist spots. If you want to spend time with nature in solitude, it is not possible at this time. Due to the thick fog, even a little distance can not be seen well. So the beauty of distant mountains cannot be enjoyed as well. Due to the lack of rain, the Sangu river is almost dead. Moreover, during this time of tourist peak season, the prices of hotels, food, etc. are quite high.
Even so, owning one is still beyond the reach of the average person.
Other spots in Bandarban look good in winter but the rainy season is the best time to watch the clouds play in the cloud kingdom Nilgiris. At this time the hills are also green. Wherever the eye goes, only the green ceremony and the play of the clouds. However, in the rainy season, landslides occur again in hilly areas. So it is better to take a little research before going on a trip.
How to get to Bandarban:
Directly from Dhaka to Bandarban:
You can go directly to Bandarban by bus from Dhaka, it will take about 6 hours. There are buses to Shyamli, Desh Travels, Saudia, Dolphin, Saint Martin Transport and a few more. Non AC bus fare, 720 to 850 rupees per person. St. Martin's Transport, Hanif, Desh Travels, Shyamli AC bus fare 950/1400/1500 per bus. You can book bus tickets online from home to avoid trouble.
Bandarban via Chittagong:
Those who want to go to Bandarban via Chittagong will get a bus to Bandarban from Chittagong's Baddarhat bus terminal. Non AC bus, fare 120 rupees. If you want to avoid the trouble of local bus, you can also go with CNG.
Again you can go by train from Dhaka to Chittagong and from there you can go to Bandarban by bus.
Hotel:
There are several hotels near the bus stand where the car stops on reaching Bandarban. Hotel Four Star, Hotel Green Hill, Hotel Hill Bird, Hotel East, Hotel Plaza, Hotel Hill View etc.
Room rent varies from Rs.500 to Rs.6000. You will get a chance to make money. If you are good at grooming, you can hardly get a hotel room.
Those who are single person and budget traveler, if you do a little research, you will get a single room for less money.
Besides, there is a motel of Bandarban Tourism Corporation. About 4 km before reaching Bandarban town, near Meghla tourist center.
There are hotels to stay in Nilgiris. But here hotel booking requires reference of Army Person.
If you want to make the trip luxurious, you can stay at the attractive "Sairu Hill Resort".
Food:
You will find food restaurants in the city. The price is also affordable.
If you are a budget traveler, here are some tips for you-
You can decide the food budget yourself. Budget a certain amount for daily meals. Try to choose a food menu within that budget. For example: for 2/3 people, if your food budget is 1000 rupees per day; But try to complete it at 200 rupees for breakfast, 400 rupees for lunch, 400 rupees for dinner. If at any time you can eat less than the budget, you can spend the rest of the money on other meals or somewhere else.
Cox's Bazar:
Cox's Bazar, the largest beach in the world, is on the list of favorites of many.
Not only domestic tourists visit here, but also foreign tourists. 111 km Many people like the beach.
Besides, there are various islands like Maheshkhali, Kutubdia, Sonadia, Shahpari, St. Martin's Island (Coconut Ginger to many locals), Matabari, Forest, Buddhist Temple.
Cox's Bazar Beach (Coxsbazar Sea Beach) is the largest beach in the world and the most popular tourist destination in Bangladesh. The 120 km long uninterrupted sea beach enchants the local and foreign tourists with its surging waves and enchanting sunsets. Let's know all the details of Cox's Bazar travel including Cox's Bazar travel plan, way to go, where to stay, where to eat.
Suitable time to visit Cox's Bazar:
Usually everyone chooses winter to visit Cox's Bazar. But Cox's Bazar is a place where you can visit any time of the year. As nature changes from time to time, that form of nature has an effect on Cox's Bazar as well. So to get a different taste, you can go to Cox's Bazar in the rainy season or to mingle with the blue sky of autumn, or on a full moon night in autumn, the look of Cox's Bazar will surely fascinate you. And yes, if you go other than winter, you will get an advantage. You will find comparatively lower prices for almost everything from hotel rentals.
How to go:
Cox's Bazar can be reached by road, rail and air from Dhaka. Among the buses going from Dhaka to Cox's Bazar are Saudia, S Alam Mercedes Benz, Green Line, Hanif Enterprise, Shyamoli Paribahan, Sohag Paribahan, S. Alam Paribahan, Modern Line etc. Depending on the class, the fare for each seat of the bus is from Rs. 900 to Rs. 2000.
If you want to travel from Dhaka to Cox's Bazar by train, you can travel from Kamalapur or Airport Railway Station by Sonar Bangla, Subarna Express, Turna-Nishitha, Mahanagar Prabhati / Godhuli, Chittagong Mail. Then you will get different types and quality buses like S Alam, Hanif, Unique etc. from the new bridge area of ​​Chittagong or Dampara bus stand. The bus fare is 260 to 550 rupees.
Besides, several airlines including Bangladesh Biman, NovoAir, US Bangla operate direct flights from Dhaka to Cox's Bazar. Besides, you can come to Chittagong by air and go to Cox's Bazar by road as mentioned above.
Where to stay:
The hotels in Cox's Bazar currently have a capacity of about 150,000 people. So even if you don't book in the off-season, you can get a room in the hotel, but it is better to book in advance from December 15 to January 15. Generally, hotels / motels / resorts in Cox's Bazar can be divided into three categories according to the price.
8000 to 10,000 rupees:
Mermaid Beach Resort, Simon Beach Resort, Ocean Paradise, Long Beach, Cox Today, Heritage etc.
3,000 to 6,000 rupees:
Hotel Sea Crown, Sea Palace, Sea Gal, Coral Reef, Nitol Resort, Islandia, Beach View, Uni Resort etc.
800 to 3,000:
Urmi Guest House, Coral Reef, Ikra Beach Resort, Abhisar, Media Inn, Kallol, St. Martin's Resort, Honeymoon Resort, Nilima Resort etc.
However, hotels are available for less than the above mentioned price, in which case you have to find out a little in advance. Off-season hotel rents are usually less than half. If you have time, it is better to go down to Cox's Bazar and find a hotel at a bargain price. If you want to stay in a hotel or resort at a lower price, you can look for hotels in the opposite lane in front of the Long Beach Hotel, a little away from Kalatali Beach. The farther the hotel is from Beach and Main Road, the lower the rent. Rickshaw pullers or CNG pullers should not be consulted when looking for a hotel. If necessary, information can be collected from the hotel's Facebook page or website.
If you want to travel with your family in a little comfort, you can rent a flat. Flats with AC / Non AC 2/3/4 bed rooms and kitchens can be rented at Rs 2,000 to Rs 15,000 per day. You may also have to do a little research to get an address of your choice.
Beach View / Sea View Hotels:
There are currently many hotels and resorts that offer beautiful beaches with rooms. Many people look for a hotel that is very close to the sea. However, the rent of such beach view hotel rooms is relatively high. You can go in the off season if you want to stay at a lower price. Apart from the Beach View Hotel, some other hotels and resorts are Hotel Simon, Hotel Sea Crown, Palace Paradise and Nilima Beach Resort.
What to do
The surging waters of the sea, the rows of Zhaoban or the bed of hot sand will draw you to the attraction of Durnibar. Walking on the beach, sunbathing in the sea and the breathtaking views of the sunset will give you peace of mind at every moment. Be sure to be careful before going out to sea and know the tidal time. If you have time, you can buy souvenirs for loved ones from the Burmese market on the beach.
If you want to enjoy the full view of the sea, you must spend time between sunrise and sunset. You will surely be mesmerized by the different forms of the beach in the soft light of dawn. If you go during the full moon, you can definitely spend the next evening on the beach.
Beach photographers can take refuge in the memory of beautiful moments. You can go for a speedboat ride with the waves of the rough sea for 100 to 250 rupees. In the afternoon you can come out from Inani Beach or Himchhari waterfall to get more energized. You can also visit Maheshkhali, Kutubdia, Ramu Buddhist Temple, Teknaf or St. Martin's depending on your time and convenience.
What to eat
There are all kinds and quality restaurants in Cox's Bazar. Among the medium quality budget restaurants like Rodela, Zhaoban, Dhansinri, Poushi, Niribili etc. are worth mentioning. Depending on the season, like many other things, the price of food here can be low / high. Rice: Rs. 20-40, Mixed Mash: Rs. 85/150/300 (8-10 items), Light Fry: Rs. 100-120 (8-10 pieces per plate), Coral / Vetki: Rs. 150 (per pitch), Beef: 150-200 rupees (2 people can share), rapchanda fry / cooking: 300-400 rupees (big, 2 people can eat), pulses: 30-60 rupees. You can also try Hyderabadi Birani at Handi Restaurant adjacent to Laboni Point for Rs. 200-250. And there is KOFC.
Take the help of tourist police in any problem. ☎ Hotline +0801779690740
Sylhet:
There are several places in Sylhet on the list of favorites. Many people have mentioned Jaflong, Bichanakandi, Ratargul in Sylhet.
There is also an added attraction to the tea garden. The northeastern district has many places to visit.
Very close to it is the Khasia Jaintia Hills of India in the north. There are a total of 72 haor-beels in this district.
How to go:
To go to Jaflong you have to come to Sylhet, the land of tea. There are several ways to reach Sylhet from different parts of the country. You can come to Sylhet by bus, train or any other way. Let's find out the details.
From Dhaka to Sylhet:
You can reach Sylhet by any bus from Dhaka to Sylhet. Buses leave Sylhet from Dhaka's Fakirapul, Gabtali, Sayedabad, Mohakhali and Abdullapur bus terminals. AC buses of Green Line, Saudia, S Alam, Shyamli and ENA Paribahan use fares, usually between Rs 800 and Rs 1,200. In addition, non-AC buses of Shyamoli, Hanif, Unique, ENA Paribahan from Dhaka to Sylhet will cost Tk 400 to 500 per person. The bus leaves in the morning, noon or night. The distance from Dhaka to Sylhet is 240 kilometers, it usually takes about 6 hours to reach Sylhet.
You can choose the Upban, Jayantika, Parabat or Kalni Express train from Kamalapur or Airport Railway Station to Sylhet by train from Dhaka as your travel companion. Depending on the class, the fare to go by train is 260 to 1200 rupees per person. It takes 6-7 hours to go to Sylhet by train.
You can choose the sky road to go from Dhaka in the fastest time and in comfort. Biman Bangladesh, Regent Air, United Air, Novo Air and US Bangla Air depart from Shahjalal International Airport for Sylhet every day. Depending on the class, the rent is usually between Rs 3,000-10,000.
From Chittagong to Sylhet:
From Chittagong, Green Line, ENA, Saudia and many more buses go to Sylhet. The fare of AC and non-AC buses is 800-2000 rupees. You can also go to Sylhet by train from Chittagong, two trains called Paharika and Udayan Express run 6 days a week. Train fare is 250 to 1100 rupees depending on the class.
Jaflong from Sylhet:
Jaflong can be reached by almost all types of vehicles from Sylhet. To go by local bus you have to go to Shibganj in the city from there the fare is 70 rupees per person. You can go to Jaflong by CNG or autorickshaw for 1200 to 2000 rupees. If you reserve a microbus for coming and going, the fare for the whole day will be 3000 to 5000 rupees. Jaflong can be reached from any autorickshaw or CNG stand in Sylhet city. If you go in a group way, it is better to reserve a microbus, then you can go down to other places in the vicinity. Talk to you soon and keep up the good content.
Where to stay:
There is no better way to stay in Jaflong without guest house and rest house, district council bungalow. If you want to stay, you have to book in advance. So usually tourists return to Sylhet. There are many quality rest houses in Lala Bazar area and Dargah Road at low rent Where you will get different types of rooms for 400 to 2500 rupees. You can also stay at Hotel Hill Town, Gulshan, Dargah Gate, Surma, Kaikobad etc. according to your need and ability.
Guest House and Rest House Information:
1.Zila Parishad Rest House, Upazila Headquarters. Contact: UNO 01730 331036. Caretaker: 01736971.
2. Naljuri Rest House - Naljuri, Jaflong. Contact: Chief Executive Officer, District Council, Sylhet - 01711-96019, Caretaker: 01752-227375
3. Green Park Rest House, Naljuri, Jaflong. Contact: Divisional Forest Officer, Sylhet - 01711-180564, Caretaker: 017-65617
4. RH Bungalow, Jaflong - Communication - Executive Engineer, Roads and Highways Department, Sylhet - 01730 6262.
What to eat:
Pansi, Panch Bhai or Palaki restaurants in the Zindabazar area of ​​Sylhet can eat local food of your choice at affordable prices.
Places of interest near Jaflong
Lalakhalatamabil Jaintapur Sangram Punji Jharna
Jaflong Travel Tips:
If you want to buy or eat something in groups, bargain.
If you want to buy or eat something, bargain.
Near the Indian border, so be careful about the border.
Bargain when fixing the car.
Saint Martin:
St.Martin is the place of choice for those who just want to spend their time in the blue water of the sea.
The island is located in the middle of the Bay of Bengal in the far south of Teknaf upazila of Cox's Bazar district.
It is the only coral island in Bangladesh. Locally known as Coconut Ginger, the place was once known to many as Cinnamon Island.
With water all around and this small island of eight square kilometers in the middle, you can walk around in one day.
Travel costs to St.Martin
How much each trip costs will be entirely up to you. The cost also depends on how you go, where you stay, what you eat and what you do. Other expenses, including food during the peak season (December-January) or holidays, will be a little higher. The cost list is given to give an idea of ​​how much it will cost to travel from Dhaka to St. Martin, including 1 night stay and meals in a low cost and moderately quality hotel.
From which you can get an idea of ​​the cost at least a little bit.
Travel costs:
Bus ticket - Rs. 1,800 (non AC), Rs. 3,100-3,400 (AC) including round trip.
Ship / Ship Rent - Rs. 600-700 (open deck) including going and coming, Rs. 1000-1600 (AC).
Chhera Island - 200 rupees to go by trawler.
Local Travel - Van fare to or from St. Martin's Market is 150-200 rupees.
Other expenses - Rs.
The cost of food:
Day of departure - 100-200 rupees for dinner at journey break.
Day 1 - Breakfast 80-100 rupees, lunch 120-220 rupees and dinner / bar BQ 200-300 rupees.
Day 2 - Breakfast 80-100 rupees, lunch 120-220 rupees.
Day of return - 100-200 rupees for dinner at the break.
If you want, you can eat at a lower cost. Going to the hotels inside the market and eating simple food will reduce the cost a lot.
The cost of accommodation
Standard hotel / resort couple room or double bed 1500-2500 rupees. Towards the market, the average quality hotel is 800-1200 rupees. The rent will go up a bit more during the peak season and public holidays. Having a few people in one room will reduce the cost by sharing. The cost will be less if you go without peak season and holidays. In addition, if you want to stay at a lower cost, you can stay at home with the local people for a small amount of money, so you have to find and talk a little.
Travel tips and precautions:
Saint Martin is an asset of our country, so don't do anything that harms nature.
Due to the Rohingya problem, the mobile frequency in St. Martin is low.Talking can be a problem.
However, Teletalk works relatively well.
Currently, the BGB regularly patrols St. Martin's. They often forbid tourists to stay in the beach or jetty area after 12 o'clock at night. They will throw garbage in the right place.
Please do not leave plastic / polythene on some beaches.
You can go to other places on holidays without having to go to St. Martin's to stay and eat at low cost.
Bargain for shopping.
If there are more people, you can cut the ship ticket beforehand.
Do not fall into the clutches of brokers. Do everything yourself.
If you want, you can buy St. Martin's packages from various agents in Cox's Bazar.
When you go to St. Martin, you will see the most beautiful view from the deck of the ship.
Be careful while going to sea.
Khagrachari:
Khagrachhari is another hill district of Bangladesh. This place is on the list of tourist favorites.
Many people visit here to see rivers, hills, rubber plantations, Alutila tunnels, Richang springs.
Besides Ramsagar of Dinajpur, Lal Shuffler Bill of Barisal, Comilla Kotbari, Mahasthangarh, Bogra, Rangamati. Some have mentioned the Sundarbans.
Travel Guide.
The distance from Dhaka to Khagrachhari is 26 km and from Chittagong 112 km. Khagrachhari district is under Chittagong division.
Area 2699.55 sq km. Its local name is Chengmi. Nature has unhesitatingly decorated Khagrachari. Distinguished by various unique features. There is a wide range of plains and tribal culture in the Mitali, Chengi and Maini valleys of Akash-Pahar. Mahalchhari, Dighinala, Panchhari, Ramgarh, Laxmichari, Manikchhari, Matiranga, wherever the eye goes, it is just green and green.
Places of interest:
1) Alutilah
Alutila is the gateway to the city of Khagrachhari, the glorious pride of beauty. Alutila is only 8 km west of the district headquarters. When you stand at the head of this hill, the whole city falls into your hands. The small buildings of the city, the tree-lined hills, the flow of the Chengi River and the alpana of the sky fill the mind with unearthly fascination. There is also an observation tower on the hill to observe the natural environment. There is also a nice post bungalow of the Roads and Highways Department. Interested tourists can also spend the night if they wish.
2) Alutila tunnel or mysterious cave
From the top of the hill go down 27 stairs to the cave mouth. The length of the Alutila tunnel is about 262 feet.
3) The pond of the gods
Nunchhari is a small river formed from the Alutila mountain range of Nunchhari mouza in the Myschhari area of ​​the Myschhari area, located just 05 km south of the district headquarters on the Khagrachhari-Mahalchhari road. Get off the bus on the main road and walk a couple of kilometers. If you have your own transport, you can take it straight to the river at your feet.
4) Bhagwan Tila:
Bhagwan Tila is located on the border of India, just north of Matiranga upazila of the district. Its angular distance from the district headquarters is approximately 75 km to the north-west. The locals believe that this hill is located at an altitude of about 1800 feet above the sea level. The ancient people therefore named this hill Lord Tila.
5) Two hills and three hills
Just 42 km away from the district headquarters, Khagrachhari-Dighinala-Marishya road, standing on this hill, one can enjoy a wonderful sample of the geographically rounded world. You can easily get here by taking a bus from Khagrachhari to Dighinala and from Dighinala to Mauritius.
6) Alutila Jharna (Rishang Jharna):
After passing Alutila from the district headquarters and going north from the main road a little west, you will hear the sound of the fountain. The total distance from the district town to the waterfall is about 11 km. In addition, you can easily go to the foot of the fountain with your own vehicle. Walking a little further enhances the attraction of the path ride.
6) Taiduchhara Jharna :.
Dighinala is 20 km from the district town. Taidu is five-six kilometers away from Upazila Sadar via Jamtali Pomangpara. It is also possible to go through Seemanapara through 9 miles of Dighinala road. You can take a car to Pomangpara in Dighinala. Then you have to walk a long way.
6) Hill Agriculture Research Center
Agricultural Research Center just three km east of Khagrachhari town.
7) Mahalchhari lake
As a result of Kaptai dam, the water of Kaptai lake has accumulated and it has reached Mahalchhari through Naniyarchar. This information is not known to many tourists. During the rainy season, huge amounts of water freeze and turn into a fringeland.
8) Centenary annual banyan tree
In the area near Khedachhara in Matiranga Upazila, this ancient banyan tree is not only a witness of history, it is also an element of spectacular wonder. Attempts to determine the age of this tree are in vain. On more than five acres of land, this tree is very attractive to thousands of tourists.
Apart from these places, Rajbari of Manikchhari, Baradam Dighi of Dighinala, Tea Garden of Ramgarh, Maternity Hospital of the then EPR, Shantipur Aranyakutir of Panchhari etc. are excellent places of interest.
How to go:
If you want to come from Dhaka, you have to take Shanti Paribahan, Saudia, S Alam, Shyamoli or Star Line Paribahan from Kalabagan, Kamalapur, Fakirapul and Sayedabad terminals to Khagrachhari. Rent 650 rupees. Buses to Khagrachhari are also easily available from Chittagong. You will get local bus from the city to go to Alutila. Dighinala local bus from Khagrachhari. If you want you can also rent a jeep.
Where will you stay?
1 tourist motel
Economy room - 300 rupees
Non-AC double - 1200 rupees
AC double - 2000 rupees
AC Suite - 3000
Phone- 60-0371-62064, 60-0371-62085
2 Hotel Shail Subarna
Single - 300 rupees
Non-AC VIP Single - Rs
Non-AC VIP Double / AC Single - 600 AC VIP Double - Rs
3 Hotel Jiran
General room - 150/300 rupees
AC VIP room - 600 rupees
Phone- 0361-61071
There are also some hotel boarding to stay cheaper.
Dining place:
There is a restaurant called Khangmoy. It is located at Pankhai Para. There are also system restaurants. There is another cafe, cCalled New Zealand Cafe.
aireh
<