5 Activities for Connecting with Nature in Lagos, Portugal
Whether you're looking to relax, recharge, or get the adrenaline pumping, Lagos offers a bounty of activities.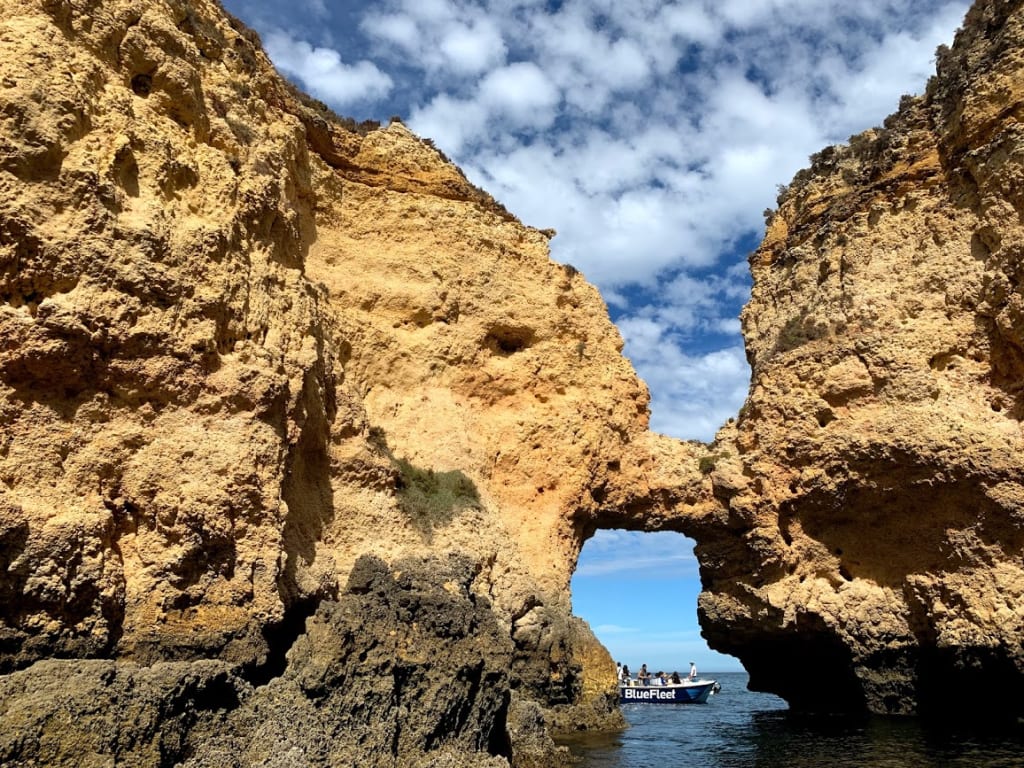 Portugal offers vibrant architecture, can't-miss views and countless opportunities to spend time outdoors enjoying unbeatable weather year-round. As a narrow and long country, travelers and residents in Portugal are never more than a few hours' drive from the beach.
But not all beaches are the same. The Algarve, home to the city of Lagos and the southernmost region of the country, lays claim to most of the beaches that come to mind when travelers daydream of Portugal. In Lagos, the staggering cliffs and the ocean ecosystem reach as far as the eye can see, and there's an adventure to be found at every turn. Nature-lovers and adrenaline junkies alike meet their match in this unmatched beauty. There's no shame in lounging the days away on the spotless beaches or soaking in the Atlantic all day, but if you're in Lagos to really explore, squeeze these adventures into your itinerary.
1. Kayak along the coast
If you're looking to get your heart rate up while you soak up your vitamin D (and vitamin sea), kayaking on a tour or using a rental company is a great option. Tours are a great bet if you'd like to absorb some local knowledge while you're at it, and venturing out with a guide can often earn you safe access to lesser-known spots. In Portugal, the caves are the hot attraction, and no one knows the ins and outs of them like local adventure guides. Seasoned experts or those who are already familiar with the area may opt for a bit more freedom with an independent rental.
2. Stand up paddleboard
Another opportunity to choose between an independent rental and a tour, stand up paddleboarding (or SUP) offers a chance to gaze into the glittering Atlantic as you paddle above the water. Getting started in the ocean can be a challenge, but the views and flexibility that SUP provides is worth it. Unlike a kayak, a paddleboard offers variety in the ways users can navigate - you can't stand up in a kayak, but on a SUP you can get by standing, sitting, or kneeling with reasonable ease and safety (though the most efficient method is from a standing position). As long as you're comfortable in your surroundings, you can even take a little lying-down floating break! If you'd like to share your vessel with a partner, though, a double kayak is the way to go. Doubling up on a paddleboard is a recipe for lots of accidental dips in the water (but maybe that doesn't sound so bad!)
3. Explore the caves by boat
Some of us connect on a deeper level when we're not balancing sightseeing with navigating our own water vessel. Opt for a boat tour if your priorities lie with relaxation, photographing your surroundings, and learning about the local flora and fauna. Booking a tour with BlueFleet or another boat tour specialist means signing up for a few hours of soothing waves, sunshine, and pleasant chatter with the guides. There are plenty of spots in the caves where kayaks and SUPs won't go, but boats get access. Specialists plan these tours to provide a perfect mix of stunning cave passages and sweeping views of the coastline. Have your camera ready!
4. Take a Hike
Seasick, chilly, or just need a break from the water? Hiking makes a great option for days that are overcast or when your sea legs beg for a rest. What's more, getting off the water means taking in a whole new perspective of some of the same breathtaking views. Many of the best hikes in Lagos feature cliffs, rock formations, and beaches along the way. Take a picnic and your swimsuit along and reward yourself with some beach lounging as you go! Pack plenty of water and layers since these views come with a large side of wind!
5. Go on a dolphin watching tour
Who doesn't have a fantasy of chugging along in a boat with dolphins leaping nearby? There are few more magnificent creatures to witness in the wild, and the Algarve is full of them at various points in the year. When you book, opt for a scientist-run company like Wildwatch Algarve. Marine biologists lead the tours and can provide knowledge of species, trends, and migration patterns that would otherwise remain a mystery. You can also rest easy knowing any fees you pay for these tours will help contribute to research and conservation of the very creatures you're out to see.
Of course, as with any excursion involving wild animals, no one can guarantee that dolphins really will grace you with their presence, but if anyone knows where to look, it's teams of marine biologists dedicated to keeping track of them. These tours are less likely to feature as many photo ops of the famed cliff views of the region, and heading straight out into the ocean isn't relaxing in the way that a beach day is, but throw on a windbreaker and stock up on the dramamine - it's worth it.
If you choose a water-based activity, remember to check in with local experts whether you opt for a tour or not. Gather information about tricky areas to navigate among the caves, and pick up a personal flotation device with your rental. As gorgeous as they are, cliffs and waves do call for vigilance!
Nothing provides perspective and peace the way that nature can. No matter which activities you choose, be sure to take your time and soak it all in; how small we are as we stand at the cliffs' feet, how vast the world as we stare across the beach, how baseless our problems as we watch dolphins dance.
Reader insights
Be the first to share your insights about this piece.
Add your insights