4 Reasons Sevilla Should Be on Your 2021 Travel Wishlist
Check out these must-see spots in the beautiful, land-locked city of Seville, Spain. As soon as it's safe to travel again, you're going to want to see this for yourself...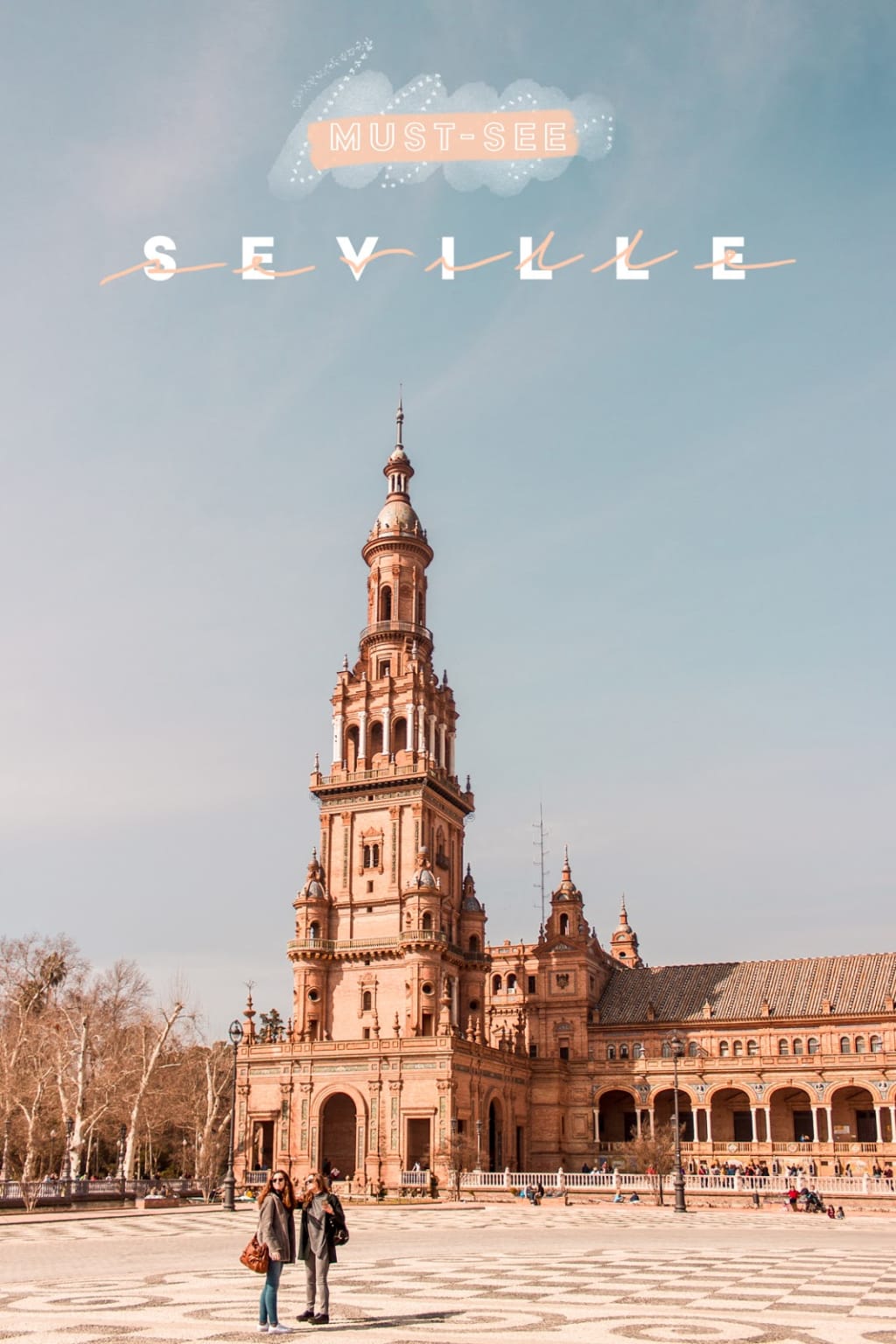 Plaza De España
This post originally appeared on the blog Technicolour Dreamer in 2018. Although we can't do much travelling in 2020, I thought it would be nice to share my tips for the beautiful city of Seville regardless. Add this amazing place on your list of places to travel to when it's safe!
Seville was never on my list of places to visit, but after serendipitously ending up here, I've come to realise it should have been. Other Spanish cities like Madrid and Barcelona hog the spotlight, but Seville is the country's hidden gem.
In this article, I'm highlighting the spots that make Seville so special. Let's jump into it...
1. Plaza De España
What? Traditional Seville architecture and hand-painted tiles.
Where? Distrito Sur / South District
Originally built for the Ibero-American Exposition in 1929, today the Plaza de España is a tourist hotspot, and for good reason. It feels like a Disney Princess castle, with its towers and handpainted tiles that line the fountains, bridges, and street lamps. The effect is whimsical. You'll want to pack your camera for this one.
Brush up on your geography by perusing the 48 painted alcoves. Each one represents a different Spanish province, apart from Seville, that is, because its shoutout is the plaza itself.
If you're looking for an activity to do, you've a few options. For one, you could rent a cute rowboat and drift along the moat. If that's not your thing, head over to the María Luisa park to rent a bike—regular or tandem!—and cycle around the plaza.
2. Seville Cathedral & Giralda Tower
What? The world's largest gothic cathedral complete with an eye-watering golden alter-piece.
Where? Casco Antiguo / The Old Quarter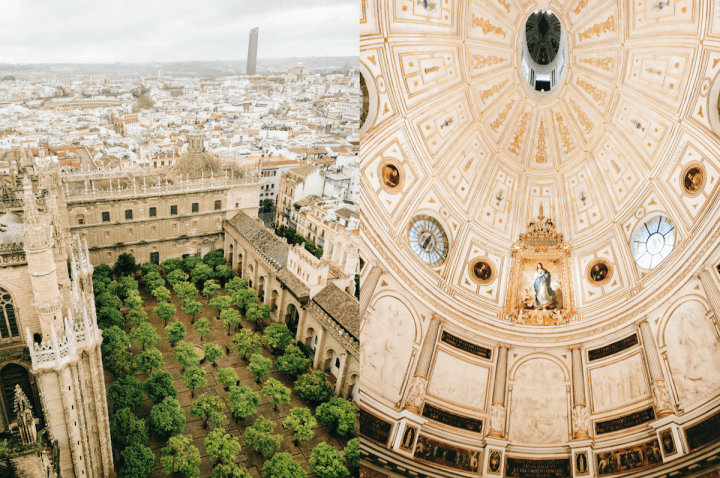 I'm not the biggest history swot by any stretch, but there's no denying the story behind this cathedral is fascinating. It began as a mosque, before Christians took over and transformed it into a cathedral. Today there are elements of both religions in its design and appearance. Be sure to take a guided tour, or pick up an audio tour, if you want to learn about the cathedral's history.
But the reason Seville's cathedral is a must-see is simply because of its scale, and for that reason you probably won't miss it! It's one of the biggest cathedrals in Europe, and the largest gothic cathedral in the world. Inside, you'll find the Retabol Mayor, the main alter. It's an overwhelming, massive golden structure showcasing scenes from the life of Jesus, and according to andalucia.com it is the largest in the world. The Spainards certainly don't do Christianity by halves.
If you want to save your euros for your cervezas (beers) you might want to make like a local and attend Sunday mass at the cathedral. That way, you can see inside for free, if you don't mind sitting through mass in Spanish, of course!
It is worth buying a ticket, though, as it will allow you ample time to explore every nook, take in the artwork, and grant entry to the Giralda Tower. The tower is another must! You'll climb to the top over 34 successive slopes—not stairs—and be rewarded with an incredible view of Seville from above.
3. The Metropol Parasol
What? Wooden mushroom-like structure with a view that'll get you high.
Where? Casco Antiguo / The Old Quarter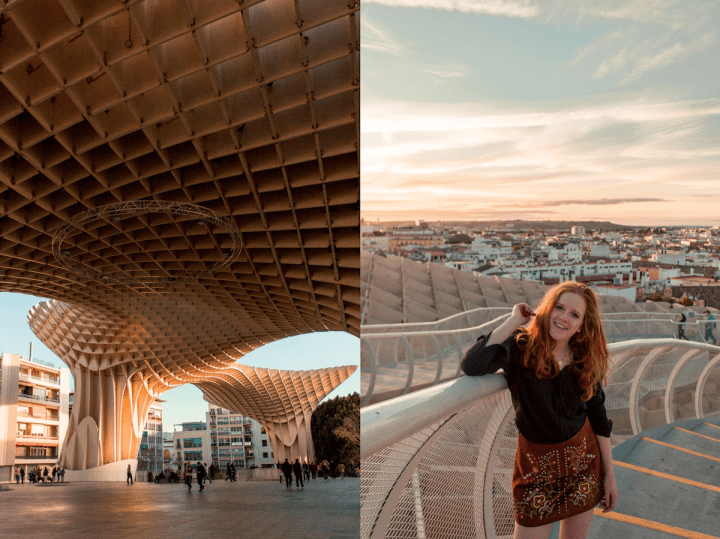 Speaking of views, you'll find my favourite atop the Metropol Parasol. Nicknamed Las Setas (The Mushrooms), they've been reluctantly embraced by Sevillanos. The structure, which was completed in 2011, is far from traditional Spanish architecture and even looks a little out of place, but that's part of its charm.
Besides, it's not impressive because of how it looks from the ground, but rather how it looks from atop. For just €3 you can take the lift to the observation deck where you'll discover a 360° view of Seville. Visit at sunset, use your ticket to grab your discounted tinto de verano (red wine and lemonade), and watch as the city drifts into dusk.
4. The Alcázar
What? A Moorish palace turned Christian palace turned tourist hotspot.
Where? Casco Antiguo / The Old Quarter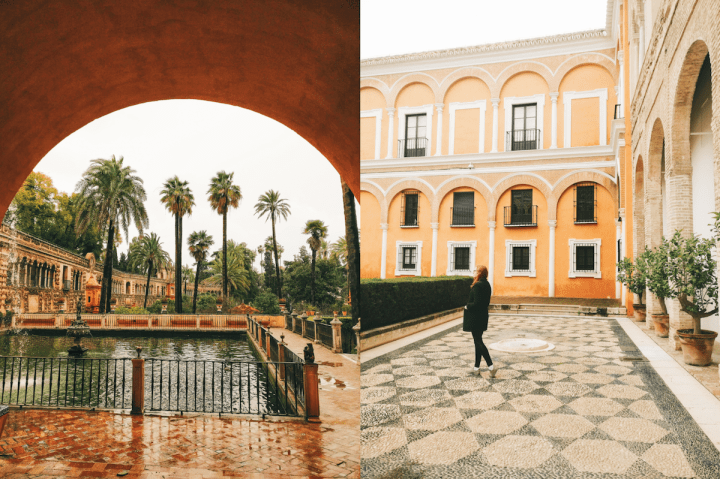 Once a Moorish palace, it ended up becoming a Christian king's dwelling, and today its doors are open to regular Joes like you and I. Wandering around the intricate rooms you can't help but imagine you're living some luxurious life in the past. That, or you'll picture yourself in Games of Thrones, since this was the filming location for the Dorne scenes.
If you're doing Seville on the cheap, take note: you can visit for free on Mondays at 4pm. But make sure to book in advance on the Alcázar website, because there's rarely free tickets left at the door.
_____
There you go, the spots in Seville you shouldn't miss. I'll admit, these are all touristy, but must-see places usually are.
Unfortunately, as I repost this in 2020, it's not advisable or even safe to take a city break. But I've no doubt that in the near future travel will be a possibility again and you too will be able to discover the gorgeous city of Seville.
Until then, I'll be staying put in Berlin, follow along on Instagram, @byclairep. ¡Hasta luego!