3 Ways to "Read Art" at a Museum
P.S. Museums Don't Have to be Boring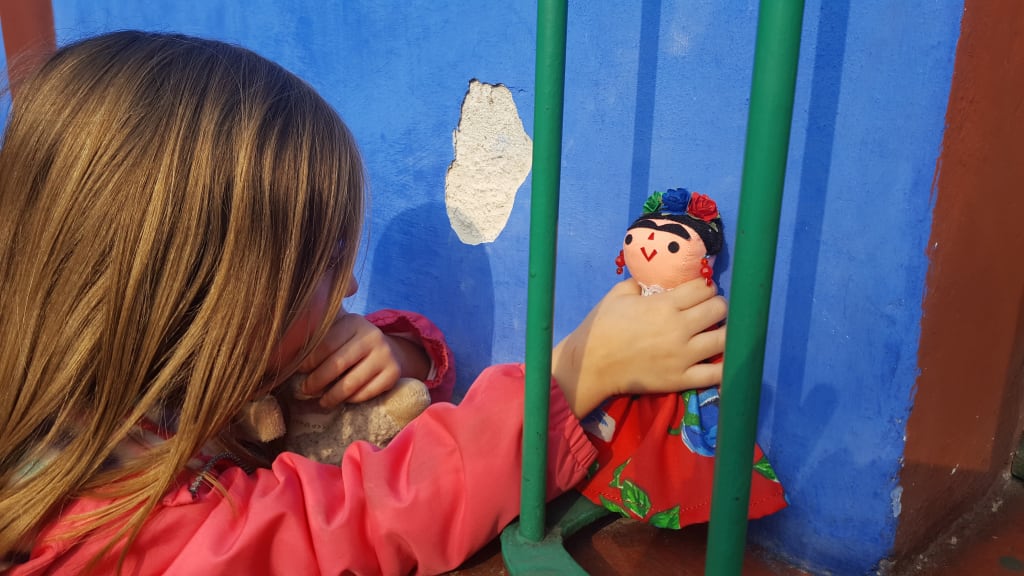 My 3 year old playing with "Princess Frida" at the Casa Azul in Mexico City.
My children are spoiled. In many ways, but in this article I'm referring to their exposure to arts and culture, and particularly to museums. They won't realize how spoiled they are until they grow up and realize that not everyone else's mom worked in museums let alone at a leadership level in museums and could provide unlimited access to the extraordinary.
My son often talks about the holiday party where he got to bang the big drum to get everyone's attention after dinner, as a very proud moment for him. He might have understood that it was a big, old drum, but I don't think he fully understood that it was a very special drum from an early Daoist Temple in China, with painted symbols of the eight immortals to signify happiness, and the privilege the he was provided by the museum President to touch and use the gong stick and let the drum ring through the halls of the museum, was an incredibly rare gift.
Or consider my daughter, who when she was very young referred to Frida Khalo as "Princess Frida" in the same category as Princess Ariel or Cinderella, or Belle and can brag that one time we got to see princess Frida's blue castle in Mexico City.
These exposures, among many, made visiting museums a sort-of every day thing for my kids. However, this isn't the case for most of us.
For many of us getting kids or even adults to enjoy a visit to the museum can be an uphill battle.
You might already know this, but the basic definition of a museum is a space that tells stories about people, places and things. Some museums tell stories through images or sculptures. Some tell stories using artifacts or fossils. It's all about stories, so if you're a Vocal reader, you should be loving on your local museum. Think of all the story prompts you can find!!!
In this article, I am sharing 3 simple ways to make your (and your kids') time at an art or cultural museum pleasant and maybe even educational at the same time.
The Rule of 3rds
This is super fun, especially at art museums with wall after wall of art. If you don't have a special affinity for the art, or maybe you've seen it all before or maybe you're at the museum with someone who takes way too long reading every. single. label.
Try applying the Rule of 3rds to all of the paintings. Here's how:
P.S. (This doesn't always work with contemporary art, but it's still worth trying. It might help guide your personal interpretation.)
The Rule of 3rds is a basic compositional structure that most artists and photographers use to decide where to place things in their images. It helps to make sure the viewers eye looks at what they want us to see.
You can apply this by drawing a large hashtag "#" dividing the image into 3rds vertically and then again into 3rds horizontally, creating a sort-of three by three by three pattern of rectangles.
When you do this, (with your IMAGINATION, not markers or pens! duh), you should be able to see that the most important things in the painting or photograph line up either with the vertical or horizontal lines or at the intersections of the vertical and horizontal lines. For example, if it's a painting with a ship in it, you'll probably notice that the biggest ship or the ship that is most important to the story of the painting has been painted or drawn at one of the intersections.
I did this with a group of online students I had recently. We were looking at the online collection of Impressionistic paintings at the Art Institute in Chicago. I was able to use my digital tools to draw 2 vertical lines crossed by 2 horizontal lines, at the top of the page and then scroll through the paintings on the page. It worked on every single painting in the collection. They were excited to go to the museum and see what artists followed the rule and which didn't.
The fun thing about this activity once you've done it a lot, is that you'll start to notice this pattern everywhere. Especially cinematographers in films. Every scene is composed using a version of the rule of 3rds.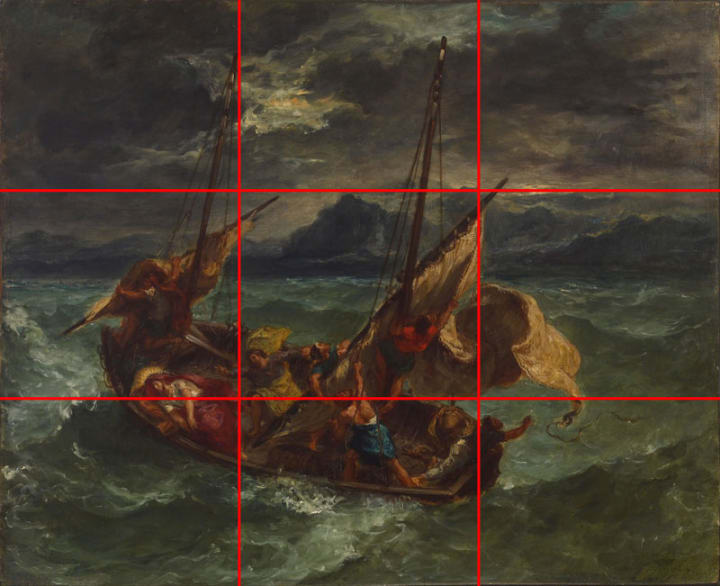 2. Reading Art
So, now that you know how to tell who the main characters in a painting might be or what the most important piece of a scene might be, you can start to create a story. This is especially fun to do with more than just yourself. I like doing it in my own head, but often get weird looks when other visitors catch me snickering to myself.
The image I like to use with my students is "The Harvesters" by Pieter Bruegel the Elder, 1565. You can find a great page for exploration about this particular painting on the #Metkids page found HERE.
Making up a story for a painting is as easy as making up any story. But with a painting, you already have some major hints. You just have to fill in the blanks with the who, what, why, when and where answers. Some stories can get really silly depending on who you're with.
I've even had fun acting out stories with my kids, but you have to keep them from getting out of control. No one wants to accidentally knock over the Ming Dynasty vase while re-enacting a modern rendition of the Last Supper.
3. Finding Yourself in the Art
Okay, so this one might be a bit of a stretch, but for those of you prone to introspection or maybe you can't handle small talk and would rather enjoy diving into deeper conversations with a first date at the museum, this might be for you.
I did this years ago with a group of museum educators. I didn't come up with it, but it really stuck with me. I've pulled it out more than once to get myself out of the throws of disinterest when faced with less than impressive art. It's inspired more respect for the art and I always learn something new about me or those I'm with.
First of all, choose one gallery. Each person in the group or couple finds a separate work of art, in that gallery, that has more than just one thing to look at. Something with a layered story attached. Spend a set amount of time, something like a full 60 or 90 seconds, answering to yourself, one the following three questions: (We chose the prompts as folded strips of paper from a top hat, but you don't have to be as fancy as that.)
What, in this painting, reminds you of something from your childhood? Describe that memory.
What, in this painting, makes you think of someone you know? Describe what and how.
What in this painting, makes you think of someone you love? Describe what and how.
Of course you can come up with a myriad of questions like this. But it can be a great conversation starter if your partner is open to it. The key to this exercise, is that when you come back together after your set time, you each go to your painting and spend a full 60 seconds sharing your answer with the other(s) in your group. During this 60 seconds the person(s) listening can't interrupt or react. They just have to listen. After the 60 seconds are up, you can chat it up. Then you switch, and the other becomes the docent. (FYI: a Docent is a term often used for a tour guide, or a museum educator, or an informal educator in a museum space.)
I also find myself doing this on my own, but cut out the whole sharing part, unless there's a poor soul nearby who makes the mistake of asking me what I think of the painting.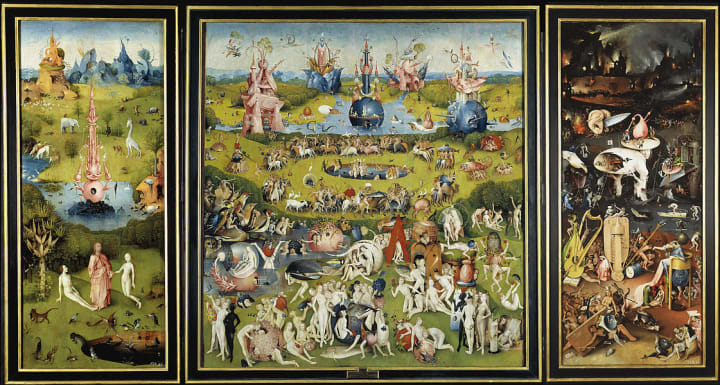 So to summarize, you get out of a museum visit what you put into it. There's a wealth of conversation starters in every museum and tons of interesting questions to ask and ideas to explore. The best thing, is that no one has to be an expert in art or actually know anything about art to have fun at a museum. In fact, you might end up having more fun trying to deduce the meaning behind a painting by using these tools before reading the label or asking a docent, just to see how close you got to the artist's intent. And it doesn't matter if you're a million miles off. It's art. It's meant to be enjoyed and reflect the human condition. Loosen up, have some fun, and read some art at a local museum today!
Thank you for reading my article! I appreciate you taking the time to share in my literary journey, and listen to my geeky side. If you enjoyed this article, you can let me know by adding a "heart," or sharing your thoughts in the comments.
If you want to support my writing, check out my author profile for more articles, poetry, and short stories. Tips are never an obligation, however, they are always deeply appreciated!
Thank you again for your support.
guide
family travel
art
activities
About the author
My training is in vocal performance and I love the fact that I'm sharing my writing practice on a platform called "vocal." It's just too perfect. I hope you enjoy! Comment prompt: What soundtrack do you hear in the background of my words?
Reader insights
Nice work
Very well written. Keep up the good work!
Top insights
Expert insights and opinions

Arguments were carefully researched and presented

Eye opening

Niche topic & fresh perspectives
Add your insights