10 Urban Garden/Farm Community Projects in Paris
Paris is leading the way in urban agriculture.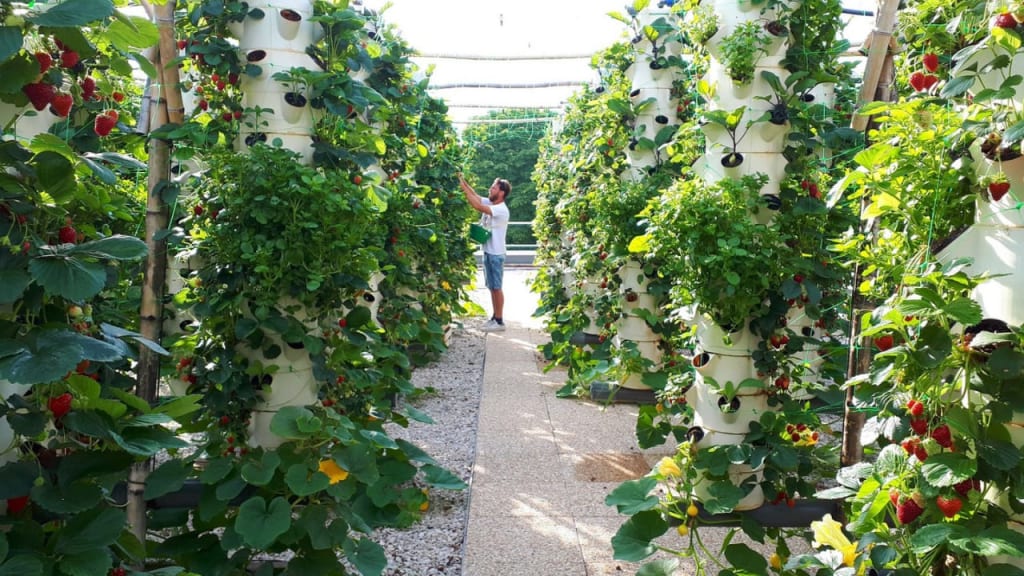 Did you know that in the 17th century, Paris was almost entirely agriculturally self-sufficient? Now, in a world in which everything seems to be imported from across the globe, locally grown produce is considered a luxury.
However, with the world becoming ever more environmentally conscious, a number of organisations are looking to return Paris to its heyday of local agriculture, along with the help and support of 'La Charte Main Verte' (the green hand) initiative, which was designed to encourage the development of community gardens.
I've found ten of these communities, organisations and initiatives for you to get involved with. Most provide tours or tutorials in everything from beekeeping to tending to your own urban garden, no matter how pokey your Parisian studio may be.
1. Galeries Lafayette Rooftop Farm, 9e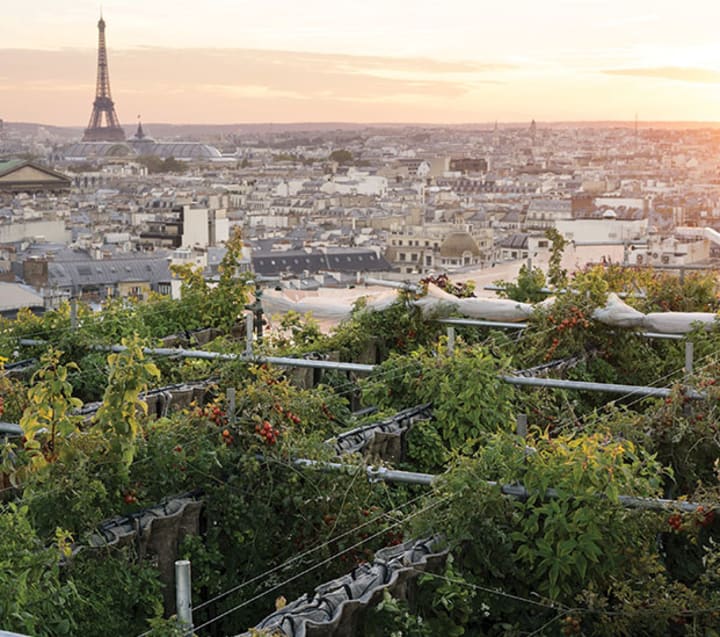 Escape the busy streets below to this haven, nestled on the rooftop of the world-famous department store.
Tours or brunch dates at this wonderful space are available, to be booked in advance. During your visit, you will be given a tour by the expert in-house gardener, you will sample some of the organically grown produce.
To book a tour of this rooftop haven, visit here.
2. Beekeeping Lessons in Jardin du Luxembourg, 6e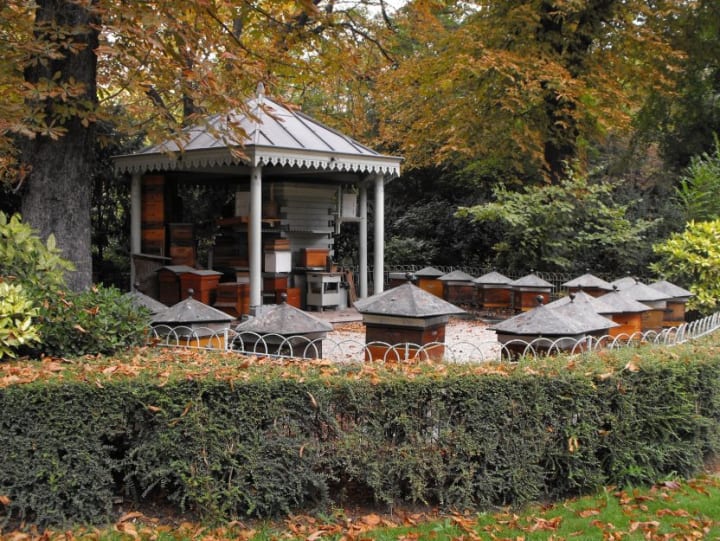 Who'd have thought that you could take certified beekeeping lessons in the heart of the Jardin du Luxembourg! The school was founded in 1856 by Henry Hamet with the aim to "improve and extend the bee culture", and the school continues to this day, run by the Central Beekeeping Society.
Signing up for a beekeeping course can only take place at the annual Fête du miel (festival of honey), which takes place on site, in the Jardin du Luxembourg, in September each year. The next course is scheduled for September 2019.
For more information, click here. Information on registering for the next course can be found here.
3. Carrot City Initiatives, Various Locations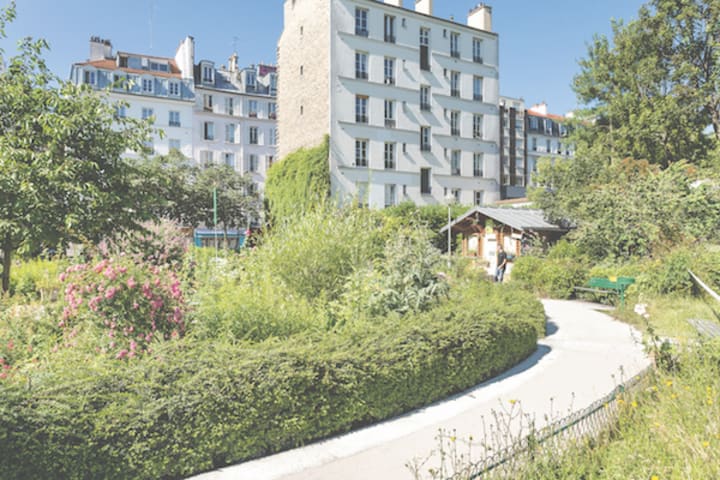 I could (and probably will) dedicate an entire post to this amazing organisation. I didn't realise until visiting their website just how worldwide they are. Carrot City explores urban agriculture through innovative designs to convert even the tiniest, most derelict locations into beautiful gardens and farms. In Paris alone they have created a number of community spaces, teaming up with schools (starting from kindergarten), nursing homes, local residents and even hospitals to tend the gardens and educate the public in how to live more organically and self-sufficiently in such a busy city.
Their community gardens include Le Poireau Agile, in Jardin Public Villemin (10e), Le Potager des Oiseaux (3e) and Jardins des Perichaux (15e), which features atop a disused basketball court. 56 Rue Sainte-Blaise (20e) squeezes a beautiful allotment into an unused passage, with an edible garden, a composting lab and a pavilion.
More information on 'Project 56' can also be found here, or here.
More information on Le Poireau Agile can be found here.
More information on Le Potager des Oiseaux can be found here.
More information on Jardins des Perichaux can be found here.
4. Ecobox, 18e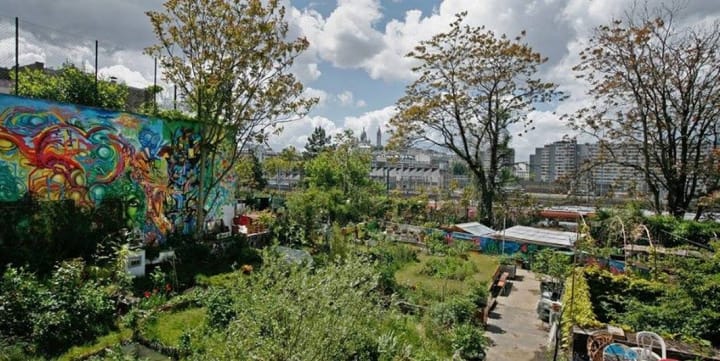 Another project of Carrot City, Ecobox is a collection of self-managed projects tucked away in Paris' La Chapelle neighbourhood, transforming otherwise derelict and unloved spaces. Recycling shipping pallets into allotments, it's a wonderful example of how we can make something beautiful and environmentally friendly for very little cost or effort.
Open on weekends and during special events, they host concerts, dances, film screenings, workshops and shared meals. They have also teamed up with several local schools, artists and cultural centres to maintain the garden.
For more information regarding upcoming events, and how to get involved, Ecobox can be found on Facebook or here.
5. La REcyclerie, 18e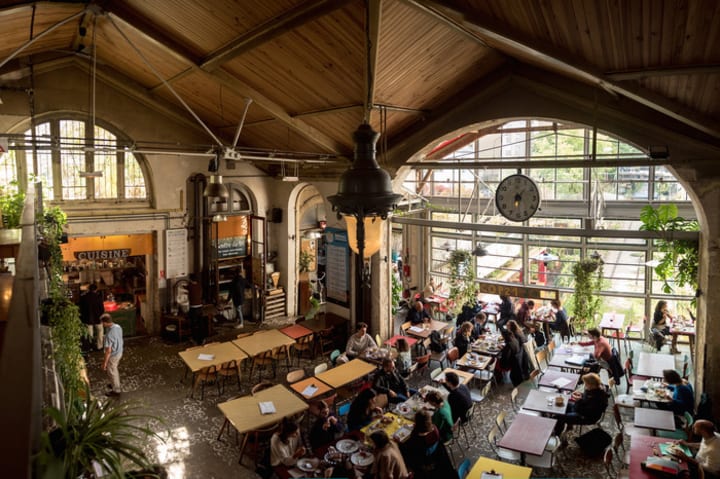 Found within a disused railway station, this space has been transformed into a thriving hub of urban farming and agriculture, including a restaurant.
The urban farm includes a collective garden, an agricultural educational centre, an edible forest, two composting systems, an indoor vegetable garden, a rooftop meadow, 4 beehives, and a hen house.
The site even includes an atelier, where you can participate in repairing or recycling items into something beautiful!
More information can be found on their website.
6. D'AgroParisTech, 5e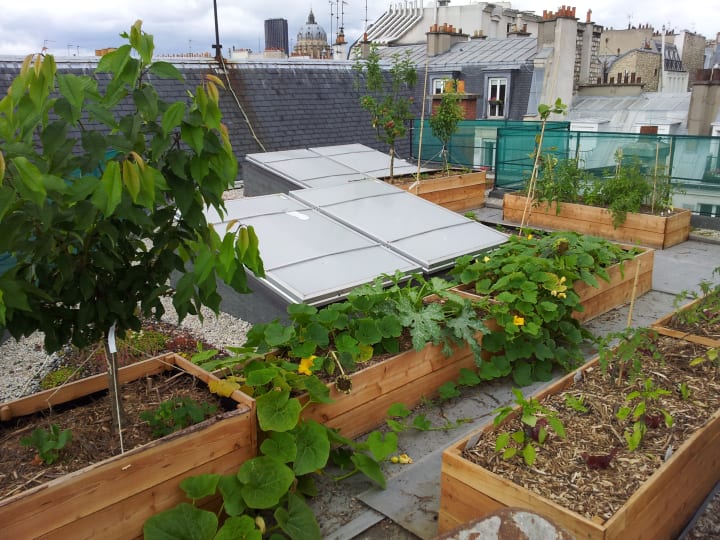 Found on the rooftop of the Paris Institute for Life, Food, and Environmental Sciences in central Paris are the innovative rooftop gardens of the AgroParisTech.
The project is based around two objectives: to explore the possibility to grow vegetables using organic waste found in urban areas, such as wood, compost or cardboard, and the impact of pollution on harvested products, by testing pollution levels in the fruits and vegetables produced by the garden.
More information can be found here.
7. Jardin Perché du BHV Marais (4e)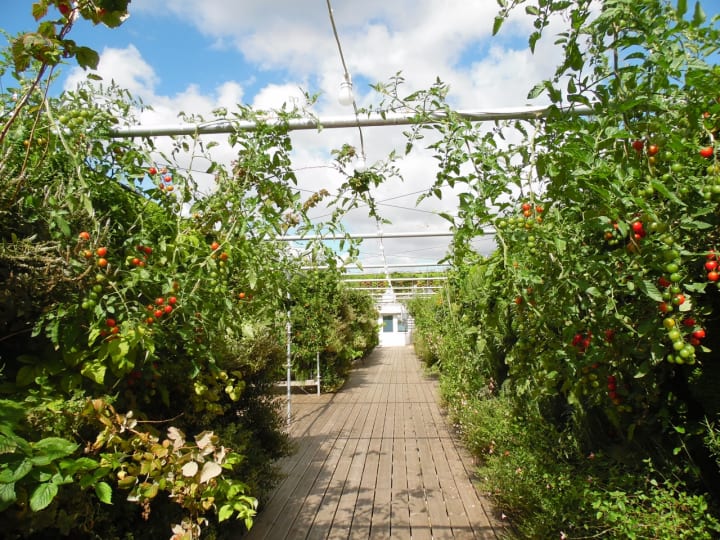 The sister of the Galeries Lafayettes rooftop garden, this one can be found perched atop the BHV Marais, with a breathtaking view of the Eiffel Tower. It is the largest vertical farm in Europe, growing over 22,000 plants.
Tours are available, or enjoy the beautiful view alongside a locally-grown, organic brunch.
For more information, click here.
8. Jardin Partagé Leroy Sème (20e)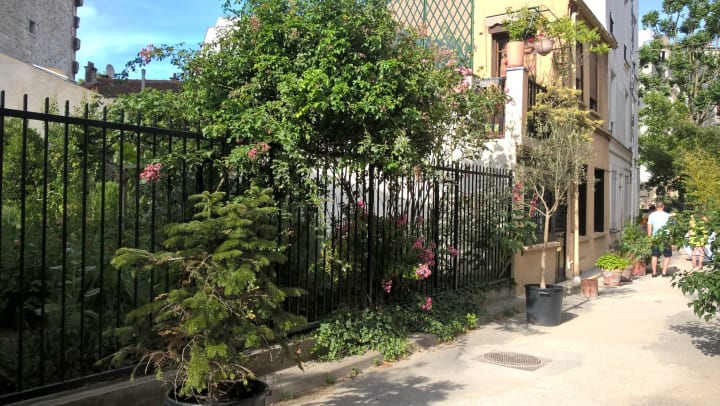 Now for something on a smaller, more grassroots scale. Local volunteers dedicate their spare time to tending to this little love-hub of a community garden, which is teaming with flowers, fruit trees and vegetable patches.
More information can be found here.
9. La Chambeaudie Farm, 12e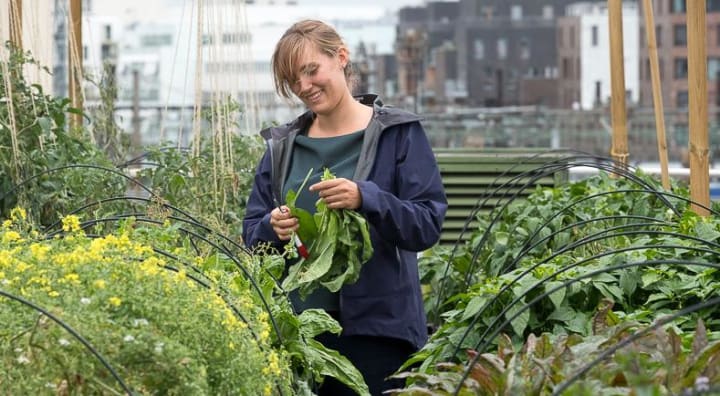 This site is ambitious, for sure! Growing an estimated 31 tonnes of fruits, vegetables, herbs and edible flowers per year, they sell their produce to the shopkeepers and restaurants of the district, as well as providing full-time jobs to local residents.
More information can be found here.
10. La Cité Maraîchère, Romainville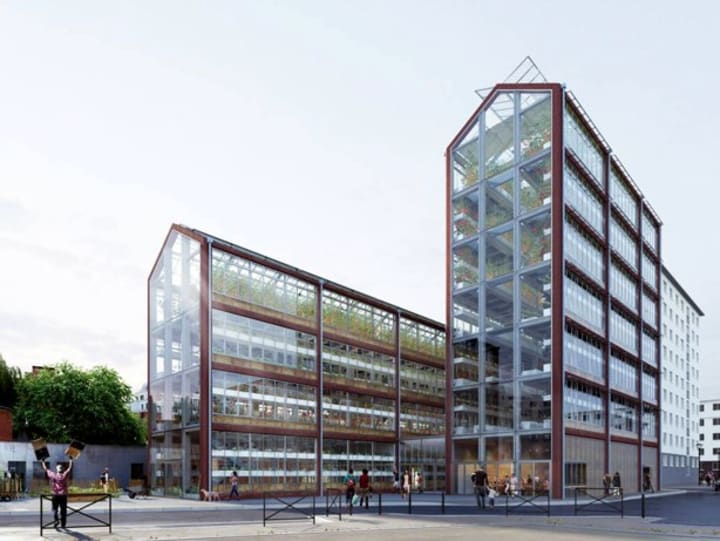 Technically this one is out in the suburbs, in Romainville, and hasn't even been completed yet, but it's just too cool not to include. What better use of space is there than in creating a vertical farm?
The facility will include a mushroom farm, orchards, a henhouse, and seed germination labs, as well as a space to host workshops, gardening and farming courses and a farmer's market. Residents will be able to buy the produce grown from their local urban farm.
Due to open in Spring 2019.
Click here for more information.