Tesla Stocks are Invading My Investment Portfolio
Hey Tesla, where are you going!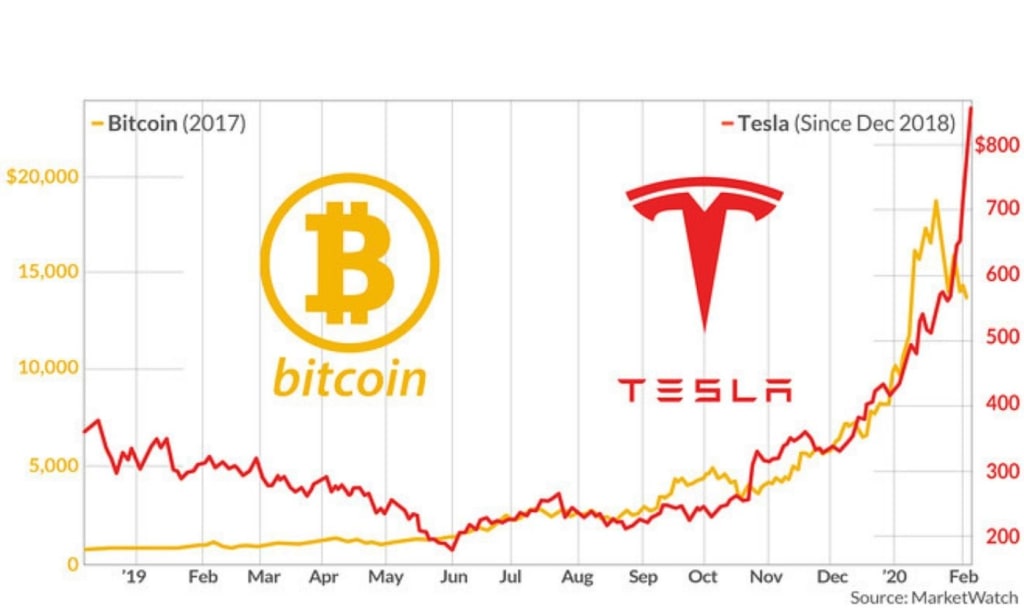 Edited by Casimiro Designer
I have to share this with you. My investment portfolio has never appreciated as much as it has in the last few weeks.
I'm one of those investors who love to diversify their investment portfolio, through various assets and whenever a portfolio is valued I simply put a stop loss and retain my dividends so that I can guarantee a good performance at the end of the year.
The first time I bought Tesla shares, it was the biggest madness that happened in my investment portfolio. In less than 30 minutes my position on the Tesla stock had already appreciated 0.21% over the amount invested. I confess that I almost exploded after seeing that. After 14 hours my position was 2.17% valued.
Tesla is incredible
I am used to seeing this evolution so fast with Bitcoin, I had a valuation of 11.21% overnight in November 2020 when Bitcoin was trying to fly to $20k. Today it seems that Tesla's action is competing with Bitcoin in the way they are valued.
The last time this happened with a share was Amazon stock, which from March 2020 jumped from $1,771.67 to over $3k.
What am I learning from this?
I'm not emotional, of course, I must be very careful because stocks are not always valued and the unexpected can happen at any moment. That's why I always control my investments as a measure to prevent an unexpected collapse that can leave me with no idea what to do when that day comes.
"That's what I'm doing to prevent a casualty from leaving me completely grounded and I have how to recover in other instances". Because every time the stock market goes into a disruption, I manage to diversify and get up.
"There is a strategy that Warren Buffett has used, which I have adapted in my way of investing. Don't keep an open position for too long for stocks that are quickly valued".
There are times that this strategy makes me earn per week, the money I make monthly writing in Medium.
If you go visit Warren Buffett's public portfolio, you will see that Tesla, Amazon, Snowflake, Zoom, and other fast growing stocks are not staying in your portfolio for long. He maintains shares that are developing slowly but consistently. This is a way to make some fast-growing stocks participate only in short-term investments, while stocks that are growing slowly but consistently in the market are the ones that stay in the portfolio the most to maintain the balance.
Tesla vs Bitcoin
At the beginning of the story, I said that many investors are comparing the growth of Tesla stock with the evolution of Bitcoin.
Leeor Shimron writing to Forbes said: "Tesla and bitcoin have more in common than you think".
At first glance, Tesla TSLA + 5.4% and Bitcoin may look like completely different technologies with different users, use cases, and investors. Tesla is the amalgam of automobile manufacturing, alternative energy, computer software, and artificial intelligence. The company plans to combine these disciplines to launch a fleet of autonomous robots in the not too distant future. Bitcoin is a decentralized asset that promises to restart the global financial and monetary system.
In short, Tesla is revolutionizing transportation and energy, while Bitcoin is revolutionizing money and finance. Where the two assets have been among the best-performing assets, often moving together in synchrony.
Users don't stop talking about Tesla, the stock market may close down, but the next day the stocks rise like a ballistic jet towards the moon.
However, what we investors should take advantage of is the moment that Tesla is valuing itself and leaving everything in place for a future that knows better or even better.
I wish good investments to all veteran and new investors. May 2021 be a great year because more people are entering the stock market trying a new way to diversify investments.
Any doubt, don't hesitate to leave a note that I will answer or you can call me on E-mail, I'm giving some free tips about investments and care to have with the risks on the investment market.
Credits in this story go to Leeor Shimron and Forbes.

The company's proprietary, patented software controls electric motor coils through individual coil switching Exro centered on realizing at least eight commercial deals this year for its innovative technology

Real estate investments are among the best investments every human being has made so far. This has also been one of the most significant long-term investments ever made. It is thus important to have a look at the latest trends in the market and at what the future holds as well. This will help people choose the best location for future investments in real estate.

As both a real estate investor and a real estate investor educator, I've heard the same question repeated endlessly since the coronavirus pandemic exploded: "Should I buy real estate during COVID-19?"

American Millennials have the impossible task of saving the world from Trump, climate change, and obnoxious editorials written by Baby Boomers. And they're doing it while in debt, living at home, and under the ever present anxiety that their futures are going to be spent both literally under-water because of rising sea levels, and figuratively because of whatever the next entirely preventable economic crisis will be.

The technology is primarily promoted as an imaging device for bladder cancer but has the potential to expand to other endoscopic procedures including laparoscopic, colorectal and thoracic Bladder cancer is the sixth most prevalent cancer in the United States, with 600,000 people fearing recurrence The global market for bladder cancer is estimated to grow to an estimated $4.71 billion by 2026