Spectacular Failures: Podcast Review
A Podcast That Declared Victory About Defeat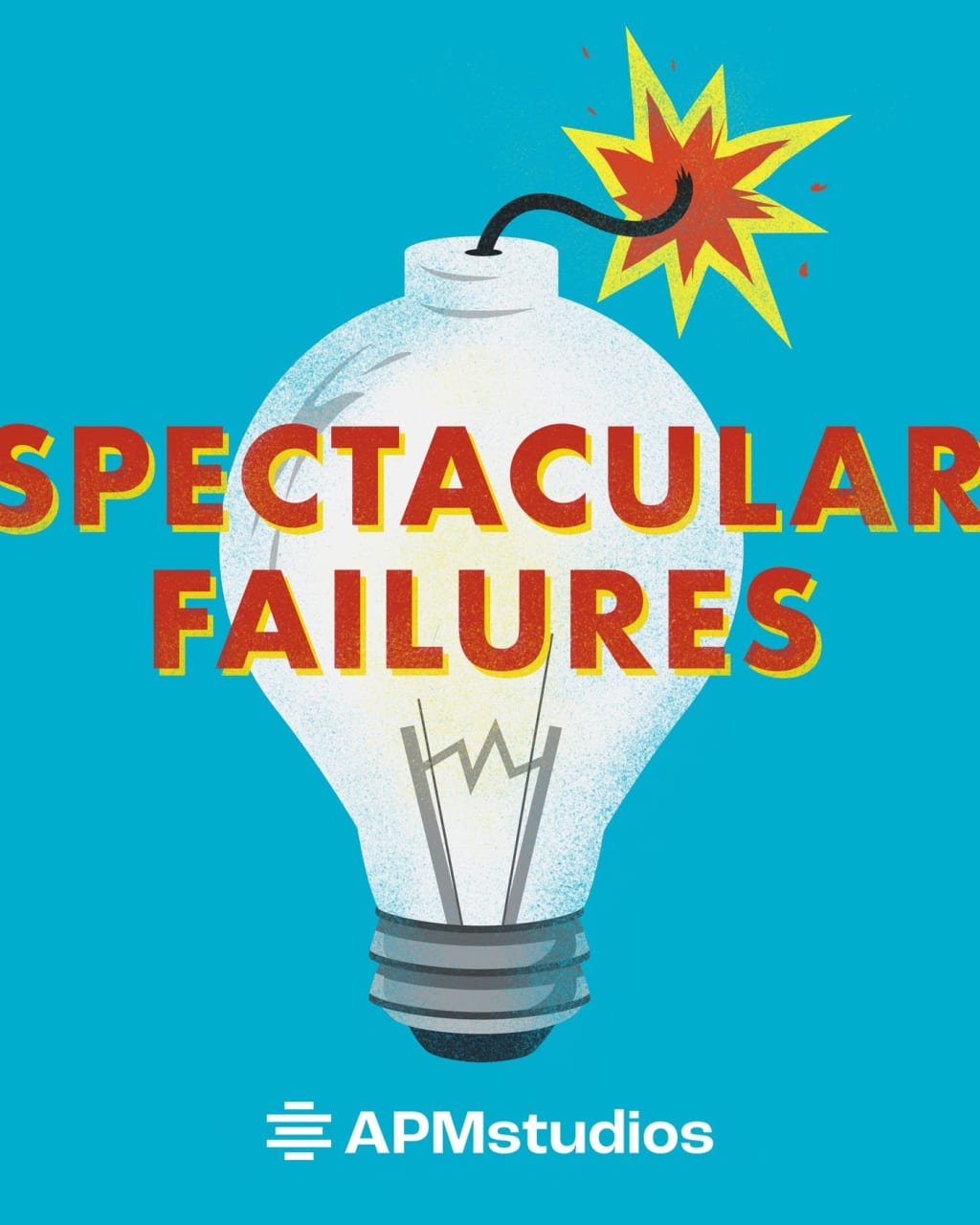 In June 2019, a business podcast was released by APM Studios that defied convention. 
Why? Because business podcasts that celebrate success are as numerous as the pixels on a 4K television. Inspirational stories about Jobs, Gates, other quasi-demented tech startup wizards appear like pop-up ads on podcasts earnestly attempting to revel in the success of others.
The message is clear to aspiring entrepreneurs" "You can be like them."
On June 17, 2019, this new podcast appeared on the business landscape.
It was different, maybe even blasphemous.
The new podcast focused on failure.
And not just run-of-the-mill failures like Gymboree, Things Remembered or Payless.
These were colossal failures. The defeats that people talked about for years. The failures in which even casual observers said, "What were they thinking?"
That new business podcast, was, of course, the Spectacular Failures podcast.
In its words, here's how the podcast self-described: "Host Lauren Ober tackles some of the most spectacular business failures of all time, and what could have been done to avoid them. Some of these stories are shocking. Some are funny. Some are just downright sad. But each one will give you a totally new perspective on big business… and big failure. "
"Business successes can certainly teach budding entrepreneurs what to do," begins business expert Clay Burton. "And business failures can also teach aspirants what not to do."
Origin story
The podcast was sponsored by the prestigious Carlson School of Management at the University of Minnesota and is produced by American Public Media (APM).
At the time, APM produced a host of well-known programs and podcasts including BBC America, Marketplace program and podcasts such as Decomposed (about classical music and its impact on society), The Splendid Table about food culture, The Uncertain Hour about origin stories and a growing roster of other well-crafted podcasts.
In June 2019, Spectacular Failures broadcast its first episode about the failed amusement park of former tel-evangelists Jim and Tammy Faye Bakker. Heritage USA was built by the Bakkers' PTL Club in York County, South Carolina. The concept was a Christian-themed amusement park with the King's Castle as its centerpiece. Opened in 1978, the park attracted more than six million visitors a year at its peak and employed about 13,000 people. By 1986, a high-profile sex scandal, tax violations, financial malfeasance and wild overspending had driven out the Bakkers and tel-evangelist Jerry Falwell took over the park. By late 1989, the park was closed due to bankruptcy and remained in ruins until 2013 when it was purchased by real estate developers.
"There are plenty of business failures in our economy every year," begins business expert Clay Burton, "but I think Spectacular Failures does an excellent job finding those failures that relate a morality tale of how these business failures violated key basic rules of business success such as customer focus, a willingness to adapt to changing market conditions and prioritizing quality over profit."
Burton points to the episode about Schlitz Beer and how its drive to put cost-cutting and profits ahead of delivering a quality product ultimately alienated loyal drinkers.
The next episode about MoviePass and its clumsy and often-comical attempt to upend the purchase process in the movie theater industry led to angry customers, massive losses and a founder with a propensity for self-denial. Interestingly, however, out of the ashes of MoviePass and its subscription-type model for movie attendance, large movie theater chains like AMC (AMC Monthly Pass) and Regal (Regal Unlimited) have developed and marketed their own subscription model with sustainable pricing and simpler terms of service.
Style and substance
Spectacular Failures didn't just abandon the familiar playbook for business podcasts – earnest, sober and pedantic – it unearthed a quirky tone that seamlessly switches between being hilarious and whimsical. And that playful mood emanated from host Lauren Ober, who easily navigates the serious with the silly. Ober's resume includes hosting and producing WAMU & NPR's The Big Listen. Before hosting, Lauren was an award-winning public radio reporter, producing stories for outlets like NPR, 99% Invisible and Criminal. Ober once won a regional Emmy and is a graduate of the Transom Story Workshop, Syracuse University and American University.
In the episode about the largest funeral home consolidator you've never heard of called the Loewen Group, Ober detailed how the hubris of Ray Loewen ultimately upset the industry and its customers, culminating in the group's loss in court against a Mississippi funeral home owner who won a $500 million lawsuit. In the episode, Ober highlighted her grandmother on her father's side who was so comfortable with the concept of death that she was considered "a professional funeral goer." Ober's Dad was interviewed and describes the unique wish of the grandmother to be laid out at the viewing in a particular nightgown. Ober then knitted her grandmother to the bankruptcy of the Loewen Group by describing how "Grandma Ober" had paid for entire funeral expense in advance and how people felt a community closeness to the local funeral home and not to some corporate giant trying to slash services to make its "roll-up" strategy successful.
A Kodak Moment
One of the most fascinating episodes from a business strategy perspective had to be the long and painful decline of one of America's iconic companies – Kodak. Host Ober and her team gave us the long-time employee perspective of how the company splashed around in the shark-infested waters of technological change before finally drowning in denial, missteps and missed opportunities.
The Kodak episode brings up the essential question for any dominant business. Do you stick with your profitable product or service despite the fact it is being supplanted by innovation, or do you move away from your historical cash machine and step into the uncertain domain of new markets replete with uncertainty, lower profitability and questionable customer acceptance?
Spectacular Failures deftly presented listeners with the ultimate business irony. While Kodak's film business was shrinking, the company did pioneer new digital photography innovations. Despite its technological progress, the company could never abandon the security blanket of film's profitability and largely ceded the digital market to competitors that eventually resulted in Kodak's demise.
Three of a kind trumps two pair
The last episode of season one was undoubtedly its most difficult.
The episode was about Donald Trump's multiple failures in the Atlantic City casino market. In such a polarized political environment, Spectacular Failures and Ober deftly thread the needle by focusing on Trump's cascading gaffes in Atlantic City, ranging from the construction of the decadently ornate Taj Mahal casino and Trump's cannibalization of his business by owning four casinos in the same market.
The podcast detailed the intercession of Trump parent Fred in an illegal bailout of his son that was ultimately caught and fined by the state's Casino Gaming Commission. As Trump endured multiple bankruptcies, the podcast rightly notes that Trump himself had very little at stake financially and the real losers were banks, investors, vendors and consumers.
Season two and beyond
After the success of season one, Spectacular Failures produced a season two that was released in August 2020 and ended in October. Episodes of note included fast-fashion retailer, Forever 21, Countrywide Financial, and Pan Am. The podcast was hitting its stride.
Then Spectacular Failures disappeared. But the show's episodes are worth your ear time, despite the podcast no longer actively producing episodes.
Listen to Spectacular Failures, seasons one and two, here. 
About the Creator
I am a South Jersey-based author who is a writer for the Pod-Alization podcast blog on Substack, Ear Worthy on Medium, Podcast Reports on Blogger, Auditorily on Vocal and The Listening Post on Tealfeed.
Reader insights
Be the first to share your insights about this piece.
Add your insights