Six Factors Leading to Bitcoin Price Slump
Six Factors Leading to Bitcoin Price Slump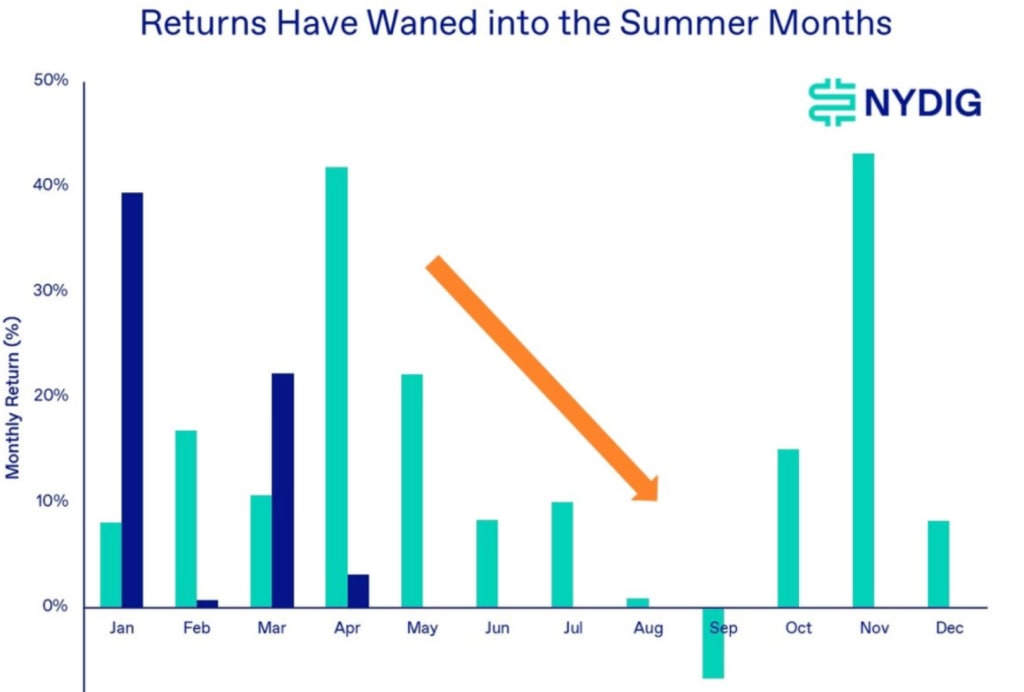 Last week, Bitcoin experienced a slight decline of 0.4%, remaining relatively stable. While other risky assets like stocks continue to rise, Bitcoin's sideways movement raises questions among investors: What's happening to Bitcoin? We have analyzed several factors that could be influencing the cryptocurrency market.
Profit Taking
Following a 71.9% rebound in the first quarter, Bitcoin saw a 6.1% drop in the second quarter, resulting in a year-to-date return of 61.5%. After a price rebound, it's natural for some investors to take profits. The decrease in futures basis and open interest also supports this trend.
Nevertheless, the year-to-date return of 61.5% still far surpasses any other asset class. So far this year, the Nasdaq Composite Index has risen by 21.7%, and gold by 7.3%.
Banking Crisis Retreat
As the primary driving factor for Bitcoin in the first quarter, the regional banking crisis seems to have subsided. We previously analyzed the decrease in the withdrawal of liquidity tools by the Federal Reserve, indicating a decline from the peak of the crisis. Additionally, regional bank stocks have surged, and there are no new concerns about bank failures. With the absence of new risks in the banking industry, this positive factor has retreated, given that Bitcoin stood out during the banking crisis.
Regulation
Since the beginning of this year, the shadow of intensified regulation has been looming over the cryptocurrency industry. Regulatory bodies such as the SEC, CFTC, DOJ, state regulators, and enforcement agencies like NYAG have taken enforcement actions across the industry. WEEX Note: Following a series of black swan events, such as the 2022 LUNA collapse, Three Arrows Capital closure, and FTX bankruptcy, regulatory agencies like the SEC are intensifying their enforcement efforts on the crypto industry. In February, the SEC proposed modifying federal regulatory rules to expand their scope to include cryptocurrencies and other assets. In March, the SEC issued a Wells notice to Coinbase warning of possible violations of U.S. securities laws. In April, the SEC charged Bittrex and its former CEO for operating an unregistered exchange...
Miami Conference
Last week, all eyes in the crypto community were on Miami, where BTC Media hosted the annual conference "Bitcoin 2023" (WEEX Note: Held on May 18th to 20th at Miami Beach). Although reports indicated a 50% decrease in attendance this year, the three-day event remained the largest annual gathering of global Bitcoin experts, investors, companies, and enthusiasts. In the past, this conference has been the source of many major announcements, such as El Salvador's intention to adopt Bitcoin as legal tender.
However, unfortunately, this enthusiasm doesn't always translate into price increases. The event has been surrounded by unfavorable external events, such as the 2022 LUNA/UST collapse and the 2021 China ban, making it difficult for the market to interpret its significance. Seasonal factors may come into play, but historically, the conference has not acted as a price catalyst. WEEX Note: In fact, there's a saying in the market, "price drops during conferences."
Seasonal Factors
As we transition from spring to summer, the average monthly return tends to decline. "Sell in May and go away" is an ancient market proverb that seems to apply to Bitcoin as well. The average monthly return peaks in April and then declines throughout the summer, reaching negative values in September. Considering the strong performance in the first quarter of this year, the seasonal patterns are expected to be more
If you are keen to become a WEEX Partner, do reach out to our Head of Global Expansion at [email protected]
Connect With the Community Here:
Discord | Facebook | Twitter | Telegram
Official Website: https://weex.com/en/
Discord: https://discord.com/invite/2CFnGbMzbh
Facebook: https://www.facebook.com/Weexglobal
Twitter: https://twitter.com/WEEX_Official
Telegram: https://t.me/Weex_Global
About the Creator
WEEX is one of the world's top futures exchanges in terms of trading depth, aimed at providing the most professional, secure, and private futures trading services.
Reader insights
Be the first to share your insights about this piece.
Add your insights