FX Delta(2020) Review — Does FX Delta Really Work?
FX Delta 2.0 Review — Updates, Accuracy, & Insights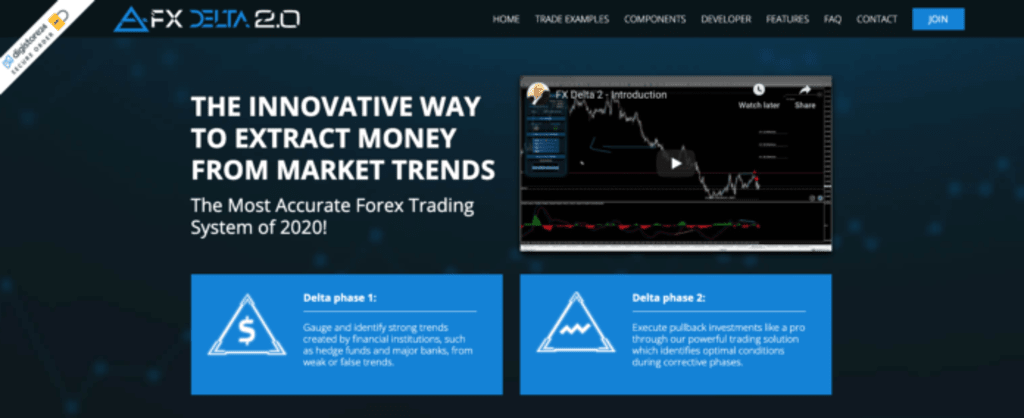 FX Delta 2.0 Review — Updates, Accuracy, & Insights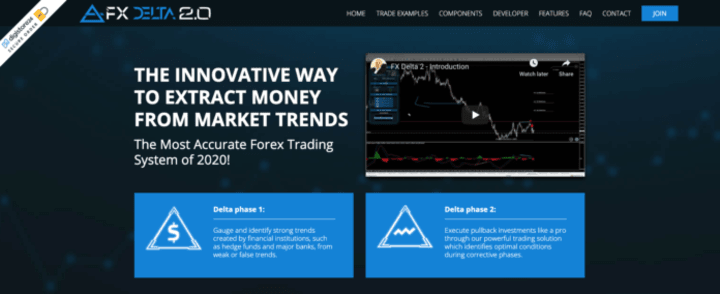 Originally pioneered by Yordan Kuzmanov in 2016, the FX Delta 2.0 is the newest iteration of the FX Delta.
Executing a two-phase trading protocol, this high probability forex trading application is used by many online foreign exchange traders to automate their day trading
Innovated to tackle the post-conditions of the COVID-19 financial markets, the FX Delta 2.0 combines statistically proven trading strategies, algorithms, and years of formulated trading experience within one trading system to amass over a 70% success rate over the years.
To get the full scoop, and more, read our honest FX Delta 2.0 review.
Contents
1 Inside the FX Delta 2.0
2 Advancements
3 Performance
4 FX Delta Reviews
5 Pros & Cons
5.1 Cons
5.2 Pros
Inside the FX Delta 2.0
Geared towards equipping traders with all the tools and insights, the FX Delta 2.0 dashboard is bursting with core features that cover fundamental and technical trading analysis and is divided into four facets.
These facets include trade management, investment filters, delta patterns, and alfa patterns.
Within the trade management window, traders receive trading information including Target 1 and Target 2 in pips, the risk-reward ratio of both targets, a stop loss represented in pips and percentages along with a one-click shortcut trade execution button for market orders, pending orders, and close trade buttons.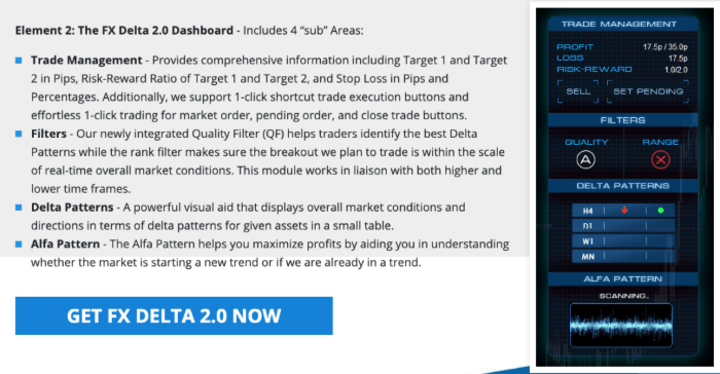 Several additional core features used by traders include:
SMS, Email & MT4 notifications
Full Trading Template & Delta Pattern Scanner Customization Options
Visual Trade Manager where traders can set order levels through chart dragging
Post-Trader Adjustments — Trader may adjust lot size, risk, and volume after a signal was given
Multi-Lingual Platform supporting English, German, French, and Spanish
Learning Hub filled with how-to video tutorials, educational trading webinars, and live strategy videos
Bonus features include a rapid Divergence Course eBook and webinar
Improvements to the FX Delta 2.0 scanner have been made, where traders may now more accurately pinpoint and deduce market sentiment while this visual resource computes a trader's risk through varying signal recognition.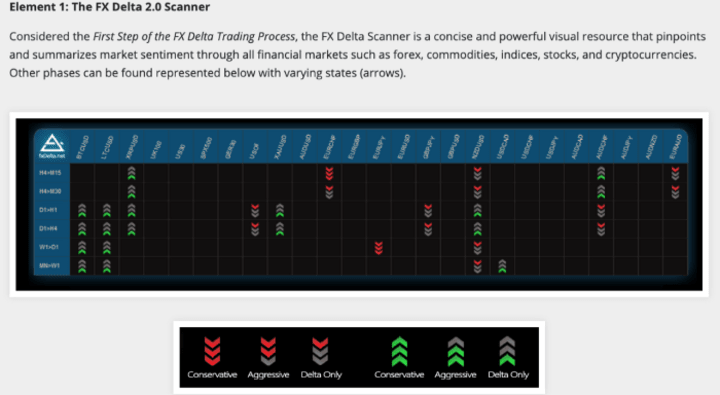 Advancements
Fifteen system advancements have been integrated into the FX Delta 2.0.
Perhaps the most noticeable improvement would be the improved dashboard and scanner overhaul, which has been redesigned to simplify trade decisions for investors.
Now supporting the MetaTrader5 (MT5) platform, the FX Delta 2.0 is now compatible with MetaTrader4 and MetaTrader5.
Additionally, adjustments have been made to the filtering process of the FX Delta, where the once manual divergence trade confirmation has been programmed into the system to employ various automated divergence trading techniques.
Eliminating the requirement of having to tab-navigate through trading, the Delta Pattern Scanner (DPS) is now nested within the new dashboard while the Delta Quality Filter (QF) has also been integrated into the dashboard after many trader requests.
Other improvements include automated Fibonacci retracement levels, trade journals with screenshots for trade entry and exit, a newly integrated news module and single chart multi-trade manager along with the most anticipated new feature known as Trade Flag.
Introduced in the FX Delta 2.0, the Trade Flag visual integration reveals what trading instruments and what time frame are optimal for traders which makes managing multiple trade entries less daunting while mitigating risk.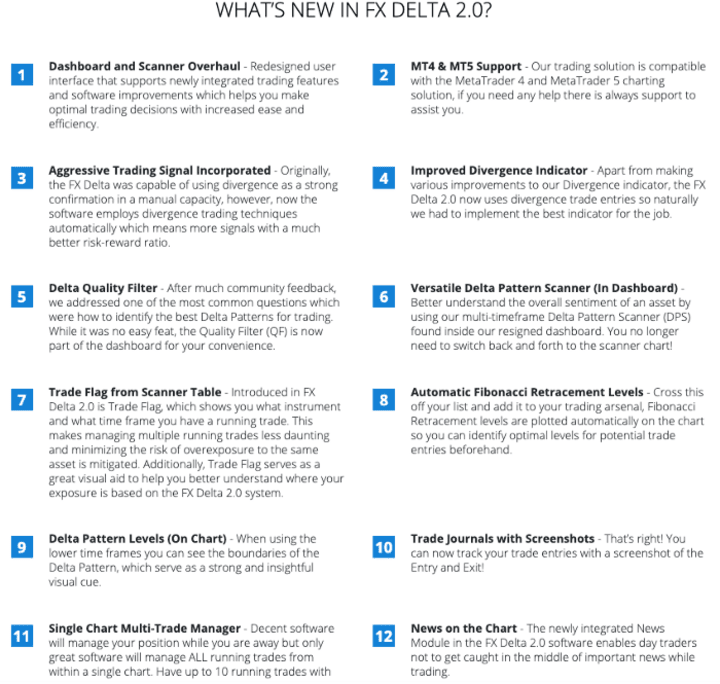 Performance
We've conducted some case studies of the FX Delta forex trading system.
Over the months of conducting these case studies, the FX Delta has averaged between a 70% to 75% success rate out of hundreds of live forex trading positions while the system, as a whole, has generated over 2,500 trades bordering 70% accuracy.
Despite the tremulous and panic-induced market conditions put forth by the Coronavirus pandemic, the FX Delta 2.0 continues to prove successful of traders of all experience levels.
FX Delta Reviews
Shared below are a handful of reviews we found regarding the FX Delta trading system from ForexPeaceArmy:
Behappy — "I like the system as it fits well with my trading approach, i.e. finding a setup on higher time frame and look for entries using lower time frame. Recommend this system and also get the opportunity to learn from Yordan."
Vish4al — "If you have spent some time studying how this works and stick to the rules or even apply your own filters to the signals produced by this indicator then the results are VERY impressive. If you just expect to make millions out of the box then this isn't for you. You need to study the content and diligently apply it and you will results using this. Obviously there are weeks where were there are not many signals but when they do come and fit your rules, they are normally very good."
Iggyboo — "In my humble opinion, this is the BEST forex trading software EVER. Delta fits my trading needs and style like a glove and it's super simple and easy to use. Over the past 15 years, i've bought and used quite a number of forex systems and software and I was hesitant to buy this one, but I was familiar with the author of this system and took a chance … now Delta is all I use and I haven't looked back since…"
Etienne — "One of the best tool ever to learn the real way to trade and to wait for the best opportunity ! All the webinar are really well done and simple to understand for anybody ! I really do recommand Delta Fx ! I am proud to use it and it already chance my life and my trading style !"
Theo — "An excellent momentum & divergence based software with advanced money management features. I love the scanner based signals provided via either email or push notification ! Yordan has created a professional standard trading software and provides the best possible support & mentoring via Telegram messaging"
FX Delta Reviews — Found at ForexPeaceArmy.com.
Pros & Cons
Cons
No free trial period
Accompanied by a learning curve
The platform could support more languages
Pros
Many positive trader reviews
Versatile trading software for traders
Couples multiple proven techniques in one package
Indisputable history of transparency and high performance
In-depth user manual, how-to tutorial videos, and more are offered
How to Get the FX Delta 2.0 Free
All-in-all, the FX Delta 2.0 is a powerful proprietary trading system engineered to tackle the most volatile market conditions for forex traders.
Through trade precision and over a dozen system integrations and improvements, the FX Delta 2.0 will continue to help traders make leaps and bounds concerning their trading goals while every week FX Delta 2.0 performance updates are published to ensure transparency, long-standing high performance, and to help better educate traders of the advantages that they have to gain by using a proven system.

>>>>>>>>>>>>> CLICK HERE INSTANT ACCESS<<<<<<<<<<<<<<<
Should you have additional questions regarding the FX Delta 2.0 please don't hesitate to reach out to us and we'll provide you with the insights you desire.