Beyond Bitcoin: 9 Crypto Categories For New Investors
Know your options and diversify your crypto portfolio with games, exchanges, launchpads, and blockchains
When you first begin learning about cryptocurrencies, perhaps intrigued by news about the disruptive blockchain technology or a friend's story about turning $100 into $10,000, you quickly realize that there's a lot more to it than Bitcoin, Ethereum, and Dogecoin.
According to CoinMarketCap, we've actually got almost 16,000 different cryptos to choose from!
This overwhelming number only begins to make sense when you realize that blockchain and crypto technology has much broader applications than the "digital cash" that may come to mind when you think of Bitcoin.
In this post, I'm going to shed some light on your options as a new crypto investor. I won't provide a comprehensive list of all the different crypto categories, nor will I go into detail with each one.
Rather, I'm simply going to introduce you to some of the most exciting categories and mention a few specific examples in each one. I hope this will make you curious enough to dig further into some of them and at least get a better understanding of what the space has to offer.
The usual disclaimer: At the time of this writing, I'm either invested in or considering investing in all the cryptos I mention. Some of them are new and extremely risky bets. Others are well-established and much safer investments (in the context of crypto).
That being said, the entire market is still highly speculative and volatile, and you definitely need to do your own research before putting any amount of money into any of the cryptos I mention. Except for that statement, none of what I say is financial advice.
A note on 'cryptocurrencies' vs 'tokens': Just one note of clarification before we get any further: Technically speaking, a 'cryptocurrency' is a blockchain's native currency, like Ethereum's ETH or Bitcoin's BTC. A crypto 'token', on the other hand, is the currency of a third-party project built on top of one of these existing blockchains. You'll see that most of the examples in this post are of the token type.
The distinction really isn't that important for us as investors though, and many people even use the terms interchangeably or refer to everything in the space as 'cryptocurrencies'. But at least now you know why I'm using both terms throughout this post and how they're different.
And now, with all that out of the way, let's start things off with one of the very most relatable categories we can invest in: Crypto exchanges.
1. Crypto exchanges
One of your very first touchpoints with crypto is likely to be one of the large exchanges like Binance, KuCoin, FTX, or Crypto.com. In addition to Bitcoin, Ethereum, and many other cryptos, these exchanges also let you buy their own tokens as well.
The demand for such exchange tokens comes from the benefits they provide to owners. While these vary from exchange to exchange, a common option is 'staking' (basically locking up your tokens for a period of time) to earn interests, trade with lower fees, and get increased referral rewards.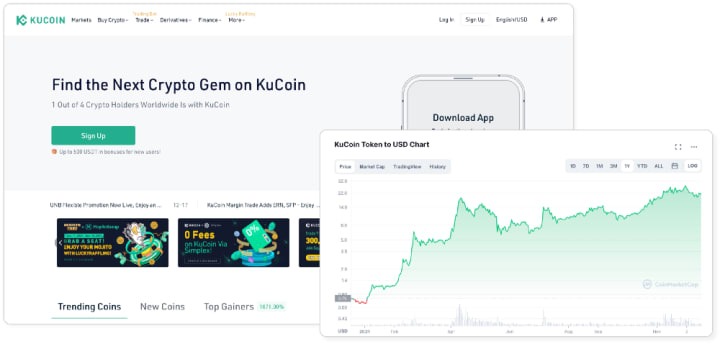 This category has been an excellent investment in recent years, benefiting from the overall increase in crypto trading and millions of new investors entering the space.
I've listed some of my current and potential new investments below, but you can find a more comprehensive list on CoinMarketCap.
My current and potential investments:
2. Decentralized Exchanges (DEXes)
Decentralization has always been one of the primary goals for cryptocurrency developers and enthusiasts. This focus has given birth to a new field known as Decentralized Finance or just 'DeFi'.
DeFi is essentially a field of all the financial services you know from the traditional world of finance but built in a decentralized manner without intermediaries like the government, big banks, and other legacy institutions.
It's a broad and rapidly growing field with multiple sub-categories, but one of the first to enter the scene and thrive to this day is the decentralized exchange, aka a 'DEX'.

Just like the more traditional crypto exchanges, a DEX lets you 'swap' one crypto for another. However, it does so without large corporations acting as middlemen, requiring your personal information, and sometimes charging hefty fees. A DEX essentially lets you trade directly with other human beings.
How these DEXes actually work, and how you as a user can do more than just buy and sell, is an exciting topic in and of itself. I will save that for a separate article. For now, just know that these DEXes not only exist but also work and handle thousands of crypto trades worth billions of dollars a day.
Despite their popularity, they still only account for a fraction of the total trading volume, leaving them plenty of room to grow in the future. This is our opportunity as early investors.
The leader measured by market cap as well as trading volume is UniSwap. Some of the closest contestants are PancakeSwap, Curve Finance, dYdX, TraderJoe, 1inch, and SushiSwap.
There's a large and growing number of DEXes available though, this list on CoinMarketCap currently counting 138. They're all at very different stages of maturity and scale, with different numbers of cryptos and amounts of liquidity available.
My current and potential investments:
3. Lending platforms
The other DeFi subcategory I'll mention here is lending platforms. Borrowing money is common practice in the world of traditional finance and banking services and has quickly found its way into the world of crypto as well.
Blockchain technology and crypto enable such services in a much faster, easier, and completely decentralized way. The decentralized part means that both lending and borrowing are easily done by regular people like you and me on one of the many lending platforms available.
These platforms use their own tokens to fuel their ecosystems in different ways. They're paid out to lenders in exchange for the cryptos they lend out, they can be staked to provide security and liquidity to the system, and you can earn interest and get voting rights in the process.
Some of the most popular of these platforms are Compound, Aave, and Maker. New ones are popping up all the time though, giving us plenty of opportunities in this field. I'm personally looking into Cream Finance, Alchemix, Venus, TrueFi, Notional Finance, and Solend at the moment.
My current and potential investments:
4. The metaverse
Okay okay, let's talk about something sexier than exchanges, borrowing, and lending. While the definition is still fuzzy, most people seem to agree that the 'metaverse' is about immersive, online experiences, often with a social component to them. Basically, it's about living our lives in the digital world.
So, who's actually working on this and how can we invest? Considering the broad and unclear definition, you can make the case for lots of companies and cryptos being indirect bets on the proliferation of the metaverse. However, some are definitely more pure metaverse plays than others.
Projects like The Sandbox and Decentraland are building huge virtual 3D worlds in which creators and companies can build out their own meetup places, facilitate social experiences, shopping, exhibitions, and even create fully-fledged games.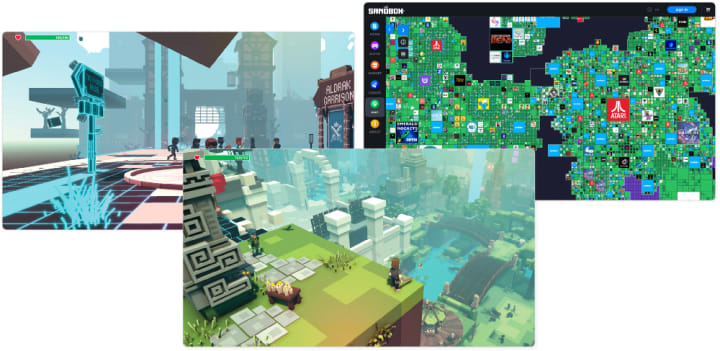 Because these virtual worlds essentially operate as micro-economies, with their own land, real estate, marketplaces, and events, it makes sense for them to have their own currencies.
While many of the metaverse tokens have already seen a huge surge in value this year as the space has attracted the attention (and capital) of several huge companies and celebrities, they may still be great long-term investments considering how new it all is. Note that The Sandbox, the leader in the space, is not even open to the public yet!
My current and potential investments:
5. Gaming
Another exciting use case for crypto is games. Much like the virtual worlds described above, many games have their own in-game economies with people competing for rewards, buying and selling digital assets, upgrading their game characters, and so on.
This concept is nothing new and many gamers are highly familiar with it. What's new is the use of crypto tokens instead of game money, points, or credits that can only be used within the game and cannot be traded or exchanged for real money outside of its closed ecosystem.
The prime example in this category is Axie Infinity with more than 1,5 million active players daily! That number is up from ~5,000 in early 2020.

Chasing the success of Axie, lots of new games have been developed with a crypto-native approach and new ones are launching all the time. They let you invest in their tokens as part of their launch (more on that below) or on the secondary marketplace afterward.
You obviously want to invest in games that are fun, engaging, and with strong teams and communities around them. You also want to understand the exact utility and value of their tokens though, as this will vary from game to game.
Game-related platforms, tools, and guilds are popping up as well, some with their own tokens for us to invest in. Check out Gala Games, Yield Guild Games, and a comprehensive list here.
My current and potential investments:
6. Launchpads
Many new games and other crypto projects launch their tokens on so-called launchpads. These platforms let people invest in a new project's token from day 1 and hopefully see the price increase as it later gets listed on popular exchanges and catches the attention of more investors.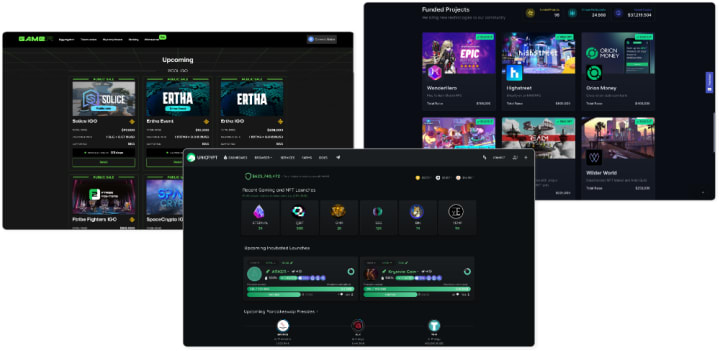 Each of these launchpads has its own native token as well, often requiring people to hold and stake a certain amount to get access to new launches. This enables us to invest in a launchpad itself and benefit as the demand for its token increases along with the number and quality of projects being launched.
My current and potential investments:
7. Blockchains
As mentioned in the beginning, a 'cryptocurrency' is the native currency of a blockchain while 'tokens' are created on top of existing blockchains. Because of this, the blockchains benefit from the increased number and popularity of projects and apps being built and used on top of them.
As investors, we can thus benefit from the continued success of crypto without having to pick individual sectors or projects to invest in, but rather just invest in the underlying infrastructure by buying a blockchain's cryptocurrency.
These cryptocurrencies are used to fuel the activity and transactions on their respective blockchains, whether in DeFi, gaming, the metaverse, or NFTs. The latter is a topic I've written multiple articles about, so feel free to check out some of them if you're curious about NFTs.
The blockchains we're interested in are the ones that provide something called 'smart contracts' and a solid foundation for developers to build on. That's why I'm not including Bitcoin in this category. Instead, the clear leader among the smart contract blockchains is Ethereum.
While Ethereum is leading the charge, plenty of alternative blockchains have built legitimate ecosystems around their own unique value propositions. Solana, WAX, and Tezos all have thriving NFT markets, with Terra, Avalanche, and Cardano trying to catch up. Others focus on being the best foundation for DeFi apps.
I've personally invested in several of them myself and blockchains as a category is by far the biggest allocation in my crypto portfolio.
My current and potential investments:
8. Scaling solutions
One of the things that have enabled so many blockchain competitors to thrive is the fact that Ethereum's got some challenges. Its main one is scaling as it simply can't handle the number of transactions taking place on the network. When Ethereum is congested, it leads to extremely high transaction fees, essentially making it useless for everyday transactions.
Luckily for us as both users as investors, scaling solutions have been built specifically to solve this challenge by moving transactions away from the Ethereum blockchain itself and onto sidechains or 'layer 2' solutions.
Polygon is the clear leader in this category, recently surpassing Ethereum itself on daily active addresses.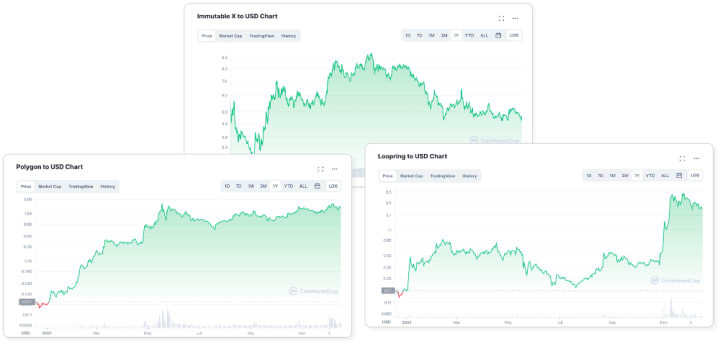 Other solutions are maturing and entering the scene though, inking their own big partnerships and proving their value. By buying the tokens of these solutions we're betting on Ethereum as the 'settlement layer' and scaling solutions as the 'execution layer', a thesis that many people, including Ethereum's founder, are very excited about.
My current and potential investments:
9. Digital gold
Last but not least, let's talk about Bitcoin. Although Bitcoin is a blockchain like Ethereum, Solana, and the others mentioned earlier, it doesn't serve the same purpose for developers, users, or investors. At least not at this point in time.
Bitcoin doesn't have a strong DeFi ecosystem, nor a large community of developers building games, NFTs, or metaverse applications on top of it. Most people have even given up on Bitcoin's original use case as 'digital money'.
Now, I know some people are still working on all these things for Bitcoin, and they might end up being successful! For now, though, these aren't what makes Bitcoin an interesting investment.
Rather, Bitcoin has become what people call a 'store of value'. It has become digital gold. Its fixed supply makes it inflation-proof, unlike regular fiat money, and many people have been quick to call out the resemblance with traditional gold as a hedge against inflation.
For all the things that Bitcoin is not, it's still the largest cryptocurrency by market capitalization with a huge community of diehard supporters and backing from large institutional investors. Because of that, I continue to own and recommend Bitcoin as an investment as well.
My current investment:
Bitcoin (BTC). $900b market cap, up 150% in a year.
In summary
If you read this post as part of your entry into the world of crypto investing, I hope it opened your eyes to the technology's many use cases and your options as an investor.
It wasn't by any means meant as a comprehensive guide to the field of crypto, and many more categories and cryptos could have been added. For instance, there's a lot going on in the field of entertainment, media, and streaming, and several projects are providing tools and infrastructure within the categories mentioned above.
For now though, as a new investor in cryptocurrencies, these are some great places to begin your journey:
Crypto exchanges like Binance (BNB), KuCoin (KCS), and FTX (FTT).
Decentralized exchanges like Uniswap (UNI), dYdX (DYDX), and TraderJoe (JOE).
Lending platforms like Compound (COMP), Aave (AAVE), and Maker (MKR).
Metaverse tokens like The Sandbox (SAND), Decentraland (MANA), and Somnium Space (CUBE).
Games like Axie Infinity (AXS), Gods Unchained (GODS), and Vulcan Forged (PYR).
Launchpads like GameFI (GAFI), Polkastarter (POLS), and TrustPad (TPAD).
Blockchains like Ethereum (ETH), Solana (SOL), and Avalanche (AVAX).
Scaling solutions like Polygon (MATIC), Loopring (LRC), and Immutable X (IMX).
Digital gold aka Bitcoin (BTC).
investing
I'm a designer, investor, and crypto nerd, writing about the intersection of creativity, culture, technology, and finance.
#NotFinancialAdvice