Why Ottawa's Homelessness Crisis requires immediate attention and intervention
A summary on the state of homelessness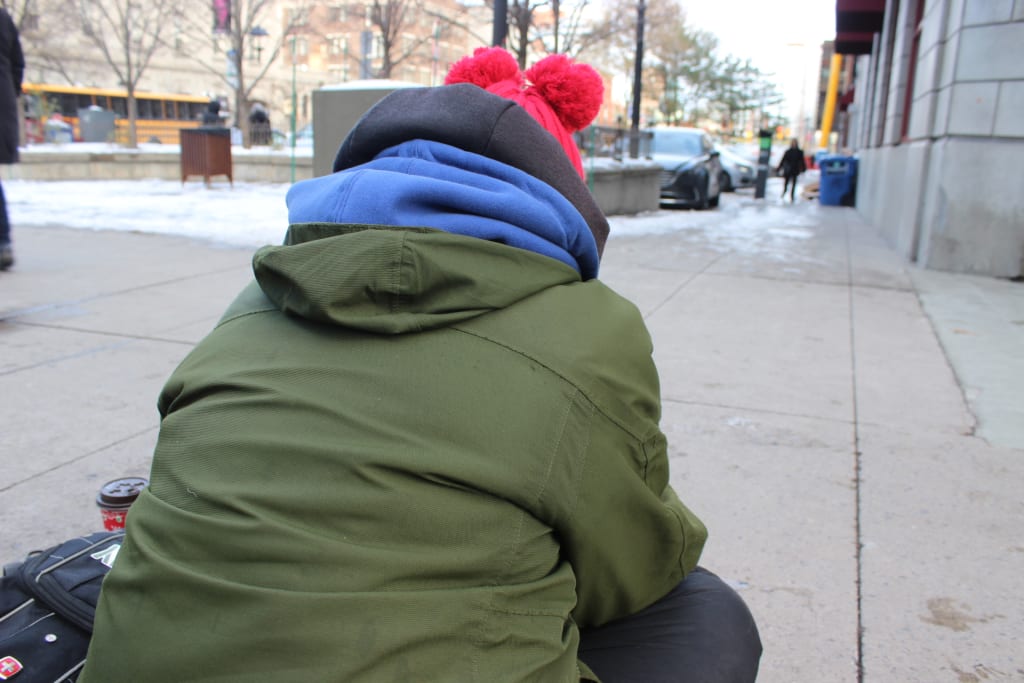 Pictured above is Jenny. For safety reasons, she chose not to show her face. After Jenny's partner passed away in April, she and her 2-year-old son were given 48 hours to vacate their home. Her son now lives hours away while she spends her days sitting on the cold pavement of a street corner that she knows is protected by street cameras. Her nights are spent at a homeless shelter.
Every year, thousands of people across Canada experience homelessness. While there remains no consensus on exact figures, a 2016 report by the Canadian Observatory on Homelessness, an organization aiming to end homelessness by way of research and advocacy, estimated a figure greater than 200,000.
Considering Canada's economic prosperity and its usual approach towards issues of social justice, this alarming figure warrants special attention and a deeper inquiry from all orders of government.
A brief history
Homelessness is defined as "the situation of an individual, family or community without stable, safe, permanent, appropriate housing, or the immediate prospect, means and ability of acquiring it" and it has been a growing social concern since the 1980s when governments underwent major economic and structural shifts.
Neoliberalism, favouring economic liberty and privatization, became widely adopted by governments nationwide. While corporations experienced lower taxes, communities suffered from low wages and unstable employment which contributed to rising poverty rates. Cuts to social services and housing programs, as well as corresponding policy changes, only further exacerbated the issue.
The resulting surge in homelessness was slow to initiate government response but eventually led to investments in emergency shelters and related social programs.
However, in the mid-2000s, it was realized that ending homelessness requires a more integrative and preventative approach, thus shifting the focus to housing needs. And in 2013, the Homelessness Partnering Strategy (HPS), a government-funded program that brings sustainable solutions to local communities, was renewed with the key intention of ending homelessness.
Current status on homelessness
In 2016, the HPS released a national report on emergency shelter use from 2005 to 2014. Shelter use as well as the length of shelter stays were found to have fallen significantly. While these trends offer some hope on a national scale, honing in on the local level paints a less than ideal picture.
The Alliance to End Homelessness Ottawa (AEHO), a coalition of community-based services, reported that chronic homelessness increased by 21 per cent between 2014 and 2017.
"These numbers are drawn from shelter data, which means they are low estimates of the actual number of homeless people," says Jacqueline Kennelly, an associate professor at Carleton University whose research focuses on youth social justice, including youth homelessness.
These numbers do not include cases of hidden homelessness, which can range from couch surfing to living in a car for short periods of time.
"The fastest growing category is family homelessness," says Kennelly. According to the AEHO report, the number of families using shelters has increased by 33 per cent, which is almost six times greater than rates of homelessness among single men.
While youth shelter stays have decreased by 13 per cent, most shelter users (including youth) are staying longer and this can limit access to others who may be seeking the service.
Among shelter users in Ottawa, there is a significant over-representation of Indigenous Peoples, as well as those suffering from mental health issues and/or drug addiction.
Affordable housing and homelessness
According to the Canada Mortgage and Housing Corporation, affordable housing should not cost more than 30% of a household's collective income before taxes. Although this figure appears feasible, thousands of Ottawans are living on low unsustainable wages whilst confronting climbing rental fees.
While the federal government has made staggered investments in affordable housing over time, Canada's National Housing Strategy (NHS) was only introduced in 2017. Parties in the public, private and non-profit sectors are collaborating to drive housing research and consequent policy changes with the goal of increasing housing access and stability.
The NHS intends to build thousands of affordable housing units and invest in the reconstruction of many more, but acknowledges the presence of many organizational and environmental barriers that can often delay progress.
A similar pattern of delay seems to also exist at the local level.
In 2014, Ottawa introduced a 10-year housing and homelessness plan, and according to the 2017 progress report, 519 people were successfully housed. Albeit still progress, this figure remains a small fraction of those experiencing homelessness. What's more, the rising homelessness trends reported by the AEHO questions the direction of this decade-long plan.
When asked to comment on the disconnect between City initiatives and homelessness rates, Catherine McKenney, City Councillor for Somerset Ward, highlights the federal and provincial governments' lack of investment in housing and homelessness.
"Ontario is the only province that has downloaded housing to municipalities, the level of government that can afford it the least.'' In contrast, McKenney points to British Columbia's vast provincial efforts and their inevitable progress on the social issue.
"Vancouver has a much longer history of being innovative and client-focused than Ottawa," professor Kennelley similarly notes. While Ottawa is beginning to approach homelessness as a social and rights-based issue, Kennelly says that progress has been slow.
Councillor McKenney is working to ensure that Ottawa remains focused on meeting its targets of reducing homelessness and increasing housing affordability. She also highlights the need to implement programs and policies that tackle homelessness prevention.
Ottawa's next housing progress report is due to reach committee and council in March.
According to Rawlson King, City Councillor for Rideau-Rockcliffe who uses his platform to motivate housing progress, over 10,000 people in Ottawa are on the housing waitlist.
While acknowledging the $31 million of funding in the 2020 draft budget that will go towards local housing and homelessness initiatives, King says that the City still needs more support from higher levels of government.
Aneesha Sidhu, Manager of Volunteer and Community Engagement Services at the Ottawa Mission, says that affordable housing is the key to solving homelessness.
"This [the shelter] is somewhere along the way, a platform for you to secure independent housing". While the Ottawa Mission is intended to be a safe space for clients to access services, Sidhu says that the shelter adopts a Housing First approach which aims to help clients find housing within a reasonable time-frame.
In order for this approach to succeed, however, Sidhu says that all governments need to prioritize related funding and support.
Housing First has been an increasingly adopted model across Canada. It underlies the premise that stable housing—a human right—allows people to better focus on other aspects of their lives, including employment and accessing mental health services.
Going forward
Outright, it is evident that municipalities are lacking the necessary tools and support from the federal government. While infinite funds are definitely unrealistic and unsustainable, an initial outpouring of financial support is needed to generate real and noticeable change.
In addition to housing construction, Councillor McKenney says that we should rely more on housing allowances, which can be used by individuals to maintain the same housing unit over time, rather than periodically seeking new shelter.
Under the current Conservative provincial government, Ontario is limited in its use of inclusionary zoning, a practice of ensuring that residential developments include a certain portion of affordable homes. "Inclusionary zoning tools are only available for transit-orientated developments," says Councillor King, who supports the reestablishment of zoning practices that were previously enforced under the Liberal provincial government.
A couple of years ago, Ontario launched a Basic Income Pilot Project to test whether basic income could help reduce rates of poverty and homelessness.
As anticipated, the Ford government suspended all research before enough data was collected. According to King, feedback from the short-lived project was positive as it allowed people to pursue education and improve their chances of employment.
"It would eliminate poverty across the province and save us a lot of money," says McKenney in reference to universal basic income.
If there is potential for the program to succeed, City councillors and other officials should urge governing bodies to consider reinstating the project.
Policies on housing eviction and the criminalization of homelessness should also be immediately addressed and revised with the input of those who have directly experienced homelessness. What's more, we need to address the bureaucratic hurdles that continue to impede progress in funding and construction.
Sidhu notes that we must also tackle the stigma that usually plagues homelessness by raising awareness on the complex cycle of recurring poverty that often traps families and individuals.
"I would love to see the stigma dropped a little bit in terms of understanding how hard it is for somebody to live on one hundred or two hundred dollars a month at the end of the day after their rent is taken out."
While the federal government is attempting to tackle homelessness, its efforts remain largely superficial and uncoordinated.
"The only way they [governments] will change is if they sit next to me," responds Jenny when asked what changes she thinks governments should undergo to better tackle the homelessness crisis.
In order to create lasting change that will boost our economy and collective well-being, governments, non-profit organizations, and individuals need to actively unite and coordinate efforts. In this way, we can identify innovative strategies and deliver sustainable solutions that not only work to eliminate current homelessness, but prevent it altogether.