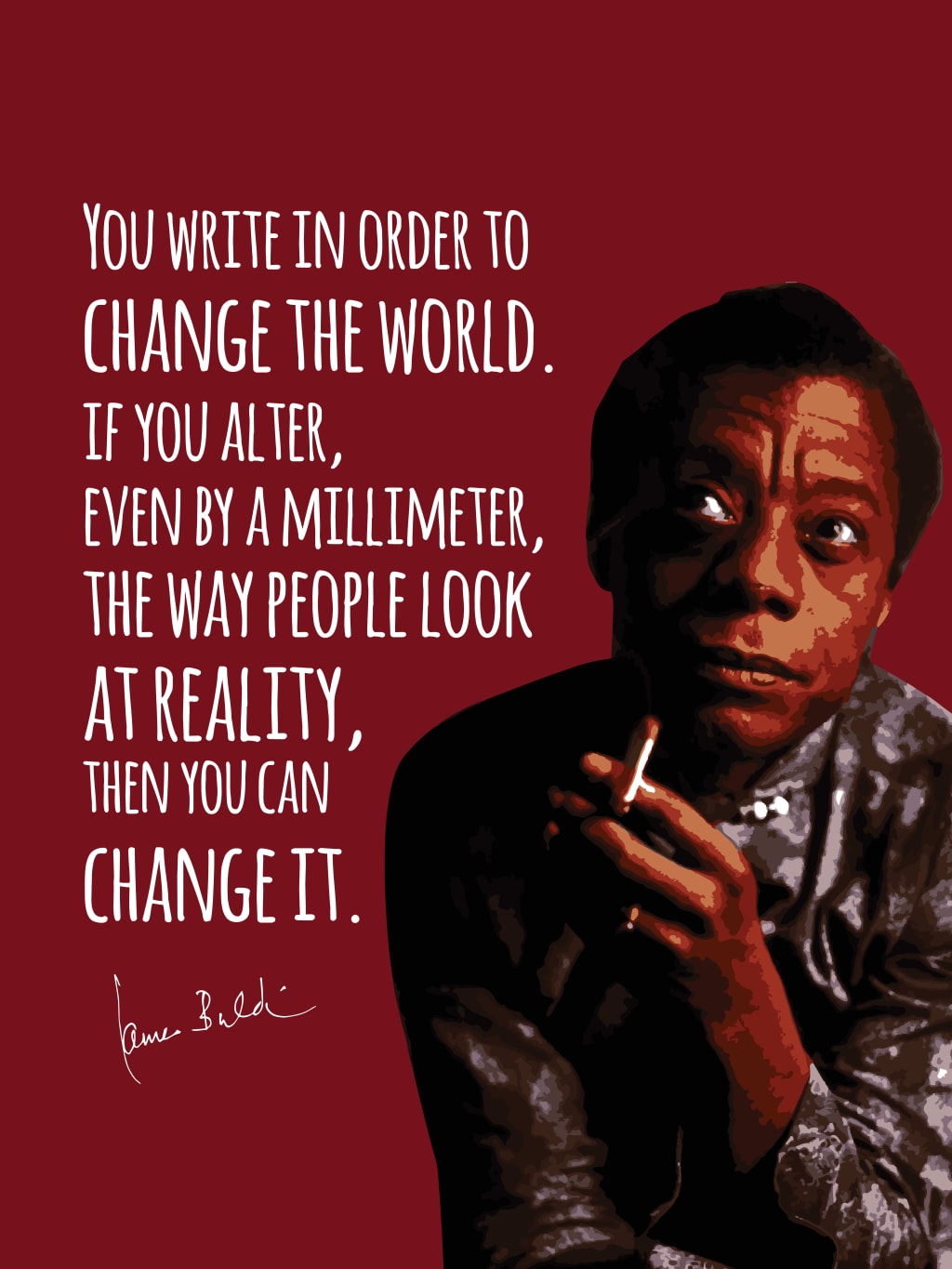 James Baldwin on Etsy
Black Lives Matter is an anthem, a rallying cry to bring attention to the daily reality that black folks live. BLM does not negate that all lives matter, rather those with black skin are not valued in this culture.
The fact is that all lives really don't matter. Some lives are valued more than others. We have seen how this plays out on the streets over and over again. A grown man with a cop's knee on his neck crying out for his mother. "I can't breathe, I can't breathe". His pleas for help are ignored until he loses consciousness and dies. George Floyd was unarmed. A man running through a neighborhood he often runs through, stopped by racist vigilantes who shoot to kill. Ahmaud Aubrey was unarmed. A young man, just 17-year-old, had just picked up some tea and some skittles and was heading back to his father's fiance's house when he was murdered by a guy who repeatedly called the police to report suspicious people in his neighborhood. Trayvon Martin was unarmed.
This doesn't only happen on the streets. Breonna Taylor was asleep in her bed when she was shot to death during a "no-knock warrant". Breonna Taylor was unarmed. Botham Jean was enjoying a bowl of his favorite ice cream when an off duty police officer, Amber Guyer, entered his home and shot him to death. Botham Jean was unarmed. A woman, up late, playing video games with her 8-year old nephew is shot through the window by a trigger happy cop during what was supposed to be a welfare check. Atatiana Jefferson was unarmed.
There are many more people unnamed, many more that don't get reported in the news. The cause is more than poor planning by police, or the lack of mental health training. This has to do with systemic racism and how people who are black are characterized and stereotyped. The NAACP reports "While white people make up a little over 60% of the population, they only make up about 41% of fatal police shootings. Black people make up 13.4% of the population, but make up 22% of fatal police shootings". Sit with that for a minute.
The stark difference in the police and military presence during the siege on our countries capital on January 6, 2021, and for peaceful BLM protests on June 2, 2020, should bring the inequity in our system into the light. There wasn't a military presence during the sedition against our democracy while National Guard Troops were deployed during the BLM protests. The difference was incredible. The Capital insurrection occured out of lies and consiracy theory that had been debunked but propogated by Trump. BLM was a movement responding to the blantant disregard for black lives.
There is also the consideration of the mass incarceration of black men across our country. Michelle Alexander, a civil rights attorney, calls this the New Jim Crow. While Jim Crow laws don't exist on paper, any longer, those laws essentially have been carried out through the disenfranchisement of black men who are incarcerated or have been incarcerated. They essentially lose their right to participate in democracy.
Alexander points out, in her 2010 book, "The New Jim Crow", that "we have not ended racial caste in America; we have merely redesigned it." While it is no longer permissible, at least on the surface, to use race as a barrier, we now do it through incarceration. Legal restrictions against people with arrests and convictions can block access to jobs, education, housing, and often voting.
Modern-day policing actually comes from the old practice of "Slave Patrols" used to quell uprisings, return runaway slaves to their owners, and bust down doors based on a hunch. Sound familiar? Just go up a few paragraphs and check out Breonna Taylor.
There are even discrepancies in our healthcare system that can be tied to inequality in our income system. Low-income folks may not have access to healthcare or even to Medicaid so they can have access. The chronically ill are likely to be in lower-income brackets. Poor health can lead one into poverty because of the inability to work.
The COVID pandemic is lifting the veil on racial inequality. Black Americans and Latinx are 2.8x more likely to die from Coronavirus than their white-non-Hispanic counterparts.
BLM pushes for policy change. The BREATHE ACT, for example, has four main goals. You can find it here.
Divest Federal Resources from incarceration and policing;
Investing in new approaches to community safety;
Allocating new money to build healthy, sustainable, and equitable communities for all people;
Holding officials accountable and enhancing the self-determination of black communities.
The "violent" BLM protest that I keep hearing about over social media need to be talked about. BLM has distanced themselves from the looters and vandals who attended marches and according to the AP "An analysis of more than 7,750 demonstrations in 2,400 locations across the country found that 93% happened with no violence, according to the US Crisis Monitor, a joint effort by Princeton University and the Armed Conflict Location & Event Data Project". (AP News, January 14, 2021).
Biden has been taking action and acknowledging systemic racism. On Tuesday, he signed four executive orders that seek to combat xenophobia against Asian Americans and Pacific Islanders, halt new contracts for private prisons, increase Indiginous sovereignty, and strengthen anti-discrimination housing policies that all but dismantled by the Trump administration. Racial equity is a priority for the Biden-Harris administration. This is a start.
I look forward to the day that Black Lives Matter to all of us in this country, but until then the rally cry will continue, the protests will continue, the calls for justice will continue.
As President Biden stated on Tuesday January 26th "We have never fully lived up to the founding principles of this nation, to state the obvious, that all people are created equal and have a right to be treated equally throughout their lives."... "it's time to act now not only because it's the right thing to do, but because if we do, we'll all be better off for it."

cd ybarra
Cynthia is a living contradiction. She writes about trauma, childhood PTSD, recovery and politics. It may not sound like it but she is a lot of fun!
She identifies as Latina/x, and is a life long, card carrying lesbian.
See all posts by cd ybarra →