Who Is Joe Biden?
A mini-deep dive on the Democratic candidate for President.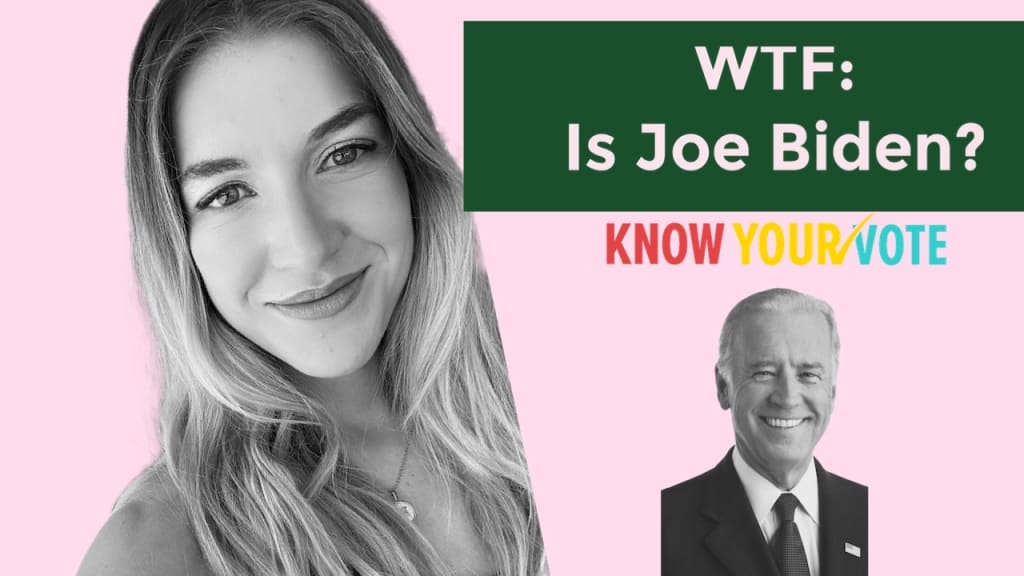 Joe Biden has made a primary comeback that is nothing short of extraordinary. With his chances of becoming the Democratic nominee stronger than ever I wanted to know more about the former Vice President. So, I partnered up with KnowYourVote to help put together this mini tip sheet.
Know Your Vote is a platform that aggregates publicly available candidate data, so you don't have to go looking for it. I'd recommend checking out their website if you'd like more info after this video!
The Basics:
Joe Biden is a career public servant who is best known for serving as Vice President of the United States, from 2009-2017, during the Obama Administration. Prior to that, Biden served in the U.S. Senate for over three decades and represented the state of Delaware.
Throughout the 2020 primary, Biden has been one of the most "moderate" of the Democratic candidates. Over the next few weeks, he will go head to head with Bernie Sanders, who is seen as the "progressive" candidate, in order to win the Democratic nomination.
Biden on the issues:
Abortion:
Biden is pro-choice, meaning he supports the legal right to abortion.
He wants to end the Global Gag Rule, which prevents money from going to international NGOs that support abortion rights.
Biden supports Planned Parenthood.
He supports codifying Roe v Wade into law.
His Senate voting record on abortion is somewhat mixed. While he's supported abortion rights in the past two decades, he voted in support of bills to ban partial-birth abortions in the '90s.
Education:
Biden wants to prioritize teachers by:
Making sure they receive a competitive wage and benefits.
Investing in teacher mentoring, leadership, and additional education.
Helping teachers pay off their student loans.
He wants to help students by:
Doubling the number of psychologists, guidance counselors, and other health professionals in schools
Make schools safer by implementing his gun control policies
Provide two years of community college without debt for any individual looking to improve their skills to keep up with the changing nature of work.
He would also like to create a new grant program to assist community colleges in improving their students' success.
He would like to strengthen college as a reliable pathway to the middle class. He'd do this by providing additional financial support to low-income and middle-class individuals through doubling the maximum value of Pell Grants.
Gun Control:
Gun control is a big piece of Biden's platform. Biden wants to:
Ban the manufacture and sale of assault weapons and high-capacity magazines
Regulate and buy-back the assault weapons and high-capacity magazines already in our communities.
He also wants to require background checks for all gun sales.
Biden wants to focus on addressing the combination of Guns and Domestic Violence. In specific, he plans to establish a Task Force on Online Harassment and Abuse to focus on the connection between mass shootings, online harassment, extremism, and violence against women.
He plans to hold adults accountable for giving minors access to firearms and require gun owners to safely store their weapons.
Foreign Policy:
A key part of Biden's foreign policy is to "End Forever Wars". This means:
He wants to end the wars in Afghanistan and the Middle East, and plans to bring the vast majority of troops home from Afghanistan.
He says he will then narrowly focus our mission on Al-Qaeda and ISIS.
He will also end our support for the Saudi-led war in Yemen.
Furthermore, Biden would like to:
Re-enter the Iran nuclear deal, using diplomacy and support from our allies.
He emphasizes restoring and reimagining global partnerships, specifically with NATO. Biden says he wants to keep NATO's military capabilities sharp, while also expanding our capacity to take on new, non-traditional threats like corruption, cyber theft, and new challenges in space.
He also plans to strengthen cooperation with democratic partners in Asia, Latin America, and Africa.
He says he'll work closely with our allies and hold China accountable for its lack of pressure on North Korea's bad behavior.
Healthcare:
Biden is a huge proponent of the Affordable Care Act, AKA Obamacare. He does NOT believe this system should be overhauled, but rather, improved upon. He wants to give all Americans access to affordable health care by offering a public health insurance option like Medicare.
Immigration:
Biden plans to immediately:
Reverse the Trump Administration's border separation policies, and prioritize the reunification of any children still separated from their families.
He plans to end the current Trump Administration asylum policies.
Surge humanitarian resources to the border through public-private partnerships.
He would also:
End the declared "National Emergency" at the border
Stop the policy that uses DoD money to build a wall.
He supports protecting Dreamers and their families
He would rescind the travel and refugee bans, also referred to as "Muslim bans."
For more information on the rest of his policies on other big issues like national security, the environment, and marijuana, check out knowyourvote.io.
This was adapted from my #WTF Video Series on IGTV.