Who Is Bernie Sanders?
A mini crash course into some of the ideas that drive Bernie Sanders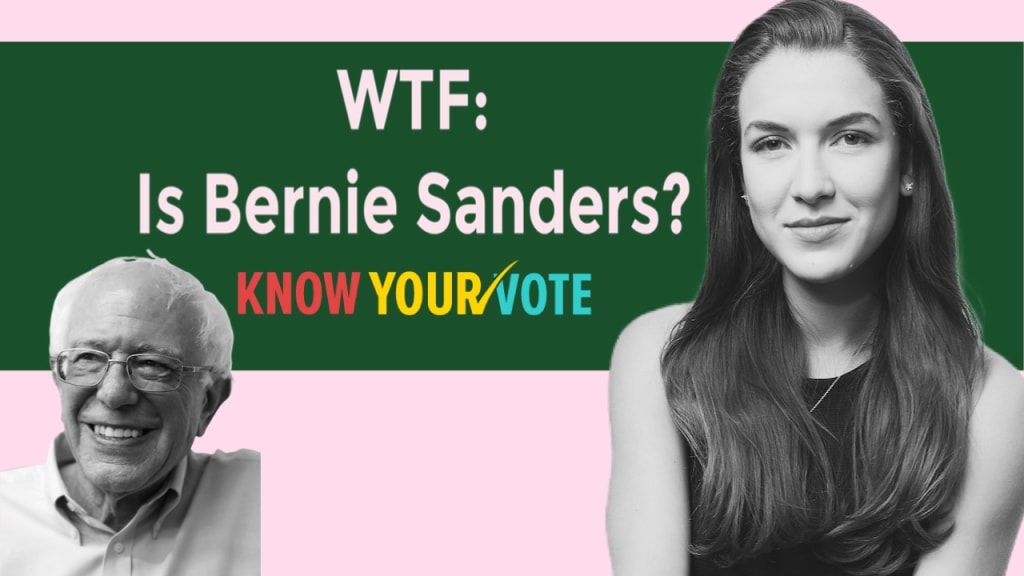 Hi everyone! This is the second of a 3 part mini-series with Know Your Vote, Who The F*** Are The Candidates. Know Your Vote is a platform that aggregates publicly available candidate data. Our goal is to give you simple, non partisan facts about the top candidates left in the race, so you don't have to sift through the news and data yourselves. In this series, we aim to highlight the policies and positions of the "top candidates" left in the presidential primary.
Despite an initially wide and diverse field of candidates, the race has narrowed to just three candidates: Joe Biden, Bernie Sanders, and Donald Trump. I covered Joe Biden in a previous article and as of this writing, he is leading the Democratic polls by a pretty wide margin. But despite pressure to drop out, Bernie Sanders is still in the race. In many ways, Sanders is more than just a candidate, he represents a movement. You've likely heard his name, but aside from some buzzwords and #feelthebern, do you really know who he is and what he stands for? Let's get into some of those policies.
The Basics:
Bernie Sanders is a career public servant who is best known for his social democratic policies, which, at their core, fight economic inequality. He became a political activist in the 1960s and first held public office in the 1980s as Mayor of Burlington, VT. He then served as a U.S. congressman for over two decades, before successfully running to be Senator of Vermont. He's held this role since 2008.
Bernie on the issues:
Economy:
The backbone of Bernie's policies is creating economic equality. In order to do this, Bernie has proposed several aggressive taxes on the wealthiest Americans and largest businesses.
Bernie plans to overturn what he calls the "massive tax breaks and loopholes for the top 1% and the large, profitable corporations". He wants to end them and instead give money back to working people.
Some of these policies include:
Establishing a progressive estate tax on multi-millionaire and billionaire inheritances.
Giving workers ownership stake in Corporate America. Under this plan, large corporations will be required to provide at least 2 percent of stock to their workers every year until the company is at least 20 percent owned by employees.
Democratizing Corporate Boards. Under this plan, 45 percent of the board of directors in any large corporation and all publicly traded companies will be directly elected by the firm's workers.
His plans also emphasize Wall Street Reform, which includes breaking up "too-big-to-fail" banks, ending the "too-big-to-fail" doctrine, and reinstating the Glass-Steagall Act.
For those of you who asked how Bernie will pay for his plans, the answer is through increased taxes on individuals and corporations.
Immigration:
Bernie wants to overturn many of the Trump adminstrations immigration policies. In particular, he wants to:
Pause deportations until current and past deportation practices have been audited.
Stop construction of the wall on the U.S.-Mexico Border and instead rely on cost-effective and innovative methods to counter drug importation and human trafficking
Overturn President Trump's "Muslim ban".
You've probably heard of DACA. This is the act that allows children of undocumented immigrants, also known as "Dreamers," to stay in the U.S. and obtain a work permit. Bernie wants to extend DACA and immediately grant legal status to the 1.8 million young people currently eligible for the DACA program, and provide administrative relief to their parents.
He would use executive authority to allow undocumented immigrants who have resided in the United States for five or more years to stay here free from the threat of deportation.
He wants to create a pathway to citizenship for the 11 million unauthorized immigrants currently living, working, and contributing in America today; and prioritize expedited citizenship for undocumented youth.
Bernie is in favor of decriminalising Immigration. What he means by this is:
Ending detention for families, children, and immigrants without a violent crime conviction; Funding community-based alternatives to detention, which will connect immigrants with health, legal, educational, and work resources; and Ensuring any shelters necessary to provide temporary housing for immigrants meet humane, 21st century living standards.
Bernie is also an advocate for de-militariziing the border. By this, he means: Breaking up ICE and CBP and redistributing their functions; Refocusing border enforcement on the flow of firearms and drugs; ensuring that labor standards on the border are enforced, and stopping human trafficking.
He would also strengthen Immigrant Labor Rights by working with Congress to protect undocumented immigrants who report labor and workplace violations.
Criminal Justice Reform:
A HUGE component of Bernie's platform is criminal justice reform.
Bernie wants to ban for-profit prisons, if you haven't heard of private prisons before you really should take a look into them.
He strongly supports law enforcement oversight and wants to create a database of police use of deadly force, as well as mandate criminal liability for civil rights violations resulting from police misconduct.
He would create federal standards for the use of body cameras, including overseeing the storage and release of police videos, and establishing national standards for use of force by police
Another big part of Bernie's Criminal Reform plan is to end mass incarceration and excessive sentencing. Key parts of this include:
Abolishing the death penalty.
Reversing the Trump administration's guidance on the use of death penalty drugs with the goal of ending the death penalty at the state level.
Preventing excessive sentencing with the goal of cutting the incarcerated population in half. (with 2.3 million prisoners, the US incarcerates more people than any other country in the world)
Ending mandatory sentencing minimums.
Reinstating a federal parole system
Ending "three strikes" laws. He believes no one should spend their life behind bars for committing minor crimes, even if they commit several of them.
Bernie's a strong proponent of ending the "War on Drugs" and de-criminalizing addiction
He wants to legalize marijuana and expunge past marijuana convictions, then ensure that revenue from legal marijuana is reinvested in communities hit hardest by the War on Drugs.
He will provide people struggling with addiction with the health care they need by guaranteeing health care to all people through a Medicare-for-all, single-payer system
He would decriminalize possession of buprenorphine, which helps to treat opioid addiction, and ensure that first responders carry naloxone to prevent overdoses.
Finally, he would legalize safe injection sites and needle exchanges around the country, and support pilot programs for supervised injection sites
Bernie is also a strong advocate for making jails and prisons more humane. To accomplish this, he plans to:
End solitary confinement. Bernie believes solitary confinement is a form of torture and is therefore unconstitutional.
Give inmates access to free medical care while in jail, including professional and evidence-based substance abuse and trauma-informed mental health treatment.
Provide access to free educational and vocational training. This includes ending the ban on Pell Grants for all incarcerated people without any exceptions.
Instate living wages and safe working conditions, including maximum work hours, for all incarcerated people for their labor.
Climate Change:
Bernie is bullish on fighting climate change and protecting the environment. Bernie plans to enact the Green New Deal, which promises to reach 100% renewable energy for electricity and transportation by no later than 2030
This plan, he says, will end unemployment by creating 20 million jobs needed to solve the climate crisis. According to Bernie, these jobs will be good paying, union jobs with strong benefits and safety standards in steel and auto manufacturing, construction, energy efficiency retrofitting, coding and server farms, and renewable power plants. Jobs will also be created in sustainable agriculture, engineering, and preserving our public lands.
He would directly invest an historic $16.3 trillion toward these efforts, which, according to Bernie, is in line with the mobilization of resources during the New Deal and WWII, but with an explicit choice to include black, indigenous and other minority communities who were systematically excluded in the past.
He plans to build affordable, high-quality, modern public transportation, provide grants and trade-in programs for families and small businesses to purchase high-efficiency electric vehicles, and rebuild our inefficient and crumbling infrastructure, including deploying universal, affordable high-speed internet.
He would declare climate change a national emergency.
Bernie also believes we need to use our power internationally to lead the world in fighting climate change. He would invest in the Green Climate Fund and bring together the leaders of major nations with the goal of re-allocating trillions of dollars spent on defense to combating the climate crisis and taking on the fossil fuel industry.
He would rejoin the Paris Climate Agreement, renegotiate trade deals to protect the environment, and end overseas fossil fuel financing.
Lastly, Bernie emphasizes conservation of our public lands -- this means, our National Parks. He wants to perform more than $25 billion of repairs and maintenance on roads, buildings, utility systems, and other structures and facilities across the National Park System.
Women's Rights:
Bernie has long been a strong advocate for abortion rights. As President, he would fully fund Planned Parenthood, Title X, and other initiatives that protect women's health, access to contraception, and the availability of a safe and legal abortion. He would oppose all efforts to undermine or overturn Roe v. Wade, and appoint federal judges who will uphold women's most fundamental rights.
He also advocates for a number of policies supporting other aspects of women's rights such as "Equal Pay for Equal Work", reauthorizing the Violence Against Women Act and Pass the Equal Rights Amendment;
That's it for our tip sheet on Bernie Sanders. Theres a lot more information regarding his policies on other big issues like education, foreign policy, and defense on Know Your Vote's website. You can also watch the video version of this article here. For the third and final installment of our mini series, we're covering Donald Trump! Stay tuned.
Reader insights
Be the first to share your insights about this piece.
Add your insights