When Fashion Makes a Statement... (And Why I Love It!)
A Look Back at My Favorite Outspoken Moments in Fashion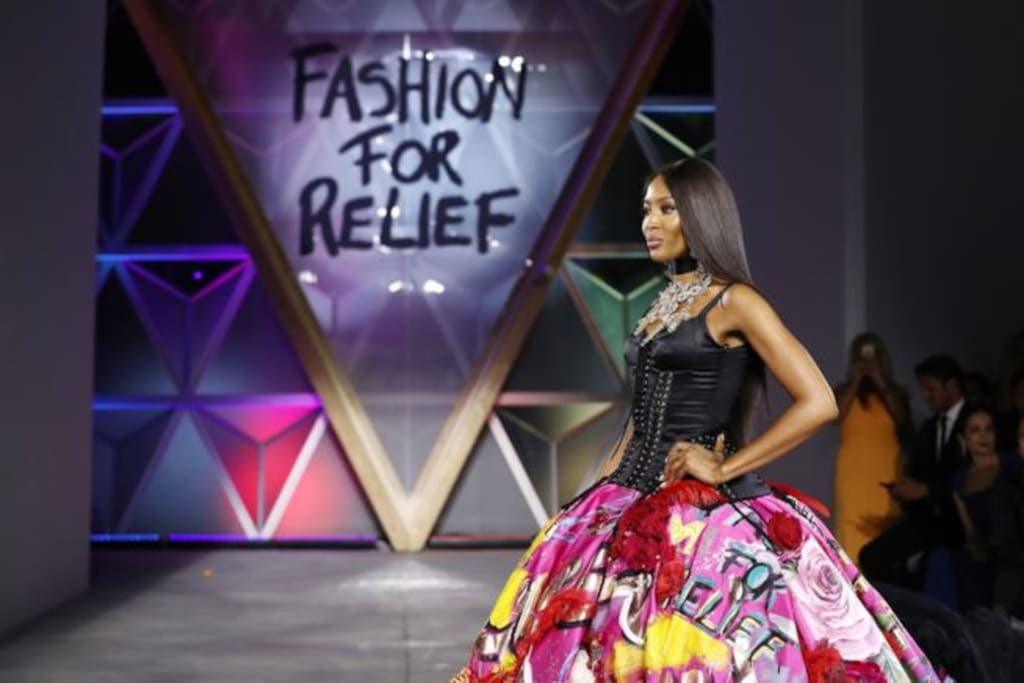 Naomi Campbell on the runway for "Fashion For Relief" fundraiser show at Cannes Film Festival 
In almost every facet of our pop culture today, blunt or not, you can find some sort of social commentary about what's going on in the world. Fashion is no different. Recently, the 13th annual "Fashion For Relief" charity show took place at the Cannes Film Festival. In honor of the show, I'd thought I reflect on some of my favorite moments in fashion that made powerful statements about the climate of today's culture on the runway.
Fashion for Relief 2018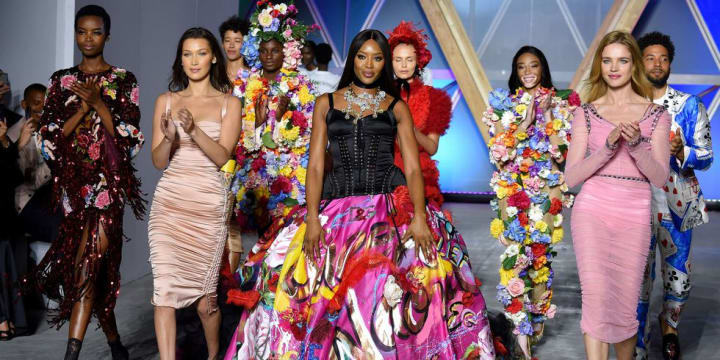 At this year's show, Naomi Campbell (founder of Fashion for Relief) recruited supermodels (such as Bella Hadid, Winnie Harlow, Leomie Anderson, etc.) and celebrities (like Michelle Rodriguez and Empire's Jussie Smollet) to support and help fundraise for the Times Up! legal fund initiative. The theme, Race To Equality, simply couldn't have come at a more progressive time. Campbell, who has openly expressed her critiques of how the industry deals with race and representation, used her platform and influence to spread awareness and push for a change in fashion. What exactly needs to change in the fashion world? The underlying discrimination that the industry is riddled with. The topic of race and discrimination in fashion is being addressed more as of recent, but the fashion industry still has a lot of work to do.
Raury Protests at Dolce & Gabbana SS18 Show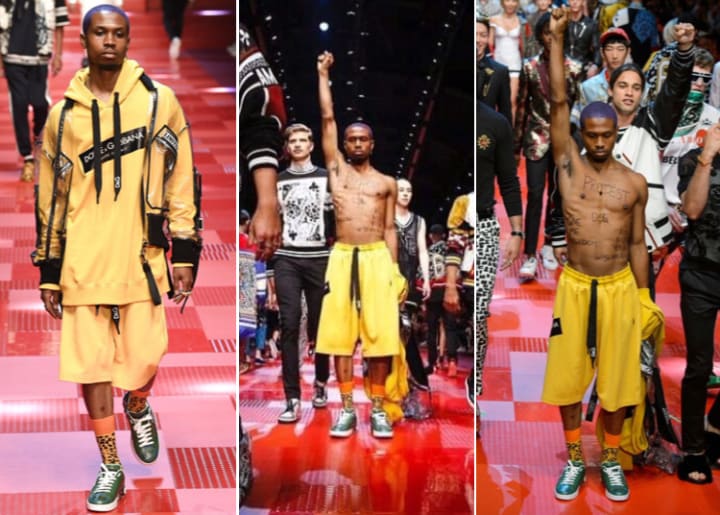 The world stopped when Atlanta musician Raury protested Dolce & Gabbana in the middle of their runway show. At first glance, many took this as another Hollywood stunt, but after giving his explanation for it, I started to understand Raury's position in the chaos.
Here's the backstory: Raury was tapped to be apart of the show and was also asked to wear a #BOYCOTTDOLCE&GABBANA T-shirt. The shirt in question was created as a response to criticism towards the brand for dressing Melania Trump. To add more fuel to the fire, Dolce & Gabbana also released a commercial for the T-shirt showcasing a protest in a light and a rather careless manner. Raury found out about Dolce & Gabbana's commercial a day before the show and it didn't sit well with him.
In an interview with GQ, Raury made it very clear how he feels about the fashion giants making a mockery of boycotting. "Boycotting is the people's voice. A protest is the people's voice. It has power. It changes things. When I came out to Milan for my first time walking on a fashion runway, ever, I was excited. I'm a stylish-ass young kid, but I don't know everything about fashion. I knew nothing about the t-shirt until I was here. I had already agreed to walk for them," he continues to tell GQ. "Boycotting matters. Boycotting is real. Dolce's entire campaign says it's not real. I know that if I walk out there and support or endorse anything that sits next to Trump—or support someone who even makes dinner for Trump or whatever—then that means that I support Trump also. I don't support Trump. So I'm trapped, and I have to let people know that I don't support Trump and I don't support those who are trying to undermine the voice of the people."
After reading the interview myself and hearing opposing perspectives on the situation, I find this particular moment in fashion history rather symbolic of the times. The Millenial generation's heightened awareness of a flawed history and proactive measures to change it shouldn't be taken for a joke, especially if these are the people that either are being used for your brand or marketing your brand to. Dolce & Gabbana trying to play it off as a bad joke is not only insensitive but shows how oblivious and out of touch older generations in the fashion world are with today's social climate.
Gypsy Sport's Fall/Winter '17 Fashion Show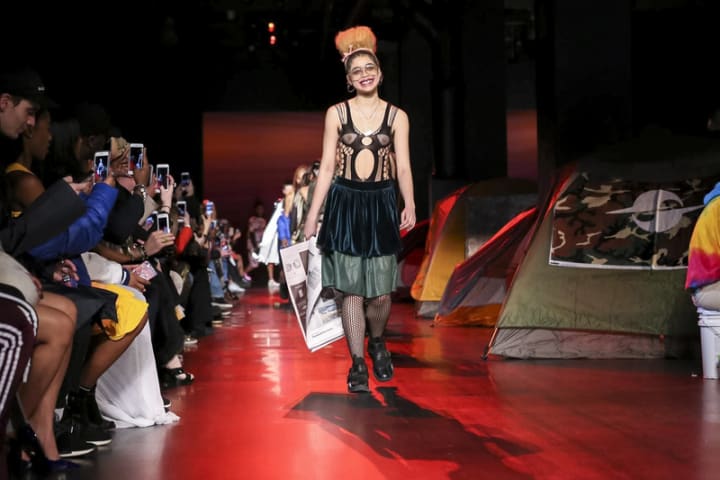 Gypsy Sport's Fall 2017 fashion show is another favorite moment of mine. It can be very tricky for designers to step out the box to address issues that affect the rest of the world and not seem ingenuine. Rio Ubrie, Creative Director for the 2017 runway show, has helped Gypsy Sport effortlessly get their message across.
Inspired by "people that live on the street", Ubrie drew inspiration from the poverty crisis in Los Angeles and the refugee camps in Paris. The runway show featured four tents and live music provided by New York City youth using buckets and drumsticks, referencing the subway performances NY is known for. The models featured in the show were also handpicked by Ubrie from the Women's March and Muslim Ban protests. Part of the proceeds went to the Bowery Mission, an organization based in New York to help those that are homeless.
Pink Pussy Hats Take Over Milan Fashion Week During Missoni F/W '17 Show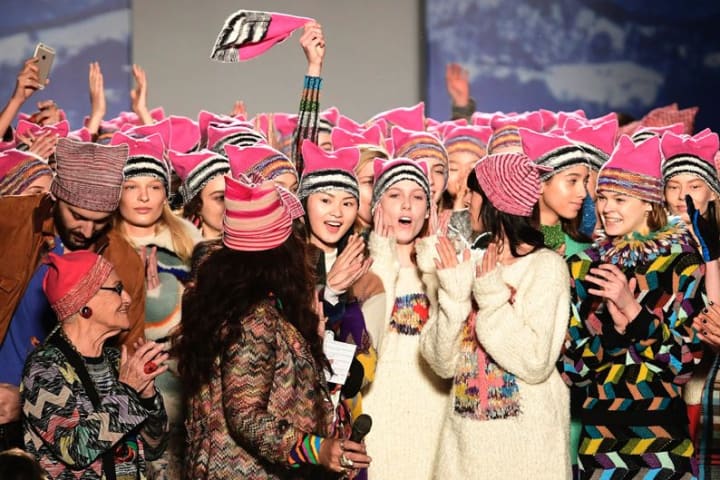 Inspired by the Women's March on Washington in 2017, over 40 models (led by Gigi Hadid) took to the stage decked out in Pink Pussyhats for the finale of the Missoni Fall/Winter '17 runway show. The models wore pink knitted "cat-ear" hats reminiscent of those seen at the march, with a few Missoni touches added to it (Missoni decided to add stripes to the base of the hat rather than keeping it the original solid pink). The celebration of solidarity and femininity was beautiful to see. Even the audience received Pink Pussyhats. The proceeds from the show went towards the ACLU and U.N. Refugee Agency.
All of these moments, from the jaw-dropping to the heart-melting, should inspire more fashion brands to tap into the world of today. There's more to our culture than the material, but who says you can't use it to point that out? In the future, I wish to see more runway shows with a message, because it completely tears down the argument that the fashion industry is run by the mindless and soulless. There's power in the art of speaking up and representing the people's voice.