What We Have Learned About the Capitol Riot?
Almost one year later the facts are finally coming together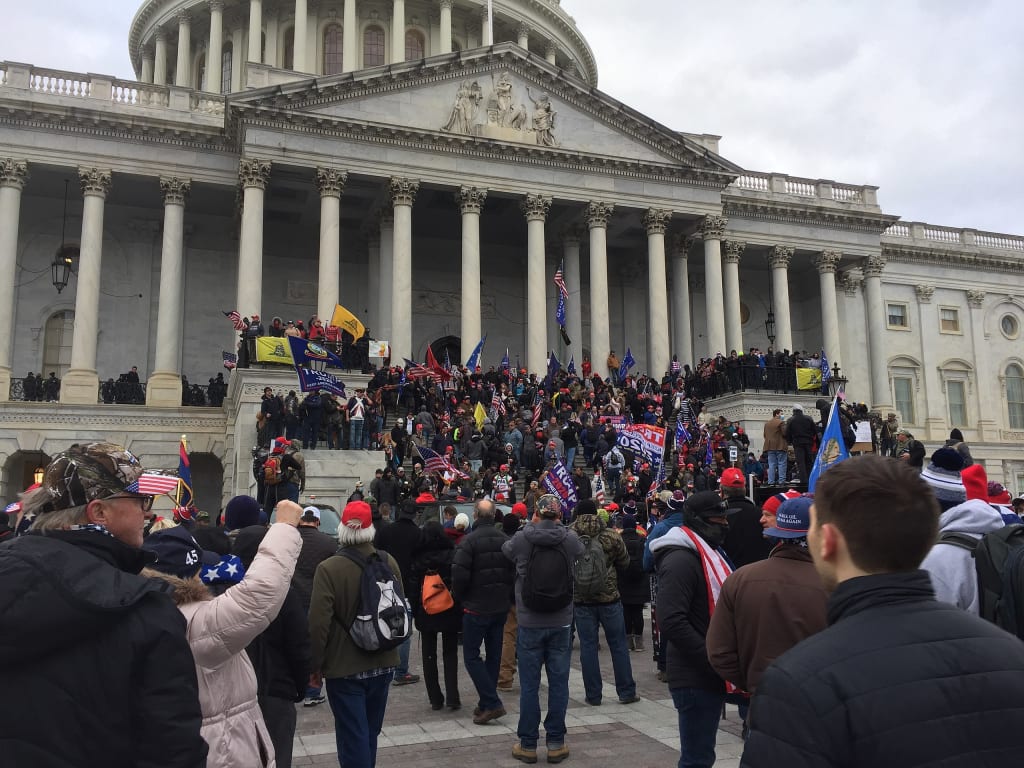 TapTheForwardAssist, CC BY-SA 4.0, via Wikimedia Commons
Failure of Capitol Security
A day before the Capitol riot on January 6, the FBI warned Capitol Police that extremists were traveling to Washington to commit violence. The FBI asked the Capitol Police to coordinate with them before taking any action. No coordination took place.
"An online thread discussed specific calls for violence to include stating 'Be ready to fight. Congress needs to hear glass breaking, doors being kicked in, and blood from their BLM and Antifa slave soldiers being spilled. Get violent. Stop calling this a march, or rally, or a protest. Go there ready for war. We get our President or we die. NOTHING else will achieve this goal." — WP
The Capitol Police use armed guards, video surveillance, lockdown, and evacuation procedures to protect the Capitol building. The sheer number of rioters overwhelmed the routine procedures when the rowdy crowd bum-rushed the Capital defenses and broke into the Capitol building, crashing through doors and windows.
Two Pipe Bombs Discovered
12:49 p.m.:Capitol Police respond to a report of a possible explosive device at the Republican National Committee Headquarters, which is later identified as a pipe bomb. Shortly afterwards, a second pipe bomb is found at the headquarters of the Democratic National Committee. Buildings next to these headquarters are evacuated.
Rioters Overwhelm Capitol Police
12:53 p.m.: Rioters overwhelm police along the outer perimeter west of the Capitol building, pushing aside temporary fencing. Some protesters immediately follow, while others, at least initially, remain behind and admonish the others: "Don't do it. You're breaking the law." By 1:03 p.m., a vanguard of rioters have overrun three layers of barricades and have forced police officers to the base of the west Capitol steps — Timeline of Capitol attack.
The defenses of the Capitol building need to be strengthened. At a minimum, the doors and windows need to be reinforced and upgraded to resist mob violence long enough to secure or evacuate lawmakers safely.
Trump tweeted twice during the siege despite calls for him to send the mob home. Fox News' Laura Ingraham, Brian Kilmeade, Sean Hannity, and the president's eldest son all texted White House chief of staff Mark Meadows on January 6 asking Trump to call off rioters.
4:17 p.m. President Trump tweets.
"I know your pain, I know you're hurt. We had an election that was stolen from us. It was a landslide election and everyone knows it, especially the other side. But you have to go home now. We have to have peace. We have to have law and order. We have to respect our great people in law and order. We don't want anybody hurt. It's a very tough period of time. There's never been a time like this where such a thing happened where they could take it away from all of us — from me, from you, from our country. This was a fraudulent election, but we can't play into the hands of these people. We have to have peace. So go home. We love you. You're very special. You've seen what happens. You see the way others are treated that are so bad and so evil. I know how you feel, but go home, and go home in peace."
6:01 p.m.: President Trump tweets,
"These are the things and events that happen when a sacred landslide election victory is so unceremoniously & viciously stripped away from great patriots who have been badly & unfairly treated for so long. Go home with love & in peace. Remember this day forever!"
It is evident from Trump's tweets that he was desperate to hold on to the presidency. The only way he could move forward was to maintain the "Big Lie" that the election was stolen. He could not admit that he lost. Instead, he argued that he won by a landslide. Despite any evidence to the contrary, Trump continued to hammer on the same theme — I won, I won, I won.
By 8 p.m., seven hours after the riot began, Capitol Police finally declared the Capitol building secure.
What led up to January 6?
Before the January 6 riot, Trump tried every avenue to get the result of the election overturned. Rep. Carolyn B. Maloney, the Chairwoman of the Committee on Oversight and Reform, released handwritten notes taken by then-Acting Deputy Attorney General Richard P. Donoghue about a December 27, post-election phone call with outgoing President Trump and former Acting Attorney General Jeffrey Rosen. The notes indicated:
President Trump directly instructed our nation's top law enforcement agency to take steps to overturn a free and fair election in the final days of his presidency.
Trump urged DOJ to call the election "Illegal" and "Corrupt" and implied he might replace agency leadership.
The Deputy Attorney General insisted, "Understand that the DOJ can't + won't snap its fingers + change the outcome of the election, doesn't work that way." Trump replied, "Don't expect you to do that, just say that the election was corrupt + leave the rest to me and the R. Congressmen."
After complaining for four years that the 2016 election was fraudulent or "rigged" because Hillary Clinton won the popular vote Trump set the expectation for voter fraud. He continued his assault on our electoral process and never let up. President Trump used the word "rigged" 157 times in his tweets since he took office. Seventy-five have been tweeted since May about the 2020 presidential election, the remainder were complaints about his popular vote loss to Clinton in 2016.
When Trump could not coerce the DOJ to do his bidding, he looked for other means to overturn the election across the country.
Trump tried to pressure secretaries of state not to certify the 2020 election.
Trump tried to pressure state legislatures to overturn the results.
The president and his allies filed 62 lawsuits in state and federal courts seeking to overturn election results in states the president lost. Trump got one ruling in his favor when a Pennsylvania judge ruled that the Pennsylvania State Secretary did not have the authority to extend the deadline three days for verifying absentee ballots. The ruling did not affect the outcome of the election.
Trump focused on the results of six states. But all the recounts confirmed that Joe Biden had won the election.
Trump tried to pressure Mike Pence to overturn the results.
At the January 6 rally, Trump continued to insist, "the voter rolls are crammed full of non-citizens, felons, and people who have moved out of state, and individuals who are otherwise ineligible to vote. We won in a landslide. This was a landslide. They said it's not American to challenge the election. This is the most corrupt election in history, maybe in the world."
"So we're going to, we're going to walk down Pennsylvania Avenue. I love Pennsylvania Avenue. And we're going to the Capitol, and we're going to try and give." "We're going to try and give them the kind of pride and boldness that they need to take back our country." "So let's walk down Pennsylvania Avenue." — Trump urged at the January 6 rally.
The crowd marched to the Capitol building as recorded on hundreds of cell phones. The crowd marched down Pennsylvania Avenue and assaulted the Capitol building. One video clip recorded:
"Can I speak with Pelosi? Yeah, we're coming for you, bitch. Mike Pence? We're coming for you too, fucking traitor."
The video of the assault shows rioters attacking officers with poles, bats, stun guns, and bear spray. It also shows people in the crowd shouting threats against officials. Four rioters died in the assault. Ashli Babbitt was shot by Capitol Police while breaking down a locked door. Some right-wing commentators claim Babbitt was murdered, but it's hardly murder when a rioter is shot and killed while in the commission of a crime by a law enforcement officer.
Three other rioters died, two by natural causes and one from amphetamine intoxication.
A Capitol Police officer, Brian Sicknick, suffered a stroke and died while holding back rioters. Two rioters have been accused of assaulting Sicknick with pepper spray. Four officers died by suicide in the months since the assault due to the trauma from the confrontation with rioters. One hundred and forty officers were injured.
Antifa Did It
Right-wing media began blaming the riot on Antifa almost immediately after the riot ended.
"Earlier today, the Capitol was under siege by people who can only be described as antithetical to the MAGA movement," Laura Ingraham told her viewers on Fox News that night. "They were likely not all Trump supporters, and there are some reports that ANTIFA sympathizers may have been sprinkled throughout the crowd."
Sean Hannity, Tucker Carlson, Rep. Matt Gaetz, R-Fla., Rep. Paul Gosar, R.-Ariz., and Rep. Mo Brooks, R-Ala all repeated the claim that Antifa was responsible. In the 24 hours following the riot, the claim was echoed 400,000 times online.
However, the National Public Radio (NPR) analysis of 280 individuals charged in the Capitol riot tells a different story.
"Listen up: I hear so many reports of 'ANTIFA' was storming the Capitol building. Know that every single person who believes that narrative has been DUPED AGAIN!"
"Sure, there may have been some 'ANTIFA' in DC, but there wasn't enough to storm the Capitol themselves."
"It was not ANTIFA at the Capitol. It was freedom-loving Patriots who were DESPERATE to fight for the final hope of our Republic."
"There was also this notion that if you come to Washington, not only [do] you have a chance to stop the steal, you'll get to bulldoze your way through the ANTIFA folks who are there hand in hand with Congress … so it was kind of a bonus."
In fact, the rioters breaking into the citadel of American democracy that day were acolytes of Mr. Trump, intent on stopping Congress from certifying his electoral defeat. Subsequent arrests and investigations have found no evidence that people who identify with ANTIFA, a loose collective of antifascist activists, were involved in the insurrection — New York Times.
Who attended Trump's rally preceding the riot? Was he addressing his remarks to a crowd of ANTIFA? Who walked from the rally to the Capitol building? Antifa?
Why would Trump tweet to ANTIFA rioters, "Go home with love & in peace. Remember this day forever?"
If ANTIFA was to blame, why are Trump associates fighting the subpoenas? Wouldn't it be prudent to testify before the committee and place the blame squarely onANTIFA? What do Trump's people have to hide from the investigating committee? Their innocence?
Since the rioters swarmed the Capitol building, 727 people have been arrested and charged with crimes. The rioters were allowed to disburse after clearing the building, so it has taken time to track them all down. Many were bragging over their social media accounts about their role in the riot. Many happily posed for cell phone video clips, that were later posted online. Still, others had their images captured on closed-circuit surveillance video. The FBI is still working to identify the images of rioters caught in the act in what has been billed as one of the most documented crimes in US history.
The longest sentence handed down so far was to Robert Palmer, 54, of Largo, Florida. During the chaos, Palmer made his way to the front line and began to attack, throwing a wooden plank, spraying a fire extinguisher, then hurling it when it was empty at the police officers. In a handwritten letter to the judge, Palmer said that he felt betrayed by Trump and his allies who fed them conspiracy theories.
Like all the convicted rioters, he was predictably ashamed and sorry for his actions after he was apprehended. He was sentenced to 63 months in jail. In his letter to the judge, he also stated:
"Trump supporters were lied to by those at the time who had great power," he wrote. "They kept spitting out the false narrative about a stolen election and how it was 'our duty' to stand up to tyranny."
Jacob Chansley, the horned-hat-wearing, QAnon shaman, was sentenced to 41 months in jail, the second-longest sentence. Over 50 rioters have been convicted for their roles in the violence at the Capitol building.
The Committee on Oversight and Reform will hear testimony from top Trump administration officials in the coming months. Eight government officials or their associates have ignored Congressional subpoenas so far.
Mike Pompeo, Secretary of State
Rudy Giuliani, personal attorney to Donald Trump
Mick Mulvaney, Acting White House Chief of Staff
Mark Esper, Secretary of Defense
Russell Vought, Acting Director of the Office of Management and the Budget
Gordon Sondland, Ambassador to the European Union
Rick Perry, Secretary of Energy
Lev Parnas and Igor Fruman, Giuliani associates
Steve Bannon, the one-time chief political strategist for Donald Trump, also ignored his subpoena from the committee. However, the House found Bannon in contempt of Congress. That finding comes with the power to "arrest and detain." Bannon turned himself into the FBI rather than face arrest. Bannon made his initial appearance before a federal court on November 15.
Speaking to his supporters on camera, Bannon claimed:
"We're taking down the Biden regime," Bannon said, "I want you guys to stay focused … This is all noise."
Bannon's statement sounds rather self-incriminating to me.
About the Creator
Grandfather, educator, businessperson, writing to understand our world and to make it a better place
Reader insights
Be the first to share your insights about this piece.
Add your insights