Two LAUSD Incumbents File To Run For Reelection
Can Scott Schmerelson and Dr. George McKenna show their supporters that they deserve to serve another four years in office?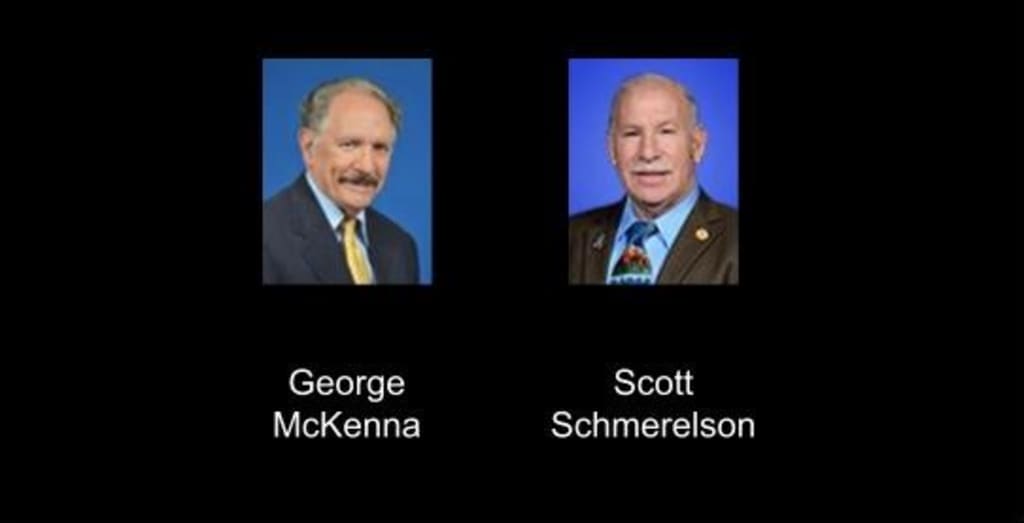 "There are so many opportunities to create schools of specialized learning and [a magnet program located on Special Education center campuses] sounds like a fantastic new frontier that should be opened in the LAUSD Magnet program."

- Scott Mark Schmerelson
The election ballot in 2024 will not only include presidential candidates, Los Angelenos in the odd-numbered LAUSD Board Districts will also be choosing their representatives for the next four years. Since none of the current Board Members have reached their legally limited number of terms, all four are eligible to run for reelection. So far, only current Board members for District 1, Dr. George McKenna, and District 3, Scott Schmerelson, have filed the paperwork with the City Clerk that allows them to begin fundraising.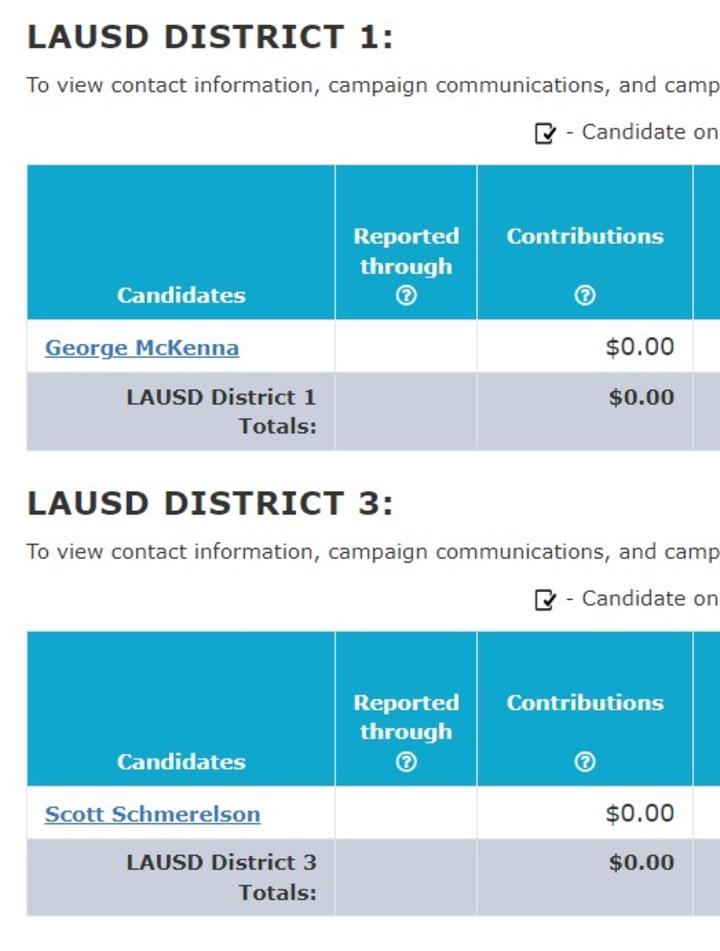 With public education supporters holding a slim four to three majority on the current board, the charter school industry only has to win half of the contests in 2024 to retake control of the board that is supposed to oversee the activities of these publicly funded private schools.
If Board President Jackie Goldberg takes a well-deserved retirement, the race to replace her in Board District 5 will attract the most attention along with vast amounts of campaign donations and independent expenditures totaling millions of dollars. The charter school industry, backed by billionaires, has shown that money is no object when it comes to spending on candidates who will look the other way when it comes to charter school wrongdoing. UTLA will do its best to compensate, but dues paid by teachers are no match for the nearly limitless amount of money in the bank accounts of Reed Hastings and the Waltons of Walmart.
This does not mean that the incumbents will not face challengers, at least in Board Seats 1 and 3. Knowing the poor political choices shown by UTLA in the past, the political arm of the California Charter School Association is sure to assume that the District 7 seat held by Tanya Ortiz-Frankin will not be contested in the likely event that she decides to run again. Charters will, therefore, be free to play offense against both McKenna and Schmerelson as charter school supporters try to regain a majority on the Board.
The fight facing McKenna and Schmerelson is made harder by their records in office. Most problematic is McKenna whose office has developed a reputation for ignoring the needs of constituents. This is a problem that can be rectified, but the closer the primary gets the more it starts to appear that he is just pandering to the electorate. If McKenna is serious about running again, he needs to right his ship quickly.
Schmerelson shot himself in the foot as he launched his reelection campaign when he was the only member of the board to vote against breaking up North Valley Military Institute's (NMVI) PROP-39 into three different campuses. His full-throated support of the charter school contrasted sharply with his statements during the last campaign where he said that past actions by NVMI "would disqualify them from a renewal." He also opposed the Los Angeles County Office of Education's (LACOE) granting NVMI a renewal stating that "we should not allow the appointed county board to overturn an elected board's decision."
When Schmerelson was stuck in a minority on the Board, it was understandable that he was not able to follow through with his campaign promises, but that excuse has now been eliminated thanks to the efforts put forth by public school supporters during past elections. As Vice President of the Board, Schmerelson needs to take the lead to bring real change to the district:
In his answers to my questions during the last campaign, Schmerelson stated that the issues raised by the proposed "Board Meeting Accessibility to the Public" resolution were "crucial," stating that he has "long believed that by holding [board] meetings during work hours, we are prohibiting many of the public from being able to attend." He even went further than I had proposed and stated that meetings should not only be held "at different times in the day but more importantly, [in] different locations. Some of the schools in my district are almost 30 miles away from Beaudry. That's not right." It is time for Schmerelson to put his money where his mouth is and ensure these changes are made.
During the past campaign, Schmereleson promised to continue "shining a bright public light on" the practice of many charter schools not serving the needs of children with Special Education needs. With the Charter School Industry no longer controlling the board, Schmereleson has the opportunity not only to expose wrongdoing but also to do something about it. Any charter school that is not bearing the responsibility of educating our most vulnerable students should lose the ability to operate.
Schmereleson also said that he was "a vocal proponent of district representation on the governing board of charters." This change actually requires no change as the language to do it already exists in every charter that the LAUSD Board has approved. The Board simply has to instruct the Superintendent to enforce the provision.
Schmerelson rightfully bragged during his last campaign that he has "fought…hard to make sure that Special Education Centers remain open and available to serve our students who need those wonderful centers of learning." He also said that "no employee of the LAUSD should ever feel as though they cannot give their unfettered professional opinion on what is in the best interests of one of our students." He called my suggestion that magnet programs be placed on the campuses of Special Education Centers to serve children who are interested in pursuing careers in special education "a fantastic new frontier."
These issues are all addressed in the proposed "Improving Special Education Within the LAUSD" resolution. Schmerelson needs to sponsor this resolution and present it to the board for a vote.
Additionally, Schmerelson, and the rest of the Board, need to stop acting like they are beholden to Superintendent Carvalho. The Superintendent serves at the pleasure of the Board and they need to start holding him accountable for his lies and his lack of support for Special Education.
When it comes to voting in next year's elections, the constituents of Board Districts 1 and 3 should not feel that they have to vote for the incumbents just to keep the charter school candidate from taking control. Instead, they should feel that they are voting for someone who has done great things while in office, someone who has really fought for public education and our most vulnerable students. Can McKenna and Schmereleson establish that kind of reputation before the campaign begins?
____________________________
Carl Petersen is a parent advocate for public education, particularly for students with special education needs. He was elected to the Northridge East Neighborhood Council and is the Education Chair. As a Green Party candidate in LAUSD's District 2 School Board race, he was endorsed by Network for Public Education (NPE) Action. Dr. Diane Ravitch has called him "a valiant fighter for public schools in Los Angeles." For links to his blogs, please visit www.ChangeTheLAUSD.com. Opinions are his own.
About the Creator
Carl Petersen is a parent advocate for students with SpEd needs and public education. As a Green Party candidate in LAUSD's District 2 School Board race, he was endorsed by Network for Public Education (NPE) Action. Opinions are his own.
Reader insights
Be the first to share your insights about this piece.
Add your insights