Trump Threatens Removal Of Subsidy Payments For Health Insurance
"Skinny Repeal" Won't Pass, So Trump Attempts Removal Of Subsidies To Force Change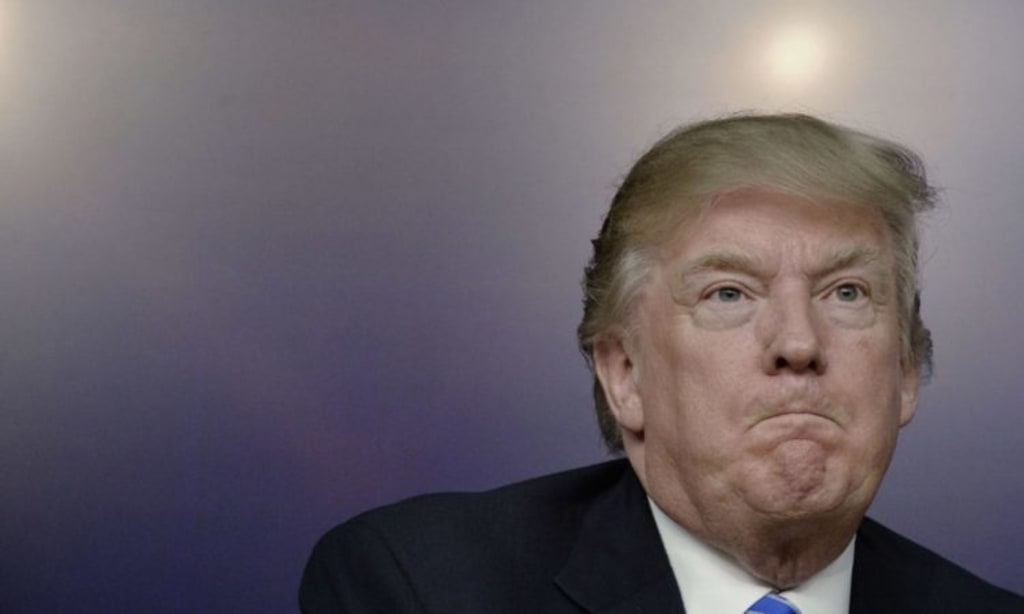 Source
Once again, the immaturity of the 45th president of the United States continues to shine through.
Is there legislation that needs changing in the United States? Absolutely, and change is good for almost any government if it's done in an appropriate fashion. In the case of Obamacare, there are a number of flaws within that system which makes change necessary, but one way to execute change is not to simply remove subsidies to the insurers until President Trump gets his way.
Some of the flaws with the current Affordable Care Act - aka Obamacare - include the rising premiums, the rising deductible thresholds, and a lack of available insurers in many states. Seven states, in fact, appear to only have one health care insurer open to them. There's also the problem with the Medicaid expansion under Obamacare; while Medicaid has allowed those with financial difficulties to seek the medical assistance they might require without being utterly broken by the costs, longer wait times at hospital emergency rooms have resulted because there are fewer doctors that are reportedly interested in having patients on Medicaid because of the endless bureaucracy associated with it.
As with any story, there is always more than meets the eye, and Obamacare is no exception. The Affordable Care Act has also allowed countless Americans access to affordable health care, and this seems to be something that the Trump administration continues to try and cut.
As has been his way since before the start of his administration, Trump appears intent on administering policy through the Twitterverse; he announced his plan to cut subsidies via Twitter.
"If a new HealthCare Bill is not approved quickly, BAILOUTS for Insurance Companies and BAILOUTS for Members of Congress will end very soon!" Trump tweeted Saturday.
According to The New Yorkerwriter John Cassidy back in March 2017, one of the initial proposals of Trumpcare saw the elimination of mandates for individuals and employers, replace the subsidies to insurance companies, and gut the Medicaid expansion that was put on the table for Obamacare. There is a significant difference, however, between "universal health care," which is what Obamacare attempted to offer, and "universal access," which is what Trumpcare suggests.
The difference? If you can afford health care, which only a small margin of the American population really can do, you have access. The United States has one of the highest expenditures on health care by consumers worldwide, and the proposals by the Trump administration to this point have done little except ensure that those who are wealthy will continue to enjoy health coverage while those who are likely from a more middle class background will struggle.
As is well known, Trump's efforts to see Obamacare gone have met with defeat every time, with the last defeat coming a few days ago with the proposed "skinny repeal" of the Affordable Care Act. Now, instead of trying to work with his government in order to pass the legislation he wants to pass, he wants to apparently bully his way through.
The subsidy payments to insurance companies have been challenged to House Republicans, but what may not have been commonly known is there is an opportunity for those in Congress to take advantage of those subsidies as well.
Heritage Action, the political arm of the Conservative activist organization Heritage Foundation, has said that if Trump were to cut subsidies to those in Congress, that would appropriately focus their attention on moving legislation forward to repeal all, or at least some, of the Affordable Care Act. Lawmakers and their aides have been allowed to take advantage of such a subsidy since Obamacare was put forward as a part of a controversial rule put in place by the Obama administration's Office of Personnel Management.
Effectively, members of Congress and their aides could pick from a selection of the most "generous" group plans on sale in the District of Columbia, pay a quarter of the premiums themselves, and the House and the Senate would pick up the rest of the tab. Now, though, it would seem that subsidy is about to be used as a leverage tool by the current president.
It was a move that the head of Heritage Action seemed to support, according to an Independent Journal Reviewop-ed.
"With the long-promised goal of repealing Obamacare and providing relief from the failing law slowly slipping away because of liberal intransigence, senators should finally subject themselves to the same burdens imposed upon their constituents. Maybe then they would come around to begin delivering on their longstanding promise," wrote Michael Needham.
Democratic Senator Chuck Schumer of New York said that if Trump refuses to make the cost-sharing payments, premiums will continue to climb.
"If the president refuses to make the cost-sharing reduction payments, every expert agrees that premiums will go up and health care will be more expensive for millions of Americans. The president ought to stop playing politics with people's lives and health care, start leading and finally begin acting presidential," he said July 29.
With his penchant for tweeting policy and threats, it would seem that Schumer's desire to see Trump act in a more presidential fashion is quite unlikely to happen. However, how much more blame can Trump lay at everyone else's feet for his administration's failure to execute any reasonable legislation to replace Obamacare, or for that matter, its failure to conduct itself in a manner that the United States can actually be proud of?