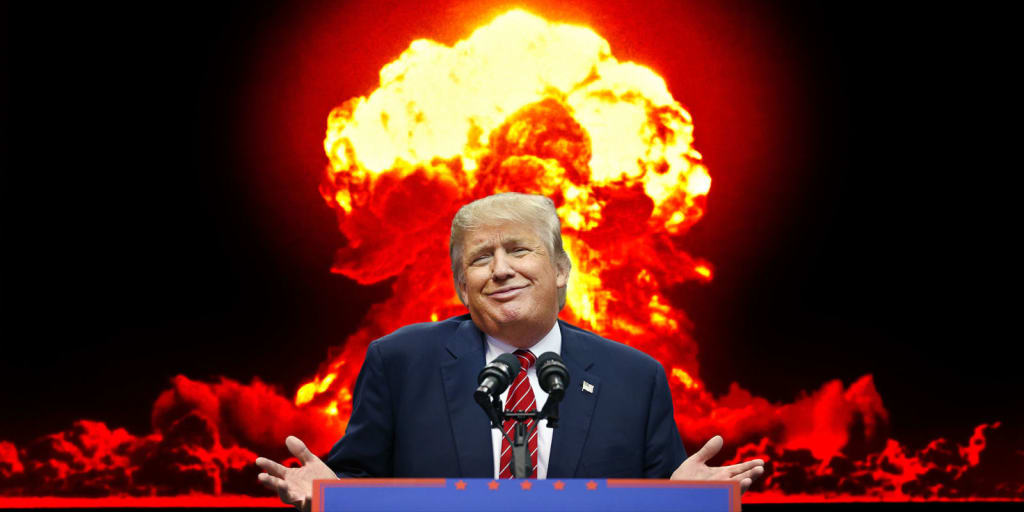 Found on Google
The Doomsday Clock is merely two and a half minutes to midnight. The Intercontinental Ballistic Missiles (ICBM) of North Korea are not getting any further from U.S. territory. Their Hwasong-14 missile is now capable of hitting Alaska and development is not stopping. U.S. President Donald Trump has been mocking North Korean dictator Kim Jong Un on Twitter, calling him "Little Rocket Man" and saying that it is a waste of time to even negotiate with him. And because of this, many believe Trump is aiming for the destruction of North Korea.
Trump states that military options are available, but since they would have devastating effects on North Korea and surrounding countries, they are not his first choice. Experts think that if the U.S. fires at DPRK, it will provoke a disastrous response from Pyongyang that would threaten South Korea. Based on what we've seen from their multiple missile tests, we know DPRK has a considerable arsenal of close range ballistic missiles. Seoul, Tokyo, and other major hubs could be at risk.
Aside from the solution of blocking trade between China and North Korea, ergo cutting off their resources, Defense Secretary Jim Mattis suggested that the United States still had military options for dealing with North Korea, but he did not expand on the subject when asked for details.
White House Chief of Staff John Kelly says that Americans should be wary of North Korea. He stated that the North has developed a "pretty good" intercontinental ballistic missile capability and is developing a nuclear re-entry vehicle, necessary for the missile to re-enter Earth's atmosphere.
In August, US defense secretary James Mattis and US Secretary of State Rex Tillerson presented a co-authored opinion piece which announced that the U.S. was pursuing a campaign of "peaceful pressure" on North Korea. This month, Tillerson draws attention again to the fact that the US was interested in seeking peace through diplomatic means. However, Trump hit up Twitter and said that Tillerson was "wasting his time," followed by, "...save your energy Rex; we'll do what has to be done!"
Trump has also been feuding with Senator Bob Corker. Mocking his height and making other claims about Corker. So in turn, Corker calls the White House an "adult day care." Corker warns that Trump "doesn't realize that . . . We could be heading towards World War III with the kinds of comments that he's making." Trump says, "I think I have a little bit different attitude on North Korea than other people might have. And I listen to everybody, but ultimately my attitude is the one that matters, isn't it? That's the way it works."
About the Creator
Hey there! Caught your eye heh? Then please read some more, you're bound to find it either mindboggling or interesting.
Reader insights
Be the first to share your insights about this piece.
Add your insights