Tory Leadership Candidates Take Part In First Head To Head Debate
Rishi Sunak and Liz Truss Take Part In Debate Broadcast On The BBC To Explain Their Differing Policies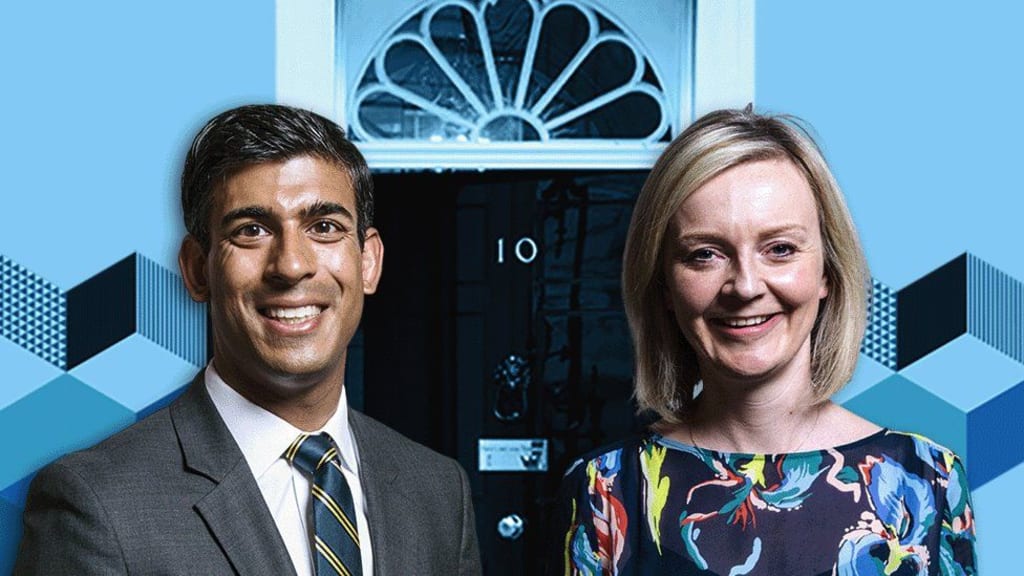 Rishi Sunak Versus Liz Truss, image: BBC
Rishi Sunak and Liz Truss have taken part in their first head to head debate in their bid to become the next leader of the Conservative party and the next Prime Minister of the United Kingdom. The public discussion which took place on Monday 25th July from Stoke On Trent's Victoria Hall lasted for an hour and was broadcast on the BBC to ensure that viewers knew what the different candidates policies were for when the next general election comes around.
The race to become the next Prime Minister had been initiated following Boris Johnson being forced to step down as he had not followed many of the laws which he him self had put in place including holding parties at Downing Street when the rest of the country was living under lock down regulations due to the Covid 19 pandemic. People around the country were furious as almost all of them may have had family members living abroad or in care homes which they would've not seen for a couple of years during the times when the country was living in lock down on and off to prevent the spread of the disease.
There were plenty of tense moments during the discussion with both candidates accusing each other of not being tough enough on China in the past and needing to do more to help countries like Ukraine following their invasion by Russia. There was a lot of detail included as to the different social backgrounds of the two individuals and why each of them thought they would be more suited to the role and be able to cater for and support larger sections of the community.
Ms Truss contrasting her comprehensive school education with that of Mr Sunak, who attended the fee-paying Winchester College
Mr Sunak said he was "not going to apologise" for his background, adding that his parents' aspirational values were Conservative - something that earned him the evening's first round of applause.
There was a lot of toing and froing between the two candidates with many of the arguments focusing on how they were going to fund the economy when people were living under difficult circumstances and needing to apply for support to ensure they could look after themselves. During recent times there has been a lot of strain on the benefit system with many people losing their jobs during the pandemic and having to resort to being on benefits such as Universal Credit. There was plenty of discussion as to how adequate funds would be raised to ensure everyone was catered for. Would it be done by increasing how much tax people have to pay or by using some other method.
Sources close to Sunak said he had "won the argument" on the economy, with his argument that her tax cuts would further fuel inflation and push up interest rates and people's mortgages.
Behind the scenes, Truss's camp feel positive too - claiming that while she stayed calm Sunak was "flustered".
Labour leader Sir Keir Starmer told BBC Breakfast the debate showed a Conservative Party which had "lost the plot and lost its purpose".
He said Mr Sunak was acting like he had "just come down from the moon" and discovered the economy was in a bad way when he had been in charge of it until three weeks ago, while Ms Truss was playing "fantasy economics" without explaining how she would pay for tax cuts.
"We do need change in the UK but the change we need is not a change at the top of the Conservative Party, it is more fundamental than that. We need a fresh start for Britain. We need a Labour government," he said.
The two candidates were part of the same cabinet until recently but now have differing views on how the country should be run. This includes:
Ms Truss wants to scrap the rise to National Insurance, a planned rise in corporation tax and would temporarily scrap green levies on energy bills to be paid for through borrowing.
Mr Sunak says he would not cut taxes until inflation was under control.
Mr Sunak - who quit as chancellor earlier this month - said the coronavirus pandemic had created a large bill and that putting it on the "country's credit card" would "pass the tab to our children and grandchildren".
There will be a few more debates being arranged round the country with the eventual winner being chosen by Conservative Party members when they vote in a ballot in September.