Top 5 Marie Antoinette Portraits.
The most controversial royal and her most intriguing depictions in art.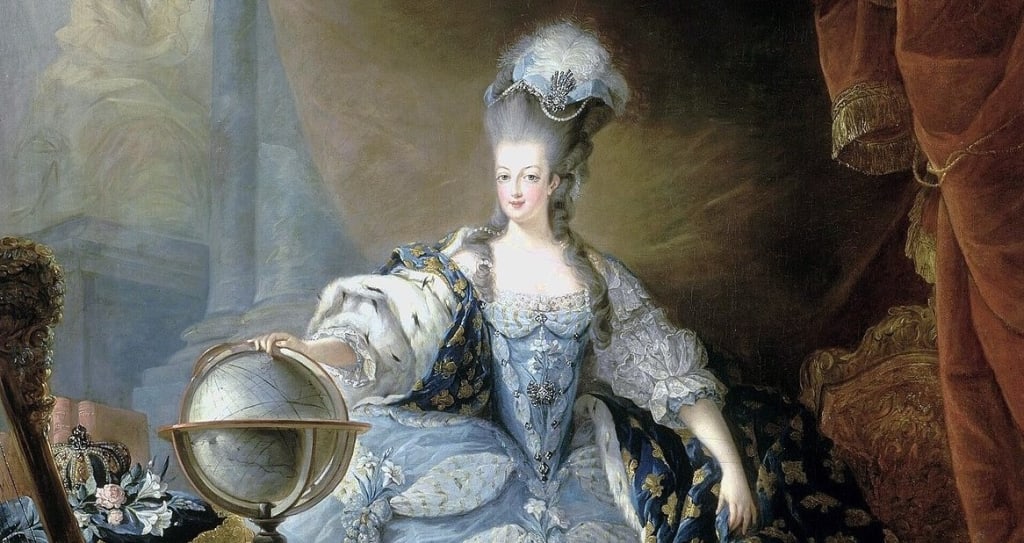 Painted by Jean-Baptiste André Gautier-Dagoty in 1775
Marie Antoinette has fascinated historians, storytellers and artists alike with her paradoxical nature. She had angelic features but was known for her sinful lifestyle. She lived in beautiful palaces but died as a prisoner. This article explores how Marie Antoinette was represented in some of her most iconic portraits.
1. Archduchess Maria Antonia of Austria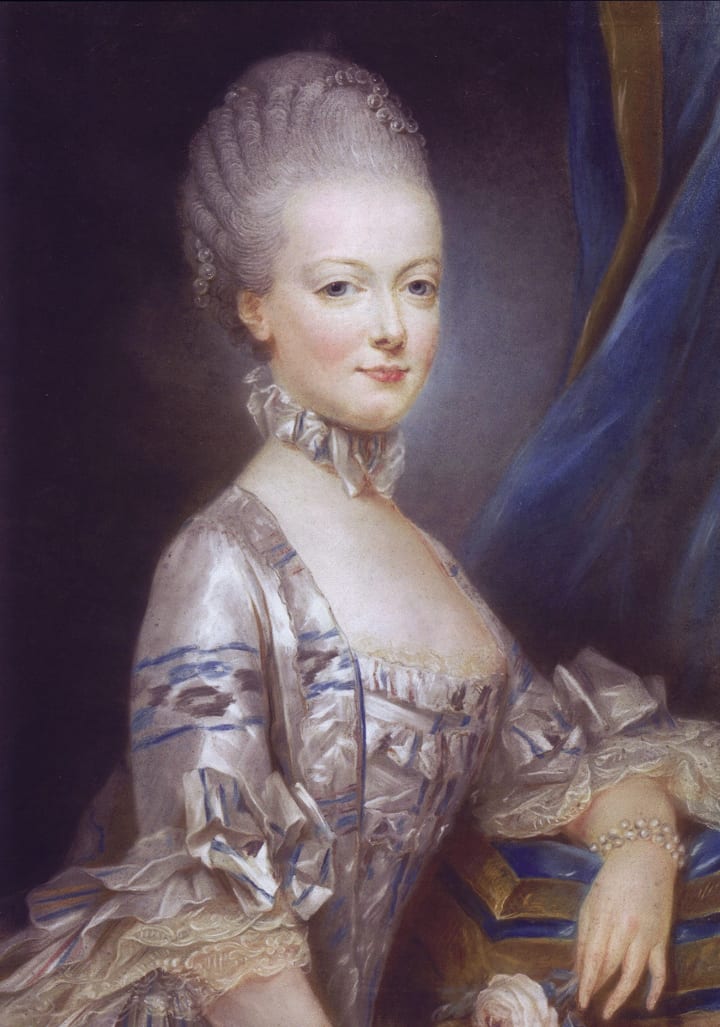 This portrait was painted before Marie Antoinette was married and her title was Archduchess Maria Antonia of Austria. The portrait was commissioned with the sole purpose of showcasing her to the future king of France, Louis XVI. It would be the first glimpse the king would see of his future wife before their marriage. The plain background and simplistic style of the dress ensure that Marie Antoinette's facial features are the focus of the painting. The striking blue eyes hold the viewer's attention. The portrait was a success and secured her fate as Queen of France.
2. Marie Antoinette in Court Dress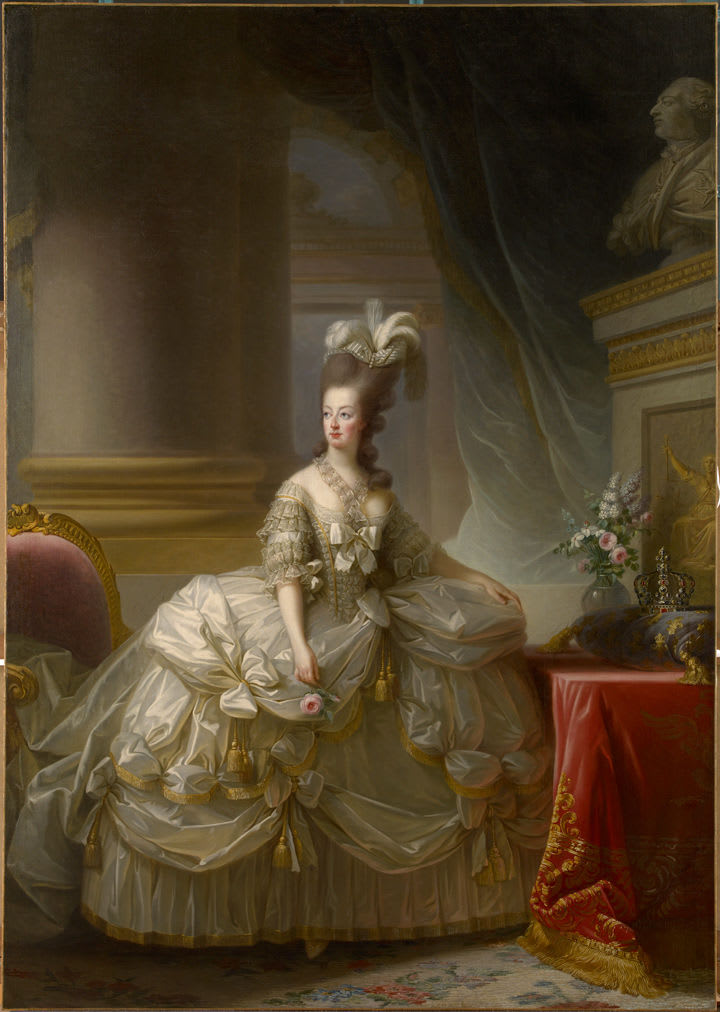 The title of the painting "Marie Antoinette in Court Dress" encapsulates the grandiose dress standards of the French court. Court dresses were often made from silk or satin and heavily decorated with ribbons, beads and frills. Marie Antoinette popularised hair poufs and headpieces which included feathers and gems known as aigrettes. This painting captures the fashions and trends of Marie Antoinette's days in French court. Marie Antoinette's dress allowance was estimated to be $3.6 million in today's value, according to Laurence Benaim, author of Fashion and Versailles. The luxurious dresses and jewels are a testament to the french artisans who created them but ultimately deemed an unjustifiable cost against the backdrop of poverty the French people were facing at the time.
3. Marie Antoinette and Her Children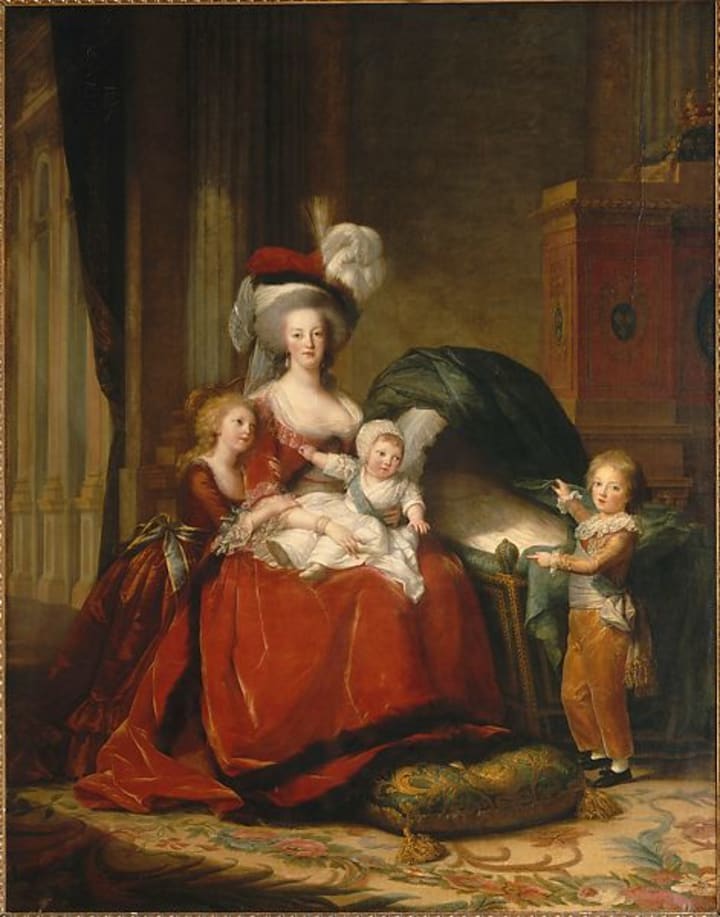 This painting was commissioned by the office of royal households by order of her husband, Louis XVI in order to celebrate Marie Antoinette's maternal side. The painting mimicked depictions of the Holy Family in Renaissance paintings. One reference being the triangular composition of the painting and Marie Antoinette being the central figure. The empty bassinet is symbolic of the loss of Marie Antoinette's fourth child. This maternal side of Marie Antoinette was often hidden behind the ostentatious persona she was known for and this portrait was commissioned to try and change people's perception of her.
4. Marie Antoinette in a Chemise Dress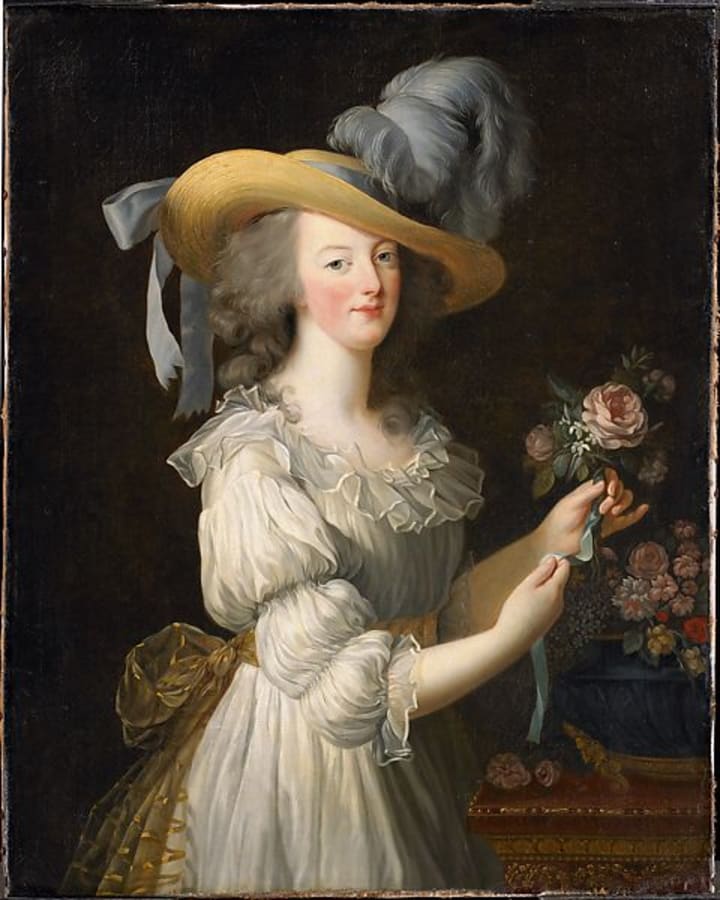 Instead of depicting Marie Antoinette in her usual ostentatious gowns the painter, Elisabeth Louise Vigée Le Brun, decided to instead depict her wearing a simple cotton gown called a robe de gaulle. Although the gown is unembellished, it does have striking intricate details such as the frilled neckline, gold ribbon sash and billowy sleeves. The wide brim straw hat adds to the down to earth aesthetic with its simplicity unlike the over the top hairstyles usually captured in portraits of Marie Antoinette. As heavenly as the portrayal of Marie Antoinette is in this portrait, it was asked to be removed from the artist's exhibition as it was deemed to be inappropriate for the public portrayal of royalty.
5. Marie-Antoinette and her Children Facing the Mob that Broke into the Tuileries Palace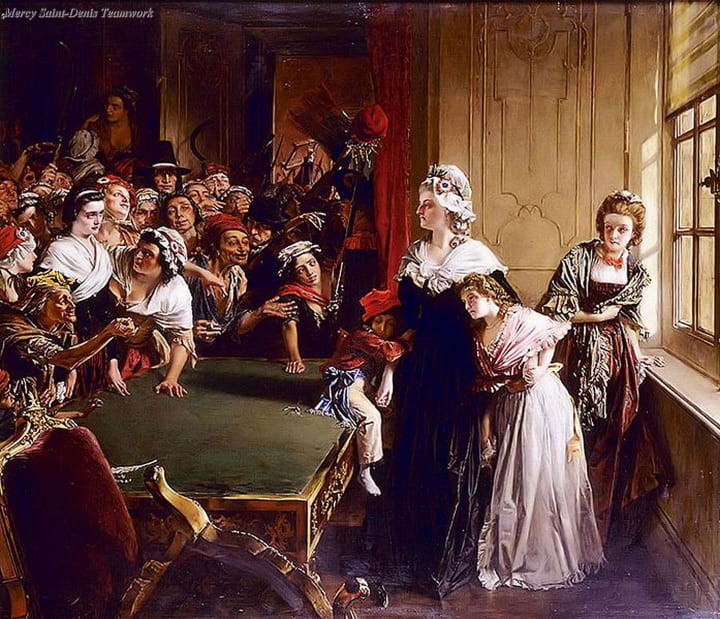 This painting captured the historical moment in June 1792 when an armed crowd stormed the Tuileries Palace where Marie Antoinette and her family were placed under house arrest. The crowd surrounded Marie Antoinette and her children hurling insults and threats. Her son was made to wear a red bonnet which symbolised liberty and was worn by revolutionaries. Marie Antoinette's silent response to the crowd with her head held high can be interpreted in many ways. I believe her silent response was to try and appease to the crowd and perhaps not cause more chaos by fighting back. Her proud stance could also be protective to try and shield her children from the vicious crowd. Although this painting isn't a portrait it captures a key moment in Marie Antoinette's downfall from royal to a prisoner.
Marie Antoinette is represented as many things in her portraits because she did not fight to define herself. She did not fight the rigid rules of court dress or fight harder to weigh in on political matters. This is perhaps why she was targeted by revolutionaries as a symbol of selfish cruelty. It is easy for people to project their ideas of you when you don't definitively define who you are and what you stand for and therein lies the moral of the story to Marie Antoinette's dramatic life.
Reader insights
Be the first to share your insights about this piece.
Add your insights