To Senator Rob Portman: An Open Letter
An Ohioan responds to an email sent from the Junior US Senator.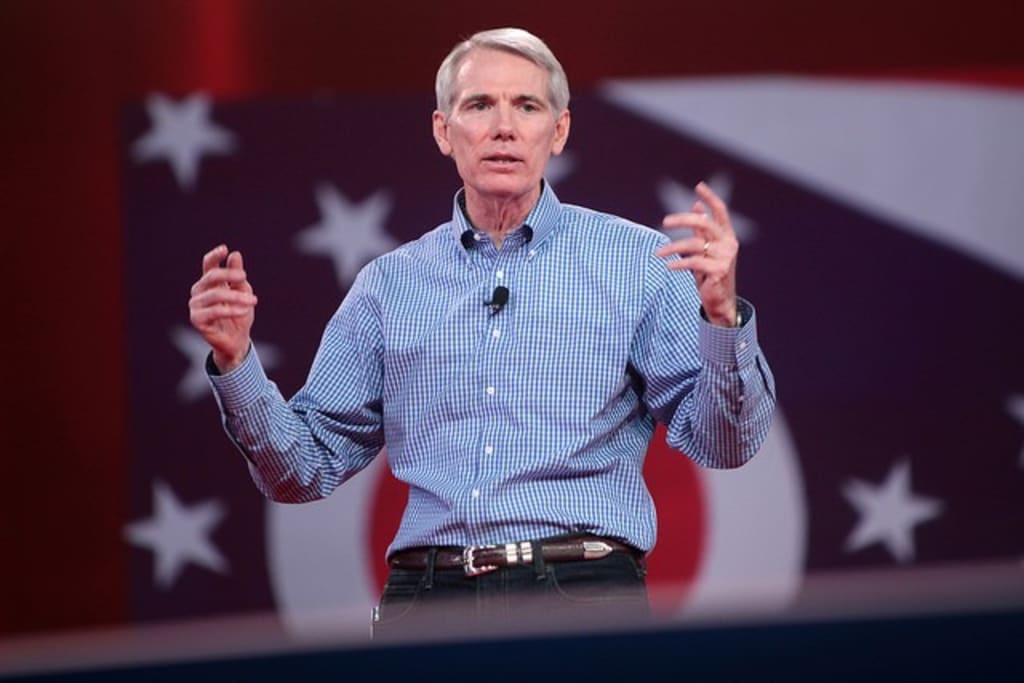 US Senator Rob Portman of Ohio: Yesterday, the letter-writer called to lodge a complaint with the Senator. The text below is in response to an email received from the senator's office as sent from a "no-reply" address.
Tuesday, October 30, 2018
Dear Senator Portman,
Thank you for your email with regards to the message I left with your office on October 29. While I'm heartened by your concern over the deaths of the 11 innocent people at the synagogue in Pittsburgh this past weekend, I called to request that you use your position to refute the latest action taken impulsively—and many Ohioans believe with bigoted motives—by the current occupant of the White House.
I called to urge you to make a public statement rebuking the President's decision to send 5200 troops to our southern border in order to stop people from seeking asylum in the United States, a country in which I was born and still want to be able to love. I urged you to do this especially in the wake of last week, in which our country experienced three separate cases of domestic terrorism for which the President's responses have been pathetically half-hearted if they came to the public at all. Conversely, he's built his entire political career stoking fears and animosities about victims of those recent atrocities, and it's for that reason that I left such an urgent message with your office.
The President's own comment line was closed by 4:30 PM. The news broke about his impulsive and mean-spirited decision after 5 PM.
You have often poised yourself as a dedicated conservative and responsible statesman, a loyal partisan who's occasionally able to buck your party's hard ideological lines when they run counter to your own moral center or those of your constituents. Your silence in light of the President's rhetoric, which has inspired these recent tragedies, has exposed you as a politician afraid of losing a primary election at your next primary, not the brave statesman who bucked his party's hardliners and supported marriage equality.
As one of the two people charged with representing Ohio's 11 million residents, you have both the governmental authority and moral obligation to refute claims made by people with similar communicative reach. You made the bold step of rescinding your endorsement for the current occupant of the Oval Office in October of 2016 for his comments about women. When faced with reports of thousands of women and children seeking asylum from places that treat them as subhuman, how can you not respond to a President who uses his office to exacerbate that scenario?
You remained silent about the President's cynical rhetoric that black people should vote for him because we "had nothing to lose" if we did vote for him during his campaign. Last week, a madman in the state to our southern border failed in an attempt at racially-motivated mass murder in a church, then killed two black senior citizens in a nearby Kroger grocery store. Kroger is one of the largest employers in Ohio. Its headquarters are in one of our largest cities. The madman is a supporter of the President.
You have remained silent about the President's rhetoric as he spread conspiracy theories, tossed epithets at, or otherwise denigrated his political opponents since he began his quest for public office in 2015. Last week, a madman sent pipe bombs to the President's most prominent political detractors from a van in Florida, a state that houses thousands of Ohioan seniors in the winter months. That madman's van was covered in pictures that supported the President and threatened his political opponents.
You had the courage to rebuke the President when he said there had been "very fine people" among the madmen who spewed vitriol at a rally, one of whom drove his Dodge Challenger into a crowd of people, injuring dozens and killing one.
Yesterday afternoon, you spent a few hours at a synagogue in Youngstown—70 miles northwest of the synagogue where a madman killed 11 people on their Sabbath morning.
That madman had accused the President on social media of being "a globalist, not a nationalist" in his social media account. Last week at a campaign rally in Texas, the President told a crowd of roaring supporters, "There's this word—nationalist. I'm not supposed to use it, but I'm a nationalist. I'm a nationalist. Use that word."
The globalists, it seems, still believe that the U.S. is a shining city upon a hill. The nationalists see only American carnage. Which do you represent?
So thank you, Senator Portman, for your communication team's thoughtful response to the tragedy in Pittsburgh last week. But I called about the President's atrocities, not his supporter's crimes. What do you plan to do about the leader of your government and political party, who seems determined to drive it closer toward disaster by the day?
I ask this as both an American and an Ohioan, both of which constituencies you've sworn to represent. I am sure that I'm not the only Ohioan—or American—who would welcome your response.
Regards,
David S. Harewood