They Pick the President
The Electors: Arizona - Michigan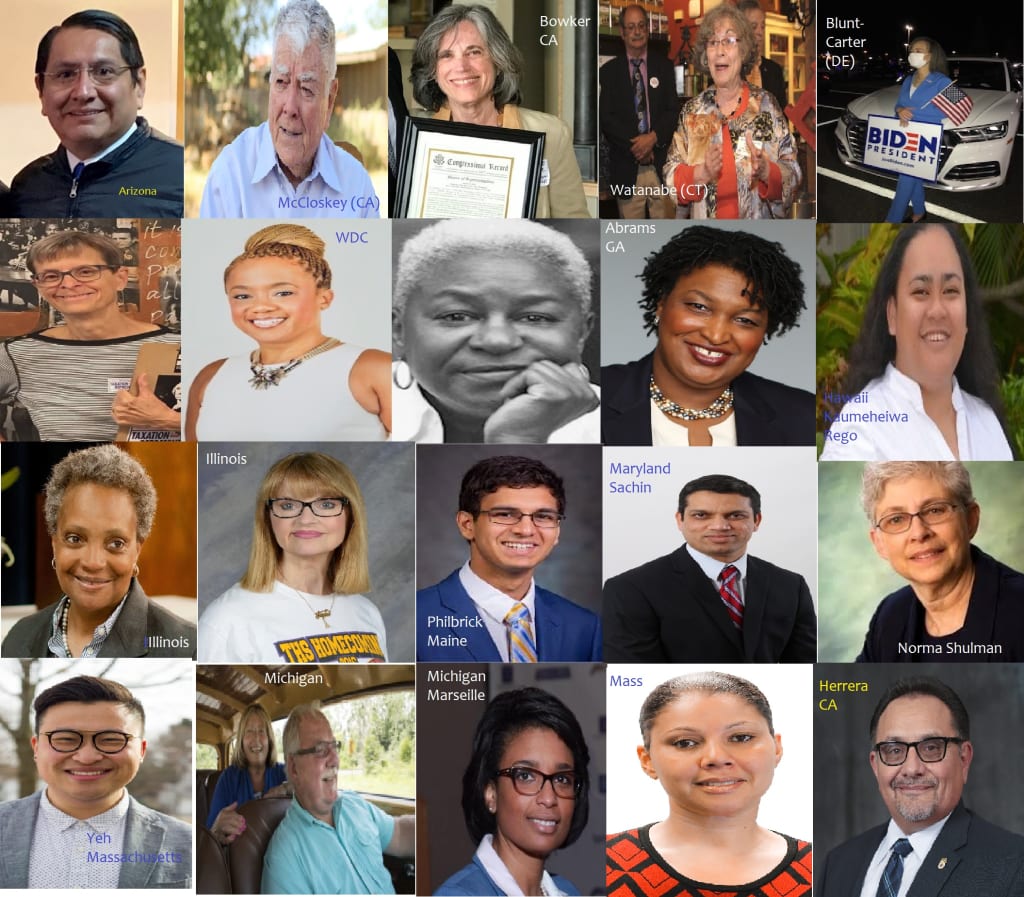 Just some of the 306 Electors who will be voting for Joe Biden December 14
On December 14, Electors will meet at state capitols all around the country and cast votes to elect the next President of the United States. Since Joe Biden has a decisive lead over Donald Trump, 306-232, here are a look at the some of the Democratic electors in 2020.
Arizona (11): Electors include the usual political suspects such as Felicia Rotellini, chair of the state party and Tucson Mayor Regina Romero. Several Native America tribes are represented, including Jonathan Nez from the Navajo Nation and Stephen Roe Lewis from the Gila River Tribe. Labor is also well represented, with both the President (James McLaughlin) and Executive Director (Fred Yamashita) of the Arizona AFL-CIO.
California (55): California has the largest electoral bloc in the USA. The state uses an unusual procedure for selecting electors: the congressional candidate for each district picks the elector, which for most of California means the member of Congress. This results in some interesting picks in the California delegation to Sacramento.
California does have a genuine Hollywood celebrity: Naomi Tomita, better known as Tamilyn, star of "Karate Kid 2" will be representing Glendale. She can currently be seen on the CBS drama "The Good Doctor."
There is some nepotism, with Jacki Cisneros (wife of Gil), Jillian McNerney (daughter in-law of congressman Jerry) and Karen Waters, the daughter of Representative Maxine, choosing the President. Some members of Congress chose staffers.
For nostalgia fans, there are former Republican congressman Paul "Pete" McCloskey, an outspoken opponent of Richard Nixon in the 1960s, and Rosalind Wyman, who was a leading force in Los Angeles politics as an alderwoman in the 1950s.
California also stresses education in its delegation, with three college professors (Peter Bolland of San Diego, David Kennedy of Stanford and Kathleen Wilkinson of San Jose State) and two college students (Madeline Handy of UC Davis and Erin Sturdivant from Piedmont).
Colorado (9): Electors from Colorado in 2016 helped change the rules when the Supreme Court ruled that states could replace "faithless electors" who voted against their state's wishes. Former state Senator Polly Baca, a four time elector, was one of the the 2016 electors and will be voting against this year. Joining her are Denver law professor Alan Kennedy, Fort Collins sustainable homebuilder Susan McFaddin and Bryan Hartmann, a red cross emergency manager from Highlands Ranch.
Connecticut (7): The electors include several political figures like State Party Chair Dominic Balleto Jr and Fairfield Town Chair Susan Barrett. The delegation also includes Myrna Watanabe, a 71 year old community college professor from Harwinton.
Delaware (3): Delaware's three electors are John Daniello, former chair of the Delaware State Party; Marla Blunt-Carter, a college professor who is the sister of US Representative Lisa Blunt Rochester; and Marie Mayor, a former candidate for the state legislature.
District of Columbia (3): The DC City government decided to go a different direction with their electors in 2020, choosing essential workers. This year DC Residents Jacqueline Echavarria, a cashier at Safeway; Meedie Bardonille, the district's director of nursing; and Barbara Hemick, a staffer with DC Vote, a pro-statehood organization, with be casting the District's votes.
Georgia (16): Thanks to the efforts of thousands of African American activists, Georgia flipped blue in the 2020 election. Most appropriately, Stacey Yvonne Abrams, the leader of voting rights efforts, will be on Georgia's electors.
Other political figures include Nikema Williams, chair of the State Party, Savannah Mayor Van Johnson, House Democratic Leader Bob Trammell Junior and Senate Democratic Leader Steve Henson. Rachel Paule represents the Georgia Young Democrats.
Hawaii (4): Hawaii's electoral delegation consists of Hermina Morita of the state's Public Utilities Commission; John William Bickel, a teacher and Democratic activist; Michael Golojuch Senior, a long time civil servant and activist; and Kainoa Kaumeheiwa-Rego, an LGBTQ activist who serves as Treasurer of the Hawaii Democratic Party.
Illinois (20): The biggest profile name in the Illinois delegation is Chicago Mayor Lori Lightfoot.
Much of the rest of the delegation are Chicago Alderpersons (Michelle Harris and Silvana Tabares), State legislators (Don Harmon of Oak Park and Omar Aquino). Almost everyone is either a long time party activist or Democratic elected official. Perhaps the most ordinary person is Taylorville teacher Jayne Mazzotti.
Maine (3): Three of Maine's electors will be voting for Biden, one will be voting for Trump.
They are 18 year old college student Jay Philbrick from North Yarmouth; David Bright of Dixmont, who was also an elector in 2016; and State Senator Shenna Bellows of Manchester.
Maryland (10): The electors tend to be long time political activists, starting with former State Party Chair Kathleen Matthews. Sheree Sample-Hughes, Speaker of the State Assembly and Secretary of Aging Gloria Lawlah were also chosen. Catalina Rodriguez-Lima of Baltimore works for the mayor on immigrant issues. Doctor Thelma Daley is a veteran civil rights activist with the NAACP.
The men from Maryland include Peter Perini for the Hagerstown City Council and Sachin Hebbar, a candidate for the state legislature.
Massachusetts (11): The State Party went heavy with members of the State Central Committee, chosing Norman Shulman of Framingham, Kate Donaghue, Jay Rivera and Teresa Walsh.
Former State Party Chair Ray Valerio is another veteran Democratic activists. Easthampton Mayor Nicole LaChapelle and former Springfield Mayor Robert Markel were two of the local elected officials chosen.
Michigan (16): The Michigan delegation skews the oldest of anywhere, with four electors over 80. Michel Kerwin, 96, is a UAW activist; Helen Moore, 84, is a retired education activist; Bobbie Walton, 83, is a Democratic activist in Davison, and Carolyn Holley, 81, is a retired activist in Port Huron. Bonnie Lauria, 79, is another retired UAW activist.
The Michigan electors heavily reflect labor with UAW retirees and Education Association heavily represented. The youngest member of the delegation is also union: Steven Rzeppa, the 28 year old communications director with AFSCME Michigan.