The Potomac Institute, the CIA, and 9/11
The Policy Studies Think Tank with the Means, Motive, & CIA Support

The Potomac Institute for Policy Studies and the World Trade Center Attacks
The Potomac Institute has grown steadily since September 11, 2001. In May of the same year, before the attacks that defined American foreign policy for a generation, the Potomac Institute for Policy Studies announced the publication of Usama bin Laden's al-Qaida: Profile of a Terrorist Network by Yonah Alexander and Michael S. Swetnam. They stated that the infamous terrorist group was, "A loose international network in over 55 countries, the al-Qaida has been responsible for spectacular terrorist operations, such as the 1993 World Trade Center bombing in New York, the 1996 bombing of the Khobar Towers in Saudi Arabia, the 1998 US embassy bombings in East Africa, and is allegedly linked to the attack of the destroyer USS Cole in Aden harbor, Yemen, in 2000." The authors go on to say, "The book is designed to provide an easily accessible reference guide for academics, policy makers, reporters and others interested in one of the most notorious terrorist groups. It aims to increase the understanding of al-Qaida by exposing much of its mystique, placing it in perspective as one of the many challenges facing the international community in the 21st century. The volume contains sections on the al-Qaida's ideology, membership, financial resources, affiliated groups, areas of operation, tactics and capabilities, and targets and attacks." The Potomac Institute had placed themselves to be the go to experts for the coming 9/11 attack.
The Potomac Institute for Policy Studies
Before 9/11 the Potomac Institute for Public Policy mission statement was as follows. "An independent, 501(c)(3), not-for-profit public policy research institute that provides nonpartisan analysis of technology and technology policy to leaders in government, business, and academia. As the logo suggests, the Institute's work reflects the summation of technology's effects on business and government. Dedicated to fierce objectivity and independence, policy implementation is our goal. The Institute focuses on the implications of technology on society, government, and business. This includes the effects of government technology policies that have enormous consequences for our nation's growth and security. Our studies and policy reviews inform Congress and Administration officials much as did the former Office of Technology Assessment (OTA) in the US Congress, after which the Institute is modeled."
After 9/11 the institute, based in Arlington, Virginia, changed their mission statement to "The Potomac Institute for Policy Studies is an independent, 501(c)(3), not-for-profit public policy research institute. The Institute identifies and aggressively shepherds discussion on key science and technology issues facing our society, providing in particular, an academic forum for the study of related policy issues. From these discussions and forums, we develop meaningful science and technology policy options and ensure their implementation at the intersection of business and government. The Institute's current endeavors have required the formation of special efforts in terrorism and asymmetry, emerging threats and opportunities, national health policies, science and technology forecasting, and national security."
Their current mission statement reads "The Potomac Institute for Policy Studies is an independent, 501(c)(3), not-for-profit public policy research institute. The Institute identifies and aggressively shepherds discussion on key science, technology, and national security issues facing our society, providing in particular, an academic forum for the study of related policy issues. From these discussions and forums, we develop meaningful policy options and ensure their implementation at the intersection of business and government. The Institute's current endeavors have required the formation of special efforts in science and technology policy; national security, S&T forecasting, operational research, terrorism and asymmetry, emerging threats and opportunities, cyber-security, and neurotechnology and ethics."
September 11, 2001 had changed the the Institute which had been founded in 1994, shortly after the Congressional Office of Technology Assessment (OTA) was disbanded, and assumed some of the functions formerly performed by OTA. In Peter D. Blair's 2013 publication Congress's Own Think Tank: Learning from the Legacy of the Office of Technology Assessment (1972-1995), the author describes the OTA as a small analytical agency set up in 1972 to assist the Congress "in the identification and consideration of existing and probable impacts of technological application" in order to ensure that "the consequences of technological applications be anticipated, understood, and considered in determination of public policy on existing and emerging national problems." Blair goes on to state that the OTA ceased operations in 1995 and officially shut its doors the next year.
The OTA had produced around 750 studies on a wide range of topics, including acid rain, healthcare, global climate change, and polygraphs. Their remit was less about terrorism and more focused on solutions for emerging environmental and health policy concerns, that were expected to be the most urgent global challenges that the US faced in the mid nineties. They did cover the threat of terrorism on occasion, but they concentrated mainly on other problems facing the future of America domestically. The OTA had faced criticism since 1980 and the publication of Fat City by Donald Lambro, a book which had been a hit with the Reagan administration and called the OTA an "unnecessary agency."
The Members of the Potomac Institute
The Potomac institute has many influential members. They have a board of directors, a board of regents, fellows, and staff, as well as an internship program. Some of the more notable members have very interesting links to the CIA, September 11, 2001, and the George W. Bush administration.
Michael S. Swetnam – Chairman of the Board, CEO, and Co-Founder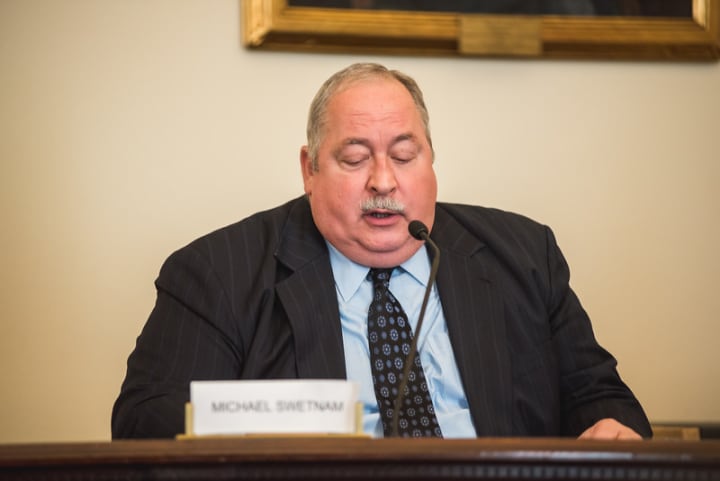 Michael Swetnam is a former Special Consultant to President George H.W. Bush's Foreign Intelligence Advisory Board and a current member of the Technical Advisory Group to the United States Senate Select Committee on Intelligence. On 2nd May 2001, Mr Swetnam co-authored the aforementioned book entitled Usama bin Laden's al-Qaida: Profile of a Terrorist Network. Bloomberg describes Michael Swetnam as "a leading expert on intelligence and national security issues" and mentions that "Mr. Swetnam also worked for the Director of Central Intelligence as a Program Monitor on the Intelligence Community staff." In the Bloomberg executive profile updated 18 September 2017, they also state that "Prior to this, Mr. Swetnam served in the US Navy for 24 years as an active duty and reserve officer." As with many people connected with the CIA, Mr Swetnam has no Wikipedia page but is found on Wikispooks.com. On February 2, 2014, Veteranstoday.com in an article entitled, "Are 'Cockroaches' Running Washington War Politics?", author F. William Engdahl states that "Swetnam, formerly with the CIA, is in a critical position within Washington in terms of defense and terrorism. He serves on the United States Senate Special Select Committee on Intelligence. And he previously was a member of the Defense Science Board Task Force on Combating Terrorism and on the Defense Science Board Task force on Intelligence."
The pointed article on the political influence of the CIA "Old Boys" network on Washington goes on to reveal "On February 11, 2009, the Potomac Institute for Policy Studies hosted a special private dinner event in D.C. featuring General James E. Cartwright, Vice Chairman of the Joint Chiefs of Staff, as the keynote speaker. General Cartwright, who is a member of the Joint Chiefs of Staff and the Nation's second highest ranking military officer, addressed the audience of about 150 guests about the importance of cyber security to our national security efforts. This event was one of six that the Potomac Institute hosts during the year as part of the "Cockroaches" dinner event series for invited guests from the defense and intelligence communities."
Michael Swetnam was a CIA agent who was tasked with profiling Osama Bin Laden before the September 11th attacks were enacted. He was instrumental with terrorism policy formation under the George H. W. Bush administration and the George W. Bush administration.
Professor Yonah Alexander, Ph.D., Member, Board of Regents, Senior Fellow, and Director of the International Center for Terrorism Studies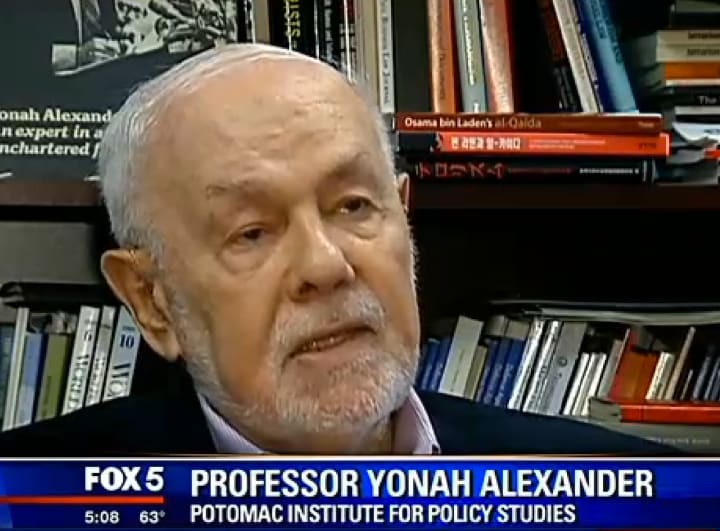 Yonah Alexander is a shadowy and intriguing figure. As well as being heavily involved in The Potomac Institute, Professor Alexander is the Director of the Inter-University Center for Terrorism Studies and Director of the Inter-University Center for Legal Studies (in Washington, D.C.). Previously, Dr. Alexander held positions such as Professor of International Affairs and Director of Terrorism Studies at the George Washington University as well as Professor of International Studies and Director of the Institute for Studies in International Terrorism at the State University of New York for a total of 35 years.
Yonah Alexander also has his own page dedicated to him on the official Israeli Embassy website, which describes him as educated at Columbia University (Ph.D.), the University of Chicago (M.A.), and Roosevelt University of Chicago (B.A.), Professor Alexander taught at: The George Washington University, The American University, the Columbus School of Law at Catholic University of America, Tel Aviv University, Hebrew University, Haifa University, The City University of New York, and The State University of New York.
The Potomac website also notes that Professor Yonah Alexander has published over 100 books including al-Qaida: Ten Years After 9/11 and Beyond, Terrorists in Our Midst: Combating Foreign Affinity, Terrorism in America; Evolution of US Counter-terrorism Policy, Turkey: Terrorism, Civil Rights, and the European Union, The New Iranian Leadership: Terrorism, Nuclear Ambition, and the Middle East Conflict, and Counter-terrorism Strategies: Success and Failures of Six Nations.
In August 2011, in the Jerusalem Post, Yonah Alexander co-wrote an article entitled "Analysis: al-Qaida's 'Doomsday Revenge?'" with Milton Hoenig, who is a theoretical nuclear physicist educated at Cornell University. In the article Alexander states "Now, four months after the Abbottabad operation and the death of the notorious mastermind of 9/11, the lingering question that still remains is al-Qaida's worst revenge yet to come? Two reasons account for this likely eventuality. First is the persistent motivation of deep hatred towards the US and its friends and allies. For instance, in February 1998, bin Laden pronounced a fatwah that Muslims should kill Americans, including civilians, anywhere in the world they could be found, and in the following May, he stated in a declaration titled 'The Nuclear Bomb of Islam,' that it is the duty of Muslims to prepare as much force as possible to attack the enemies of God."
Yonah also serves as a member of the Blue Ribbon Study Panel on Bio-defense, a group that encourages and advocates changes to government policy to strengthen national bio-defense. In order to address biological threats facing the nation, the Blue Ribbon Study Panel on Bio-defense created a 33 step initiative for the US Government to implement.
Jeff Baxter, Member, Board of Regents, and Senior Fellow, also former member of Steely Dan, and the Doobie Brothers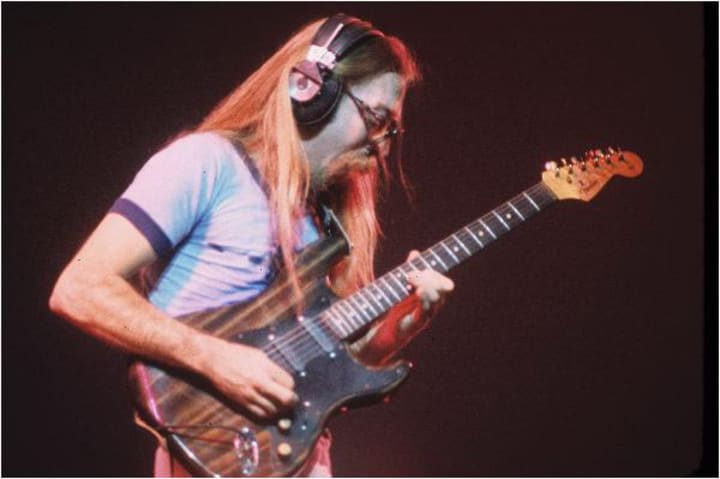 Mr. Jeff Baxter currently serves as Chairman of the Civilian Advisory Board for Ballistic Missile Defense. He has also acted in an advisory capacity for Congressman Curt Weldon and Dana Rohrabacher, and has participated in numerous war-games for the Pentagon. Mr. Baxter also serves on the Laser Advisory Board at the well renowned Lawrence Livermore National Laboratory and has lectured at the University of Manitoba School of Political Science on the topic of regional conflict and missile defense.
You would think that The Potomac Institute would not be the likely scene for the ex-guitarist of The Doobie Brothers and Steely Dan. But Jeff Baxter was a music production enthusiast and become enthralled in the hardware and software that originated in the military. Data compression algorithms and large capacity storage devices are also used in missile defense systems. With the help of a neighbor who worked on the Sidewinder missile program and Aviation Week magazine, Jeff Baxter taught himself missile defense technology. He now consults the US Department of Defense and the US intelligence community, and for defense-oriented manufacturers including Science Applications International Corporation (SAIC), Northrop Grumman Corp., General Dynamics, and General Atomics Aeronautical Systems Inc.
Baxter has been quoted as saying, "We thought turntables were for playing records until rappers began to use them as instruments, and we thought airplanes were for carrying passengers until terrorists realized they could be used as missiles." Some rumors state that Baxter was recruited as a CIA agent by his neighbor who helped develop his interest in ballistic missiles. Baxter has also appeared as a guest on CNN and Fox News to advocate missile defense.
Other Notable Members of the Potomac Institute
H. Lee Buchanan, Member, Board of Regents and Senior Fellow - Lee Buchanan is a Venture Partner at Paladin Capital Group. He is a former Assistant Secretary of the Navy for Research, Development, and Acquisition, responsible for all research development and procurement of defense systems for the Navy and the Marine Corps.
Dr. Terry Collins, Member, Board of Regents and Senior Fellow - Terry Collins is the Chairman of the Board, CEO and President of Argon ST and also serves on the Board of Directors of James Monroe Bank. Dr. Collins was one of the three original founders of Argon Engineering Associates, Inc., in 1997. From 1995 until 1997 he was the General Manager of the Falls Church division of Raytheon E-Systems.
LtGen George Flynn, USMC (Ret.), Member, Board of Regents - With over 38 years in the US Marine Corps. LtGen Flynn had a role as the Deputy Commanding General, Multi-National Corps, Iraq, involved leading combat operations and providing direct supervision of support activities of more than 50,000 service members and civilians, while conducting operational planning and execution to enable coalition operations, including extensive interaction with United Kingdom and Coalition Special Operations Forces.
General Alfred M. Gray, USMC (Ret.), Chairman, Board of Regents, Member of the Board of Directors, and Senior Fellow - General Gray has served as Board Chairman and CEO for several public and private companies and has consulted to United States and international industry and government. His other duties have included service on the Defense Science Board; the Defense Special Operations Advisory Group; the National Security Agency Science Advisory Board; the National Reconnaissance Office Gold Team; the Defense Operations Support Office Advisory Team; and as Director of the Advanced Concept Demonstration Technology for Combat in the Littorals.
Rear Admiral John E. (Ted) Gordon, JAGC, USN (Ret.), Member, Board of Regents and Senior Fellow - Rear Admiral Ted Gordon was Senior Vice President Washington Operations for Alliant Techsystems Inc. (ATK) from 2001 to April 2007. Prior to that he worked for Litton Industries serving as Vice President for Washington Operations. In both positions he was responsible for all company interface with Congress, the Federal Government, and all other customers in the Washington area.
Jay Grove, Member, Board of Regents and Senior Fellow - Mr. Jay Grove is a Vice President of Argon ST, of Fairfax, VA. Appointed in 2006, Mr. Grove provides strategic direction and operational leadership of the San Diego-based, Network Systems Group. The 200 person group is a leader in mobile ad-hoc networking, data-link inter-communication/processing, and related test & training instrumentation. Prior to joining Argon ST, Mr. Grove served as the Vice President of EMS Technologies, Inc., Defense & Space Systems Division, a position he served in from 2001. Prior to joining EMS, Mr. Grove served technical, management, and leadership roles at ViaSat, Inc., Lockheed-Martin Corporation, and TRW, Inc.
Melissa Hathaway, Member, Board of Regents and Senior Fellow - Melissa Hathaway serves as a Senior Advisor at Harvard Kennedy School's Belfer Center, a Distinguished Fellow at the Centre for International Governance Innovation in Canada, and is the Chair of the Council of Experts for the Global Cyber Security Center in Italy. She served in two US presidential administrations, spearheading the Cyberspace Policy Review for President Barack Obama and leading the Comprehensive National Cyber-security Initiative (CNCI) for President George W. Bush. At the conclusion of her government service she received the National Intelligence Reform Medal in recognition of her achievements. Previously, Hathaway was a Principal with Booz Allen & Hamilton, Inc. (The NSA contractor which Edward Snowden worked for), where she led two primary business units: information operations and long range strategy and policy support, supporting key offices within the Department of Defense and Intelligence Community.
John C. Johnson, Member, Board of Regents and Senior Fellow - Johnson is VP, GM & Deputy to the President of Electronic Systems of Northrop Grumman Corporation, and has oversight responsibility for developing, producing, and providing critical technologies, systems, and services for the Department of Defense, other government agencies, and commercial and international customers. Mr. Johnson joined Northrop Grumman after a 20-year career with the US Air Force. He has held a number of executive positions in the Business Development, Systems Development & Technology (SD&T) and Aerospace organizations. He was recently elected to the Board of Directors for IEC Electronics.
Donald M. Kerr, Ph.D. Member, Board of Regents and Senior Fellow - Donald Kerr, Ph.D, has held several prominent positions in government service and private industry. He has served as Principal Deputy Director of National Intelligence, Director of the National Reconnaissance Office, Deputy Director for Science and Technology at the Central Intelligence Agency, and Assistant Director of the Federal Bureau of Investigation in charge of the Laboratory Division. He is a recipient of the National Intelligence Distinguished Service Medal and the CIA Distinguished Intelligence Medal. He holds a PhD in plasma physics and microwave electronics, is a Research Professor at George Mason University, and a member of the Defense Science Board.
Kathleen Kiernan, PhD, Member, Board of Regents and Senior Fellow - Dr. Kathleen Kiernan is a 29-year veteran of Federal Law Enforcement and is currently CEO of the The Kiernan Group in Washington, D.C. She previously served as the Assistant Director for the Office of Strategic Intelligence and Information for the Bureau of Alcohol, Tobacco, Firearms and Explosives (ATF) where she was responsible for the design and implementation of an intelligence-led organizational strategy to mine and disseminate data related to explosives, firearms and illegal tobacco diversion, the traditional and non-traditional tools of terrorism. Dr. Kiernan has been involved with the Intelligence Community for over a decade, and served as the ATF representative to the Counter-terrorism Center (CTC) at CIA during 1993-1995. Dr. Kiernan is a senior member on the International Association of Chiefs of Police (IACP) Terrorism subcommittee, and has presented training on Critical Incident Management and Explosives response protocol on a worldwide basis.
I could list every known member of The Potomac Institute and investigation would lead any rational mind to believe that the institute is a CIA front for effecting governmental policy. The institute has some of the most powerful and influential movers and shakers in the backrooms of American politics.
Potomac and 9/11 – The Conclusion
The Potomac Institute was a net beneficiary of the 9/11 attacks in both policy influence and in gaining support. They were founded only a year after George H. W. Bush left office and continued to push his and their agenda during the Bill Clinton administration. An agenda which suited the Central Intelligence Agency and their many secret and public members. The Potomac Institute created the narrative of the global war on terror before it was ever announced publicly. In fact their press statement from 9/11 was entitled "Terrorism War Against America" and stated, "Not since Pearl Harbor has America experienced a day of such infamy. Today is reminiscent of 1812 when the continental US was attacked. Not in the history of the US has the American population been directly attacked in this way. The US is now at war."
The Institute had prepared to change direction from the original OTA's purpose of environmental concerns and advancing significant technology. They became focused on terrorism in around 1998 and they would soon be working under a George W. Bush administration on national security policy issues. They would help define the "Global War on Terror" for the next generation, and also help in planning the wars against Iraq and Afghanistan. The Institute assisted in building a legal framework for the assassination of Osama Bin Laden, defending the extra judicial killing of the man that the Institute started framing as the number 1 enemy of the USA in 1999.
They also, on 21 October 2010, gave their Navigator Award (presented to members of Congress and to representatives of the executive branch, industry and academia in recognition of their distinguished contributions in the arena of science and technology), to Arden L. Bement Jr. who was installed as head of NIST (National Institute for Science and Technology) in 2001 by George W. Bush. Bement was in charge of NIST as they wrote their controversial 9/11 Commission Report which ignored real world physics to make their computer models work, and refused to investigate the overwhelming evidence of explosive charges detonating, even refusing to check for any thermite residue in the samples that they tested.
If there is any organization that knows all the facts of the September 11th attacks, and the ensuing global conflicts, it will be the Potomac Institute for Policy Studies. A tool of the US Central Intelligence Agency used for advancing the agenda of the Military Industrial Complex, regardless of its cost to the honest citizens of the USA.
About the Creator
Go to https://NEWSPASTE.com & support Johnny
Become a Patron https://www.patreon.com/JohnnyVedmore
Or https://www.buymeacoffee.com/johnnyvedmore
Or https://newspaste.com/home/support-newspaste
NEWSPASTE Podcast: https://newspaste.podbean.com/
Reader insights
Be the first to share your insights about this piece.
Add your insights