The Pence Record
His Votes as Veep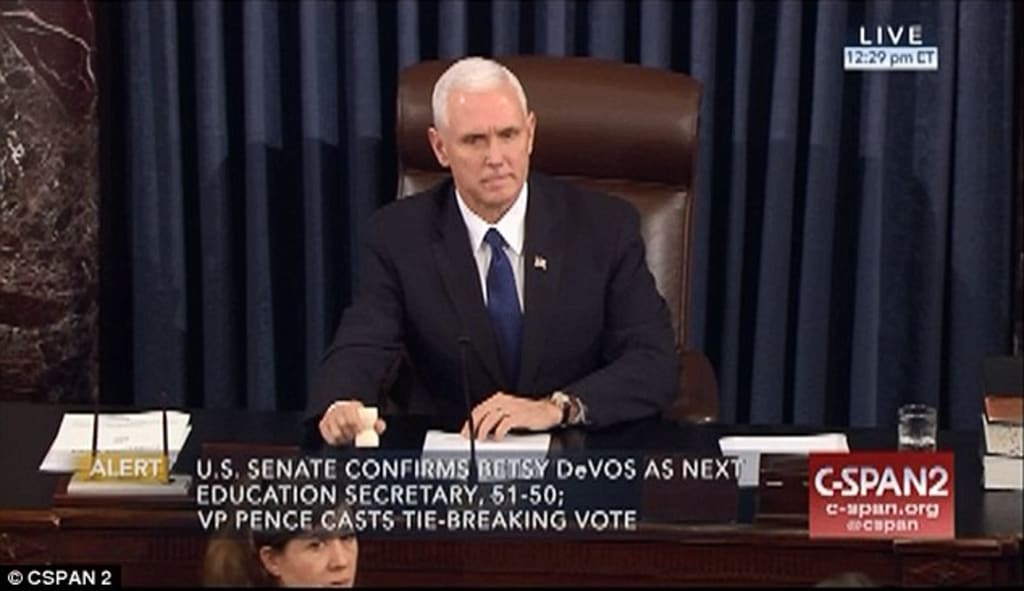 Pence votes to make Betsy Devos Secretary of Education
Since there is a reasonable possibility that Michael Richard Pence will be the next President of the United States, it seems sensible to take a look at what he has being doing as Vice President. During the last three years, Pence has broken 13 ties in his duty as President of the Senate. That ranks Pence seventh on the list of VPs who cast tie-breaking votes, the most since Schuyler Colfax (with 18), Ulysses Grant's Vice President from 1869 to 1873. Like Pence, Colfax was from Indiana.
Here are Pence's tie breaking votes, with a brief summary of each one.
1) Making Betsy DeVos Secretary of Education (February 7, 2017)
Pence's first vote was to make Amway wife Betsy Devos Secretary of Education. DeVos had never attended a public school, had no background in education, and in Michigan, actively worked to destroy the state's public education system and promote voucher schools.
During her tenure, DeVos has been a disaster, working against the interests of students at all levels and embarrassing herself on national television.
https://www.nytimes.com/2017/02/07/us/politics/betsy-devos-education-secretary-confirmed.html
https://educationvotes.nea.org/2019/03/22/devos/
2) Allowing debate on bill denying health care funding (HJ Res 43; March 30, 2017)
3) Deny funding to health care centers (HJ Res 43; March 30, 2017)
Pence's second and third votes supporting overturning Obama-era HHS rules that prevent states from denying funding to clinics that provide abortion services, most notably Planned Parenthood clinics.
https://www.washingtonpost.com/news/powerpost/wp/2017/03/30/pence-breaks-tie-on-debate-for-planned-parenthood-measure/
4) Proceeding on the American Health Care Act (HR 1268, July 25, 2017)
Pence support efforts by Trump and Congressional Republicans to repeal the Affordable Care Act. Pence would have been the deciding vote on the fate of the ACA until John McCain killed the American Health Care Act on July 27.
https://www.nytimes.com/2017/07/25/us/politics/health-care-senate-vote.html
5) Bill overturning consumer protections instituted by the Bureau of Consumer Financial Protection (HJ Res 111, October 24, 2017)
Under the Obama administration, the Bureau of Consumer Financial Protection instituted rules blocking the use of mandatory arbitration in contracts signed by credit card consumers. The Trump administration sought to overturn these consumer protections to benefit big credit card companies.
https://www.housingwire.com/articles/41653-vice-president-pence-casts-tie-breaking-vote-to-kill-cfpb-arbitration-rule/
6) Ted Cruz amendment to give millionaires tax breaks to send their kids to voucher schools (Sdt 1852, HR 1, December 2, 2017; Congressional Record, S7704-5)
Ted Cruz proposes a tax amendment that would allow millionaires to take up to a $10,000 deduction to pay for tuition at private schools, taking money away from public schools.
https://www.c-span.org/video/?c4699972/user-clip-vice-president-pence-breaks-tie-cruz-tax-amendment
7) Cloture on Sam Brownback nomination for US Ambassador at Large for International Religious Freedom (January 24, 2018)
8) Brownback nomination for Ambassador (January 24, 2018)
Sam Brownback had a disastrous record as governor of Kansas, running the state's economy and budget into the ground. Yet Donald Trump saw fit to make him an ambassador. Opposition solidified when Brownback was equivocal on protecting LGBTQ rights. Pence stood up to put his fellow Christian warrior over the threshold.
https://www.cnn.com/2018/01/24/politics/mike-pence-brownback-vote/index.html
9) Making Russell Vought the Deputy Director of the Office of Management and Budget (February 28, 2018)
Vought was controversial due to statements he had made on Islam. Pence had to step in bail out the nomination when two Republican senators were absent.
https://www.cnn.com/2018/02/28/politics/mike-pence-tie-breaking-vote-russell-vought-congress/index.html
10) Cloture on nomination of Thomas Alvin Farr as US District Judge, Eastern District of North Carolina (November 28, 2018)
Farr was notorious as an attorney in North Carolina for his role in gerrymandering and voter suppression laws.
https://www.usatoday.com/story/news/politics/2018/11/28/mike-pence-casts-deciding-vote-thomas-farr-judicial-nomination/2140874002/
https://www.bloomberg.com/news/articles/2018-11-28/trump-judicial-nominee-clears-hurdle-after-pence-breaks-tie
11) Cloture of nomination of Jonathan A Kobes as US Circuit Court Judge for the Eighth Circuit (November 29, 2018)
12) Nomination of Jonathan Kobes as US Circuit Court Judge (December 11, 2018)
One reason Democratic senators opposed the Kobes nomination is he was rated "not qualified" by the American Bar Association, which stated he lacks the experience and writings to be a Circuit court judge.
https://thehill.com/homenews/senate/420848-pence-casts-tie-breaking-vote-for-trump-appeals-court-judge
13) Motion to proceed to the House Message to accompany H.R. 695, the Department of Defense Appropriations Act (December 21, 2018)
Pence votes to push forward the House version of the Continuing Appropriations bill, which provides funding for Trump's border wall. The vote occurs as the US government is on the verge of a shutdown.
https://www.pbs.org/newshour/politics/with-procedural-vote-senate-advances-bill-to-stop-partial-shutdown