The Lobbyist As Anti-Hero
A review of the D.C. based thriller 'Miss Sloane'.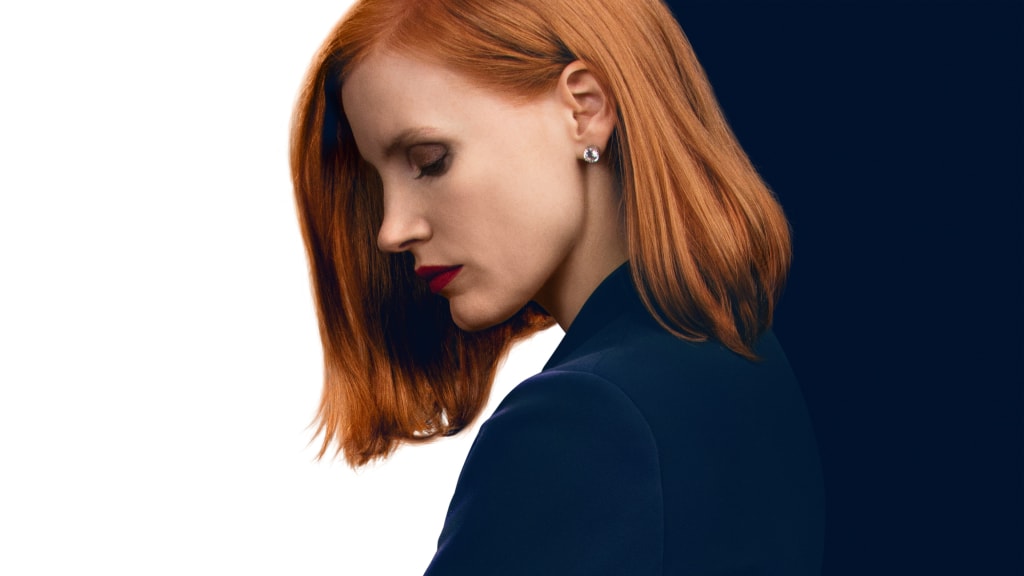 There's a line in an early episode of Aaron Sorkin's The West Wing where White House chief of staff Leo McGarry (played by the late John Spencer) tells the staff that "There are two things in the world you never want to let people see how you make 'em: laws and sausages." Yet the process by which a bill becomes law has proven to be rich ground for writers and filmmakers from Advise & Consent to Aaron Sorkin efforts like The American President and the aforementioned West Wing. More recently, filmmaker John Madden has turned to the lobbying efforts that help make bills law for his film Miss Sloane, starring Jessica Chastain in the title role.
It is Chastain's performance that in many ways anchor the film. From the moment the film opens with Chastain looking into the camera and telling the viewer (and, as we discover, her lawyer) that "Lobbying is about foresight," she draws you into this sometimes murky world where morality is a method determined by how far one is willing to go. Chastain portrays Elizabeth Sloane as an intelligent, resilient, powerhouse of a character who is not afraid to say what she thinks and play the game that she sees lobbying as to the hilt. She's also an imperfect character with a host of vices that threaten to be her undoing at times as does the realization that the game she plays might well have stakes she can't accept. There's always a sense at once of both fierce determination and vulnerability to the character that makes Chastain's performance utterly compelling. It is no wonder she was nominated for a Golden Globe for Best Actress as her performance alone helps make the film what it is.
There's a strong supporting cast as well that reads like a who's who of present acting talent. There are familiar faces in the cast such as Sam Waterston as Sloane's one-time boss turned adversary, Mark Strong as Sloane's new boss who struggles with her methods in spite of hiring her, and the always reliable John Lithgow as the senator at the center of the film's framing device. The film also has strong female roles for its supporting cast as well including Alison Pill as Sloane's assistant Jane and Gugu Mbatha-Raw as Slone's confederate who ends up thrust into the spotlight alongside a cameo appearance by Christine Baranski. It's a solid cast all around who nicely back up Chastain's central performance.
Beyond the cast, there's a finely made thriller on display. There's a cool, cynical tone to the entire film that is perhaps best emphasized not so much by the script from Jonathan Perera but in the combined efforts of the cinematographer Sebastian Blenkov, the production design of Matthew Davies, and costume choices of Georgina Yarhi. Bright colors, even soft ones for that matter, seem to be a rarity in this world which gives the film a slightly dour, suppressed feel with which the drama is painted across.
Drama supplied by screenwriter Perera and director Madden. Miss Sloane fits firmly into the political thriller genre despite, or perhaps even because of its subject matter. Despite its setting in the apparently everyday politics of Washington and Capitol Hill, many familiar tropes are in play. There's blackmail, bribery, threats of violence, manipulation, and even espionage. While the film picks gun control legislation as its subject matter, one feels that its subject matter could be about any number of hot button issues and still be relevant to the here and now of 2017. That is something one suspects both helped and hindered the film as it was released at the tail end of the most bitter American presidential campaign in recent memory where similar issues about a powerful woman in the middle of political circles were part of the state of play. Yet the points it makes, perhaps in something of a preachy manner, in its final scenes are valid ones that will likely continue to haunt Washington and our political discourse for years to come.
Whatever the case may be for why audiences didn't see the film in cinemas, Miss Sloane is a thriller for our time that casts a strong, female lobbyist in the role of anti-hero. It takes the current Washington landscape which it turns into a fascinating thriller and examines that sphere of power and the people who occupy it. Audiences who didn't find the film in cinemas might find it now on disc or by streaming it. If they do, they're in for a treat.
About the Creator
Matthew Kresal was born and raised in North Alabama though he never developed a Southern accent. His essays have been featured in numerous books and his first novel Our Man on the Hill was published by Sea Lion Press in 2021.
Reader insights
Be the first to share your insights about this piece.
Add your insights