The Forgotten People: A Tale of Two Cities
Second Place in Beyond the Vote Challenge
How Homelessness Rose Exponentially and what The Portland Rescue Mission is Doing to Help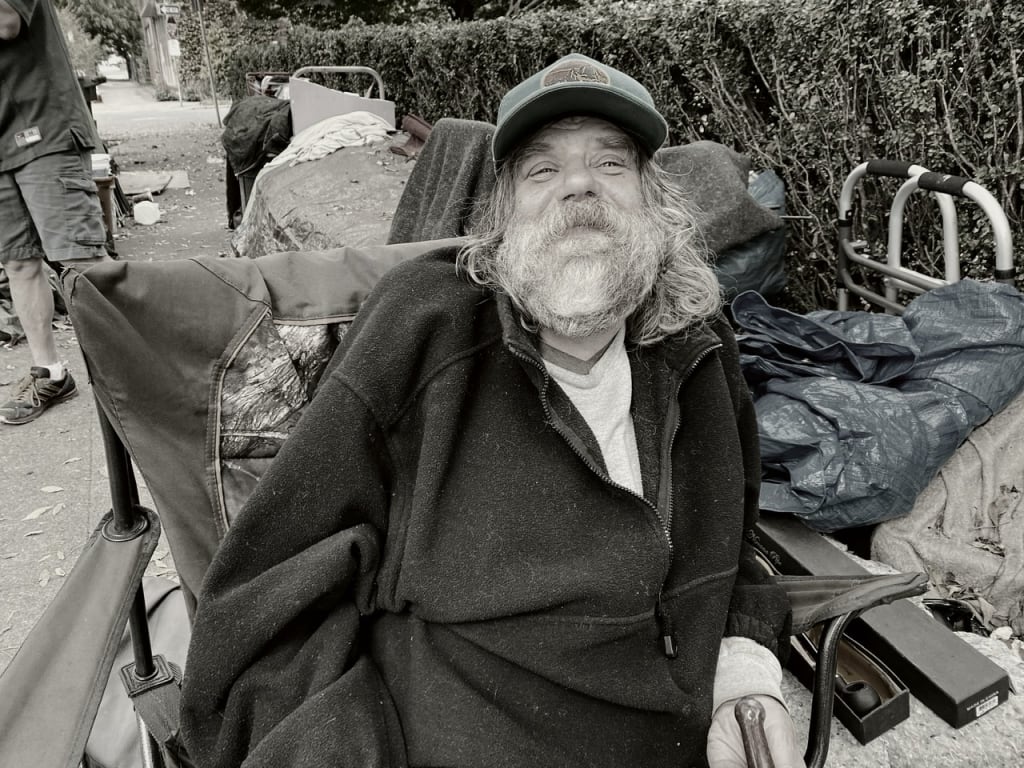 Bradley: South East Portland
I arrived in Portland, Oregon, on a warm July morning. I marveled at its beauty and looked in awe at all there was to explore. My fourth story shiny apartment was perfect, and I bubbled with the anticipation of a new start.
With a gift card for a local wing place in hand, I set off to see my neighborhood. I noticed quickly that Portland was a beautiful city. Yet something was not right. Something was incredibly wrong. As I walked, I passed people tucked away in tents. I had to step off the sidewalk to creep past communities of people living on the street. On the next block, there were organic grocery stores and boutiques.
From street to street, poverty blended with affluence, and I began to see the growing pains of gentrification. When I had visited Portland, I only saw the "good" areas. I saw art and tasted delicious food. The live music scene was one of the best in the nation, and the city had an accepting culture. I had no idea that before the luxury condos, there were family homes. Before the boutiques, there were small minority-owned businesses. Thousands of real people had been forced out of their homes as prices soared around them.
This is how my passion for helping the homeless developed. A small seed that grew and spread until I couldn't ignore it anymore. With the help of the Portland Rescue Mission, I can make a difference beyond my vote. I can raise awareness and rally behind the people who we have forgotten. As Portland grows in population and popularity, the time to intervene has never been more evident.
A Saturday Evening in the Park
"And in every afflicted city, the story is the same: luxury condos, mass evictions, hipster invasions, a plague of tourists, the death of small local businesses, and the rise of corporate monoculture."
― Jeremiah Moss, Vanishing New York: How a Great City Lost Its Soul.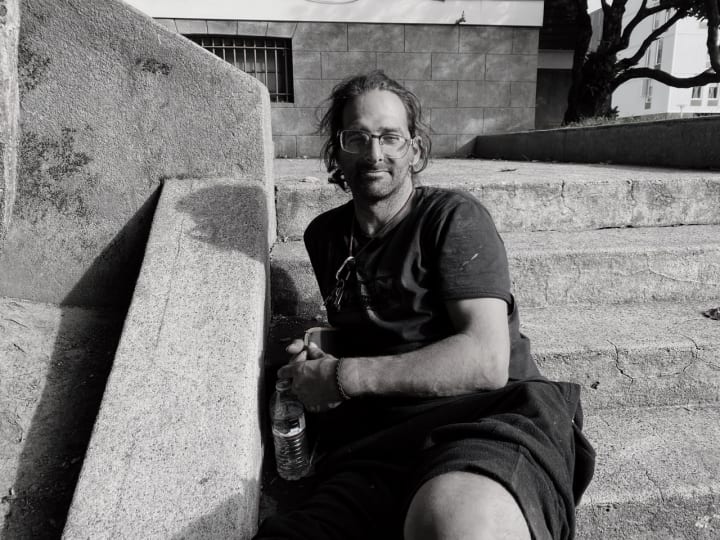 I knew that if I wanted to help the homeless, I needed to know them. How else could I identify what their biggest stressors were? Or perhaps what they need most? I got my answer on a cool Saturday evening. I had been battling my shyness and trying to speak to the people I saw living on the street, but so far, I hadn't mustered up the courage. I noticed a man sitting on the steps of an old church and approached him. He had no shoes, and his nails were overgrown and dirty.
With some trepidation, I struck up a conversation and thus began an eye-opening experience. The man's name was Nick. He- like so many others living on the street, grew up in Portland. During my socializing in different circles, I noticed that everyone doing "well" in Portland wasn't from there.
Out with the old and in the with the new.
When I asked Nick what he missed most about the Portland he grew up in, he told me:
"being able to live. You can't live here anymore."
I then asked Nick how he ended up out here and what he desires most every day, whether drugs, money, food, or shelter.
"Well, If I cant get into housing I want a vehicle, Then I wouldn't be homeless I would be houseless. But I what I really want is partner. A bestfriend to have out here."
I was shocked. I expected lavish desires, money, drugs, a car, fortune, fame, or a career. Nick only wanted two things, a home, and a friend. When no one acknowledges you exist and people try to escape your gaze at all costs, it can be very lonely. Nick's family has all moved to escape gentrification.
To a homeless man, home is l iterally where the heart is.
He chose to stay with his fiancée and try to make it work. But as people filed into the blooming city, they couldn't afford the absorbent rent and became homeless. His fiancée chose to go her own way. Now five years later, he's continued to lose everything, his home, his girlfriend, and most of his belongings.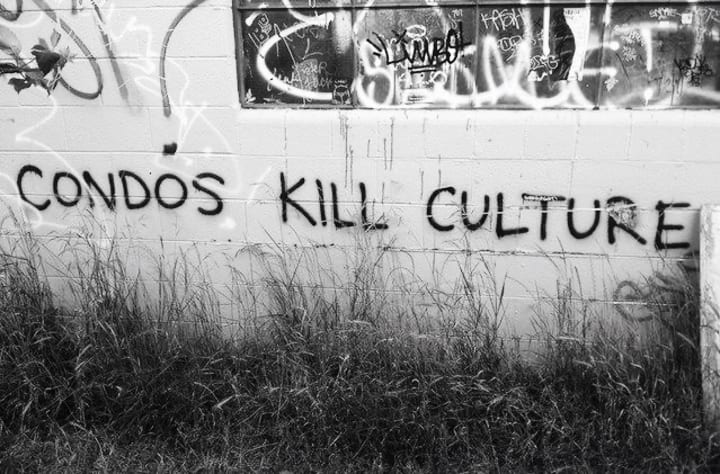 "The boutique economy has no need of the masses, so let's get rid of them. But how, you ask? Not with wars, surely, or disease, famine, or mass murder...

No, all we need to do is buy up the ground from under their feet -- and evict them. We're buying up the planet, Bishop, fair and square. We're turning it into the most exclusive gated community in history.
― David Marusek, Mind Over Ship
I heard stories like Nick's all night. Individuals who had grown up in Portland and now were confined to a sidewalk. I met Bradley and Ronnie, who both spent their 50th birthday on the street. Ronnie raised her son on the street. I gazed down at her, under an old tarp, lying in the dirt and telling me her story with crystal blue piercing eyes. She had remained outside even when Portland's air quality was some of the worst in the world. As a result, she has damage along the lining of her right lung.
What we have is an entire community that functions as its own entity. There are rules that everyone must follow. A code of ethics serves as the law. There are major problems when a group of people is outcasted and have to rely on one another for information.
For example, we discussed the pandemic, and a lanky man sitting on a trash can took control to tell me his opinions.
"I dont know anyone whose gotten it. No one does, you'd think itd spread rampant out here. But we share pipes, cigarrettes, and food, and nothing.
His testimony worried me. For one, I doubted the availability of testing, and I am sure he knows someone who has gotten it. He just doesn't know, and maybe they don't either. It seems that without information and access to healthcare, conspiracy theories run rampant. It is incredibly dangerous to have a large section of the Portland metro uneducated and unprotected in the midst of a global health crisis.
The Portland Rescue Misson
In 1949 John Van Diest looked with compassion at the hungry and destitute men struggling on Portland's streets. He felt compelled to help, and so he began sharing his sandwiches. This happened so often his wife began packing him multiple.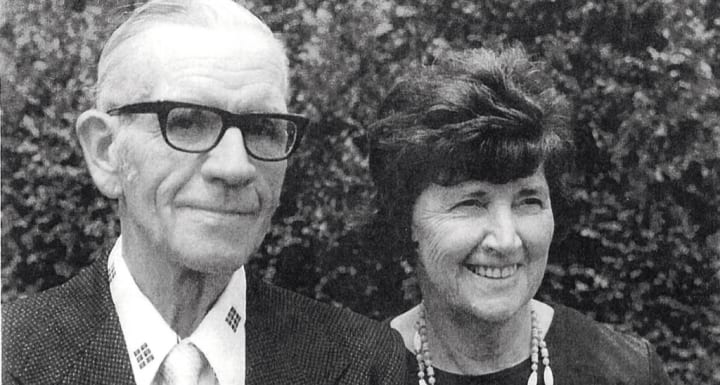 As time went on, the couple opened a small and modest soup kitchen. The two would purchase the groceries themselves for a pot of soup and share with those who needed a meal. Now 70 years after John shared his first sandwich, the Portland Rescue mission controls four overarching programs that provide shelter, food, clothing, substance abuse help, employment, and spiritual guidance.
I hadn't eaten in probably three or four days. Just that simple offer of food was huge – that somebody cared enough to meet my needs."

- Tim, New Life Ministry Resident
The Burnside Shelter offers hot, nutritious meals. One night, extended, and winter shelter. They also host a 24-hour safe and private bathroom.
The homeless population in Portland struggles to have access to public bathrooms. Often businesses refuse unless they are a paying customer. To make matters worse, the porta potties that private investors donate are overused and often misused.
The frequent use leads to clothes, syringes, and other items in the waste, making them near impossible to clean. Thus, they break, and the investors do not want to pay to replace them. In the end, the people are left without a resource. The Burnside Shelter's secure restrooms help restore dignity and allow the organization to reach people they may not otherwise meet.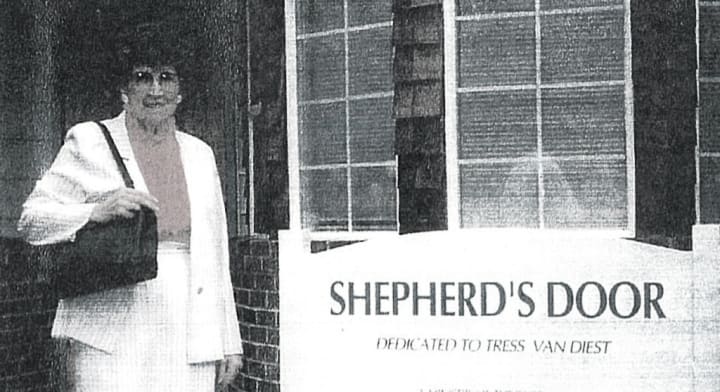 "At Shepherd's Door, you'll find a sanctuary of peace and security as you move into a healthy lifestyle while dealing with the pain of addiction and previous choices. "

-PDX Rescue Mission
In the 1990s, women were the quickest growing homeless demographic in the country (and still are in Portland). Sheperd's Door started to combat this statistic, beginning in 1994 out of a former medical office. Sheperd's door offers a roomy, well-lit haven for a community of women and their children striving to beat addiction and transform their lives for the better.
The Harbor is a program similar to Shepreds Door, but it serves men. At the Harbor, men have a place to sleep and build comradery with their peers. Together, they can work through the pain and trauma they've endured and ease the desire to numb themselves with substances. At the Harbor, men also receive employment assistance.
The Connect Program is a homeless assistance program that spans over three months. Participants are provided with meals, shelter, and employment/housing assistance to aid in their transition.
This is Robin; she is one of the real people, with a truly heartbreaking story that the Connect program was able to help.
How I am Contributing and How You Can Too
To help the Rescue Mission have the most impact, I am donating clothing, and travel-size toiletries. I also plan to continue to donate my time and work personally with homeless groups and the Portland Rescue Mission's soup kitchen.
Just $12 provides one night of care – a hearty meal, hot shower, clean clothes, and a safe night's rest.
I will be contributing monetarily as well, and I encourage you to do the same. You can do so at this link. But there are other creative ways to get involved, like creating a care kit. This could be implemented in any city, not just Portland.
Using Amazon to Get Involved
If you are not local but still feel compelled to help, you can support PDX Rescue Mission when you shop. Instead of using the usual Amazon.com, shop at Smile.Amazon.com. Choose Portland Rescue Mission as your charity of choice, and Amazon will donate 0.5 percent of all your eligible purchases to the organization. The Smile site is structured and performs the same as Amazon.com. All of the features you know and love remain intact. It makes helping easy and automated.
More info on Amazon Smile here.
Parting Words
If we wait for politics to catch up and do something to help those suffering, we will witness the end of humanity. I've realized while waiting for them to pass another stimulus package that most of it is games. The human element is gone, and politicians only see numbers. Money and Votes. But we can take matters into our own hands and be the change we want to see. By joining forces with the Portland Rescue Mission, I have learned so much. I have made new friends, and I have a better appreciation for what I have.
There are countless good causes, and the time to get involved is now. Vote, and use your voice, but do something beyond that as well. Contribute to change before it is too late.