The Crystal Lines
by Deborah Moran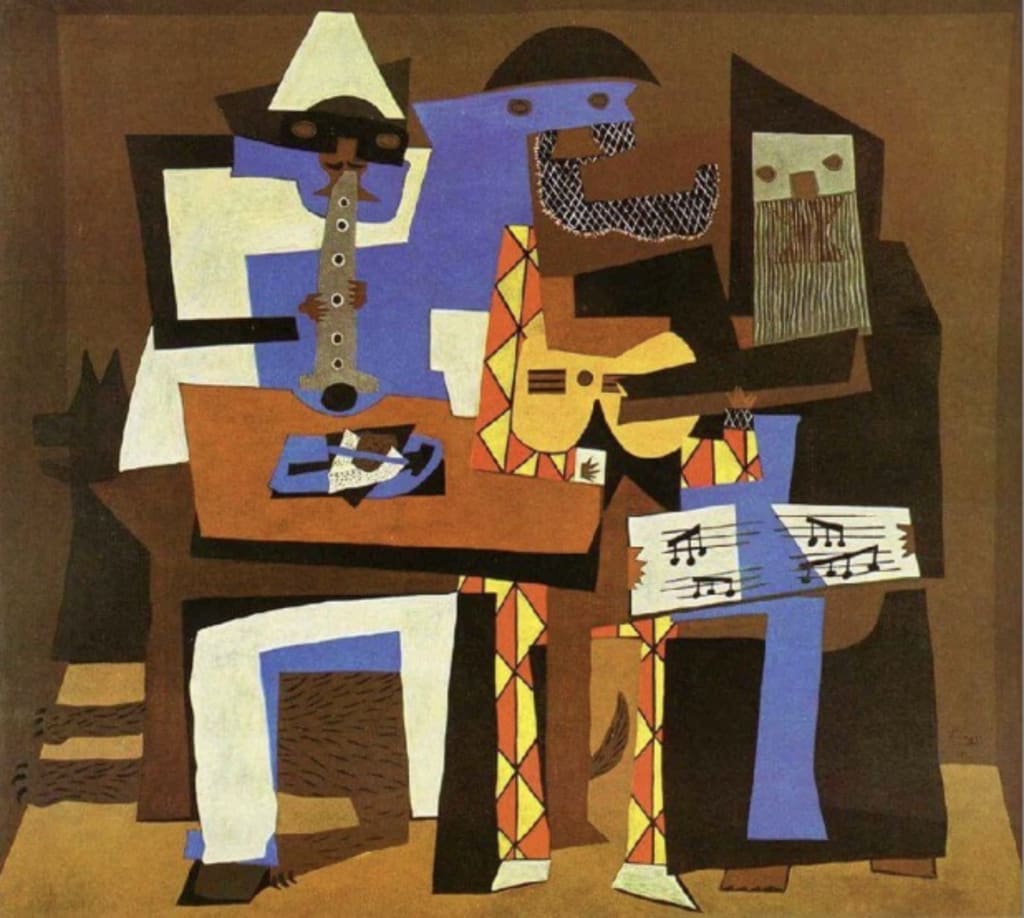 THE CRYSTAL LINES
by
Deborah Moran
The drawings in the little black notebook were nothing special in my uncle's estimation, when we found the little book at that rundown cottage's estate sale in the countryside just beyond Cannes. Uncle Charles worked for an import / export company that frequently bought French flour and dairy products, so he lived half the year in France. He liked family visits so he could speak English with someone.
"God, just look at this crap," Uncle Charles said, riffling through the little black book. "Looks like some kid did it. I can't even tell which side is supposed to be up in this stupid thing."
He handed the book to me, expecting me to join him in making fun of it, but instead, my heartbeat quickened. I knew this style, these motifs, the purity of these lines. Crystalline cubism, a beautiful example of it.
I turned every page, all the way to the back of the book, my heart pounding as it became more and more familiar. Those details: faces seen both straight on and in profile, harlequins, triangle and diamond shapes, the purity of the lines. The final drawing was of three figures, Pierrot with a wind instrument, Harlequin with a guitar, the hooded, bearded figure with sheet music, the shadow of a wolf on the far left… It was unsigned, but the style of drawing was all the signature it needed.
"Dix Euros?" I asked the bored, tattooed, incredibly Gallic estate sale dealer, nonchalantly holding up the little black book. He accepted immediately, the Gauloises cigarette on his lip scarcely moving, and seemed happy to get even that much for this smudgy old book of weird drawings.
After I got home to Los Angeles, I wrote a letter to the Museum of Modern Art describing my find, in which I enclosed digital photos of some of its pages. They got back to me within days asking to see the original.
***********
In one of my long-ago art history classes, I remembered a mention of how Pablo Picasso designed the costumes and sets for Parade, a ballet by Sergei Diaghilev, Erik Satie and Jean Cocteau. Picasso's wife, Olga Khokhlova, danced the lead role on its opening night at the Théâtre du Châtelet in Paris, on May 18, 1917. Léonide Massine did the choreography and also performed, and the live orchestra was conducted by Ernest Ansermet.
My little notebook was exactly what I suspected it might be — a brainstorming session by Picasso for those costumes and sets. The sketches are raw and rough, as he jotted down a deluge of different ideas, but the museum's scholars have now tested the paper and charcoals, and seven of the world's foremost Picasso historians soon concluded that my little black book was authentic. And there were other, tangential sketches unrelated to the ballet in my book as well; the very final sketch was, as I thought it might be, a very early seed of an idea for one of Picasso's greatest creations, the 1921 painting Three Musicians.
How it came to be in the estate sale pile in a shabby little cottage in the south of France was unknown. Olga Kholhlova died in Cannes, so perhaps Picasso gave it to her, or maybe she took it with her as a keepsake after they separated. Perhaps it was lost backstage at the Théâtre du Châtelet. Maybe some member of the costumes staff took it for reference and left it somewhere, who knew.
But it became an art world sensation when the news hit the press that a sixtysomething American art teacher had found a lost Picasso sketchbook at an estate sale in Cannes, and paid all of ten Euros for what art historians were now calling priceless. Anonymous collectors in Tokyo, Moscow, and New York City offered me staggeringly large sums, but I couldn't stand the idea of my little book being locked away in some collector's vault, unseen by anyone. No, the only offers I was willing to consider came from museums.
Soon afterwards, an art publisher contacted me with an offer to produce a glossy hardcover book with reproductions of the drawings with commentary, and I was happy to accept. The first advance, to secure the publishing rights, was $20,000. A single check, for twenty thousand dollars, made out to me, paid to me. Then the check even cleared, and I paid bills with it. It was more cash money than I had ever had in my bank account in my lifetime.
Finally I chose to sell the notebook to Museu Picasso in Barcelona, Spain. They couldn't pay what some of the other prospective buyers were offering, but they made such an eloquent appeal and promised to take such tender care of it that I couldn't resist. They promised to keep it under glass in their collection, to be handled and studied only by dedicated, highly qualified art historians. And I liked the idea of my little book going home to its creator's native land.
The first thing I did with the money was buy a plane ticket to Barcelona, where I would hand-deliver the notebook to its new caretakers. From there I planned another plane journey on to France. Then I gave notice to my landlord, and told my high school's principal that I wouldn't be returning to my teaching position next year. Finally I packed up all that what was precious to me, and sold the rest.
As it turned out, between my own savings and what that little notebook netted for me, I was able to take a comfortable retirement in a little garden cottage in the French countryside.
Now I walk to the market every morning for coffee and pastries, wine and cheese, fruit and flowers. I spend my evenings at the local cafe drinking calvados and listening to live jazz music. My French is coming along nicely, what with speaking it every day to my friends and neighbors. I'm a local character now: La dame qui a trouvé le livre de Picasso, the lady who found Picasso's book. My own small claim to fame.
I now spend my days reading, painting, and sketching, going for long walks, and riding my bike. I drive my little silver Citroen all around; no small bookstore is too out of the way. I never miss an estate sale either, as my discerning eye forever searches for another unrecognized bit of hidden, unknown, impossible beauty, perhaps contained in yet another unassuming little black book.

Deborah Moran
Deborah Moran has been a creative writer since she completed her first short story at the age of six. Her interests include literature, journalism, art history, combat sports, cooking, gardening, horses and dogs. She lives in California.
See all posts by Deborah Moran →