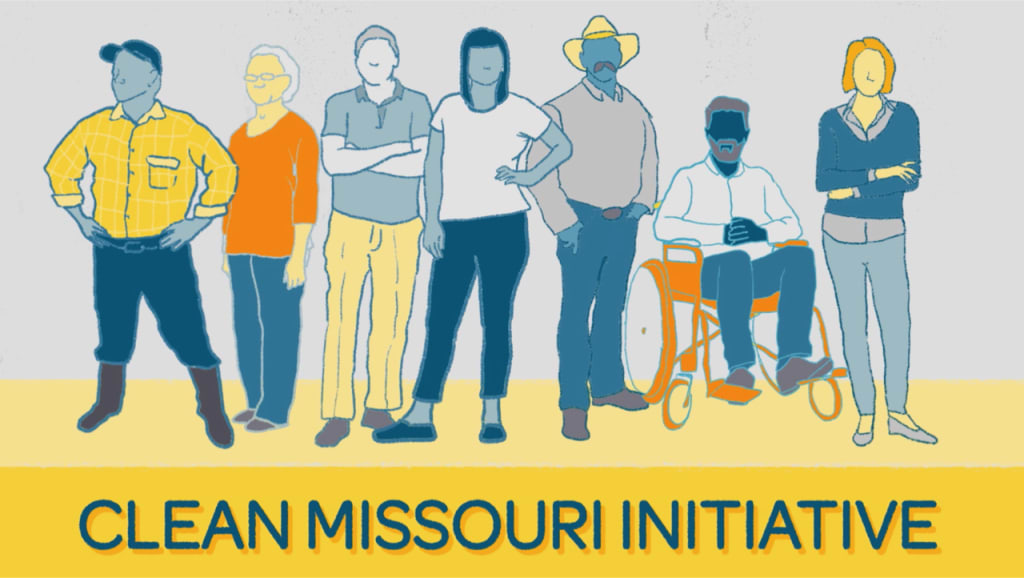 Political corruption has been very much in the news lately. The most recent stories have focused on foreign interference in our most recent elections. But other forms of corruption are much older, and remain recurring topics of discussion. One of the most common is so-called pay-to-play politics, in which lobbyists and wealthy citizens purchase the loyalty of elected officials. Another problem is gerrymandering, or redrawing electoral districts to favor one party over another. Wisconsin was recently in the news for Republicans' egregious use of data to redraw districts.
In spite of recent promises to "drain the swamp," elections are increasingly in the hands of large campaign contributors, or Russian hackers, and less and less in the hands of voters. A new ballot initiative in Missouri, called Clean Missouri, would take a big step toward restoring some of the power to the people in that state.
The Clean Missouri ballot initiative, currently in the signature seeking phase, targets both money in politics and gerrymandering. In order to reduce the influence on money, Clean Missouri would lower campaign contributions for State Legislative candidates. Perhaps even more damaging to democracy than campaign contributions is spending by lobbyists. As the saying goes, there's no such thing as a free lunch. And all of the free lunches, free drinks, free vacations, and other "gifts" given to state legislators by lobbyists, over $1 million in Missouri already this year, are in fact exchanged for influence over legislators' decisions. Clean Missouri would limit any single gift to a legislator from a lobbyist to $5 or less. Another step toward limiting the influence of lobbyists is Clean Missouri's rule that Senators and Legislators must wait two years after serving before they can become employed as lobbyists. One of the most effective ways for lobbying groups to gain control of politicians is to offer them a job, before they've finished serving. Clean Missouri would require legislative records to be open to the public, and would allow for a nonpartisan expert, using new statistical models, to redraw districts, which would then be subject to review by a citizen commission.
Opponents say the "get the money out of politics" theme is one often used by the left, but it remains impossible. Efforts to limit campaign contributions instead only lead to a profusion of Political Action Committees (PACs).
Tim Jones of the Missouri Club for Growth said on the October 29 edition of Missouri Viewpoints that all of the attention attracted to the campaign finance reform portions of the Clean Missouri is "window dressing" designed to obscure the real intent of the initiative, to "upend" the way districts are drawn in Missouri. Jones stated that, currently, the districts are drawn by a nonpartisan committee, and that Clean Missouri wants to put it in the hands of left wing progressives, representing another example of the left wanting the government to step in and control things. Jones claimed that the Democratic party has left Missourians behind as it continues to shift to the left, and that Clean Missouri is a reaction to Democrats' repeated failures at the ballot box.
Jones asked where the "bi" comes from in Clean Missouri's claims to bipartisan support. in fact, the measure has received bipartisan support. Though some Republicans have condemned it as an attempt to rig elections for Democrats, Senator Schaaf and other Republicans support the initiative. Senator Schaaf acknowledged how difficult it can be to get lawmakers behind reform movements. In his op-ed in the Kansas City Star, he pointed out that "most lawmakers don't want to change the political game when they are winning it."
Many groups, in Missouri and nationally, are supporting Clean Missouri. Clean Missouri received two separate $250,000 donations from the Missouri National Education Association. End Citizens United endorsed the ballot initiative as well. Opponents say the large monetary donations, mostly from unions, call into question Clean Missouri's commitment to getting money out of politics.
The Clean Missouri ballot initiative will appear on the November 2018 ballot, as long as the petition receives enough signatures by the May 2018 deadline.
About the Creator
I'm a father, husband, teacher, student, scholar, and in general an extremely curious individual who loves to share thoughts and discoveries with others.
Reader insights
Be the first to share your insights about this piece.
Add your insights