The Australian Bushfires - Horror Stories about a Nation Wide Disaster
Personal experiences hearing about Australian Bushfires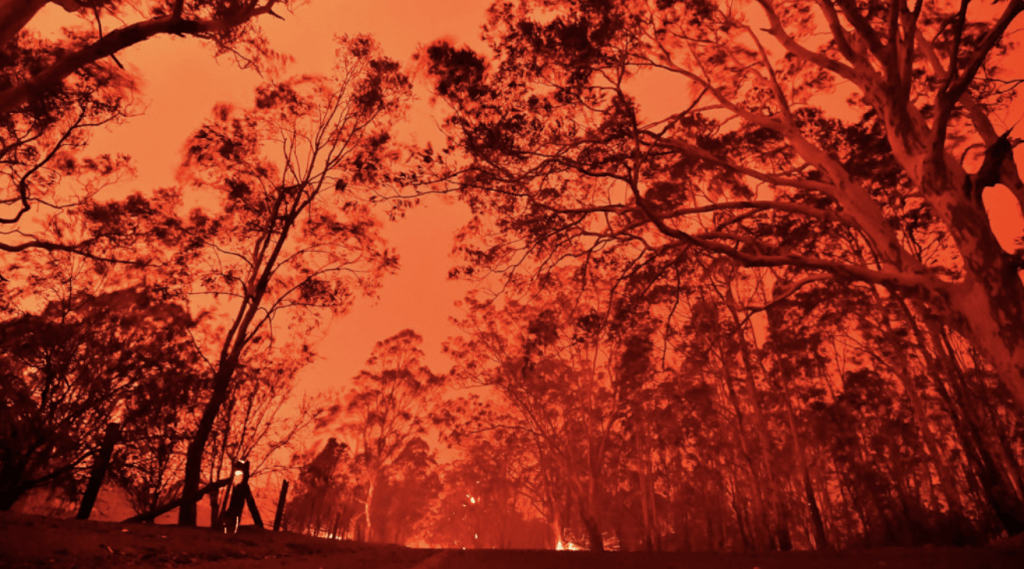 It has been upsetting to hear about the bushfires that have been happening around Australia. In Melbourne I feel removed from the bushfires that have been happening, yet I have heard even in my state of Victoria the bushfires have been causing serious damage. I also recently heard the frequently documented statistic that millions of animals were burned in the fires, and this has now been updated to be closer to one billion. The situation has become dire and catastrophic. It was declared a 'state of disaster' in Victoria and a 'state of emergency' in New South Wales. There were other alarming statistics which demonstrated how bad the fires have been.
In order to help the state of the fires, it has been said that giving money to charity is the most useful way for someone to help. Hearing about what has happened and the catastrophic nature of these figures, has made me want to help myself through a donation. At the end of this article I have listed some examples of websites you can donate to. There are some calls for volunteers and firefighters but it has been stated giving to charity with money is the best way for people to help.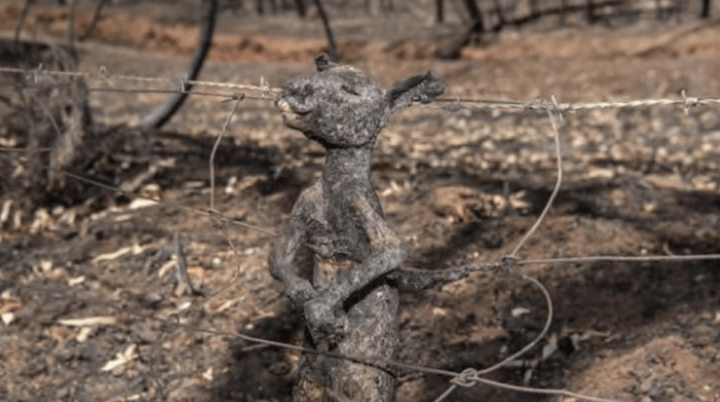 It is very sad to see such imagery as a kangaroo trapped against a wire fence. while trying to escape the flames. This is a photo that has now become widespread throughout the internet. There are also images that show the intensity of the flames, such as firefighters in amongst the blaze. It is said the flames destroyed much of the Australian wildlife and habitat, and this is the worst if not the worst bushfire the country has been seen. It has also been noted that animals such as koalas and others animals have been crying out and making sounds, which experts have said would be unusual and this is is indicative of how alarming their stuation is.
What has happened has drawn attention to the issue of climate change. There has been speculation the cause is climate change, in addition to the environmental causes. Many believe that climate change has had a significant impact on what has happened with the fires. Climate change has been a significant topic in the world and I wondered if this was because of that. Is this climate change the culprit behind the Australian bushfires? It is said Australia will reach its hottest recorded temperature of 51 degrees. These are some very extreme statistics to think about. The extreme heat and state of the weather indicates it may have been influenced by climate change.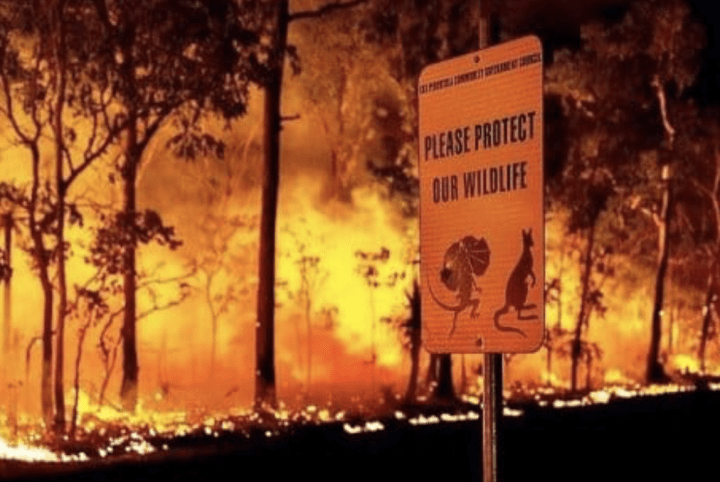 There have also been a number human deaths. For example, a woman at the Canberra airport, a pilot and his son in Kangaroo Island, and various other deaths have occured. Many have lost their homes because of the fires. There are some charities where you can offer accomodation in your house to people who have lost their home to the fire. findabed.info is where they have advertised this.
To further show the reach of the fires, it was also surprising to hear the fire even reached the snow. I saw notifications of the Mount Buller and Perisher pages saying they had to close down because of fires that were nearby. It is extreme to think these skii destinations, where I was thinking about travelling to skii not long ago, have also been affected by the fires. The Mount Buller website reported that there were fires in nearby locations, and Mount Buller road has also been closed. Perisher said they were under fire threat and that thankfully there was rain that helped with containing the surrounding fires. I imagine there are other places where it may be surprising the impact of the fires had also had an effect.
Many fire fighters and volunteers have been battling the fire. These include firefighters that are from Australia and also people who have come from overseas, such as the US military. There are also many volunteers that are also helping in addition to the professional personel. Among the people engaging in the rescue efforts were the Irwins, who saved many animals at their shelter, as many as around 90, 000. They were seen expressing concern at koalos becoming vulnerable or possible even endangered.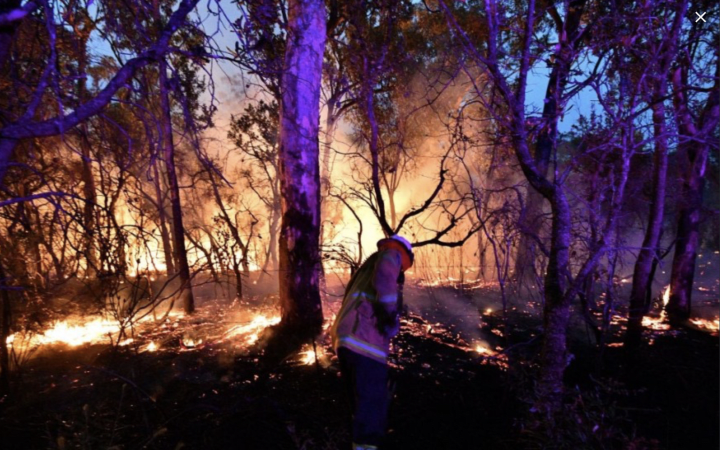 While there have been rescue efforts and people helping to fight the fires, there has also been some examples of careless or irresponsible behaviour. There were some examples of some scam behaviour, such as people knocking on doors to collect donations. It turned out these people were not legimate donors. People were told to notify police in such cases, where these were not actual efforts to help the fires. Hopefully the fires can be contained sooner rather than later and these incidents won't happen in future or could somehow be prevented.
There has also been some concerns, it was also disturbing to hear, about people starting the fires. This is concerning as with the current horrible state of the fires, starting fires can make the problem much worse. This brings attention to the fact some people think the fires were caused by people starting them, and others believe the fires they were more the product of climate change. It is said some even erroneously believe what has happened is a 'climate change' conspiracy to make people believe in climate change.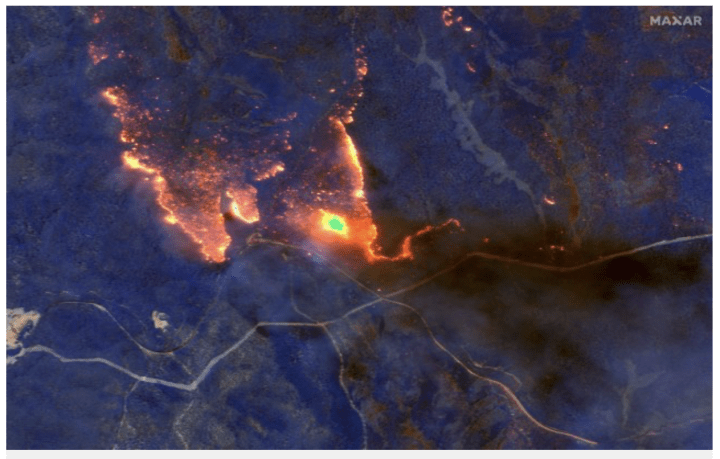 It is unsettling and harrowing to think about the animals that have perished and wildlife that has been destroyed. Koalas have been burnt while residing in trees, while kangaroos have been fleeing for their lives. Birds were forced to leave their young behind in order to survive. Many other animals that couldn't find an escape and became helpless victims to the fire. It is encouraging to see people have donated money to the cause. However more donations and rescue efforts are needed. The fire is so bad it can be seen as appearing like a red lake in images that are taken from space. As one of the worst fires in Australian history, it has been described as 'apocalyptic'. The use of this wording can be considered understandable considering the huge extent of the fires and the damage that has been done.
There are different charities people can access to order to help victims of the fire -
The Australian Red Cross - Fire Recovery and Relief fund
https://www.redcross.org.au/campaigns/disaster-relief-and-recovery-donate
Givenow - Bushfire Emergency Donations
https://www.givenow.com.au/organisation/public/2077
Wires - Wildlife Rescue Help
https://www.wires.org.au/donate/emergency-fund
Salvation Army - Donate to the Disaster Appeal
https://www.salvationarmy.org.au/donate/make-a-donation/donate-online/?appeal=disasterappeal
The World Wildlife Fund - collecting donations in order to restore habitats for koalas
https://www.wwf.org.au/#gs.s52mzb
Givit - has a list of specific items needed by people and organizations affected by the bushfires.
http://www.givit.org.au
Findabed - Offers accomodation to those affected by the fires
findabed.info
Direct donations can also be made to-
- the New South Wales Rural Fire Service
- the Country Fire Service Foundation in South Australia
- the County Fire Authority in Victoria.