Tears At Dawn
Theresa May is out. After announcing her resignation, who will willingly take up the 'poison chalice' of being a Brexit Prime Minister, and do they have a choice on the Brexit they will deliver?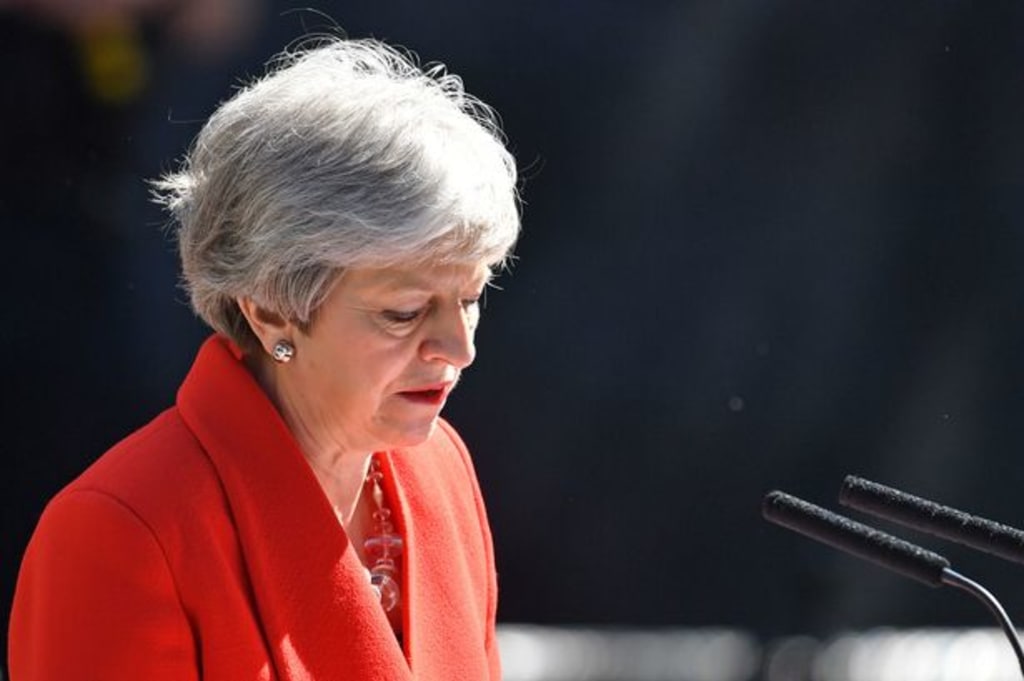 Theresa May announcing her resignation.
Oh, Theresa… hasn't it all gone horribly wrong!
After months of will she/won't she, finally Theresa May announced her resignation as Prime Minister. She stood, like so many before her, in front of that iconic black door, and addressed the nation stating the schedule for her departure.
If truth be told, the announcement hadn't been much of a shock. Many had been expecting May's resignation ever since her disastrous decision to hold an ill-advised snap general election in 2017. From there onwards it all seemed to head downhill—and fast. With no power, authority, and minimal respect from her own party, let alone her Cabinet, Mrs. May was doomed. Yet despite all of this, she managed to hold on to the 'top job' for far longer than any expected.
Countless times every political pundit and commentator would declare that her time was up. After the condemned election—she would resign. The reveal of her EU Withdrawal Agreement—prepared for resignation. The Agreement was voted down in parliament with the biggest vote in political history—she has to go! It fails a second time, then a third—her time is up. The 1922 committee receives the magic number of letters to trigger a vote of no confidence—she survives it. On and on, obstacle after obstacle, she endured relentlessly pushing her Brexit deal.
But eventually the inevitable happened. The political grim reaper tapped on the door of 10 Downing Street, and the Nation watched as Theresa May said goodbye to the job she had craved her whole career.
"I will shortly leave the job that it has been the honour of my life to hold. The second female prime minister, but certainly not the last. I do so with no ill will, but with enormous and enduring gratitude to have had the opportunity to serve the country I love."
It would be in those final words where the Prime Ministerial mask would slip; when Mrs May's voice broke, and it all ended in tears.
And whilst it isn't enjoyable to see anyone cry, Theresa May unfortunately has no one else to blame, but herself. Her premiership started as "Brexit means Brexit" but ended as a continuous extension which failed to deliver the biggest democratic vote in British history. It has been misstep after misstep; a constant barrage of broken promises, each manifesting as a nail in the Prime Ministers coffin.
She pledged Britain would be out of the EU on 28 March, then pushed for an extension. April 12 became the new date when Brexit would be completed—only for it, once again, to be delayed until October 31 (aptly Halloween). May stated that a "no deal is better than a bad deal," though that quickly fell by the wayside. No deal, though constantly championed as an opportunity, very quickly became a worrying conclusion to the Brexit process. In short, Theresa May, and her government didn't seem to have any idea what they wanted from Brexit. Only what they didn't want.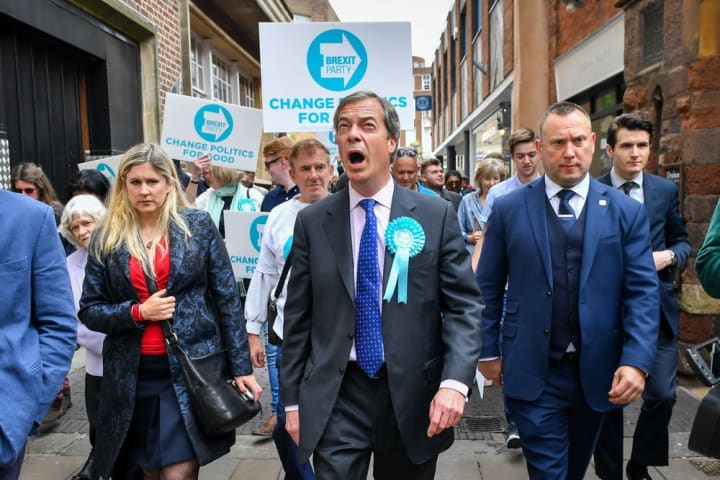 One party who knew full well what they wanted for Brexit has the word in their name—The Brexit Party. For nearly six-weeks Nigel Farage, and his candidates formed a formidable message, one which resonated with many on all sides of the Brexit debate. Here was a situation whereby the political elite, including the Prime Minister, actively failed to deliver Brexit in the way the 2016 referendum promised.
This allowed Farage to forcibly declare that our politicians couldn't be trusted, that the two-party system was broken, and something new was needed. And unlike like last time in 2016, Nigel Farage had proof to back-up his argument. This has resulted in The Brexit Party surging forward in the EU Election polls leaving the political elite gasping in his no deal Brexit dust.
The Conservatives seem to have been the ones who have suffered most from The Brexit Party. In droves, voters and party members have abandoned Mrs May, and her vision for our EU exit, and championed Farage. So, as Theresa May crashes out of No.10, can her successor navigate the treacherous path of divisive politics, and summit Mount Brexit unscathed?
Maybe, but only if they are smart enough to realise the importance of The Brexit Party's dominance in the EU Elections. Mrs. May didn't, and look where it got her. She buried her head in the sand, and decided on ignoring the Leave voters, instead focusing on the Remainers in parliament, hell bent on thwarting the Brexit process. She took no deal off the negotiating table, she surrendered at every opportunity garnering the name "Theresa the appeaser." Her successor cannot do this, otherwise they too will fail in the same way.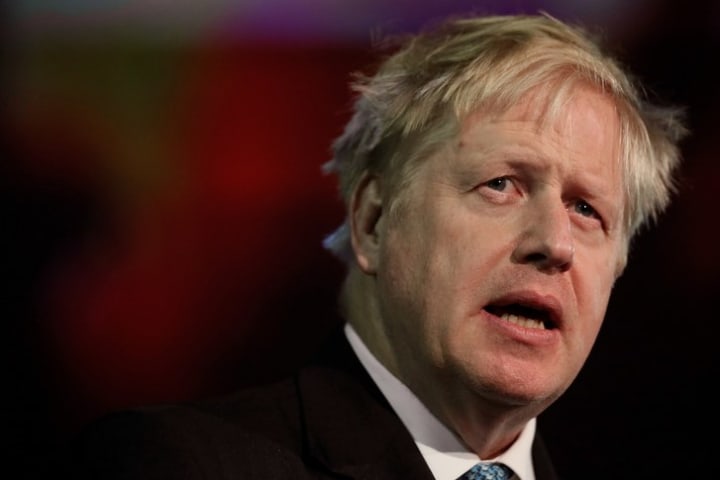 Any candidate vying for the keys to No.10 will have to commit to a version of Brexit many of them don't fully back—no deal. This is where Farage has been incredibly smart. Through his campaigning he has forced a no deal Brexit as the only choice Leave voters will now accept. In turn he has positioned himself as the "Kingmaker," and any new Prime Minister will inevitably have to reach out to him.
The same happened in 2014 whereby UKIP (Farage's old political party) won 24 seats. This forced David Cameron to commit to a referendum on Britain's future with the EU. That decision has led to the political impasse we are experiencing today.
What is clear, is that Brexit hasn't been easy for Prime Ministers when you back Remain. The referendum result has claimed two Conservative leaders, and it will continue to if the approach doesn't change. Words and catchphrases are no longer enough, and neither are promises. What the EU Elections are proving, is that the British voters want action; they want Brexit over and done with, and day by day more are wanting a no deal outcome.
Whoever picks up the poison chalice of the "top job" must do things differently to Theresa May. They must pick a route and stick to it. Otherwise they too will forced out of No.10 with or without tears.
To read more articles like this, visit The Rumble's website!
politicians
Our blog covers everything from entertainment, Movies, Politics, The Royal Family and so much more!!
Let's get ready to RUMBLE!
Visit us at our website:
Receive stories by Jonathan Reed in

your feed