Steil Watch: March I/II
Anti-Worker, Pro-War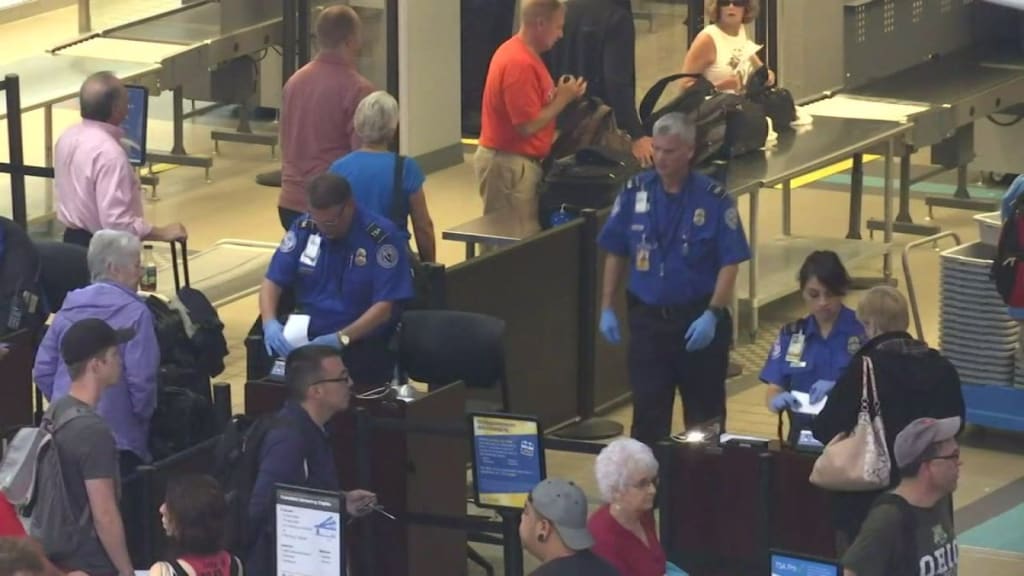 Steil voted against giving TSA workers union rights
I apologize for not posting last week. I had to wait for Congress to enough to report on. This covers March 4 to March 13.
Week 1: Steil votes against Protecting TSA Workers
Another fairly slow week for Congress, with only twelve votes this week, and 8 of those non party line votes. The only partisan action was over HR 1140, the Rights for Transportation Security Officers Act. Once again, Bryan Steil always answered at his party's call, with a 4 for 4 record, and a 100 percent record for 2020 so far.
The bill would eliminate anti-union provisions for TSA workers that were established during the George W Bush administration, and provide TSA workers with the opportunity to join a union if they desire. It is no surprise that a vast majority of Republicans (170 to 14) including Steil voted against giving TSA workers greater rights at work (RC 90, March 5).
Steil also voted for a motion to recommit by Rep. Debbie Lesko (AZ) regarding the hiring of sex offenders and terrorists. Notably, 42 Democrats joined with the Republicans and the MTR actually passed, an unusual occurrence regardless of which party controls the chamber. (RC 89, March 5)
There were two amendments to HR 1140. Both passed with no real opposition. Debbie Mucarsel-Powell of Miami had an amendment on the TSA and the corona virus (H Amdt 811, RC 88, March 5). And Gilbert Cisneros (CA) had an amendment on the hiring of veterans (H Amdt 809, RC 87, March 5)
Not surprisingly, every Republican including Steil voted against considering HR 1140 (RC 83 and 84, March 4)
The rest of what Congress dealt with this week was utterly non-controversial. They passed:
• HR 6074, Coronavirus Preparedness and Response Supplemental Appropriations Act, 2020 (RC 86, March 4, 415 to 2). The bill does exactly what you would expect, providing money to the CDC and NIH to deal with the Corona Virus outbreak. Andy Biggs (AZ) and Ken Buck (CO) were the only No votes.
• S 1678. The TAIPEI Act, in which Congress wants to get into the foreign policy business by consulting with the State Department over relations with Taiwan (RC 85, March 4). It passed 415 to nothing.
• HR 4508, the Malala Yousafzi Scholarship Act, which provides USAID scholarships to women in Pakistan (RC 82, March 4). Passed 374 to 16.
• H Res 387, Condemning Violence in the Central African Republic. Passed 378 to 7, with only the usual members of the Crazy Caucus against (Biggs, Gaetz, Gosar, Massie and Roy)
• HR 5932, Ensuring Chinese Debt Transparency Act, which passed 356 to zero.
• HR 5993, the Fair Debt Collection Practices for Servicemembers Act, which passed 355 to zero. This is the weekly "support our troops:" bill.
Scorecard Week 1
Total Votes: 12
Non Party (8): 79, 80, 81, 82, 85, 86, 87, 88
Party Line (4): 83, 84, 89, 90 = Steil 4-4, 100%
Bryan Watch - March II (Mar 9-13)
Steil sides with Trump on Iran
Hallelujah! Bryan Steil cast his first non party line vote of the year. It was Roll Call 94, on approval of the journal. Steil voted to approve the jounral, while a majority of his Republican colleagues (45 to 136) did not. Bravo to Congressman Steil for the courage to stray from the party line on his important matter (RC 94, March 10).
Once again, a slow week, with only 11 votes, six of them non-party line. Aside from the Journal vote, Steil voted with the Republican Caucus 4 out of 5.
The biggest issue in front of the House this week was the removal of US troops from hostilities against Iran. Congressional Democrats were attempting to reassert that only Congress has the authority to start a war, not the President. Not surprisingly, House Republicans, including Steil, disagreed (S J Res 68, 180 to 6 said No; RC 101, March 11). Steil also supported a bogus motion to recommit by Michael McCaul of Texas that was simply a delaying tactic on the part of House Republicans. (RC 100, March 11).
The other big bill before the House was HR 6172, the USA FREEDOM Reauthorization Act, which deals with reforms to FISA (Foreign Intelligence Surveillance Act) courts. While Jerrold Nadler and Adam Schiff argued in favor of the bill, many members of the Progressive Caucus voted against it, as did many of the Crazy Caucus conservatives. In the end, the bill passed 278 to 136 (Rep 126-60; Dem 152-75) with Steil voting in favor (RC 98, March 11).
Ken Buck of Colorado, one of the leaders of the Crazy Caucus, did have an amusing amendment to change the title of HR 6172 to "A bill to be known as the Federal Initiative to Spy on Americans (FISA) Act". It failed 35 to 376. (RC 99, March 11)
Unsurprisingly, Republicans voted against consideration of SJ Res 68 on Iran and HR 6172. (RC 95 and 96, March 11)
There were four fairly controversial bills which passed easily:
- S 760, Support for Veterans in Effective Apprenticeships Act of 2019 (RC 97, Mar 11, 412-0). One of the weekly "support our troops" bills
- H Res 756, Which implememts the recommendations of a committee on the modernization of Congress (RC 93, Mar 10, 395-13). Wisconsin Reps. Glenn Grothman and James Sensenbrenner both voted against modernizing Congress.
- And two bills on the reunification of divided Korean Families: HR 1771 (RC 92, Mar 9, Passed 391-0) and H Res 410 (RC 91, Mar 9, Passed 391-0)
Total Votes: 11
Party Line (5): 94!, 95. 96. 100, 101
NPL (6): 91, 92, 93, 97, 98 (Bad), 99