Steil Watch: Feb-Mar
New Congressman backs Trump.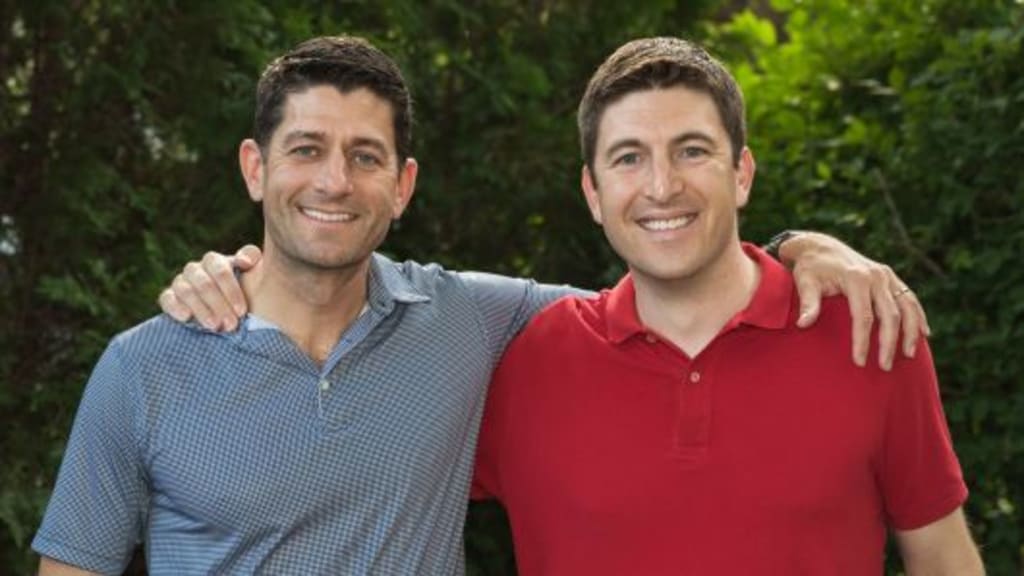 So far, Steil has been a slightly more moderate Ryan.
Steil Watch: February-March Edition.
Congress wasn't up to all that much the last two months, so I had to wait until there was enough to fill a report. But here is what Congressman Bryan Steil (Wisconsin's newest representative) has been up to the last two months. For the most part, he has been voting like a pretty standard freshman Republican.
Steil Watch—February
The House of Representatives cast 38 votes during February 2009. Of those votes, 13 were non-party-line, usually passing by a margin of 400 plus. Ten more were procedural, and Steil voted with the Republicans on every one of those.
Of the remaining 15, Steil voted with the Republicans 11 out of 15 times, a relatively low 73 percent.
On February 8, Steil voted to prohibit the Veterans Administration from constructing new child care centers—in a bill called the "Veterans Access to Child Care Act" (RC 72, HR 840).
Steil voted to continue the war in Yemen, despite the fact it has never been authorized by Congress (RC 81 and 83, HJ Res 37, Feb 13).
Steil voted to support Donald Trump on his national emergency declaration. Only 13 Republicans voted to reject it; two of the more interesting votes were Justin Amash (MI) and James Sensenbrenner (WI). The rest were the usual Republican suspects (RC 94, Feb 26).
Steil closed out February by voting against two common sense gun reform bills: HR 1112, the Enhanced Background Checks Act (RC 103, Feb 28), and HR 8, the Bipartisan Background Checks Act (RC 98 and 99, Feb 27).
Steil also supported an amendment by Rep. Debbie Lesko of Arizona that would actually make it easier for people with mental illnesses to obtain handguns (H Amdt 44, RC 96, Feb 27).
Steil did cast some good votes here and there. He supported Rep. Brad Schneider's amendment to HR 1112, requiring the FBI to report on background checks (RC 100, Feb 28). And he voted for Rep. Kendra Horn's amendment to HR 8 on domestic violence (RC 97, Feb 27). Steil also voted to continue funding for the Department of Homeland Security (RC 87, Feb 14). Steil was one of 39 Republicans to approve the journal on February 13 (this was a good vote).
Crazy Caucus—February
Since I've got some space, here is a brief report on the crazy brigade—that handful of Congresspeople (generally Republicans) who are the ones on the 20 side when the vote is 400 to 20 in non-party-line votes.
The winners for February are Justin Amash of Michigan and Andrew Biggs of Arizona, both with seven crazy votes. Close behind with five are Paul Gosar (AZ), Thomas Massie (KY) and Chip Roy (Texas). Rounding out the top ten crazies are Morris "Mo" Brooks (AL), old reliable Louie Gohmert (Texas), Andy Rice (Maryland), Tom Rice (SC) and Wisconsin's own Glenn Grothman.
Actually, Amash has to win for being the only member of Congress to vote against the Put Trafficking Victims First Act of 2019 (HR 507, RC 71, Feb 7).
Among the legislation they voted against were the Innovators to Entrepreneurs Act (HR 539), the Veterans Access to Child Care Act (HR 840), the Route 66 Centennial Commission Act (HR 66) and the Reviving Americas Scenic Byways Act (HR 831).
Steil Watch—March Edition
There were 26 votes in the House as of March 26. 14 were party-line votes and 12 were non-party line. On the party line votes, Re. Steil (R-WI 1) voted with his party every time.
Steil voted to support President Trump on his veto of the resolution stating the Emergency Declaration was illegal (RC 127, Mar 26, H J Res 46).
Steil voted against considering the resolution on the Mueller Report, although he did vote in favor once it was on the floor (RC 124, Mar 13, H Res 208).
The second week of March was spent on the "For The People Act" (HR 1), the election reform package supported by the Democrats. Steil voted against final passage (RC 118, March 8) and voted against even considering the bill (RC 106 and 107, Mar 6, H Res 172).
During debate on HR 1, Steil supported a poison pill motion to recommit by Rep. Creshaw (RC 117, Mar 8). There were a variety of amendments to HR 1; here is why Steil stood.
Supported an amendment by Rep. Mark Green (TN) that would support the Citizens United decision and unlimited spending on elections, under the guise of "protecting free speech" (RC 112, Mar 7). He also voted for an amendment by Warren Davidson to keep voters in the dark regarding corporate spending on elections (Amend 32, RC 113, Mar 7). And voted to prevent the IRS from looking into corporate spending on elections (RC 114, March 7).
Supported effort to keep voters in the dark regarding government contractors who make campaign contributions (Cole amendment, RC 110, March 7).
Also opposed an effort by Jamie Raskin (D-MD) to make corporations accountable to their shareholders when it comes to campaign spending (RC 109, March 7).
Voted against lowering the voting age in federal elections to 16 (Presley amendment, RC 11, March 7) and against allowing 16 and 17 years to register to vote ahead of their 18th birthday (Neguse amendment, RC 116, March 8).
Last but not least, voted against longer hours for voting in rural areas (Brindisi amendment, RC 115, March 8).
Crazy Caucus—March Edition
There were 12 non-party line votes this March. In good news, every member of Congress voted that the Mueller Report should be made public (RC 125. Mar 14, HC Res 24). They were also unanimous on naming a VA building in Utah (RC 105, Mar 5) and in passing the Burn Pit Registry Enhancement Act (RC 104, Mar 5, HR 1381)
The remaining eight make up the Crazy Coalition counter.
There is a tie for "King of Crazy" with two of the usual suspects, Justin Amash (MI) and Louie Gohmert (TX) having five crazy votes, as did Mo Brooks (AL) and Chip Roy (TX). Brooks may win for quoting "Mein Kampf" on the floor of the House.
Rounding out the top crazies, with four votes each are Andy Biggs (AZ), Ken Buck (CO), Ben Cline (VA), Michael Cloud (TX) and Andy Harris (MI). Shoutout to Wisconsin's Glenn Grothman for three crazy votes (RC 119, 126 and 128).
Special Recognition has to go to Rep. Tom Massie (NY) for being the only person to vote against the Crimea Annexation Non-recognition Act (RC 122, Mar 12, HR 596) and a resolution on the assassination of Boris Nemtsov (RC 121, Mar 12, H Res 196)—why, to kow-tow to Russia.
And props to Rep. Bill Posey (FL) for being the only person to vote against the Federal Register Modernization Act (RC 123, Mar 12, HR 1654)
Among the bills the crazy caucus voted against were the Little Shell Tribe of Chippewa Indians Restoration Act (RC 129, Mar 26), the European Energy Security and Diversification Act (RC 126, Mar 25), the Housing Choice Voucher Mobility Demonstration Act (RC 119, Mar 11) and the resolution on anti-semitism.