Space force is THE comedy we need right now
While not a perfect show, Space force brings just enough laughs and heart to help with this quarantine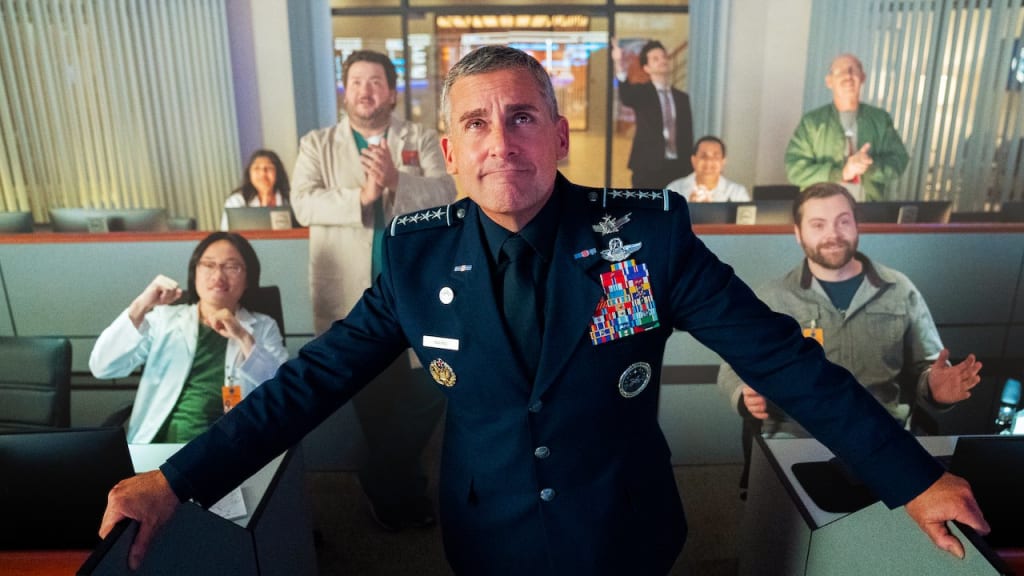 Credit: Netflix.com
With the world in its current state, it's easy to get lost in it all and feel constantly overwhelmed to the point of needing some sort of escape. With so many platforms to chose from these days, it seems as though we're seen it all. From watching the totality of Netflix, Hulu, and Disney Plus, there never seems to be enough to fill up the need for something new. But, I feel as though I've stumbled upon one Netflix show that could be our saving grace. Who knows, it may even come face-to-face with everyone's beloved Office binges.
Space Force is the brainchild of Steve Carell and Greg Daniels, reuniting the creator and the star of the show you've probably watched a hundred times, The Office. The show centers around General Naird who is put in command of a new branch of the government called Space Force. He works to get Space force off the ground all while trying to balance his family life and his personal life.
Let me start by saying what I think does not work. Some of the jokes fall flat, and some of the characters can be very off-putting and not funny. For example, let's talk about the character of General Kick Grabaston, played by Noah Emmerich. Only in 4 episodes, Grabaston is the current Air Force commander who got Space Force taken from under him, and he is not happy about it. However, Grabaston just comes off as crass and annoying. I just wanted to strike him in the face every time he spoke. There was nothing inherently funny about his character. I know he was intended to be the punchline, but all you want to do is dislike him. Also, some of the jokes fall flat and can feel forced. In one episode, a satellite that successfully launched earlier in the show was attacked, and General Naird decided to use a monkey and a dog to try to fix the satellite. The joke played on for far too long and it took up the whole episode.
However, what makes this show worth it, just like The Office, is the relationships. The interactions between some of the core characters bring out the humor and charm in the show. In episode 6, We find out there may be a spy in Space Force. General Naird and Dr. Mallory are tasked to find the traitor and bring them in. Throughout the episode, their working relationship is tested. But, their journey brings them closer together. It is fun to see their fun back and forth develop, and it is the driving force of what's entertaining about this show.
Also, let's talk about Erin Naird. She's played by Diana Silvers, and she is exceptional in this. She is very funny and charming, and her relationship with Carell's character is well developed and hilarious. She honestly steals the show in many points. She's a star in the making, and I'm looking forward to seeing anything else she's in.
In conclusion, although it's not a perfect show, it is still an excellent time while quelling those quartine blues. It has that "Office feel" while still being its new thing in Trump's America. I thoroughly enjoyed it, and I'd recommend anyone to check it out.