Sleeping Rough in a Murder Capital
Our Night on the Street...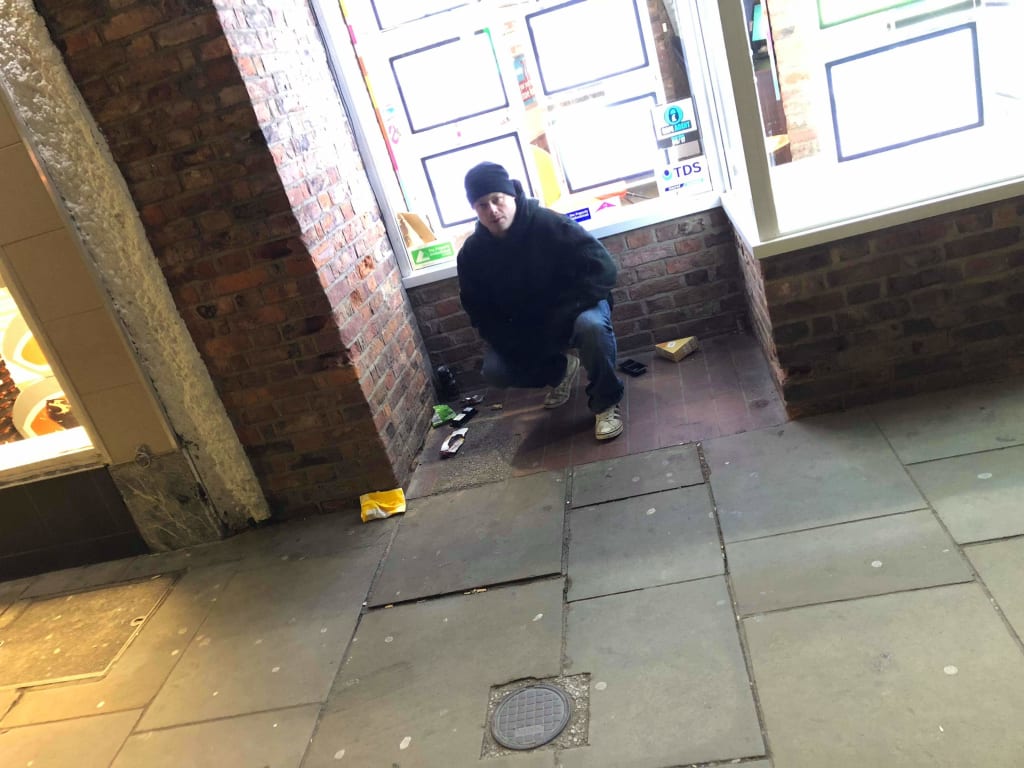 In 2016 a small Lincolnshire Market Town was labelled by Home Office figures as the most murderous place in England and Wales, and the least integrated town in Britain.
Figures showed that there was a crime rate of 15 murderous crimes for every 100,000 people. A statistic substantially higher than London, Manchester, Liverpool and Birmingham.
In January this year there were 210 crimes reported, with 50 of them recorded as violent and sexual offenses, in this one town alone. In the same month two men were charged with the murder of a 41 year old man, who was brutally stabbed to death. The attack happened at 12:30 in the afternoon in a busy and highly populated area of the town.
With a considerable population of homeless and vulnerable individuals, I ask what help is available to support these people in need?
Sunday March 17, 2019 Rob Caush, acting as cameraman, and I with the pen and paper, headed to Boston with the intention of sleeping rough, and answering that question.
We made our way through the streets of the town, nervous and anxious about what might lie ahead. Our plan for if things went wrong was simple "fight or flight." We arranged to meet at McDonald's if we became separated, and had an emergency driver on standby incase we needed bailing out. The town was pretty quiet, though the people we did see were hooded individuals, with scarves over their faces, and carried an intimidating presence. We quickly decided to try and find other rough sleepers to get some advice, and gain some local knowledge. This is when we stumbled across Holly. Holly is her real name, and is happy for me to declare that in this article. Holly was a lady who looked older than her age, and was dressed in clothing that clearly needed some TLC. A hood parched forward covering her eyes, her dry hands damaged by the cold weather, but a warm heart ever present, as she was willing to help us. When we met Holly she was rummaging through a bin outside a department store. As we explained our story and aims to her, I asked what she was looking for, and was there any advice she could give us? Her advice was simple "do what the rest of us do, pick a doorway and get your head down unless you got money."
Holly claimed the department store often disposed of expensive make up in the bins. If she could find it, she could sell it to earn money. Like many of you reading this would. I asked what the money would be for?
Holly explained she needed the money for food, and if she could raise £20 she could sleep at the Jolly Crispin, a shelter for homeless and vulnerable people, and seek a comfortable nights sleep.
Holly didn't have a lot of possessions, just the essentials to get by and they were strapped to her bike in supermarket carrier bags. Though she did have a mobile phone. Holly showed us her call list proving she had been trying to seek help. There was at least eighty calls on her call list to P3, a charity that supports rough sleepers. Holly made a call in front of us and it lead to an answer phone where Holly left a message. It was clear Holly was very distressed, worried, and alone so we helped her rummage through the bin. Deep down I felt like this had to be done. Even though we were not going to keep our findings. This could be her only option to earn an income, to eat, and if this was us for real on a daily basis, we would be in the same position. Unfortunately we couldn't find anything to help Holly. However, she did tell us that there were people sleeping at the Job Centre, which has been closed down and boarded up.
From meeting Holly we had gained a wealth of information. The Job Centre was closed so employment and support in this town are minimal. There is somewhere in town called the Jolly Crispin, which provides shelter at a fee of £20 a night, or you take your chances and pick a doorway.
We headed for a shop doorway in the town. I wanted to know what it felt like to be on public display, like a captive animal. I felt vulnerable and open to criticism as onlookers walked past. Not once were we approached by police or charities and we were clearly visible to a number of CCTV cameras. Not one person stopped to speak to us. Just the glaring, staring, and murmured comments to their associates under their breath.
I felt like we had to ring P3, but the number was far from visible. We asked and enquired at various sources and locations across the town, but drew a blank. Finally, (due to a kind gentlemen who researched the number online for us) we made our way to a phone box. Unfortunately the phone box was occupied by a young gentlemen in a not very pleasant state. Clearly suffering the effects of Mamba and in a non responsive and dangerous condition. We flagged down an ambulance that transported him to the medical care and treatment he required. We however carried on with our task of trying to contact P3. In the phone box was a blank advertising board. A perfect place for this free number to call to be advertised. Unfortunately we were faced with the same answer phone message as Holly, though we didn't leave a message.
We then walked to Centre Point to see if they had any facilities, but they too were closed. Intrigued by the information Holly gave us, we headed to the abandoned Job Centre. Upon arrival it was clear this building was being used as a refuge or make shift shelter by those inside. Hidden from view were shopping trolleys filled with bags of belongings, so it was clear there was a number of people sleeping inside. We did knock but the door did not open. However we did get wind of another derelict building being used as a squat, and we were welcomed in.
A disused pub now an eye saw was used as a home by those with nothing. It was dry, warm and provided shelter from the elements. It was not much to look at, nor did it have home comforts but it was something.
We entered via a previously boarded window towards the rear of the building. The entry point bought us into the main bar, which was used for recreational use. This was evident by the empty bottles of alcohol, discarded needles and heroin. The blood stains on the floor and walls were making Rob and I feel uneasy. Sleeping arrangements were located upstairs in the disused living quarters. We were able to spend the night here, but for our safety and legal reasons we opted against it.
Rob left me around two thirty, and I continued the remaining hours until 5:30 AM alone. By this time I was to cold and tired. I opened my eyes at every noise and passing presence, feeling on edge. But I had secured a safe place to lay my head, with some protection from the elements. This experience will stay with me forever. It enforced my understanding of what life is like for rough sleepers. We imagine rough sleepers sleeping in shop doorways, when the truth is you make a home and a bed where you can. You need to feel safe and unfortunately this is not always in public view. I discovered how the system is failing these individuals, and the care provisions that are in place are far from easily accessible. The miss understanding of information, for example the Jolly Crispin. The Jolly Crispin was closed two years ago by the council, for reasons Nigel the guy I spoke to preferred not to comment on. I asked Nigel was there any other sleeping provisions available in the town. He replied, "no."
There was a person Rob and I met that reinforced how at risk we all are when homeless. This young gentlemen was a professional footballer, and wore the number one jersey for his club. He had it all, the lifestyle, the girls and the career, then it all changed to a past memory. His words, "I was earning a good few grand a week, now I'm in debt, minus a few grand a week."