Running From Her Charter School Support
Will the Charter School Industry support Laura Friedman again as she enters the race for the CA-30 seat currently held by Adam Schiff?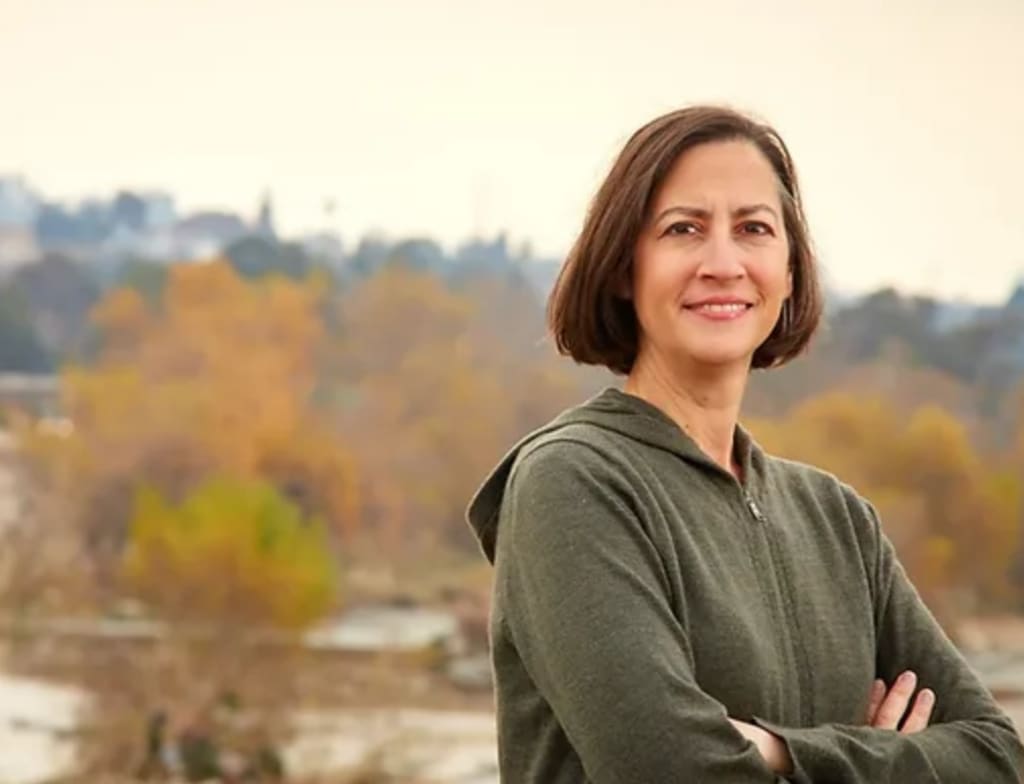 "The seat was deemed important enough to The Parent Teacher Alliance, an independent expenditure committee supporting the California Charter Schools Association, that it spent more than $1.3 million on behalf of Friedman"

- EdSource
Nick Melvoin received more competition this week as he seeks to replace Adam Schiff as the representative for California's 30th Congressional District. Following Schiff's announcement that he is running for the Senate seat held by Diane Feinstein, Laura Friedman, who currently serves in the California State Assembly, declared her candidacy. Four announced candidates are now in this race; Melvoin, Friedman, Josh Bocanegra, and Ben Savage.
Having stumbled upon Friedman's announcement on Twitter, I took the opportunity to ask about her past ties to the Charter School Industry: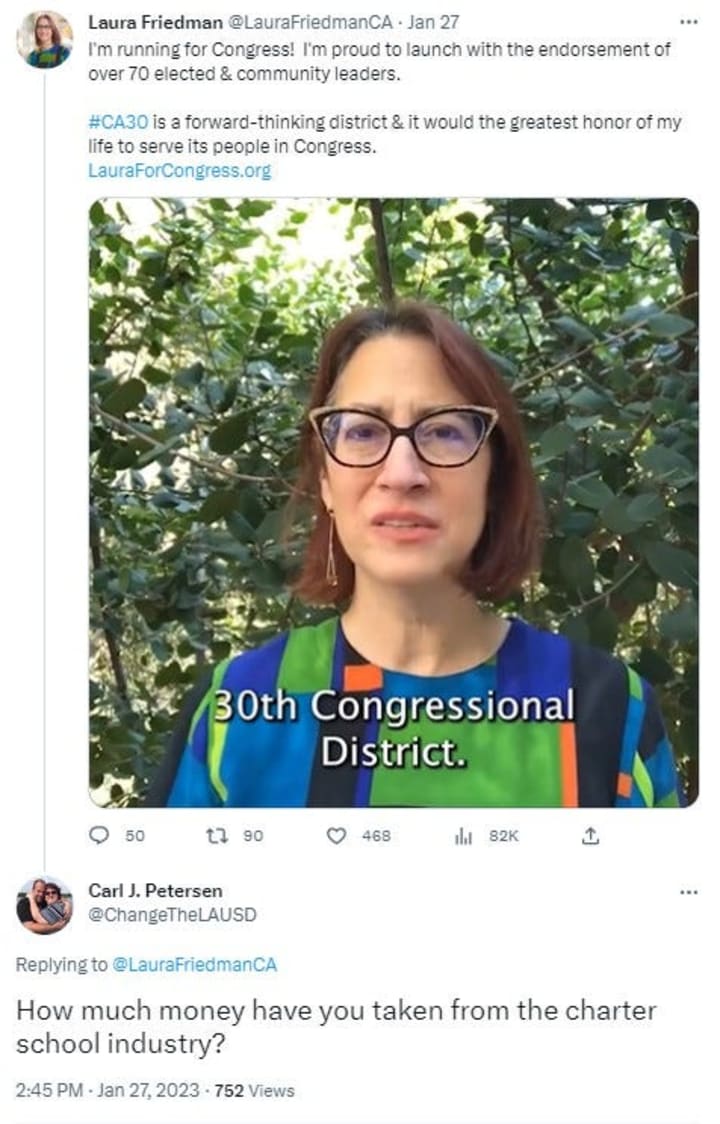 Instead of answering the question, Friedman responded with a redirection to the California Teachers Association's scorecard. While voting with the Association 95% of the time and receiving an "A" rating are accomplishments worth noting, they do not necessarily tell the entire story. In the past few years, the California Charter School Association (CCSA) has been very successful at blocking or watering down bills designed to bring accountability to their schools while they were still in committee. The biggest gift to charter school operators, a two-year extension to all existing charters without any review by the authorizing agencies, was hidden by Gavin Newsom in a budget bill. This political maneuvering resulted in benefits to publicly funded private schools without legislators like Friedman ever having to take a vote that could be graded.
When I pointed out that she had not answered my question, Friedman sent the following Tweet:

It is great that Friedman is rejecting corporate money; I wish all politicians would do the same. However, the CCSA is a PAC and not a corporation, so its expenditures would not be rejected under this pledge.
Her use of "for what's in my state account" is also carefully crafted to exclude support that did not flow directly through her campaign. This is significant because her 2016 candidacy benefited from $1.2 million in independent expenditures by The Parent Teacher Alliance (not the actual PTA). This was certainly not an "extremely tiny amount" of money.
The Parent Teacher Alliance was funded in part by Michael Bloomberg, Doris Fisher, Jim Walton, and Eli Broad. In the 2016 election cycle, the alliance spent $3.8 million in support of candidates "who seemed most open to charter interests in discussions of public education."
While Friedman's campaign had no ability to legally coordinate with the billionaires funding the independent expenditures, education activist Robert D. Skeels points out that she did "have the ability to DENOUNCE and DISASSOCIATE herself from CCSA's Dark Money SuperPAC". LAUSD Board Member George McKenna demonstrated this when the CCSA ran morally offensive ads in support of Ref Rodriguez and McKenna publicly requested that the organization withdraw its endorsement of him.
Supporters of public schools need strong fighters in Washington D.C. as federal law has given charter schools access to grants that have given them an unfair advantage. Additionally, during the pandemic charter schools were allowed to access PPP funds while public schools were left out of the program. Special Education funding also needs to be fixed so that charters are not rewarded for excluding these children from their student bodies.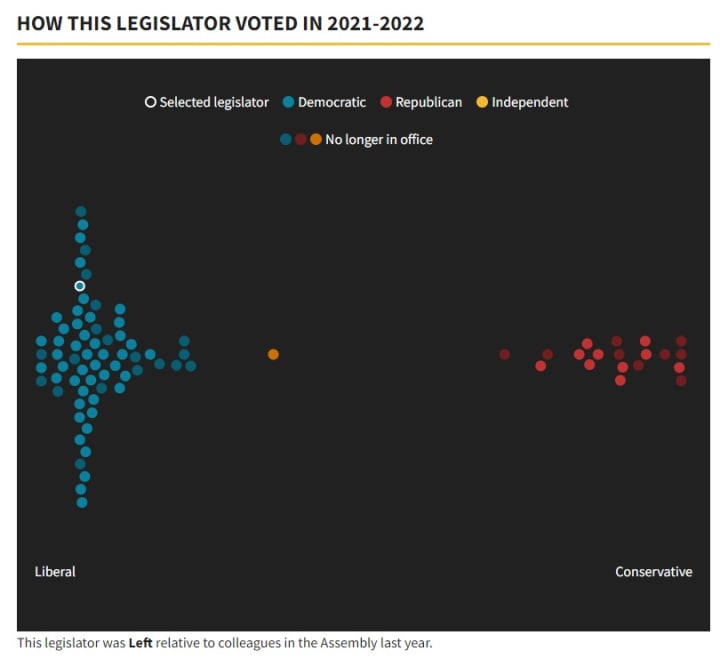 In her Twitter announcement, Friedman declares that she has been a fighter for progressive values and her website says that she "has been on the front lines of every progressive issue." Her record, especially on environmental issues, backs that up. Unfortunately, there are too many politicians who support the concept of privatizing public education, even if that concept is firmly embedded in the far-right conservatism of the Republican party. The charter school movement is a failed experiment that has endangered children, wasted taxpayer money, and left Special Education programs underfunded. Progressive politicians need to make it clear that it is time for public financing of these private schools to come to an end.
____________________________
Carl Petersen is a parent advocate for students with special education needs and public education. He was elected to the Northridge East Neighborhood Council and is the Education Chair. As a Green Party candidate in LAUSD's District 2 School Board race, he was endorsed by Network for Public Education (NPE) Action. Dr. Diane Ravitch has called him "a valiant fighter for public schools in Los Angeles." For links to his blogs, please visit www.ChangeTheLAUSD.com. Opinions are his own.
About the Creator
Carl Petersen is a parent advocate for students with SpEd needs and public education. As a Green Party candidate in LAUSD's District 2 School Board race, he was endorsed by Network for Public Education (NPE) Action. Opinions are his own.
Reader insights
Be the first to share your insights about this piece.
Add your insights