Paul Mackenzi, William & Rachel Ruto aren't they all Cult Leaders? Cultism is Rampant in Kenya 5 men claim to be Jesus
When someone brainwashes you into taking on their beliefs for money, power & not for God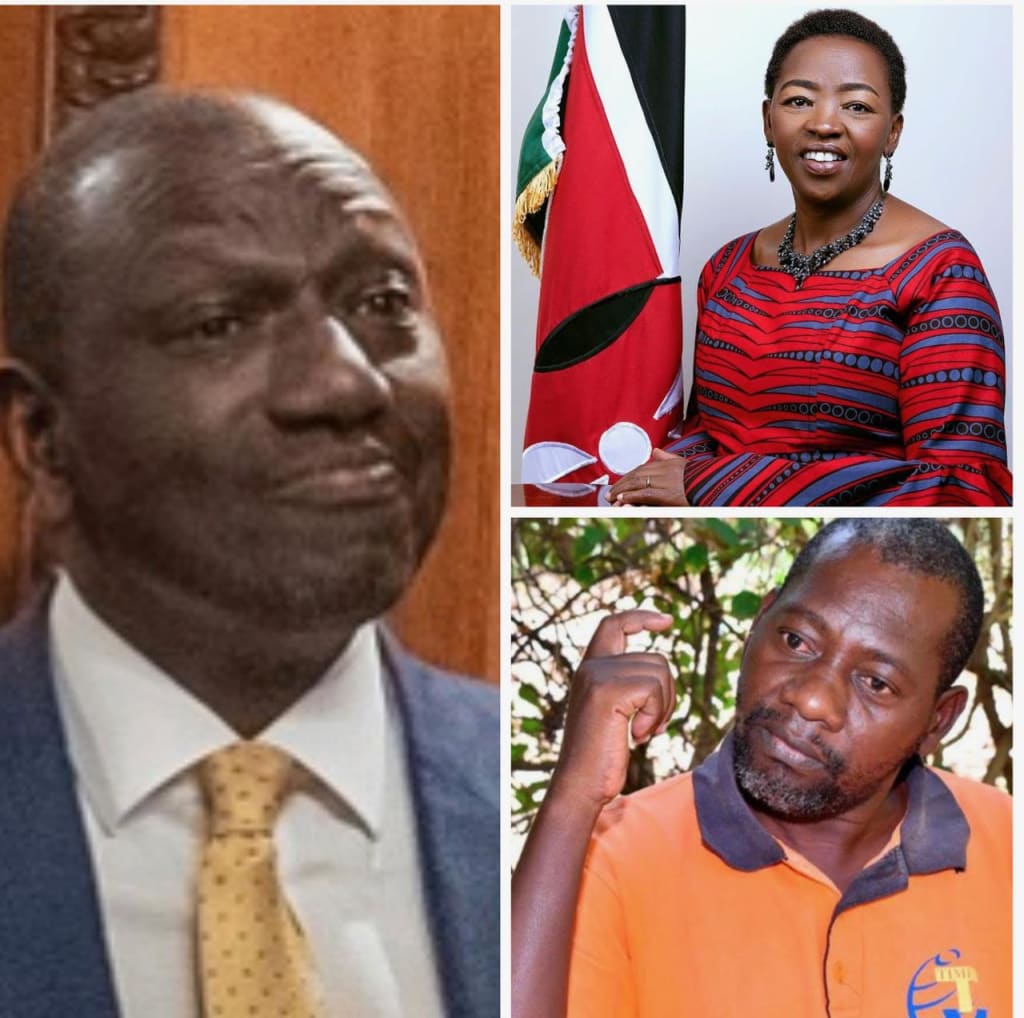 William Ruto left Wiki Commons Public Use Rachel Ruto top right Public government photo Paster left bottom public use
Monday, 24 April 2023 
By: TB Obwoge
Kenya's cult leaders are many as there are 5 men claiming to be Jesus, with one recently proclaiming he was another apostle form the Bible. William Ruto and his wife have been turning the State House and government into their own church. Holding prayers within the seat of the Kenyan government's policy of law making likened to a church event.
William and Rachel Ruto have been inviting church leaders to the State House and holding church services. The First and Second Lady are often photographed laid out prostrate on the ground or kneeling to God in these shows of their immense faith to God
The Luhya gods who think they are Jesus Christ
First, there was Jehovah Wanyonyi, the self-proclaimed god and leader of the Lost Israelites Ministries. From his base at Chemororoch village, Uasin Gishu County, he found time from his 'heavenly' duties to preside over 70 wives, a majority of whom were aged between 14 and 18 years. Jehovah Wanyonyi claimed he could cure various diseases, such as Aids, cancer and hypertension.

Second, there was Eliud Wekesa who claims God visited him while he was in slumberland and told him he was the messiah people have been waiting for to save mankind. The Class Eight dropout known as 'Yesu wa Tongaren' among his followers hails from Lukhokwe village, Tongaren constituency in Bungoma County.

Third, Yesu wa Tongaren's children are named after angels and prophets in the Bible such as Prophet Enock, General Angel Michael, Prophetess Miriam and Angel Samson among others. He has 12 disciples who during a church service sit on the left and record all the preachings which the self-proclaimed prophet says he will use to write a new bible at the time of rupture.

Fourth, Nabii Yohana (V) is married to 39 wives (three deceased) and has 107 children. He has also written his own bible that has 93 books unlike to the Holy Bible that has 66 books. Nabii Yohana (V) whose real name is Ronald Nakalila Wanyama, was born in 1942.

Nabii is set to launch his new bible and 12 commandments on April 23 at his Muungano Church of Holy Spirit for All Nations.
Look at the above fake, hypocritical photo, praying over-top of a camera for the world to see. They must cherry pick what they choose to follow from Biblical text because the Bible clearly states against public, hypocritical prayer.
Facebook Comments from Kenyans Pointing out how President William Ruto and Wife are doing the same things.
Daniel Juma

There's no difference between WSR n the pastor, both using religion to advance their evil ways
Tim Murita Paul

For the avoidance of doubt,you have given these cults fodder to thrive
Kwasa Samwel

One day mama Ida said about licensing pastors who studied theology mukamuita mchawi
Kips David

Mackenzie is one of the Recho's pastors visiting state house daily.
Bundi Mfundi

Unfortunately there two things you can't legislate against.

1.Culture

2.Religion
More than 40 bodies found at Kenya Christian cult graves site
Police began investigations amid reports that cult followers believed they would go to heaven if they starved to death.

Kenyan police have exhumed dozens of bodies from shallows graves in the east of the country amid an investigation into followers of a Christian cult who believed they would go to heaven if they starved themselves to death.

Information provided by officials put the number of bodies exhumed so far as high as 47, according to media reports on Sunday.

"Today we have exhumed 26 more bodies and this brings the total number of bodies from that place to 47," said the head of criminal investigations in Malindi, eastern Kenya, Charles Kamau.

He said the search was continuing not just for bodies but for survivors of the cult, some of whom are still refusing to eat.

Police launched their operation after the first bodies were discovered last week, and exhumations of bodies began on Friday from a 325-hectare (800-acre) area of forest at Shakahola, near Malindi in Kilifi county.
Currently there have been 61 bodies found along with 3 survivors as well as the cults leader who's currently in jail. Those members who were found alive are refusing to take food.
Thank you for reading 🙏🏽 Please consider buying a coffee for Lacey's House efforts in Gender Equality & Children's Rights.
©️TB Obwoge 2023 All Rights Reserved
About the Creator
I'm the president of a nonprofit. I've lived in 3 countries, I love to travel, take photos and help children and women around the world! One day I pray an end to Child Marriages, Rape and a start to equal Education for ALL children 🙏🏽
Reader insights
Be the first to share your insights about this piece.
Add your insights