Nothing Says Christmas in America Like Gun Violence
American gun violence is an embarrassment, while self-righteous Americans consider African countries violent
The United States of America has one of the worst gun violence problems in the world, which is an understatement. Americans seem to think that violence in African countries or 'under-developed' countries is the worst. People will warn you of violence if you tell them you're going to South America or any African country.
Some unknown number of Americans usually gift fire arms to their children which is common place. They use phrases like "guns don't kill people, people kill people!" Or they claim to be a family of hunters, while American schools shootings have become common place.
Why should Christmas Day be any different? The morning of 25 December 2022 started with death and violence due to Americans gun culture and violence.
Police say 2 dead, suspicious device found at Jehovah's Witness Kingdom Hall in Thornton, Colorado

A man shot and killed his wife then killed himself on Christmas morning at a Jehovah's Witness Kingdom Hall in Thornton, Colorado, police said.

In a news release, Thornton Police confirmed that the two adults found dead at the scene were a married couple who were former members of the Kingdom Hall congregation.
Meanwhile at around 11:15 am Eastern Standard time in Philadelphia, PA there was yet another incident of gun violence.
Police: 1 dead in Christmas Day triple shooting in Hunting Park

The shooting happened on Christmas morning just after 6 a.m. near Franklin and Cayuga Streets.

PHILADELPHIA (WPVI) -- Philadelphia Police are investigating a deadly triple shooting in the Hunting Park section of the city.

The shooting happened on Christmas day just after 6 a.m. near Franklin and Cayuga Streets.

Police say a 32-year-old man was shot twice in the back.

Medics took him to the hospital where he was pronounced a short time later.

Another gunshot victim was driven to the hospital by private vehicle.

That 43-year-old man was placed in stable condition.

The third victim, a 22-year-old man, was taken to the hospital by police where he is in critical condition.

A weapon was recovered from the 43-year-old shooting victim.
Source: 6 ABC News Philadelphia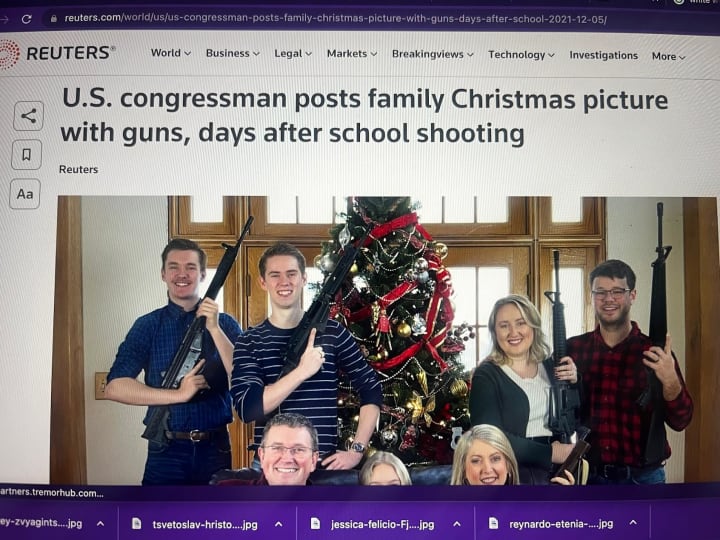 GRAND RONDE Ore. (KPTV) - A suspect is on police's "Naughty List" after a shooting and a chase that triggered a shelter-in-place in rural Grand Ronde on Christmas morning.

A spokesperson for the Yamhill County Sheriff's Office said the shooting happened in Polk County. The suspect then ran on foot and was reportedly chased by deputies before they were taken into custody in Willamina by Yamhill County deputies.

Yamhill County issued a shelter in place for people living in the area during the chase. Deputies received help from the Hillsboro Police Department with a tracking K9 and the shelter in place alert was lifted after the suspect was in custody.
There are several watch groups online and throughout social media based in the United States of America, that report on gun violence. There are hundreds, even thousands of stories of gun violence and murder in America but no solutions.
The American government refuses to tackle the issues surrounding gun crimes. More than gun control needs to take place for the American gun culture to be squashed. However no one at the government level seems to want to do anything about gun violence.
When children were the victims many thought that the American government surely would put an end to gun violence. Yet there has been hundreds of schools shootings in America and they don't seem to be slowing or stopping any time soon.
Thank you for reading 🙏🏽 Please consider buying a coffee for Lacey's House efforts in Gender Equality & Children's Rights as it tries to move international.
©️TB Obwoge 2022 All Rights Reserved
About the Creator
I'm the president of a nonprofit. I've lived in 3 countries, I love to travel, take photos and help children and women around the world! One day I pray an end to Child Marriages, Rape and a start to equal Education for ALL children 🙏🏽
Reader insights
Be the first to share your insights about this piece.
Add your insights