Nicole Junkermann v Johnny Vedmore: Secretive German Court Censorship to Hide IDF and Epstein Links
Epstein associate uses German courts to silence and intimidate journalists

I'm being censored in secret. In Germany, Nicole Junkermann, associate of Jeffrey Epstien, Ehud Barak, Matt Hancock MP and Peter Thiel, has taken out a court injunction to silence me. However, they haven't informed me of the case. They have never served me with any court papers - as required by the "Convention on the Service Abroad of Judicial and Extrajudicial Documents in Civil or Commercial Matters" - more commonly called the "Hague Service Convention". Therefore, I have had no opportunity to respond to any accusations and it's clear that the German judiciary is automatically on the side of the multimillionaire Epstein associate, Countess Nicole Junkermann. The first time I heard any rumors about a German court injunction taken out against me was on 11 January 2020. I'll always remember the date very well as I was nursing my dying cat when it came through the letterbox. Because I was about to lose my big ginger buddy of almost two decades, I had zero emotional response to the incoming mail.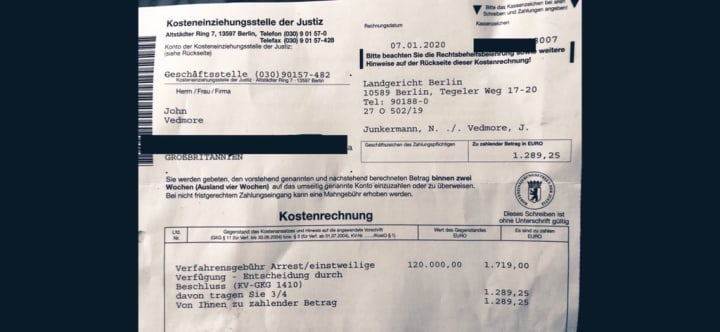 The envelope marked with a Berlin postmark turned out to be a bill for ¾ of Nicole Junkermann's legal costs for her taking out an injunction on me. I have no idea what the injunction says, or what excuse Nicole Junkermann's legal team gave to the Landgericht Berlin to allow her to cover up her sordid links. There has been no attempt to follow due process and the Berlin regional court only publishes the cases which it deems 'worthy', this case is apparently not seen as such. So I cannot believe that this injunction is legitimate in any way whatsoever as there is no record of it available anywhere and I have never been officially informed. This is an attempt to silence an independent journalist through intimidation and I'm not the only one. After putting my predicament on Twitter it has become clear that Nicole Junkermann's attempt to cover up my article has affected many other independent journalists. Others have been targeted and censored.
One of the first to fall as a result of my initial article were the intrepid researchers who made up Voat.com. They were initially put out of action by a DDoS (Denial of Service) attack and they would never be allowed to return. Soon after releasing the articles I would receive emails from Germany calling me anti-Semitic - for writing an article about a Catholic woman who is married to the man who runs the Vatican Bank - and they would also ask for "my price" to drop the story. A person claiming to be the photographer for the dystopian IDF backed company headed by Nicole Junkermann, Carbyne, would threaten me with legal action for using her pictures, ignoring fair use. She used multiple spellings of her name and when questioned about the people she worked for, and asked to confirm her details, she was never heard from again. They also attempted to scare Jason Bermas off in the same way but Jason doesn't scare easily. I was informed by Ed Opperman that my initial interview with him was in the German courts. Apparently, Junkermann had YouTube take the interview down in Germany only via a court order. Another apparent German court order which I've been unable to find any evidence of. I went back to listen to the interview only to find that much of the audio had been distorted. French blogger Panamza, of www.Panamza.com, is also being targeted by Junkermann using the German court system to intimidate journalists.
This is what a real cover-up looks like. I knew that this story would be very spicy and that was part of the reason why I took so long in researching it before I published anything. I can understand why no member of the mainstream media has dared to cover it. The mainstream media are cowards. I contacted almost every newspaper, media outlet, journalist and hack I could in both the United Kingdom and Germany when I first released it. They all chose to ignore the piece. And when the story was being shared relentlessly by an army of concerned members of the public, they still ignored it. Matt Hancock MP didn't respond to any questions about the NHS Healthtech Advisory Boards inclusion of Nicole Junkermann and one of her businesses OWKIN. Since the article, there has been no more recorded meetings of the Healthtech Advisory Board.
My own website has also been a target for a mass of censorship. So much so that someone has even used the "Right to be Forgotten" laws on my behalf. If you now search Google for Johnny Vedmore my own website www.JohnnyVedmore.com doesn't even register. It's still there, but they've fraudulently had my name removed from Google Search to hide their negative press. If I wasn't connected to the many very fearless independent journalists online, I may not have even learnt about the many acts of censorship. I don't want to be forgotten but they're now using European data protection laws to wipe me off the internet in secret. And Junkermann isn't the only person using every available method to help wipe one of my articles from the world wide web. The number one cheerleader for establishment peadophillia, QC Barbara Hewson, is also having my websites results removed on Google Search to hide her own intriguing history.
Being censored is enough to drive someone crazy. If you deny people's right to free speech in these ways then it will end in violence, we have all seen examples of this. Even though personally I'm not going to become a terrorist quite yet, I am but one of millions of humans who are experiencing the same sort of sinister behaviour. Censorship isn't only happening in China, Iran and Saudi Arabia. Wake up.
For now, I will be having my original Junkermann articles translated into German. It's very clear that Nicole Junkermann is trying to hide her Epstein and IDF connections from the German public. I will be contacting members of the Bundestag to help me fight on behalf of free speech and a free press. The more I am intimidated and censored, the louder I shall become.
My Message to Nicole Junkermann
My public message directly to Nicole Junkermann is simple. It is you that flew on Epstein's Lolita Express, it is you that met two senators with Epstein at the Wexner mansion in the UK, it is you that took Epstein's money, it is you that publicized your connections with the IDF and publicly ran Carbyne, it is you who helped win the exclusive TV rights to the FIFA world cup using Sepp Blatter's relative to sweeten the deal, it is you that was caught hiding money offshore and was exposed in the Panama Papers, it is you who is on a tech advisory board of the NHS - a public sector institution paid for by UK taxpayers like myself, and it is you who needs to take ownership for these decisions.
You are currently behaving like a spoilt little rich girl who is unable to take ownership for the consequences of her own actions and that is the problem. You must take responsibility for your own actions Nicole, you're a grown woman.
corruption
About the author
Follow me @JohnnyVedmore.
I'm a UK based Investigative Journalist, Musician, I hunt child abusers online, and I believe that the UK government should legalize cannabis! Come to my website with lots of content at:
Reader insights
Be the first to share your insights about this piece.
Add your insights