Never-Ending Story of Corruption in Ukraine
It's the 21st century and corruption is still taking over Ukraine.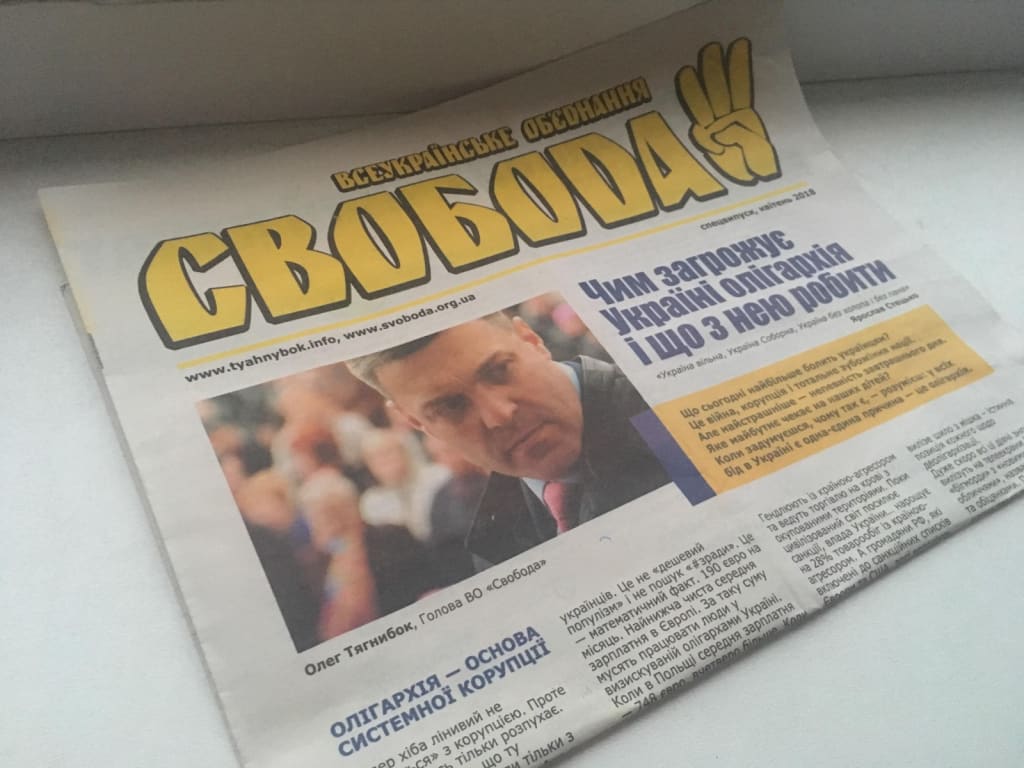 Local Ukrainian Newspaper
Corruption had been a widespread and growing problem in Ukraine, way before the collapse of the USSR, when Soviet nature was present and country's leaders used to be integrated in communist ruling elite. After the disintegration of the USSR in 1991, current Ukrainian politicians established an authoritarian-oligarchic governance regime in Ukraine. Sadly, according to Corruption Perception Index 2017, Ukraine is the sixth most corrupt country in Europe and 130th in the world.
As hard as locals are trying to deal with this huge problem, it seems that everything is out of their hands. There are many campaigns, petitions, and organizations working to fight corruption, but the oligarchic entrenchment is spreading wider and wider. United States Permanent Representative to NATO, Kay Bailey Hutchinson, said that:
"Only the fight against corruption, the establishment of democratic institutions — including an independent judiciary and anti-corruption courts — will establish the long-term principles for combating external interference and the development of Ukraine as a modern European state."
Public services include police departments, health service, and education institutions—being the most common examples. Recently, my father and I visited Ukraine and, ironically, found ourselves only one step away from becoming a part of a corrupted situation.
Bribery and corruption is an international issue damaging not only the organisation's reputation, culture, and status, but harming people, communities, and economies of countries. One of the most worrying things is that corruption leads to going against your own beliefs when it comes to certain situations. When you think about it, we all are a little corrupt in one way or another.
Visiting Ukraine made me realize that the statistics are not exaggerating and an oligarchy is in charge of the country. My plan was to stay in Ukraine for a week, produce a documentary, and come back to Lithuania.
Unfortunately, my plan was disrupted when I woke up in the morning to find out that our vehicle registration plates were stolen. There was also a note with a number under the windshield wiper. On the first day of arrival, we were informed that it is very common in Ukraine to break car windows, take off tires, and number plates, so I suppose we should have expected that to happen, especially when the numbers were foreign. My father dialed the number with hope, but unluckily no one responded. My uncle lived in Kiev his whole life and said:
"This kind of thing became a part of the daily life in Ukraine due to the failure to end corruption. They leave notes with numbers and ask for 400–500 Hryvnia (13 to 16 euro) payoffs. It is just cheaper and quicker to give money to thieves rather than ask the police to solve the problem, because anyway they will indirectly demand for a much bigger sum."
Most authorities such as police do not care about people, they care about money. Since 2014, Euromaidan revolution, people became desperate to earn money and that led to desperate measures. Acknowledging that authorities might not be in our favour, after many unsuccessful attempts to reach the "note guy," we called the police.
Being very curious and sceptical, I took a chance and spoke to the policeman Alexey about the never-ending theft incidents. When I asked Alexey why police are not doing anything to prevent this from happening he said,
"It is a poor situation regarding bribery and corruption in Ukraine. Most police officers feel superior and think they have the power to manipulate people and their money. They have this 'if you want something, pay us and you might get it' attitude. Everyone wants money and they are ready to do all sorts of things to get it."
After issuing the documents to cross the borders without further difficulties, Alexey did not say anything about any form of settlement, wished us a good day, and left.
This encounter made me think: Maybe Ukraine is slowly recovering from buried anti-corruption hopes? According to Ukrainian Independent Information Agency of News (UNIAN), the country shows a slight improvement thanks to Ukrainian anti-corruption authorities forwarding corruption-related cases where the suspects are high rank officials.
I believe it is our obligation as journalists, activists, or just ordinary human beings to spread as much awareness about this stigma as possible. In this case, it is not only Ukraine and its people who suffer, it is a worldwide problem that in some way touches each and every one of us.
By the lack of Ukrainian leadership's political will to counteract corruption, level of trust deteriorates and as a consequence, it leaves people stuck in bribery deadlock. Thirst for moneyand thirst for domination leads to the abuse of power, and it affects communities. Local people are continuously marching in peaceful protests, gathering in the streets, and showing resentment towards current authorities, seeking for a change. Hoping for a better tomorrow.
Corruption is a major obstacle in development of a stable democracy and prosperity of the country economically, politically, and socially. Revolution of dignity was one of the breaking points in Ukraine's ruthless dishonest dealings and the National Anti-Corruption Bureau (NABU) became a game-changer by investigating almost 500 criminal cases and bringing less than half of them to court. Turns out that those arrested appeared to be judges, chiefs of governmental institutions, law enforcement officers, or members of so-called group the "untouchables." Good-doers like NABU are widely spreading awareness about Ukrainian corruption, and with the help of their international partners, the country seems to be moving forward.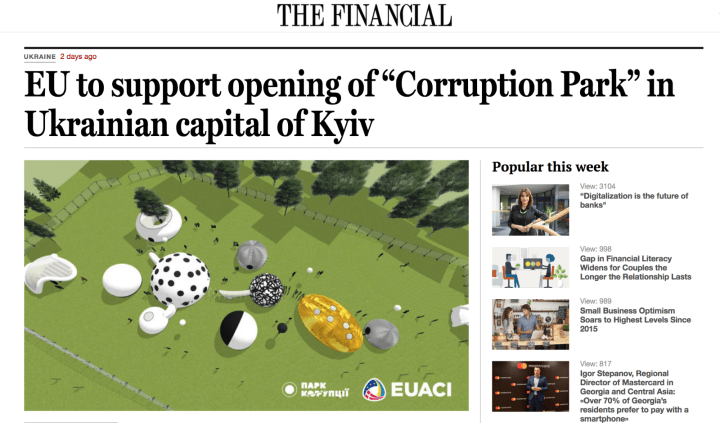 Without unity, reform is impossible. If representatives from government and general public work together to establish standards and to ensure transparency of public officials, businesspeople, managers, and board member activities, only then corruption can be defeated.