Mr. President
Mr. President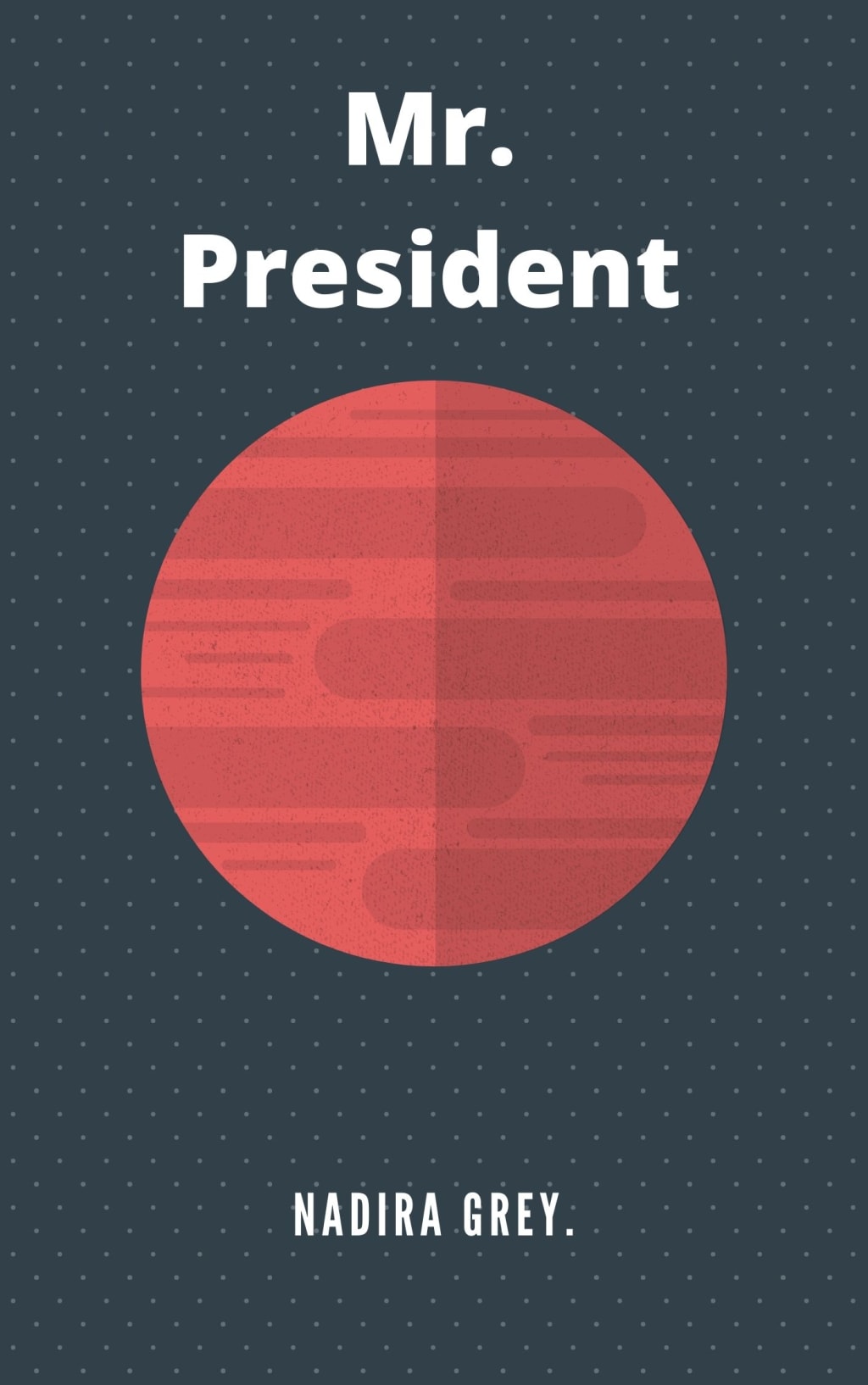 Mr. President
Published by Nadira Grey
Copyright ©2021 NADIRA GREY. All rights reserved.
No part of this book may be reproduced in any form or by any mechanical means, including information storage and retrieval systems without permission in writing from the publisher/author, except by a reviewer who may quote passages in a review.
All images, logos, quotes, and trademarks included in this book are subject to use according to trademark and copyright laws of the United States of America.
GREY, NADIRA,
Author MR. PRESIDENT
NADIRA GREY
All rights reserved by NADIRA GREY. The book is printed in the United States of America.
Johnathan could hardly hold in his excitement, as he walked around the office; he had waited most of his adult life for this moment. He studied everything in the room and ensured they were ingrained in his mind. The paintings on the wall were of Abraham Lincoln, George Washington, and Thomas Jefferson. They were hung directly opposite of the chair where legislation was signed, speeches were sometimes broadcasted to the nation, and meetings were held. The desk was very big, but the chair had the softest leather he had ever felt, and even though he was Vanberg, and rich he didn't recall such a soft leather.
He was only 35 years old, tall, and had the bluest eyes. His blonde hair was wavy with a single curl that could never stay in place; it hung directly in the center of his forehead. Johnathan worked out four times a week at Bowes gym; even though he didn't have washboard abs, he was solid. In his spare time, he played video games and rode horses; it gave him a calm that a massage could not. His dimples enhanced his smile, not a tooth out of place and always bright. He was so cute; at Harvard, the girls went crazy. As he sat comfortably in the brown leather chair, he wondered what his dad thought of him now.
Johnathan was the youngest of three brothers. David was his father's firstborn, and he dotted on him at every turn growing up. David graduated from Harvard with honors as they were all programmed to attend the family's alma mater college. He was an elected senator of Tennessee of the 9th district, the last two terms. David was of average height with jet-black hair. Dad bought him his first car at 16 and allowed him to have more freedom in his career choice than the rest of them as long as it was in politics. Tobias was the second oldest; he was the party guy, ladies man; he had the charm that drove girls wild. He was funny, competitive in sports; he drove a black mustang, which girls loved. When he graduated from Harvard, he ran for governor of Tennessee and won. The Matriarch of the family, William Collins, wouldn't have it any other way.
William Collins was the third generation of politicians. He was a senator in the 1990s for the full six years. The Collins money initially came from being in the real estate industry, but when his great grandfather saw that the people of Tennessee were suffering during the great depression, he wanted to step up to help. The only way he saw he could achieve this was through legislation. In dad's spare time, he'd either like to work on cars or play baseball. When Johnathan was six years old, his father wanted him to learn how to fix cars, but he could never remember what tools fixed what. In baseball, he could not catch a ball or run fast enough; football was same as well. Having asthma didn't help matters either. To his father, he was no comparison to his other siblings. Throughout the whole campaign, his father showed little support to the point he stated he would not win and was not present during the announcement of him winning the election. Trying to please his father was difficult, but now when he goes home for the first time this weekend, he hoped his father would be proud.
" Mr. President, you have a call from Senator Thompson," announced Christine
" Thank you, Christine" replied Johnathan
"Hi Senator Thompson" said Johnathan
" Johnathan cut the formalities; where's the balance of my money?" replied Senator Thompson
" I know, give me a little more time; it's not easy removing another half a million dollars from the family bank account" replied Johnathan
"I don't care about that," said Thompson
"You wanted to be President, and I had to bribe a lot of people to rig the voting machines in different districts to ensure this" continued Senator Thompson
"Don't forget I want that house we talked about in the Hamptons. If my wife is unhappy, you're going to jail," said Senator Thompson.
The line went dead. Johnathan slumped in the chair. He did what he had to do; he was tired of being invisible to his father. He won this presidential election without being married or having any children that was unheard of. When he graduated from law school, his father did attend, but only to keep up appearances. He didn't do well in his exams; he was mediocre at best. Professors probably helped him graduate due to the family name and the donations his father gave. Johnathan took out the little black book with all the names of the people he paid off to help achieve his goal.
"Mr. President, Lily Portland is here to see you," announced Christine
"Mr. President, Mr. President" continued Christine
Johnathan was in deep thought and dropped the book on the floor as Lily entered.
"Have a seat Lily, over on the couch," said Johnathan
"Thank you, Mr. President" replied Lily
" Would you like something to drink," asked Johnathan
"No thank you" replied Lily
"Let me get straight to the point, Mr. President, one of the promises you made during your campaign was to ensure women would finally receive equal pay. Feminist groups are still rallying in almost every state, and the pressure was there even prior to the election. I'm here to make sure that you hold on to your word. It is long overdue, and women have been the backbone of this country many times over. We don't get the recognition we deserve, and it's time," said Lily
"I'll get it done; you have my word" replied Johnathan
"Thanks, that's all I needed to hear. Thank you for your time, Mr. President" said Lily
"Thank you, Lily" replied Johnathan
As Lily exited the office, he knew he had made a lot of promises during his campaign, and though he agreed women deserved equal pay, it wasn't at the top of his to-do list. The first agenda was to get Senator Thompson off his back. Johnathan saw that the sun was starting to set and wondered what time it was. Oh my God, it's 6:30 pm; where has the day gone. At that moment, he realized on his first day in office with all the excitement; he hadn't eaten a thing. His stomach made a sound he had never heard before. It was definitely time to locate the kitchen. The chef was recommended by the previous administration and it was true the Catfish and hush puppies with a salad were fabulous. As he washed down his meal with a tall glass of iced tea,
" I could get used to this," mumbled Johnathan
After sitting for about twenty minutes, sealing his meal with a bag of Lays chips, he realized he left the black book in the office. If Johnathan didn't have the skills to run before, no one would have ever known the way he sprinted back to his office. When he got to his desk, the book was not there. He moved every piece of furniture and nothing.
Johnathan moaned in disbelief, as the sun started to rise. He hadn't slept for one minute; he got up and quickly bathed and dressed. He had to find the book. If anyone exposed him, his short-lived presidency would be over. After a few meetings with his staff about what he would be doing the first 100 days in office, he went right back to looking for the book. Mr. Connor the Director of Management and Budget knocked on the door,
"May I speak with you for a moment Mr. President" asked Connor
Connor graduated from the University of California and completed a summer internship at the white house. His references were impeccable, and his work ethic was incredible.
"Sure, have a seat Conner," answered Johnathan
"No, thank you, Mr. President; I'll stand" replied Connor
"Okay, so how can I help you? asked Johnathan
"I stopped by your office yesterday to drop off some papers that required your signature, but I came across something very important," said Connor
Conner tossed the little black book on Johnathan's desk. Johnathan's mouth went dry.
"I'm sure this book is very important to you, and you wouldn't want to lose It" Said Connor
"Okay, thank you, Conner" replied Johnathan
" Not a problem, except I don't think you want anyone finding out you rigged the voting polls. How much do you want to remain in the White House because that's what it's going to cost you to remain being President?" asked Connor
Johnathan stood up and turned towards the window
"How much do you want Conner? will $10,000 keep you happy" asked Johnathan
"Now Mr. President, this little black book surely is worth more to you" said Connor
Johnathan could not let Conner be in control, but he would have to give him a better amount until he could deal with Conner's creditability and fire him.
"Would $50,000 please you Conner?" asked Johnathan
"Yes, it would, but that would be the payment every six months," said Connor
"However, Mr. President, I do have copies if you decide to get any ideas" continued Connor
"Well then, it's settled; now would you excuse me?" replied Johnathan
"Sure, Mr. President, I know running the country cannot be easy," said Connor