Justifying my Royal Interest
Hating on the British Royal Family is a staple part of Irish culture. In this piece I attempt to justify my forbidden passion.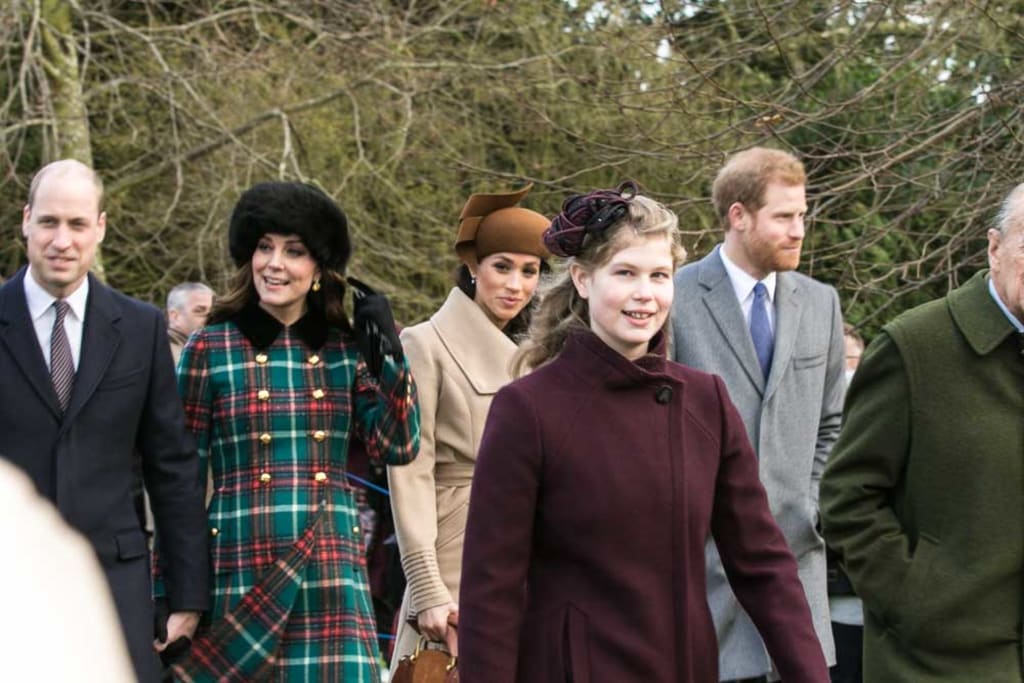 L-R: The Duke of Cambridge, the Duchess of Cambridge, the Duchess of Sussex, Lady Louise Windsor, the Duke of Sussex (Image: Wikimedia Commons)
If you're Irish, it forms part of your cultural identity to express disdain towards Britain. Whether it's scoffing at Brexit, fuming at their claiming of Irish actors as 'British' when they start doing well for themselves, or good old-fashioned rugby rivalry, it runs through our veins. The Brits are the classic baddies we love to hate.
And the most British of all Brits? Their Royal Family. There is no out-Britting the Royal Family. They are all of the stereotypes rolled into one. They are one big aristocratic, tea-drinking, Royal Ascot-attending, pheasant and fox-hunting, third world country-colonising cliche. We Irish hate them most of all. Right?
I would quite confidently say that I identify as a leftie. I'm the daughter of a man with Irish nationalist ideals, after all, so it comes as no surprise. I believe church and state should be separated, I think the Bunreacht na hEireann needs a serious overhaul (honestly, Dev?)and I despise any kind of classism or social divide.
Here's where it gets complicated and I appear to seriously contradict myself: I cannot get enough of the British Royal Family. I've watched practically every royal documentary on Netflix. I've binge-watched The Crown. I own several royal books, listen to countless royal podcasts, follow dozens of royal Instagram accounts, and I've even got a letter from Meghan Markle framed on my wall.
I suppose I can trace it back to my early childhood. An avid reader from a young age, I pored over fairytale books with beautiful illustrations of Cinderella, Snow White, and all the various medieval princesses of yore. As soon as I figured out how to pick up a pencil, I was scrawling scenes of royal weddings and banquets. And then when I had read all of my fairytale books, there were magazines and newspapers to study, which contained photographs of actual, real-life princes and princesses. Diana, Princess of Wales, in her extra af wedding dress complete with 25 ft train, was the epitome of royal glamour, according to my five-year-old self.
At eight years old, in June 1999, I got my first taste of a live royal wedding. The Queen's youngest child, Prince Edward, was marrying Sophie Rhys-Jones at St. George's Chapel in Windsor. As a fairytale-obsessed child with delusions of grandeur, I was a little disappointed in how plain her Samantha Shaw gown was, but I was glued to the television nonetheless.
It's here I should explain that aside from the fairytale books, my royal interest was also inherited from my mother, who inherited it from hers. She had switched the channel over to BBC to watch Edward and Sophie's wedding that day (no doubt defying protests from my father, who probably buried himself in a book about the 1916 Rising to drown it out). As all children are mini information-retaining sponges, I started to get to know who the BRF was just through comments she made in passing. It was only in recent years as an adult that I realised that a lot of my (Irish) peers had no idea who the extended BRF members were, and had no interest in learning.
Like many others though, my royal interest was revitalised by the 2011 wedding of Prince William and his long-time university girlfriend, Kate Middleton. (I may have been twenty at that point, but my inner child was hugely satisfied by her perfect princess McQueen wedding dress; she made up for the disappointment Sophie had caused me twelve years earlier.) But more or less since then, I've found myself on the receiving end of numerous questions and comments on my peculiar fascination.
"You call yourself Irish?"
"Why are you so obsessed with them?"
"Does your dad not want to disown you?"
"Who even cares about all that shite?"
Obviously, these remarks are (mostly) made in jest. But it affirms my earlier point: we Irish are culturally supposed to hate the BRF and everything they represent. And I, by sharing an Instagram story of one of Meghan's outfits, appear to contradict this narrative, irking my fellow countrymen.
The same countrymen who sport jerseys representing British football clubs on a daily basis. The same countrymen who never miss an episode of a British TV show, shop at British retailers and listen to music by British artists. The same countrymen who even move to Britain and avail of the plethora of opportunities there. But I'm the one letting the side down, disgracing my nation, apparently, by wanting to know who designed what Kate wore to the Royal Variety Performance. My BRF fixation is simply a cultural one, the same way others are captivated by the Kardashians. It doesn't mean I agree with in any way the atrocities carried out, both in Ireland and globally, at the hands of British colonisation. It doesn't make me any less of a leftie.
If you detach yourself from who they are and what they represent for a moment, you'll realise that the BRF are incredibly fascinating, going back centuries. If we even just take recent history, there's the controversial abdication of Edward VIII, Princess Margaret's heartbreak over Peter Townsend, the Charles-Diana-Camilla love triangle, all of Fergie's antics, and the many theories on Diana's death. Even in the last few months, we've seen Prince Andrew's disastrous interview on his dodgy friendship with Jeffrey Epstein, Meghan and Harry sensationally decide to cut themselves off from the Firm (as Prince Philip calls it), and a growing curiosity on how the BRF will position themselves in a post-COVID world (they cost the British taxpayer a pretty penny each year, to the tune of £65 million - many would argue that Britain's NHS is in much more need of those funds). The Kardashians only wish they could generate such scandal for ratings.
Add to that the BRF's 'never complain, never explain' mantra and the many protocol rules that dictate their inability to comment on pretty much anything, much less political matters, and it makes it all the more interesting trying to decipher how they communicate via their actions and, my main interest, their clothing. Take for example when President Trump first visited Britain. The Queen entertained him for a few minutes at Blenheim Castle, the UK's only non-royal owned castle, and wore a brooch gifted to her by the Obamas, who, when they visited, were invited to stay overnight at Buckingham Palace and had a state dinner thrown in their honour. She can't explicitly give Trump the middle finger, but we avid royal-watchers pick up on such subliminal messages and take what we will from it.
I guess what I'm saying is: you can be a leftist, a feminist, and maybe even an Irish nationalist, but that doesn't mean you can't allow your inner fairytale-obsessed child to indulge in a little Royal guilty pleasure from time to time. Throw on an episode of The Crown there, go on. You won't regret it.