Is It a Threat? Is It a Joke? Scaramucci Says He'll Bring a "Professionally Monogrammed Front Stabbing Knife" for Stephen Colbert
"The Mooch" has also accidentally compared himself to Monica Lewinsky.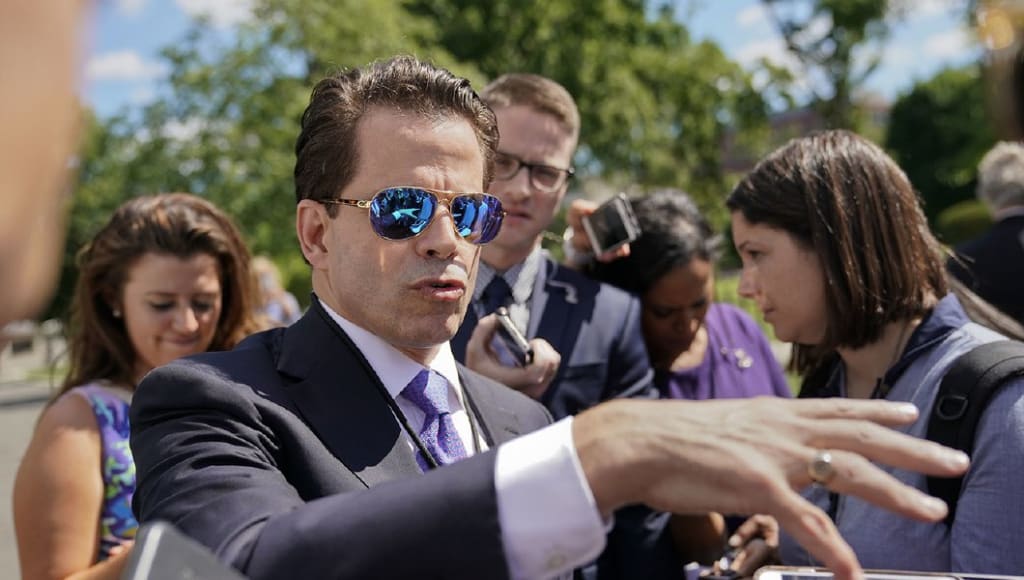 Source
Anthony Scaramucci, aka "The Mooch", aka the White House Communications Director with the shortest lived tenure, seems like he might be going off the rails.
In an August 10 tweet, Scaramucci posted, "I am bringing @StephenAtHome a professionally monogrammed front stabbing knife from the @huntandfishnyc also suitable for cutting steak!😎"
The tweet immediately raised hackles and suggested that perhaps "The Mooch" needs some work on his maturity.
"What is the matter with you," user @LBallerstedt wrote. "Straighten up, and for heavens sake grow up."
As it turns out, in this case, Scaramucci's tweet was in reference to Stephen Colbert's comments on August 9 about his interview on The Late Show.
"We'll do some front stabbing, it will be a lot of fun," he told his studio audience, apparently in reference to President Trump's perceived "back stabbing" of Scaramucci after he was fired. "Anyway, Mooch, I'll see you Monday. It will be a lot of fun."
While Scaramucci's tweet seemed odd, the comparisons he made between himself and former White House intern Monica Lewinsky raised eyebrows.
When The New Yorker reporter Ryan Lizza released additional comments made by Scaramucci earlier this week, Scaramucci went on the attack, comparing Lizza to Linda Tripp, who infamously recorded the phone calls that Lewinsky had made during the Clinton era. Lizza is based in New York, which has what's known as one-party consent. This means that only one person involved in the conversation needs to know that the conversation is being recorded; it's the same in the District of Columbia, where Scaramucci presumably was at the time of his remarks that ultimately led to his firing. Lizza also happened to be in D.C. at the time of the Scaramucci call, so he was still very much within his legal right to make the recording.
Linda Tripp was charged during the Clinton administration because she was in Maryland at the time, which requires the consent of all involved parties in a phone conversation for a recording of that conversation to be legal. In other words, in spite of Scaramucci's claims to the contrary, Lizza recording the conversation that occurred between them over the phone is perfectly legal. Scaramucci may not have been overly appreciative of being recorded, given the outcome, but it was a legal move on Lizza's part.
The roasting apparently isn't over for Scaramucci, however. While he continues to get skewered on Twitter, Bill Hader also made an appearance on Saturday Night Live as Scaramucci, insisting he had "no regrets, baby" about his ultra-brief tenure in the White House.
"All I did was sell my company, miss the birth of my child, and ruin my entire reputation, all to be king of Idiot Mountain for 11 days," Hader said as Scaramucci.
Monica Lewinsky, who was 23 when Tripp befriended her in an effort to get the inside scoop on the affair that happened between Lewinsky and then-President Bill Clinton, only had one response to Scaramucci's tweets comparing Lizza to Tripp.
"😳"
Her response has garnered over 33,000 likes and over 8,400 retweets. To be sure, while Lewinsky bravely endured incredible media scrutiny as a result of what occurred during the Clinton administration, she has gone on and effectively rebuilt her life, becoming a well-known anti-bullying advocate and TED speaker.
While Scaramucci might continue to gripe about Lizza's recording of their conversation, the public at large are marvelling at the way in which the beleaguered Mooch is continuing to try and deflect blame and transform his image as one of a victim. It's a transformation that is not working, and one he should definitely reconsider before his appearances on This Week and The Late Show.
politicians
pop culture
I'm a high school English and French teacher who trains in the martial arts and works towards continuous self-improvement.
Receive stories by Christina St-Jean in

your feed