How Do We Get Humans To Treat Other Humans Like Humans?
A Think Piece - Originally delivered at the National Justice Museum in Nottingham, UK, as part of S.H.E.D's Protest Festival.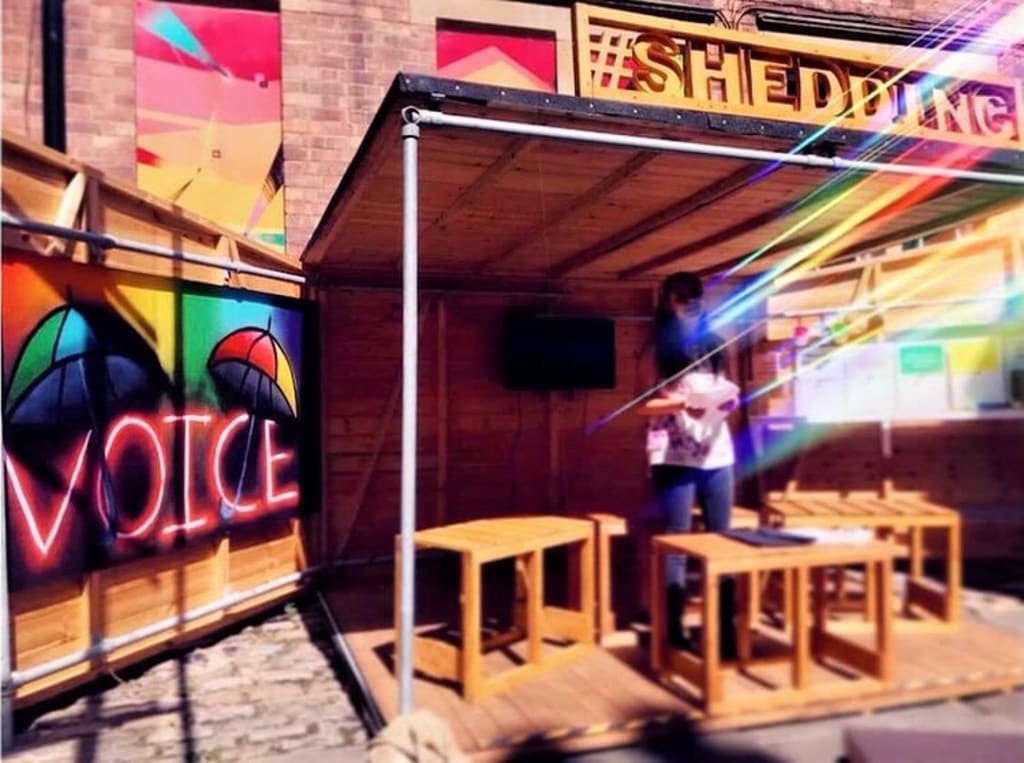 A speech about displacment, democracy, and the importance of of community voice. S.H.E.D Protest Festival at National Justice Museum, Nottingham, UK.
I want to talk about something that has given me a lot of pause. It's about the importance of using your voice, showing up for each other, and community. I am a citizen of dual nationality… which is very confusing, because I am both us and them, self and other, the byproduct of two countries – England and Tunisia – yet also unable to qualify as a true-blue native of either of them. You could say I am somewhat displaced. Although not nearly as displaced as those who have found themselves with no other option than to leave the only place they know and try to cobble their lives back together on unfamiliar land.
What I am about to speak about now is a more in-depth version of a topic I have previously written about. You can find this article here:
This work was inspired by current events, my own lived experiences, and two theatre shows that I was heavily involved in the creation of, as I will go on to describe below. It was originally delivered as a part of S.H.E.D's Protest Festival, produced by S.H.E.D and Ollie Smith, which ran for two weeks at the National Justice Museum in Nottingham, UK.
Over the last few years, I have both created and co-created two performances that were inspired by my lived experience in the two countries I call home. The first being an autobiographical show about my time in Tunisia during what is now known as The Jasmine Revolution and the start of the Arab Spring, called The Hand of Fatima.
The second show was a Pinchbeck and Smith production; an adaptation of the 1975 book by John Berger and Jean Mohr about the exploitation of migrants in the Western world, called A Seventh Man.
I'd like to show you a series of questions posed in the 2010 republication of Berger and Mohr's book.
'Why does the Western world look to migrant laborers to perform the most menial tasks? What compels people to leave their homes and accept this humiliating situation? In A Seventh Man, John Berger and Jean Mohr come to grips with what it is to be a migrant worker – the material circumstances and the inner experience – and, in doing so, reveal how the migrant is not so much on the margins of modern life, but absolutely central to it. …[T]his finely wrought exploration remains as urgent as ever, presenting a mode of living that pervades the countries of the West and yet is excluded from much of its culture.'
Working on Pinchbeck and Smith's immersive adaptation of A Seventh Man was very important to me, not only because my father followed almost the same journey of many of the migrants featured in the book, but also because the show works to draw parallels with issues many migrants all over the world face today; highlighting the widespread levels of exploitation they are still subject to.
Whilst my dad came to the UK in the 80s for love, he was unaware of the level of discrimination he would face from colleagues, bosses, normal people on the streets, and even those (excluding my mum) who he would have expected to support him through it all.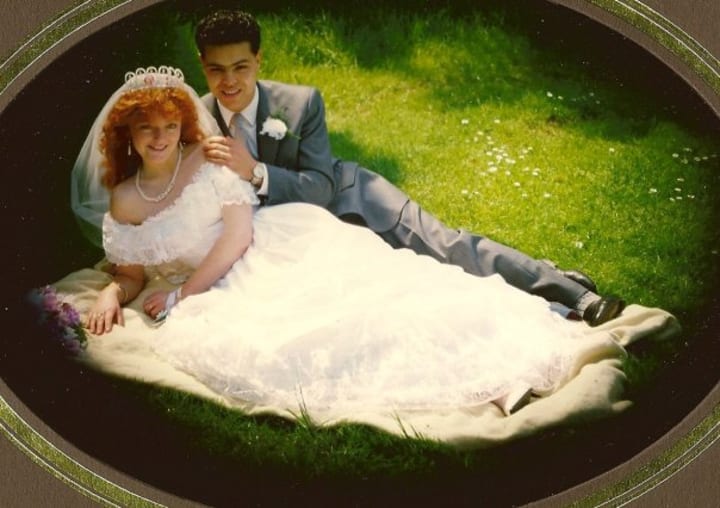 Dignity at work was not on the cards for my dad, nor for many other people who had made the move to another country.
Much like my father had spoken about when he first moved to the UK and still says now… the migrant doesn't always see this strange land as a forever place – particularly if they've simply come for a work opportunity – but more as a kind of dream; or an adventure that has gone on too long. After all, who would suddenly pack up their entire life, leave the only place they've known at a moment's notice, and risk (at times) life and limb only to face the intense hatred which has been focused on any kind of migrant for decades? Typically the person will see the new country they come to inhabit as a place of transit, a place that they will eventually escape.
As a family, we would make one such escape attempt back to my father's home country three days before my tenth birthday. Six years later, on the 4th January 2011, the first of many protests would break out, Tunisia saying 'no more' to the dictatorship regime they had suffered under for decades. During this time, the ex-president used three tactics in an attempt to silence his former citizens.
The first was ridicule – in the times when blocking access to social media sites alone did not work, he would mock Tunisian activists, labelling them as nothing more than conspiracy theorists that should not be listened to.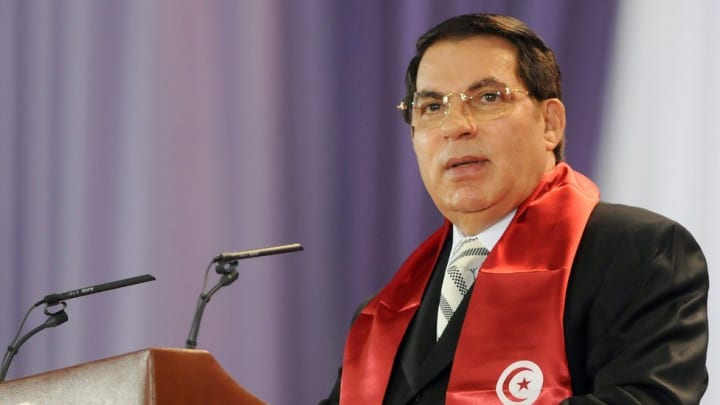 The second was silence. When Mohamed Bouazizi, the man who would trigger the start of the revolution, set himself ablaze in front of a government building and more than five thousand distraught citizens attended his funeral, Tunisian news stations were not allowed to report it.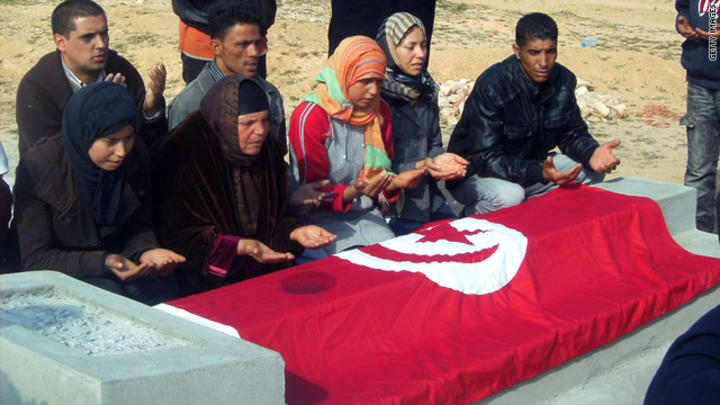 The third was violence. When protests broke out across the country, activists were labelled as criminals, a curfew was put in place and anybody unlucky enough to be out past curfew was shot on sight.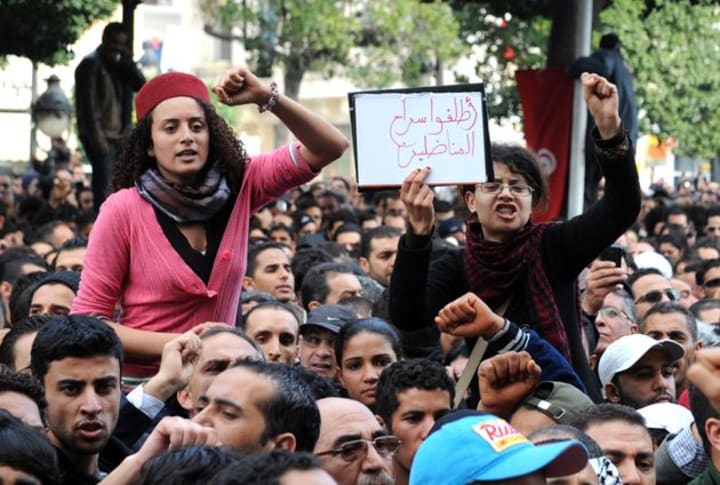 It was a time of great loss, but also a time of great hope. It is one of the main examples I point to when discussing exactly why the ability to band together, use your voice, and protest for change is essential to the very fabric of a democratic system. When you live in a democracy, you do not expect to be shot, locked away, or banned from voicing your critiques. This point is one that my show – The Hand of Fatima – attempts to explore. That, and the pervasive concept of us vs them.
Of course, a revolution is never really done after it is finished. Without somebody in charge, a country risks becoming vulnerable, and the vultures start circling. In this instance I was very lucky to be of dual nationality, making me able to return to the UK once it became clear that (even though the worst parts of the revolution seemed to be over), normal life was likely to be disrupted for the foreseeable future. Many people suffering through the horrific and violent conflicts playing out in front of us today (Syria, Yemen, and Afghanistan come to mind) are not as fortunate. Even when they are able to emigrate, they are often treated like second-class citizens, scapegoated by some of our most powerful institutions, or are subject to hate crimes – as we have seen during the Coronavirus pandemic, with the rise in targeted attacks against Asian communities.
When I first read A Seventh Man, the experiences that these people had pre-1975 reminded me of those currently fleeing a place of terror. It reminded me of the refugee camps of Calais, the strive for a better life, the scandal of Western companies knowingly hiring immigrants without citizenship in order to exploit them, the loss and gain of family, an unattainable dream, the drive to make it happen and the cold moment of disillusion when you realise that perhaps, the dream is just that.
The discussions I had with the Pinchbeck and Smith team in the making of our adaptation of the book stimulated a lot of rich imagery which we did our utmost to include in the show through the forms of costume, ever-changing environments, physical routines jumping directly out of the book and living through the performers, slideshows, and 3D miniature recreations of the cities or workspaces described. During the process of creation, we used verbatim quotes from the book, experiences of present-day migrants, and stories from my own father. We also went to great lengths to immerse our audience within the environments we had created – a staple tool in the Pinchbeck & Smith handbook – aiming to bridge the present gap which sees a lot of us in the Western world emotionally distance ourselves from 2nd and 3rd world issues.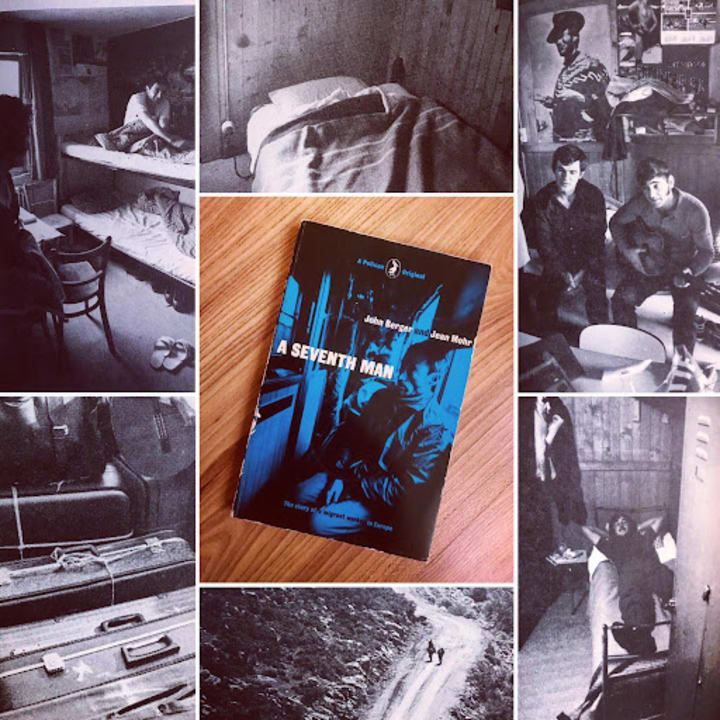 We discussed Berger and Mohr's use of language, how imperative the imagery was to the work, the rises, falls, and crescendos, and the rawness of the parts of the book which were written in a second-person perspective. The writers focusing on the actions of one person, of their departure, work, and return, reminded us that this person could be any one of us.
When speaking of the show, A Seventh Man, Pinchbeck and Smith tell us that,
'Seven audience members are invited to become migrant workers on this journey. They are met outside by the performers who give them a suitcase before bringing them into the S.H.E.D, which variously becomes a truck, a train, accommodation barracks, a border control post and an overbearing factory. This immersive performance, like the book, concerns a dream/nightmare. The existence of the migrant worker.'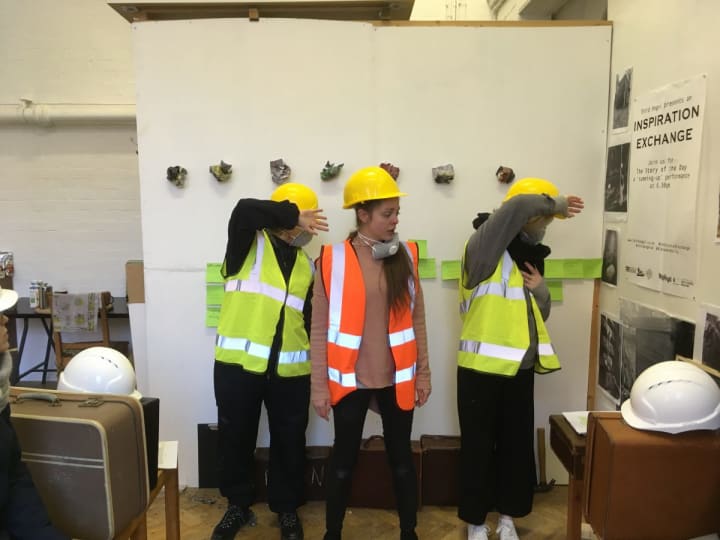 Using a fantastically versatile venue like S.H.E.D to put on this show, greatly helped with our mission to make audience members a part of the piece instead of encouraging them to remain passive behind an invisible forth wall. The claustrophobic elements of the environment, alongside the emotional context of the writing, worked to create a space which audience members fed back as 'intimate' and 'perfect for the piece'. We also got quite a few people telling us how much the show made them realise what they don't know but would like to learn!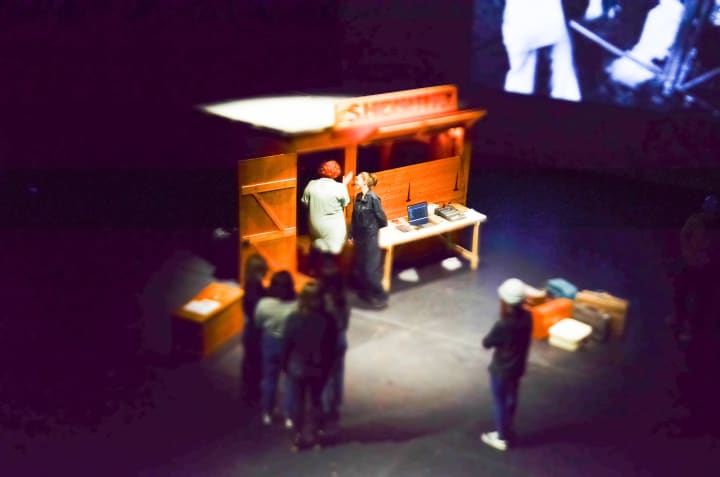 The questions I would like to leave you with are… How much has changed over the past few decades? What can we do, past the point of shows like The Hand of Fatima or A Seventh Man to change public perceptions of those who do not necessarily look or act like us? How do we ensure our own democratic right to critique divisive systems does not get taken away from us and how do we reach people who simply don't want to hear about it?
When it comes to A Seventh Man, Coronavirus ironically put a border around our show about borders, but I would argue that this pandemic has, if anything, made the questions asked in it even more relevant.
Has Covid had an effect on people's viewpoints about migration? Has the experience brought us closer as a planet, or divided us further? Made us rejoice at the idea of immersing ourselves in an array of different cultures, or solidified our views that borders are there for a reason? Could this virus be temporarily hiding a multitude of rising discriminative views?
How do we get humans to treat other humans like humans?

Something you agree with, something you don't? If you would like to continue the conversation, send me a tweet on @OptimismWrites.
If you would like to know more about my work, you can find me over on @gabriellebenna. Alternatively, if the work of Pinchbeck & Smith or S.H.E.D has piqued your interest - you can find them on @PinchbeckSmith and @SHED_uk.
activism
Writing on a variety of subjects that are positive, progressive and pass the time.
We're here for a good time AND a long time!
Official Twitter: @OptimismWrites
Author Twitter: @gabriellebenna