Harambe
Has NYC gone bananas?
They are always listening and by "they" I mean them. Try it. Mention anything then open your phone or computer and watch the ads and sponsors flow. I've been using it to my advantage when I really need something, but lately it's been surprising me on how well the algorithm has learned me. I feel special. I recently wrote a story part of the Summer Fiction Series Raging Bull Challenge titled Blossomed. It is about a young man attempting to establish his individuality against his strict parent's standards. This story mentions The Charging Bull statue of Wall Street in NYC. The algorithm never forgot and must have liked it.
Small Backstory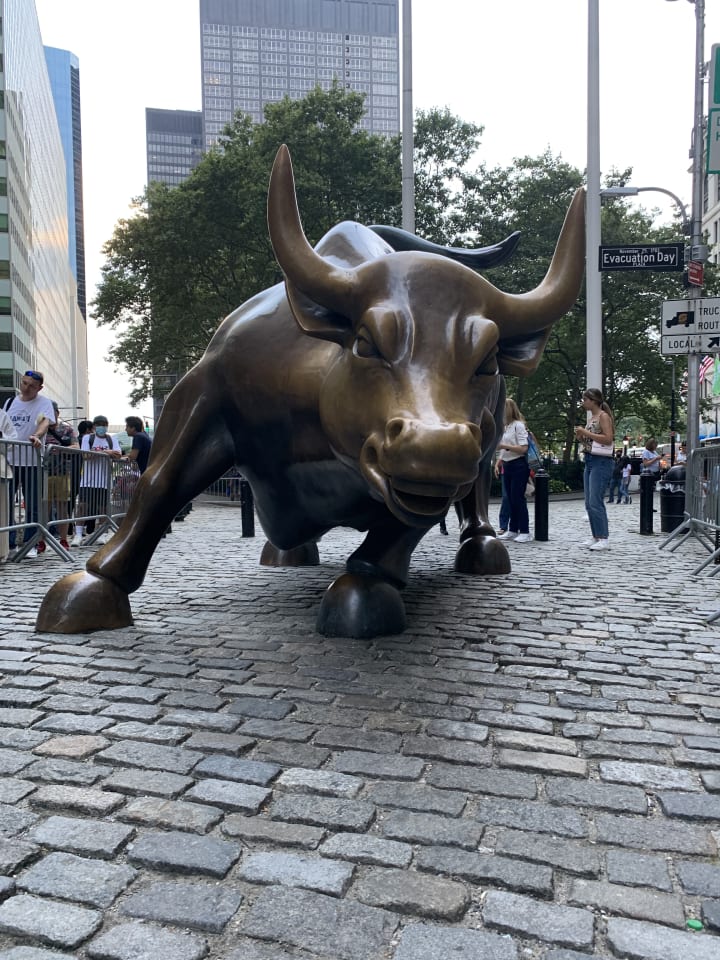 The 11ft bronze Charging Bull statue originally appeared on December 14,1989 right in front of the NY Stock Exchange. Artist Arthur Di Modica was inspired after the 1987 Black Monday stock market crash. He left it as encouragement as well as a reminder that even during hard times it is still possible to get things done; stay strong and don't get discouraged. Technically, the Bull drop was illegal therefore moved in front of Bowling Green Park with a temporary permit . The Bull attracted so many visitors it was made permanent where it still stands today.
What does this have to do with them listening to me? Well, a very newsworthy story came across my Facebook newsfeed that I feel everyone should be talking about and yet not one mention of it except for my timeline recommended news articles. Come on my fellow New Yorkers, this is BIG news. There has been another statue drop! It happened Monday morning, October 18, 2021. My excitement grew once I realized that I would get a chance to check it out first hand as Tuesdays I go into the city for work. I take the train right downtown where the new statue was dropped! Who or what is the statue of this time? Are you ready for this?
Harambe. A 7ft bronze statue of Harambe.
For those who do not know who Harambe is, he was a gorilla from the Cincinnati Zoo. In 2016, a three year old boy successfully climbed into his enclosure falling into the moat. Harambe grabbed the boy, picked him up and carried him around. He stood in the corner with a boy for a bit when an employee, fearing for the boy's life, shot and killed Harambe. Some argue it looked like Harambe was protecting the child from the fall he just took and others say he dangerously dragged the boy. The boy lived and was treated for non life threatening injuries. There is a video of the incident on YouTube.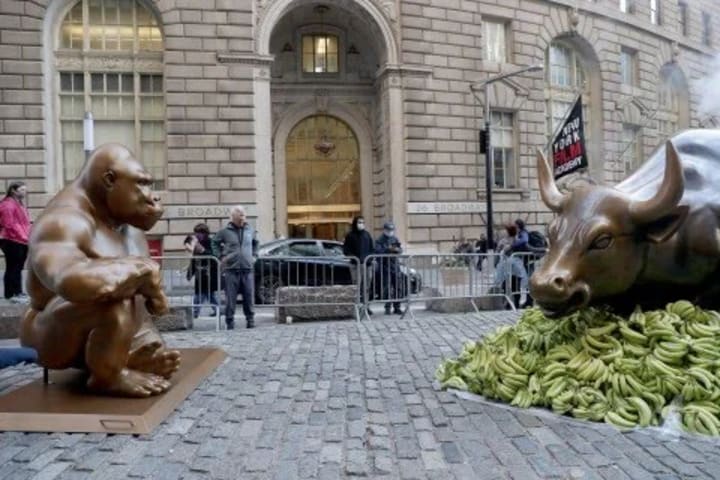 Five years later a 7ft bronze Harambe statue appears right in front of the Charging Bull! Staring down the Bull as if being sized up. And there's more. The Bull is surrounded by 10,000 bananas, real bananas!! Harambe's statue is said to be left to make a point about wealth disparity. Sapien.Network is the organization responsible for the drop. Their mission, as stated on their Medium blog,
"Sapien is building a social network that prioritizes humans and what makes us special as a species. Our social platform is built on privacy, independent communities, and quality connections between our fellow humans."
As reported by NBC,
"Sapien.Network co-founders Robert Giometti, Tejay Aluru and Ankit Bhatia said they used the symbol of Harambe to represent the millions who struggle under a U.S. capitalist system they say 'enriches wealthy elites and leaves the average person behind.'"
This makes Harambe an intriguing choice of statue. A favorable argument is that Harambe did in fact struggle under a capitalistic system and was in a lose lose situation from the very beginning. The bananas left at the Bull were a symbol of how "bananas" Wall Street has become completely out of touch with the needs of the everyday citizen.
Sapien.Network is also an engrossing community with a mission that should go viral. They are very much for the preservation of the people as well as dedicated to making the needs and welfare of the people a priority. This is a network of individuals collectively working towards a greater goal and yet Harambe's statue appearance did not gain the spotlight as it should, or should I say expected.
To my surprise and dismay, I arrived at Wall street around 6:30pm, October 19, 2021 and Harambe was nowhere to be found. A day after the news story broke, I knew the bananas would not be there as they were being taken away to donate, but I expected Harambe to still be present. Where did Harambe go? I walked around Bowling Green park down Beaver Street until I made a left onto Broad Street. I walked across Broad Street because this is where the Stock Exchange and the Fearless Girl statue is located, the original spot of The Charging Bull. The Fearless Girl is a 4ft bronze statue of a young girl as a symbol of women empowerment dropped in 2017, the day before International Women's Day. Wall Street is bronze statue city and yet Harambe was removed and so quickly. Boy was I bummed.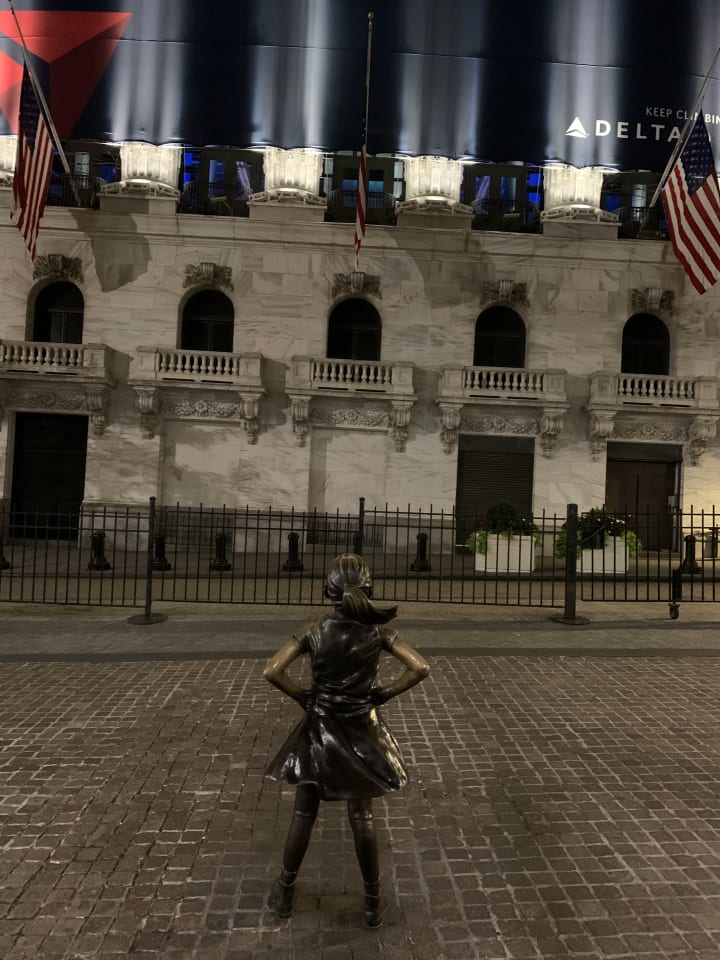 As I walked to my train, I googled Sapien Network and found their Twitter. This was their last tweet from 10 hours ago,
Where WILL Harambe be going next? Do you think Harambe should be left sizing up the Bull or should he travel around spreading his message? The presence of Harambe and his bananas brought a momentary feeling of unity with a cause. Will it continue? What message will the people bring next? NYC is waiting, I know I am.
humanity
About the author
A mom looking to express and lose herself in some imagination.
Facebook: @TinaChrisTheBookkeeper
Instagram @TinaChris_thewriter
Want to join Vocal+? Use this link to get started https://vocal.media/vocal-plus?via=christina-defeo
Reader insights
Be the first to share your insights about this piece.
Add your insights