Goodbye, Donald
An independent open letter to the 45th POTUS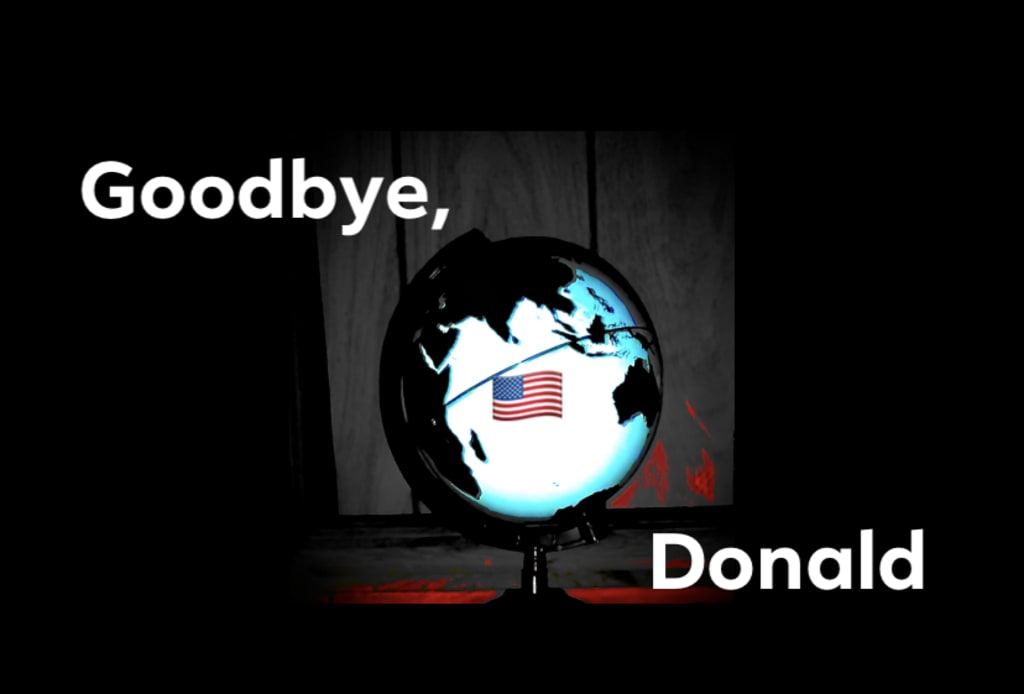 Globe; Black, blue, and bleeding. "Goodbye, Donald."
Dear Mr. Trump,
For the last 4 years, you have proudly held the office as President of the United States. Very outspoken and controversial, you always spoke your mind, regardless of how much backlash you received for it in return. The worst possible hand had been dealt to you during your term but you never folded. There are many people who do not agree with how you have been treated throughout your time in office. Unfortunately, most of them are now being silenced as well and labeled "extremists" (Guynn, 2021).
Here in Michigan, they have just banned open carry at the state Capitol building in Lansing (Golston, 2021). Sessions have been canceled and they even put up a fence to keep out unwanted company. Sometimes, I wonder, if our AG, our Gov, or our SOS have even read the constitution because they have all been unconstitutional in their own actions. Whitmer was unconstitutional in her single-handed executive orders (LeBlanc, 2020). Benson was unconstitutional petitioning the court to ban open carry at the polls during the election (Oosting, 2020). Nessel was unconstitutional in trying to take away the right to free speech from an independent organization (Americanfreedomlawcenter.org) and from witnesses who obtained and posted video footage online of certain alleged events that took place during the election (Turley, 2020).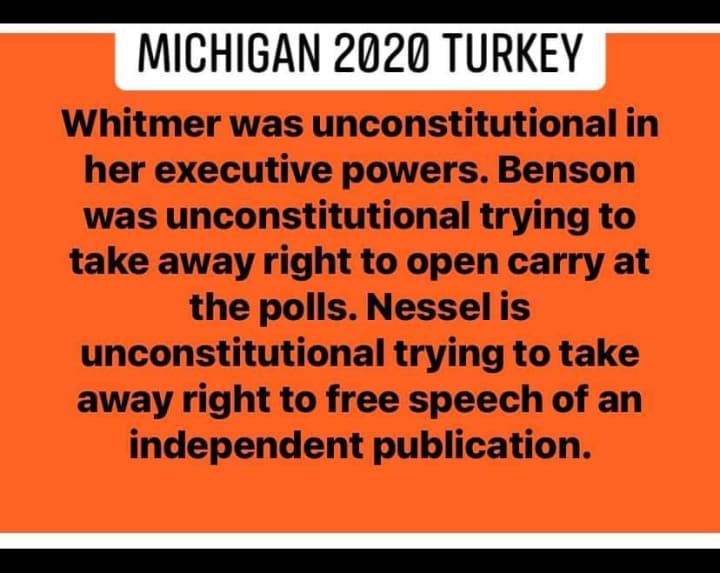 You know what's even worse than that though, Mr. Trump? What's even worse, is that all 3 of those things actually happened. They all failed, but then they went on to succeed anyways. Whitmer just started issuing her commands under MDHHS instead (LeBlanc et al, 2020). Benson let Nessel handle the fight of banning open carry (Abdel-Baqui, 2020). Currently, Nessel just got it put in place at the state Capitol (Nissen, 2021). An entire platform of people is now being extremely censored or blacklisted online (Suciu, 2021). Media outlets are now calling for the "deprogramming" of your supporters, stating they are brainwashed simply because they hold a different perspective than the elected incoming party (Frey, 2021). As an individual who takes pride in my ability to consider alternative points of view in order to formulate my own unique perspective on issues, I feel like I have no voice, it's hard to think for myself, and nobody else can see what I see. How did the boundaries become so blurry? Have we crossed too many lines?
The Farewell address you gave on the January 19th, 2021, acknowledged many key points throughout your presidency. As you stated, you are established as a very hard-working businessman, who entered the Presidential race back in 2016 not for political interest, but because you care about the American people. However, it is also widely agreed upon that you really didn't have any clue as to what you were getting yourself into. You boosted the economy through a multitude of deregulation efforts, and you held other countries accountable for their end of foreign affairs (Brookings.edu, 2021). You've opened a door for opportunity for not only many Americans, but also for immigrants as well, and you have not been properly acknowledged for it publicly, although your progress has been tracked by academic sources. However, you could have benefited from a little more transparency on the American conflicts with China. Most Americans are completely unaware that our most recent conflicts of interest stem from issues created long before your time, when China became the largest holder of U.S. debt in 2008 (Cfr.org, 2021).
Sadly, I also watched you get attacked most of your time in office by the news, by the media, and by your opposing party (Allsop & Vernon, 2020). I never thought I would see a day that a U.S. President had a press conference that was not publicly televised on every major network (Johnson, 2020). Frankly, I never thought I would see the day where they purposely cut a President's press conference off mid-sentence on TV either. The truth is only threatening to those who have been untruthful, Mr. Trump. Nevertheless, here I am, having seen all of that, and much more.
I've seen the courts dismiss hundreds of sworn affidavits pertaining to election fraud (Blake, 2020). I've seen Congress dismiss and denounce the millions of people who came to support you in protest at the Capitol, calling them "domestic terrorists" (Ani, 2021). I've seen several reputable, good and decent people being silenced and/or blacklisted by big wig corporations and funding giants, right along with you (Bucchino, 2021). Now, at my time of writing, it is the night before your successor's inauguration. Congress is questioning the loyalty and integrity of our nation's National Guard in providing them protection (Star et al, 2021). It's quite ironic from my perspective. Arguably, it implies that the government doesn't trust the military, but they expect civilians to trust the government. The FBI wound up removing 12 of the 25,000 troops that were called for duty to standby during the inauguration proceedings. The news edited your roughly 20-minute farewell speech down to a 3-minute highlight clip (Abc.net, 2021). Although you were criticized your entire term for your stance on border control, now you're being scrutinized for opening our borders to the UK, Brazil, and other parts of Europe while we are still amidst the pandemic (Shepardson, 2021).
Wikipedia just updated your webpage to paint a picture of you that is a wonder of a wallop (Wikipedia.org, 2021). They claim you made false statements about the election being fraudulent, but I have experienced a different perspective. My experience recalls reports and live video streams of the windows to Detroit counting facilities being purposely covered (Schellong, 2020). My experience recalls the topic of questionable ballots that were not allowed to be challenged according to several witnesses who tried and were considered "unruly" and escorted out of the counting facility (Baldas et al, 2020). My experience recalls that when the numbers didn't add up among the state reports and the media news, the SOS stood at a podium and explained to all of us ordinary folks that the media received preliminary results before the state department, like it was no big deal (Bartkowiak Jr., 2020). I think it is a fair statement that nothing was "normal" with this election for many reasons. I wish you and Mr. Biden would have taken my advice beforehand.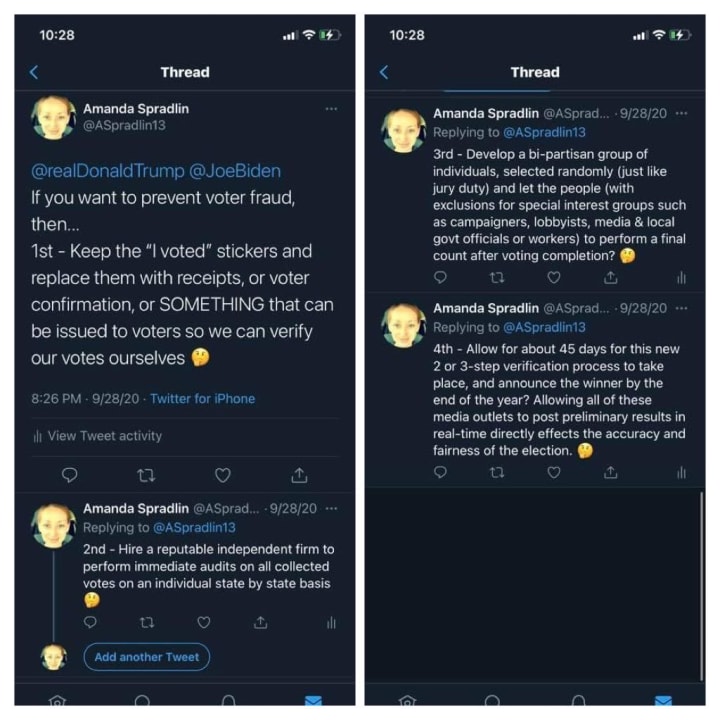 As far as Covid-19 goes, Mr. Trump, you knew it was coming. Every established nation did. China had been publishing findings of human comparable strains in bats since the early 2000's (Cui et al, 2017). The WHO had been reporting it as 1 of the most apparent threats for nearly just as long (WHO.int, 2007). I don't like the overwhelming use of the word 'unprecedented' because it was known, we were just unprepared for it. As far as the vaccine goes, you know this is rushed (Marril, 2020). It's even more questionable that people are being offered free products from companies or money from their employers if they get it (Sandler, 2021). What is the big deal about monoclonal antibodies in stem cells and how do they relate to Covid-19 (Feng et al, 2020)? If the vaccine is only 90% effective and the virus has a recovery rate of over 98%, then why is it a better option (Oliver, 2020)? If the vaccine doesn't protect me from passing it on to others and I still have to wear a mask and social distance, then what good does it actually do?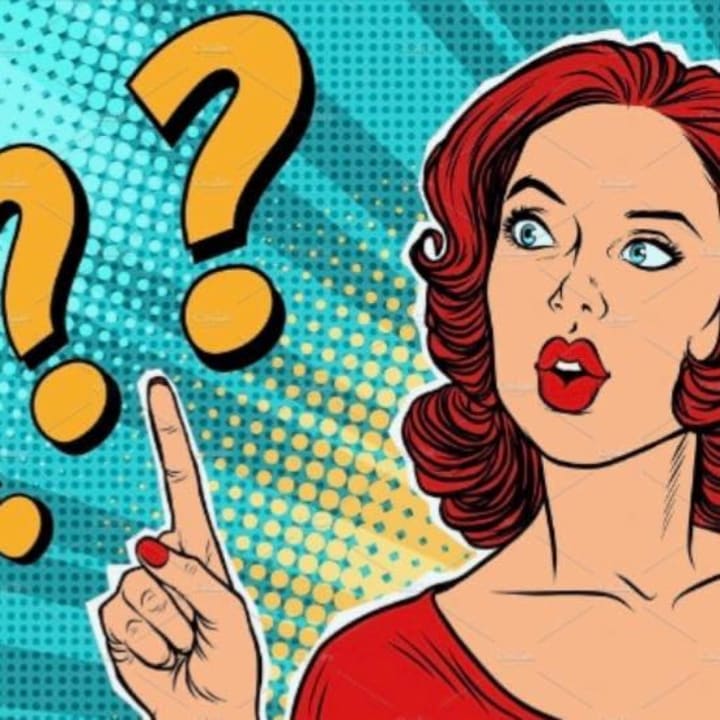 I am tired of all the hypocrisy of panic and political incorrectness that is void of logic and reasonable thinking. Much of what I have seen and experienced is really hard to believe, yet it is all true. Indeed, it is bittersweet to bid you farewell, Mr. Trump, as the 45th POTUS. If anything, your deviance in politics opened people's eyes, on both sides, as to how disenfranchised we all are as individuals within the collective polarity of government. I hope your determination to put America first will carry on with liberty and justice for all. In your own presence and even in your absence, the internet shows that you do have a high level of major support from the American people, regardless of your politics.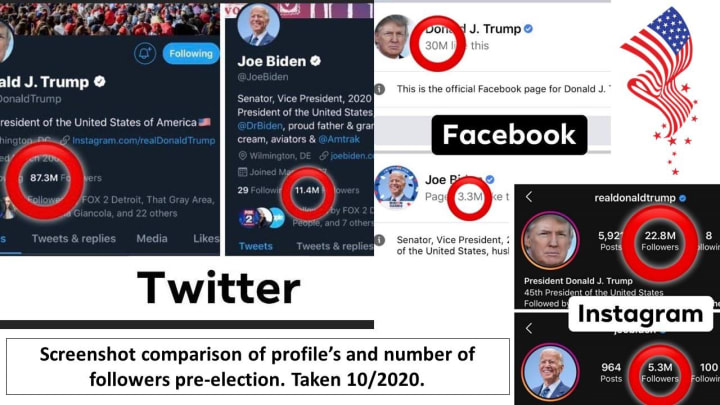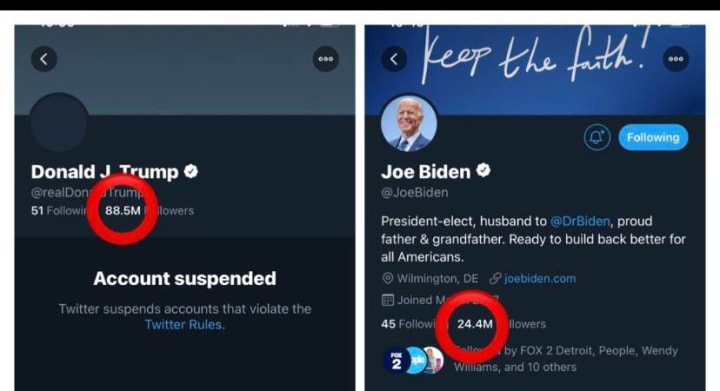 Best Regards,
Amanda Spradlin
AUTHOR'S NOTE:
In an effort to encourage full transparency and honesty, please note that this article was originally written informally as an open letter, pursuant to a writing challenge promoted by Vocal, as shown below.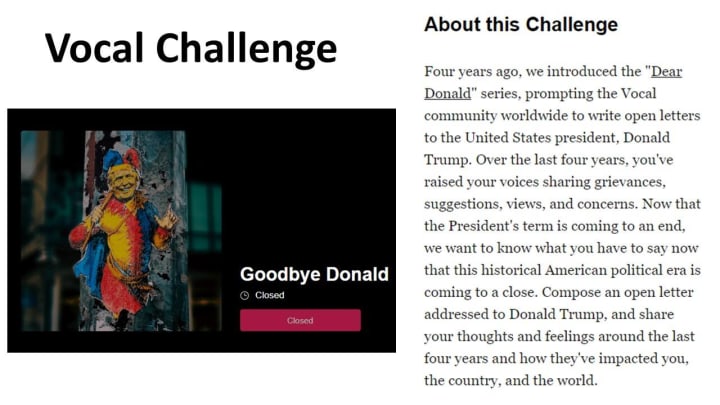 My understanding of this challenge was to compose a letter to Donald Trump, expressing my "thoughts and feelings" surrounding his time as President and how it has impacted me. Unfortunately, I must have misinterpreted the directions because my article was not approved, on the basis that it "makes assertions of personal beliefs" as shown below.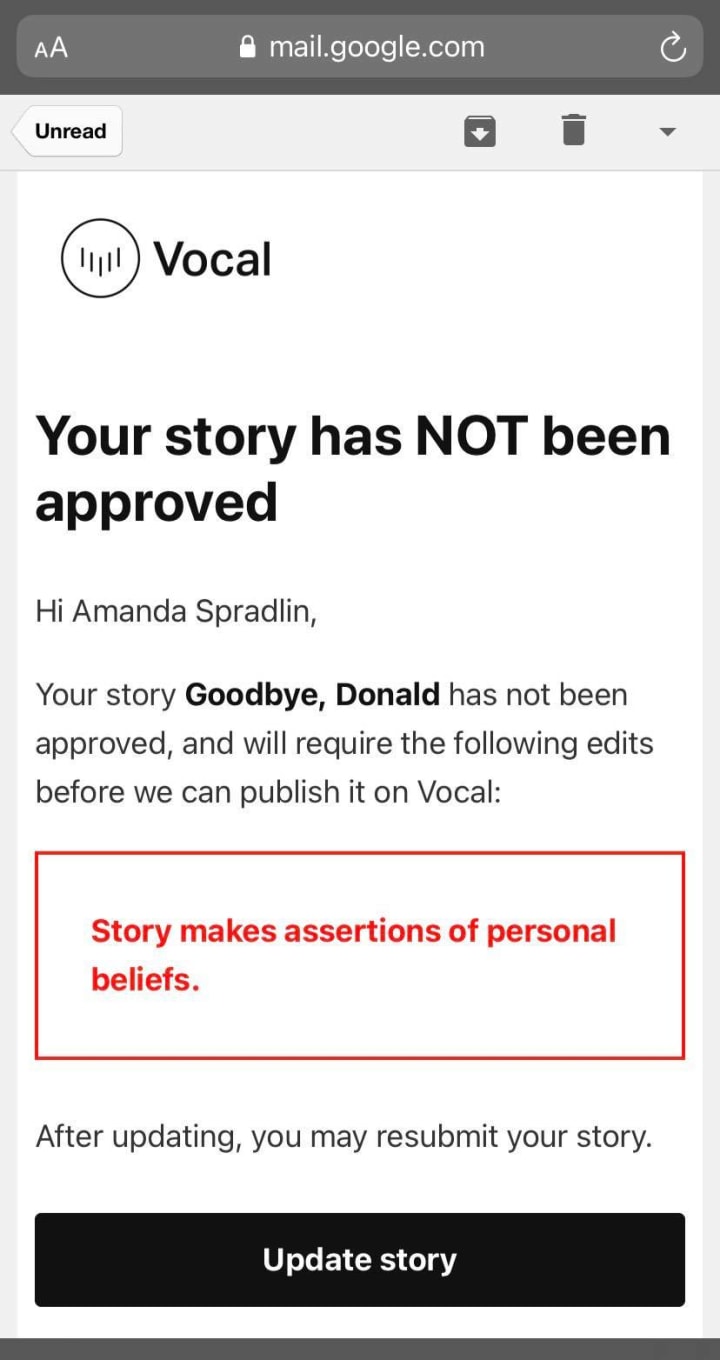 While I respectfully disagree, I have adhered to the rejection notice promptly by revising to include specific and verifiable sources for all information that is conveyed within the content of this article. These key points of information are contributory to my thoughts on the last 4 years and greatly impact how I feel, as called for in the "Goodbye Donald" challenge. Any thoughts and opinions expressed or incited herein are independently my own and do not reflect the opinions or thoughts of the Vocal platform.
References
ABC.net. ABC News. Jan 19, 2021. Donald Trump records farewell speech saying this 'is only just beginning', extends best wishes to Biden administration. https://www.abc.net.au/news/2021-01-20/donald-trumps-farewell-speech-ahead-of-joe-biden-inauguration/13072068
Abdel-Baqui, Omar. Oct 28, 2020. Nessel, Benson appeal judge's ruling striking down ban on open carry of guns at polls. https://www.freep.com/story/news/local/michigan/2020/10/28/state-appeals-ruling-striking-down-ban-gun-open-carry-polls/6055407002/
Allsop, Jon & Vernon, Pete. Oct 23, 2020. How the press covered the last 4 years of Trump. https://www.cjr.org/special_report/coverage-trump-presidency-2020-election.php
Americanfreedomlawcenter.org. "American Freedom Law Center v. Michigan AG" Jan 15 2020. https://www.americanfreedomlawcenter.org/case/american-freedom-law-center-v-michigan-ag/
Ani. Jan 14, 2021. Attackers of Capitol were 'domestic terrorists' sent by Trump: Nancy Pelosi. https://www.business-standard.com/article/international/attackers-of-capitol-were-domestic-terrorists-sent-by-trump-nancy-pelosi-121011400055_1.html
Baldas et al. Nov 6, 2020. 'Get to TCF': What really happened inside Detroit's ballot counting center. https://www.freep.com/story/news/local/michigan/detroit/2020/11/06/tcf-center-detroit-ballot-counting/6173577002/
Blake, Aaron. Nov 20, 2020. Trump's lawyers have lots of affidavits. That doesn't mean as much as it seems. https://www.washingtonpost.com/politics/2020/11/20/affidavit-giuliani-vote-fraud/
Brookings.edu. "Tracking deregulation in the Trump era" Jan 12, 2021. https://www.brookings.edu/interactives/tracking-deregulation-in-the-trump-era/
Bucchino, Rachel. Jan 15, 2021. Why Conservatives Are Being Blacklisted. https://nationalinterest.org/feature/why-conservatives-are-being-blacklisted-176455
Cfr.org. 2021. "U.S. Relations with China." https://www.cfr.org/timeline/us-relations-china
Cui et al. Nov 30, 2017. Discovery of a rich gene pool of bat SARS-related coronaviruses provides new insights into the origin of SARS coronavirus. PLoS Pathogens, 13(11), 1–27. https://doi.org/10.1371/journal.ppat.1006698
Feng, Y., Huang, J., Wu, J., Xu, Y., Chen, B., Jiang, L., Xiang, H., Peng, Z., & Wang, X. (2020). Safety and feasibility of umbilical cord mesenchymal stem cells in patients with COVID‐19 pneumonia: A pilot study. Cell Proliferation, 53(12), 1–8. https://doi.org/10.1111/cpr.12947
Frey, Annie. Jan 19, 2021. Media goes after Trump supporters/conservatives, call for 'deprogramming'. https://www.radio.com/971talk/news/politics/media-goes-after-trump-supporters-call-for-deprogramming
Golston, Hilary. Jan 15, 2021. Michigan police make plans for Capitol safety, lawmakers cancel sessions. https://www.fox2detroit.com/news/michigan-police-make-plans-for-capitol-safety-lawmakers-cancel-sessions
Guynn, Jessica. Jan 15, 2021. 'They want to take your speech away,' censorship cry unites Trump supporters and extremists after Capitol attack. https://www.usatoday.com/story/tech/2021/01/15/censorship-trump-extremists-facebook-twitter-social-media-capitol-riot/4178737001/
Johnson, Ted. Apr 13, 2020. CNN, MSNBC Cut Away From Donald Trump's Coronavirus Briefing As Anchors Protest Airing Of "Propaganda" Video. https://deadline.com/2020/04/coronavirus-cnn-msnbc-donald-trump-1202907481/
LeBlanc, Beth. Oct 12, 2020. High court: Whitmer's orders have 'no continuing legal effect'. https://www.detroitnews.com/story/news/local/michigan/2020/10/12/michigan-high-court-whitmer-orders-have-no-continuing-legal-effect/5970809002/
Marill, Michele Cohen. Oct 12, 2020. What Happened Other Times a Vaccine Was Rushed? https://www.webmd.com/vaccines/covid-19-vaccine/news/20201013/what-happed-other-times-a-vaccine-was-rushed
Nissen, Jack. Jan 13, 2021. AG Nessel: the Michigan Capitol is still "not safe" despite ban on open carry. https://www.fox2detroit.com/news/ag-nessel-the-michigan-capitol-is-still-not-safe-despite-ban-on-open-carry
Oosting, Brian. Oct 27, 2020. Judge: Michigan can't ban open carry guns on Election Day. https://www.bridgemi.com/michigan-government/what-michigan-should-know-about-proposal-2-require-warrants-digital-data
Sandler, Rachel. Jan 14, 2021. These Companies Are Paying Workers To Get Vaccinated. https://www.forbes.com/sites/rachelsandler/2021/01/14/these-companies-are-paying-workers-to-get-vaccinated/?sh=7a0fc61b4f23
Schellong, Megan. Nov 4, 2020. Windows in counting room at Detroit TCF Center being covered. https://www.wlns.com/news/michigan/windows-in-counting-room-at-detroit-tcf-center-being-covered/
Shepardson, David. Jan 18, 2021. Biden to block Trump's plan to lift COVID-19 European travel restrictions. https://fox8.com/news/sources-president-trump-lifting-covid-19-travel-restrictions-on-europe-uk-brazil/
Starr, Barbara, Oren Liebermann & Zachary Cohen. Jan 19, 2021. 12 Army National Guard members removed from inauguration duty. https://www.cnn.com/2021/01/19/politics/national-guard-removed-inauguration-duty/index.html
Suciu, Peter. Jan 11, 2021. Do Social Media Companies Have The Right To Silence The Masses – And Is This Censoring The Government? https://www.forbes.com/sites/petersuciu/2021/01/11/do-social-media-companies-have-the-right-to-silence-the-masses--and-is-this-censoring-the-government/?sh=1ffa36db48e2
Turley, Jonathon. Nov 12, 2020. Big League Censorship? Michigan Attorney General Threatens Criminal Prosecution Over Posting Of Video Alleging Voter Fraud. https://jonathanturley.org/2020/11/12/big-league-censorship-michigan-attorney-general-threatens-criminal-prosecution-over-posting-of-video-alleging-voter-fraud/
WHO.int. World Health Report 2007. World Health Organization. https://www.who.int/whr/2007/whr07_en.pdf
Wikipedia.org. Jan 19, 2021. Donald Trump. https://en.wikipedia.org/wiki/Donald_Trump
trump
Amanda is a wife, mom, and lifelong student from the suburbs of Metro-Detroit. She writes with the passion of a questionable mind. Any donations are appreciated!
Receive stories by Amanda Spradlin in

your feed