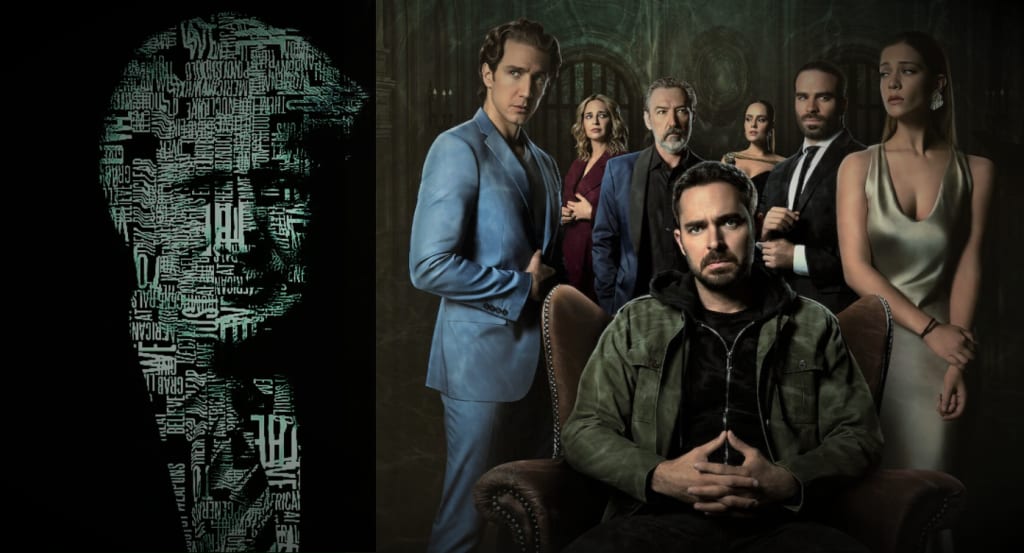 Artwork by the author using Canva | Source Netflix and Pixabay
Chilean writer José Ignácio "Chascas" Valenzuela is the creator and producer of Who Killed Sara? In an exclusive interview with Radio Futuro, El Chascas explains how Donald Trump inspired the binge-worthy Netflix series.
Learning about Valenzuela's criticism of the Trump administration and his ordeal with Chilean policies provided new insight into the TV series leitmotivs. So, when I looked at the bigger picture, I could see beyond the melodrama and murder mystery that inspired me to write Everything I Know About Who Killed Sara on Netflix.
Eventually, I realized how we could better understand Valenzuela's acclaimed TV series from an overarching socially aware perspective deftly embedded in an autobiographical background.
There's More José in "Sara" Than We Know
Valenzuela usually doesn't use elements from his own life when writing, but he finds it "interesting in some circumstances." He resorted to that source in the audio series 'Gente Como Yo' (Storytel, 2019).
The author explains how the series is about a same-sex couple who decide to become parents after many years in a relationship. "What begins as the search for a perfect dream ends up becoming a challenging situation that puts the couple at risk."
Mauricio and Jimmy are the protagonists in "Gente Como Yo." We will find a similar narrative in Who Killed Sara? regarding José María (Chema). "Chema" lives with his partner, Lorenzo, and they are set on parenthood, thus looking for a surrogate willing to carry a pregnancy. Chascas relives his life struggles through the eyes of Chema in some of the series most vivid scenes.
"Me atribuyo licencia para inventar."― José Ignacio Valenzuela
Valenzuela also explained how his emotions lead him to write Sara like an emotional catharsis deriving from the fact that people in places of power tend to engage in all sorts of abuses and corruption.
During the interview, José clarifies: "I always write about what I dislike because that has already been resolved. The last TV series I wrote for Chile was 'Lady and Worker' because I don't like Chile's classism. That's why I also wrote 'Who Killed Sara' because it's my way of making peace with myself."
"I lived the explosion here in the United States. I lived it with anguish, with rage. With the illusion that the claim that the entire citizenry had been demanding, I thought that finally, the ruling class had seen it. But it turned out to be nothing like that."
Who Killed Sara?: Trump's Missing Link
In 2019, while José Ignacio was writing Sara's script, Donald Trump's bravados were escalating in tone even if the magnate was already singing the swan song.
Valenzuela depicts the former U.S. President with the darkest colors for his maleficent nature, pointing out how he incarcerated children, committed sexual atrocities against women while leaching out deranged rants. I immediately made the analogy between Trump and the protagonist César Lazcano.
"Trump's racist and xenophobic speech leads a psychopath to pick up a gun and go out to kill Latinos. In the attack, a father and a mother die protecting their baby, who is orphaned. And Trump takes a picture, smiling and thumbs up, with that same baby. Nauseating."
José Ignacio also recalls a specific rant from Donald Trump in 2016: "I could stand in the middle of Fifth Avenue and shoot somebody, and I wouldn't lose voters."
The quote immediately sends me back to the scene when César goes up to the balcony with what seems to be an assault rifle and takes a shot at the protesters outside his mansion, hitting a woman. We are in shock for a fraction of a second but then realize how a paintball hit the protester. Afterward, we watch César drive away as if nothing had happened.
Hence, the trigger for Who Killed Sara? seems to be the feeling of impunity that spawns like wildfire among the elites under Donald Trump's rule in the United States and Sebastián Piñera's in Chile. Valenzuela lashes out at Trump, blaming the tycoon for turning the U.S. "into a time bomb of hate, racism, and homophobia, and nothing happened to him."
"Yo escribo de lo que me molesta, no escribo de lo que me gusta." — José Ignacio Valenzuela
In addition to the United States' reality during Donald Trump's administration, "Chascas" was troubled by Chile's drama. Piñera had been denounced for a series of mutilations and tortures, and again nothing happens. On the other hand, "someone commits a crime unintentionally and ends up in prison for years," explains Valenzuela in what seems to be a reference to Alex Guzman being wrongfully imprisoned in Who Killed Sara?
The analogy between Donald Trump and César Lazcano seems recurrent throughout the series. Furthermore, it's amplified at the end of the season. The final scenes entice the audience to believe César Lazcano is the evil mastermind behind Sara's demise. Even if the patriarch insists he's not a killer when confronted by Elisa.
"🎤 We talked to Chascas Valenzuela: "I don't write about what I like, but about what bothers me. And I started writing the series in Donald Trump's administration. "Quien Mató a Sara" is a series of revenge of someone who got bored of the abuse of the powerful."
Final Thoughts
Learning more about the author of Who Killed Sara has further expanded my perspective on the scope of Netflix's most popular TV series from 2021 so far.
After writing my review about Sara, I went back to watch Valenzuela's masterpiece for a second time. I was looking for loose ends and new clues, but I realized how its intricate sub-plots are left open to a point where everything becomes possible.
Hence, I gave up on trying to solve the mystery and decided to have a look at the author instead. Reading about El Chascas gave me a glimpse into his heart and mind and finally helped me understand Who Killed Sara.
"A veces para poder seguir viviendo, hay que morir y dejar atrás lo que uno fue." — José Ignacio Valenzuela, El árbol de la vida
___________________
Thanks for reading this article. You can check this piece for more in-depth information about "Who Killed Sara." Feel free to come back at any time and pick up another thread from my Vocal book of content by clicking here. Small tips and big hearts are highly appreciated. Till next time, cheers.
-Rui
About the Creator
I write to find the surrogate writer in me.
Rui is a graduate of the University of Porto, teacher, and life-coach.
He is also a partner of Rock n'Heavy and the founder of ZENite.
Reader insights
Be the first to share your insights about this piece.
Add your insights