Documentary Review: 'American Gadfly' Pays Lovely Tribute to Progressive Icon Mike Gravel
A documentary of optimism in the face of a greed soak political system aiming to keep big ideas at bay, American Gadfly is both entertaining and valuable.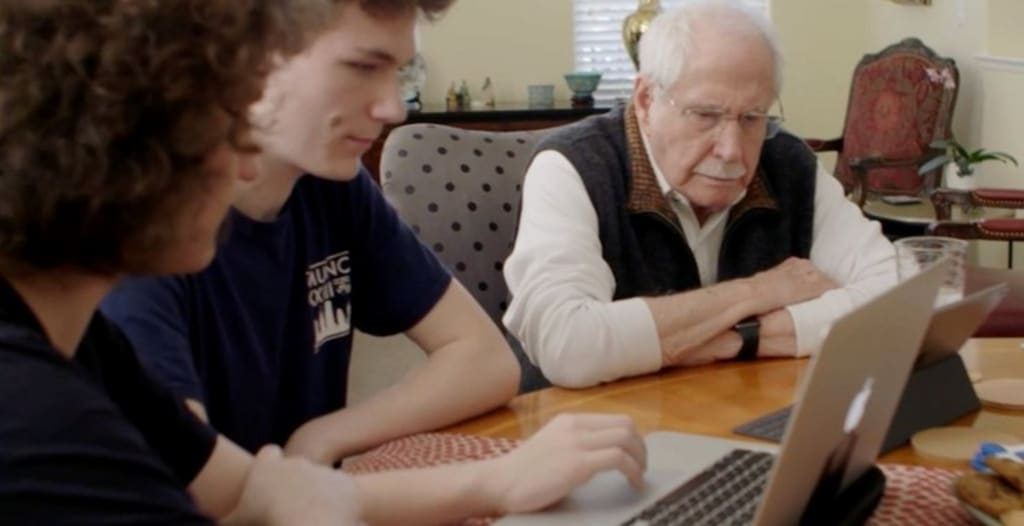 Mike Gravel and teenager Henry Williams strategize in 'American Gadfly'
American Gadfly is one of the most exciting and fun documentaries I have seen in some time. Most political documentaries are so dry that they make great kindling. That's certainly not the case with American Gadfly which is colorful and engaging while also being intelligent, thoughtful and enlightening. If you don't know who former United States Senator Mike Gravel was or you think he was just some crackpot who ran for President a couple of times, this documentary sets the record straight about a hero of Progressive Democratic politics and the generation he so unexpectedly enlivened.
The Senator from Alaska from 1969 to 1981, Mike Gravel rose to fame in the early 1970s when, in the midst of the scandal building from the leak of The Pentagon Papers by government contractor Daniel Ellsberg, Gravel, with help from Noam Chomsky, read a version of The Pentagon Papers into the official record of the Senate using parliamentary procedure to cover the fact that he was releasing top secret information. It was a master stroke that allowed the media to hear what was in the Papers and cleared the legal hurdles that halted the Washington Post and New York Times from publishing the Papers.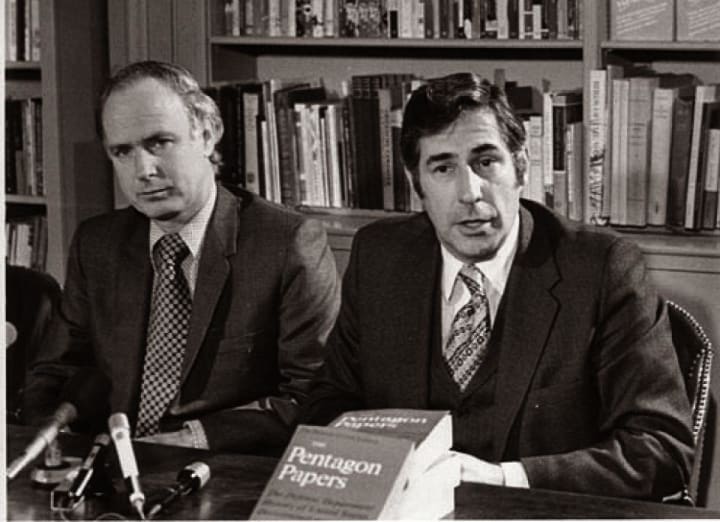 Gravel went from being an obscure Senator from Alaska to being a sought after endorsement among progressive candidates of the 70s. Gravel then lost his Senate seat following his second term and fell away from Politics for a time. Gravel returned to prominence when he ran for President in 2007. His candidacy was widely mocked but he made an impression on many who loved his contentiousness toward the idea of any kind of war. While the media joked about his unusual approach to political marketing, Gravel left an impression, one that lingered well enough that when an ambitious group of Gen Z kids wanted a candidate to represent them, they remembered Senator Gravel.
Henry Williams, David Oks and Elijah Emery were not old enough to vote when they hatched the idea of hacking the 2019-2020 election cycle. All the teens at the center of American Gadfly knew when they started this journey is a distinct dissatisfaction for the candidates being served up in the early stages of the election cycle against President Donald Trump. So they started researching what it would take to draft a candidate and their naïve commitment to this idea led the teens to Mike Gravel. Gravel had a national profile, he had experience and, most importantly, he had a broad Progressive agenda like the ones the teens were looking for.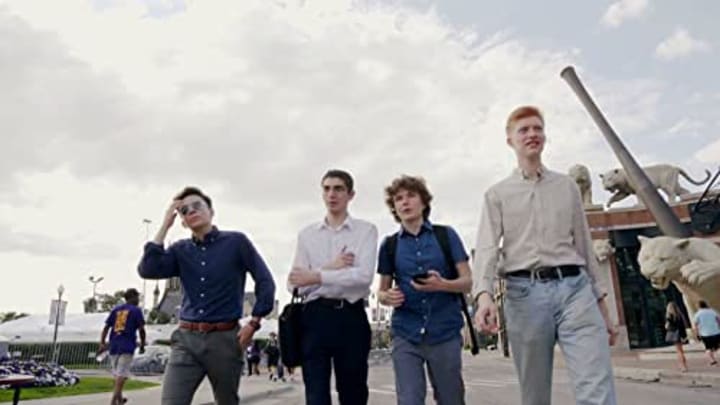 Director Skye Wallin does an outstanding job of capturing the excitement of this unusual group of boys intent on changing the world with tweets, memes and a strong belief in Progressive politics. Their naivety, their youth and their unwillingness to back down led to finding Mike Gravel, pitching him the idea to run for President as a protest candidate, and convincing Gravel that they were serious about turning him into the first social media protest candidate with a chance of actually effecting change.
One terrific sequence in a documentary filled with terrific sequences finds the boys working to file Gravel as a candidate and not realizing that such a filing would garner national attention. They weren't ready for the influx of attention but adjusted quickly and the bump from stories in the New York Times and the Washington Post boosted a profile they were building solely on twitter to that point. A key moment in the documentary was when Gravel gave the teens access to his Twitter account and they set about creating a flame war of epic proportions, roasting the Democratic field in ways that consistently went viral, at least in Progressive circles.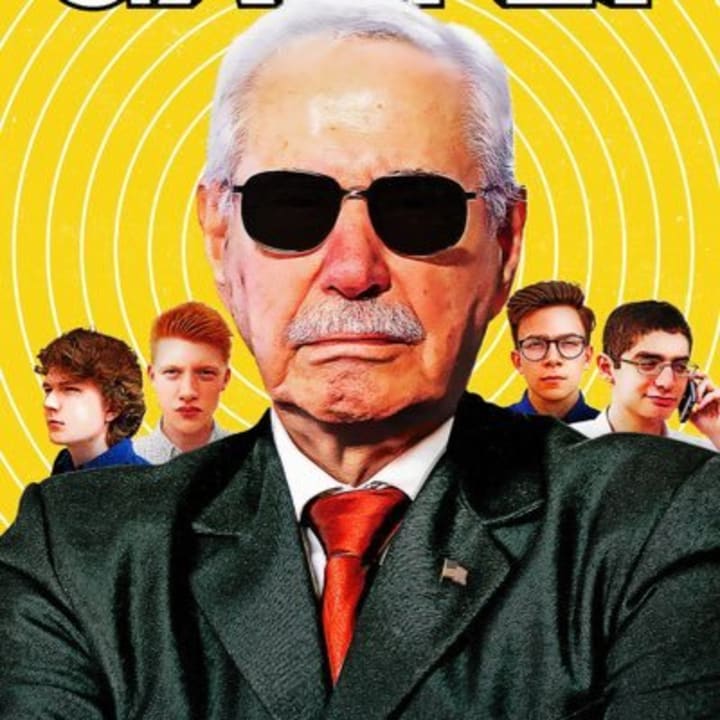 That's the overarching story of American Gadfly and what makes the documentary so valuable. While these teens built an amazing online profile and consistently earned favorable attention among the leftist sphere, they could not counter the millions and millions of dollars that the political machines were pumping into the race. Even when Gravel earned enough in single donors to be included in one of the Democratic Presidential debates, the machine conspired to keep them out and the message is clear, money rules politics. That's the cynical take, the movie is smarter than that, pointing out the cynical while remaining in what passes for optimism among a group of smartass teens who want to change the world one Twitter dogpile at a time.
American Gadfly is powerful for how it shows a group of teens blowing the doors off of the political establishment. And while those doors are immediately back up, the doc makes clear that it won't stop these young people from trying to blow them out all over again. The humor, energy and effort of these young people is inspiring as is the tribute they pay to Senator Gravel, a true old lion of Progressive Politics who is given a loving attention he so richly deserves for his big ideas, optimism and spirited defense of the American people against the rising influence of money in politics. We lose a lot of those battles and continue to lose the battle of cash versus community, but that's no reason to stop fighting and American Gadfly provides a blueprint for keeping up the fight.
American Gadfly debuts on On-Demand streaming rental services on January 4th, 2021.
movie review
About the author
Hello, my name is Sean Patrick He/Him, and I am a film critic and podcast host for Everyone's a Critic Movie Review Podcast. I am a voting member of the Broadcast Film Critics Association, the group behind the annual Critics Choice Awards.