Divorce in the Age of Trump
Studies show that culture and policy in the Age of Trump has precipitated a rise in divorce and ruined relationships.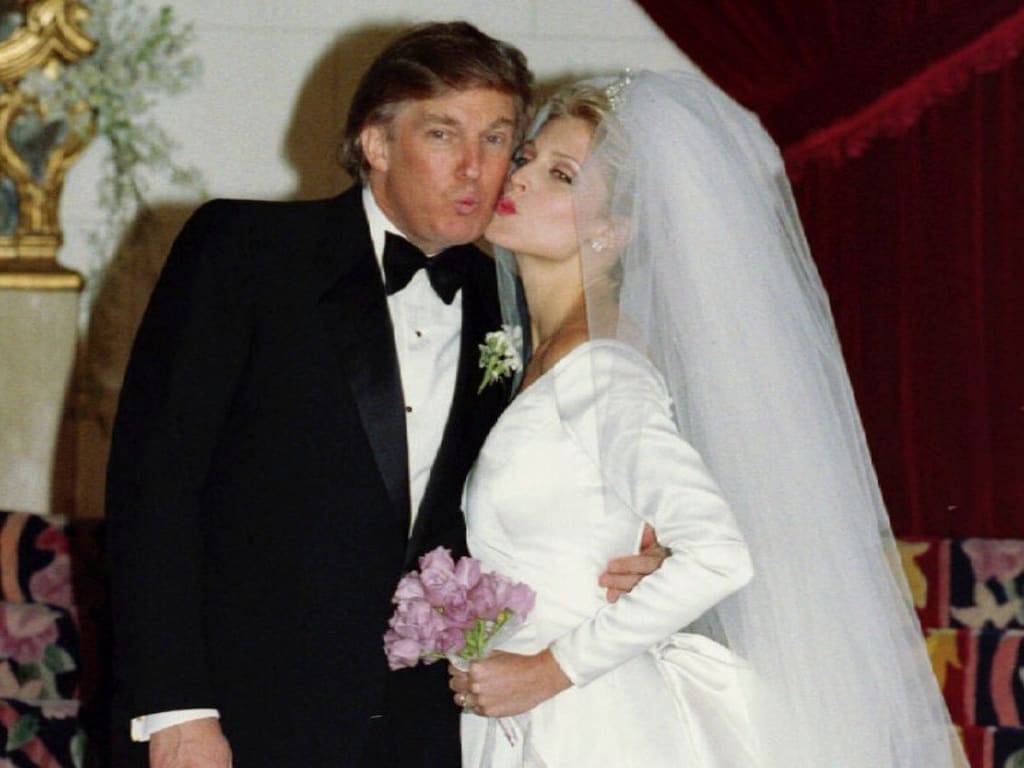 In December of 2016, Time Magazine, citing research from the National Center for Family and Marriage Research, reported that divorce rates had plummeted to a forty-year low and that marriage rates were on the rise. However, less than a year later news outlets began to reporton a Wakefield Research study whose findings painted a very different picture of the state of American romance. It seems that the tides were turning (again), and not in a good way.
What changed? Trump.
The study, titled The Trump Effect on American Relationships was based on a survey issued to some 1,000 people across the United States and touted some pretty staggering statistics:
10% of couples (and 22%) of millennials have ended relationships because of political disagreements
22% of Americans know a couple relationship "has been negatively impacted specifically due to President Trump's election"
24% of Americans in a relationship say "they and their partner have disagreed or argued about politics more than ever" since Trump was elected
33% of Americans (43% of millennials) who did not vote for Trump said they would consider divorcing their spouse if they did so
(Source: International Business Times)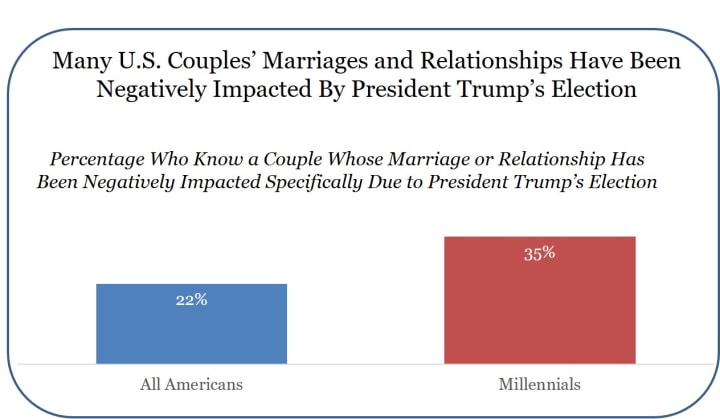 The Wakefield study, it turns out, is just one of many accounts describing the impact Trump's rhetoric and behavior has on romantic relationships. There was "My 22-year marriage didn't survive Trump's election" from the NY Post, The NY Daily News' "Ex-Miami Dolphins cheerleader divorcing Democrat husband over her support for Trump", and "If You Are Married to a Trump Supporter, Divorce Them," via Harper's Bazaar, to name a few. There was also a particular type of relationship acrimony referenced by Amy Butcher in her essay "MIA: The Liberal Men we Love;" Butcher illustrates the phenomenon whereby men who identify as politically liberal minimize the emotional hardship and political activism of their female partners.
While statistics provide us with a wide survey, it's the details in these articles that reveal to us the real-world implications of the Trump era. Muslims found their commitment to America questioned by their partners, immigrants recalled being subjected to xenophobia, and women who viewed the President as openly sexist and misogynistic found themselves loathing the prospect of being locked in endless argument with their Trump-supporting mates. Many couldn't even stay together for the kids.
Divorce in the age of Trump is not just a matter of newfound political discord; there are policy changes at play here, too. Couples who teeter on the brink of divorce may be more inclined to take the plunge thanks to changes in the tax law: The Tax Cuts and Jobs Act, coming in 2019, is cutting a 76-year-old alimony payment deduction. The move is prompting many lawyers to encourage their clients to get divorced before 2019. Someone in the 24% income tax bracket making $250,000, for example, who agrees to $4,000 in alimony per month, was really paying roughly $3,000. That's a big difference, and that difference goes away in 2019.
Partisanship was already high in the US before Trump's presidency. A Pew study on partisanship and political animosity in 2016 revealed that 55% of Democrats said that they fear the GOP and 49% of Republicans felt the same way about Democrats. And if you're a regular voter, that divide goes up to 70% and 62%, respectively. That figure has translated into relationships ending under Trump as well as Trump compromising potential relationships across political divides.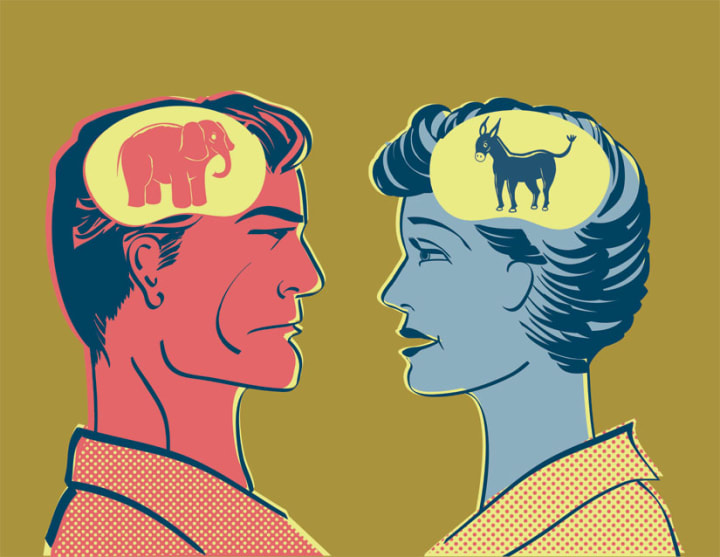 In June of 2017, Match.com found that 91% of liberals say it's a strike against a potential partner if they support Trump. In February of 2017, OkCupid revealed that 72% of its users believe supporting Trump was a deal breaker. eHarmony reported that their female users' interest in politics has increased by 43% since July of 2016 and that a profile that mentions Trump in any context earns a 17% increase in the likelihood of a match saying, "Hello."
Political polarization will only get worse as more and more people gravitate toward those like themselves. The same study from the Pew Charitable Trust discovered that, "[Republicans] with few or no Democratic friends are twice as likely to rate Democrats very coldly than are Republicans with at least some Democratic friends (62% vs. 30%)." This may potentially cause Republicans to only fall further into Trumpism because, as revealed by the Columbia Journalism Review, right-wing media has been uniquely prone to political polarization.
That doesn't bode well for inter-political relationships given that Trump and conservative media traffic in belligerency and falsehood. The Pulitzer Prize winning PolitiFact reported that a combined 69% of Trump's claims earn a rank of (1) mostly false, (2) false, or (3) "pants on fire". And, as reported by a 2017 study from UCLA, "people who hold more socially conservative views were significantly more likely than people with liberal beliefs to find false information about threats credible." Put it all together and you get a recipe for divorce, separation, and fizzling relationships between Democrats and Republicans during the Trump years.
trump
About the author
Everything has a number, even the human soul–23 grams. I'm the human behind the number.
Reader insights
Be the first to share your insights about this piece.
Add your insights