Dear Donald, You Are the New Face of Floyd
"Hey you Whitehouse, ha ha, charade you are."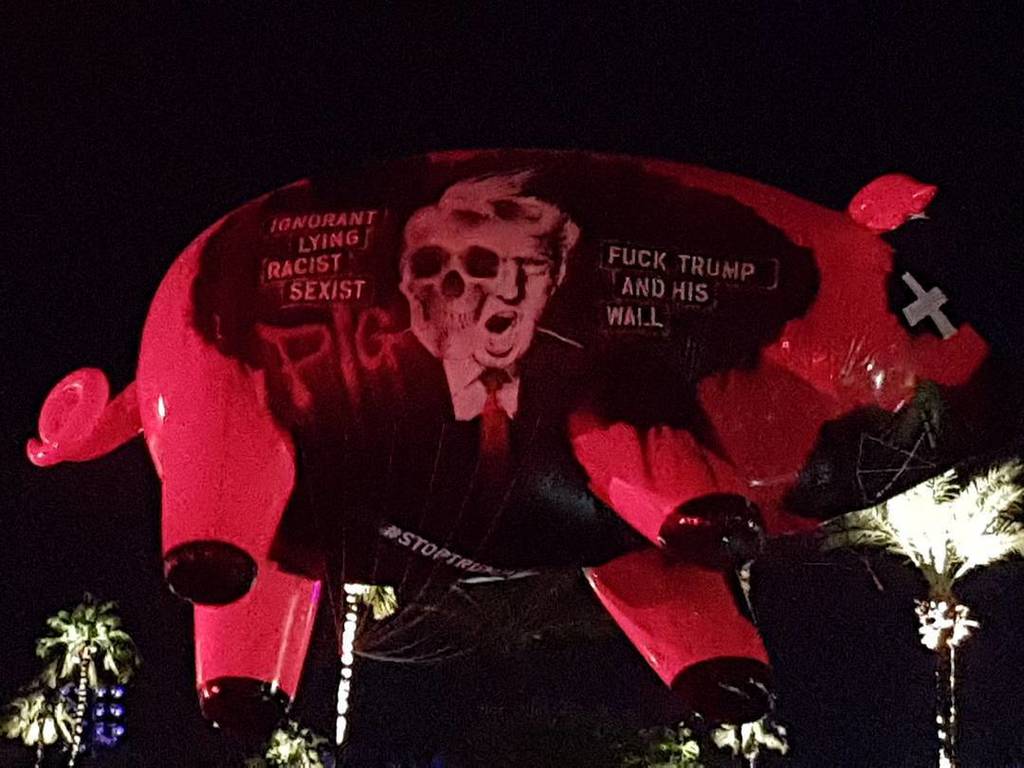 Dear Donald,
I would like to know how well you know your history, specifically of pop culture. I ask because the world of pop culture—especially music—has always reflected on politicians' effects on society. And, honestly, I think you probably already set the bar for yourself back in your "glory days" of entrepreneurship, when you first began to turn into a pig.
If you don't know anything about Pink Floyd and founding member Roger Waters, let me do a little educating for you then. Pink Floyd is one of the seminal bands of the progressive rock scene—a cornerstone of the genre—as well as one of the most legendary bands of all time. Roger Waters is one of the original members and well-known for having some very strong opinions on politicians over the years. With the release of their album Animals, the band took stabs at the corrupt pyramid of society and corporate culture in particular.
They would later incorporate footage of many politicians (left and right-wing alike) and world leaders into their stage shows. For instance, they showed footage of Bill Clinton and George Bush, Sr. alongside Saddam Hussein and Idi Amin when they performed their classic "Brain Damage" during their live concert, Pulse (although Waters was not in the band at this time).
But, Mr. Drumpf, the reason that I point to Animals out of all the other Pink Floyd material is that you are the new face of their iconic pig. You have joined a legacy of other garrulous politicians ranging from Ronald Reagan to Margaret Thatcher. Waters was notably vicious towards Thatcher and now that your presidency is underway, you are in the sights of his ire.
The pig associated with Pink Floyd, besides being an iconic bit of pop culture imagery, represents the greed and avarice of corporate cretins such as yourself. I have no doubt that at some point you crossed Roger Waters' mind and he wrote you off as just another cumbersome suit who liked throwing his money around and showed little respect for the world around him.
But now that you have "graced" us with your presence in the White House, it would have been remiss of Waters to not zero in on you—and he has.
A couple of months ago, I attended Roger Waters' latest leg of his ongoing tour, usually referred to as "An Evening with..." In this case, it was entitled "Us + Them." Perhaps he called it that because of the way you are crafting the world, Mr. Drumpf, where it is "us"—the 99%, the open-minded, the progressives—against "them," who are your people, the ones who follow your every hate-filled speech and inept action as president.
You even showed up at the concert! Well, not you, per se, but your presence was definitely felt. As Waters and his band moved into the Floyd classic "Pigs," screens hanging from the ceiling (in the shape of the factory that is featured on the cover of Animals) showed footage of corporate and conservative America. And, in the midst of the performance, the pig appeared. And your face was on it. And then your face was everywhere: on the screens hanging from the ceiling, on the massive screen behind the band—even the band members themselves donned pig masks and performed a mock gathering of celebratory gluttony.
In case you didn't see any of it in the news, here's a taste: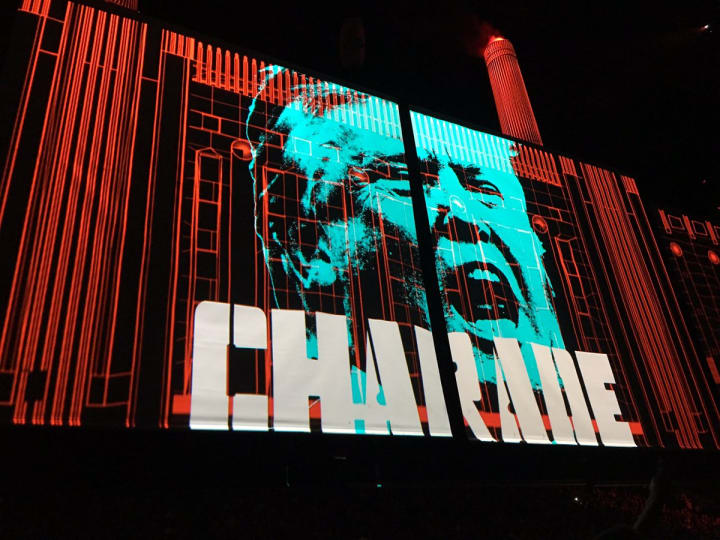 Here's one I took myself just to prove that I saw it happen (and in case you didn't believe me and wanted to write this off as fake news):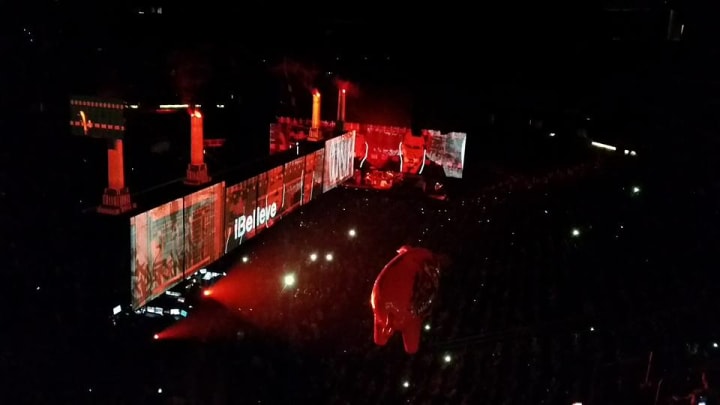 I see you there, piggy. I knew in my heart of hearts that Roger Waters could not pass up an opportunity to emblazon your repulsive face on his swine. And you really—I mean really—live up to the image. Your grotesque mug is so fitting for a song like "Pigs," which condemns the corporate swamp you evolved from before you entered into the political jungle. You've taken your corrupt ideals and flat-out wrong opinions and brought them into the White House. And your views affect the whole world, which means Roger Waters has every damn right to label you exactly what you are: a fucking pig.
Do yourself a favor, Mr. Drumpf. Watch some of the concert footage from Roger Waters' tour. Get off Twitter and look at the images of yourself. Then look at yourself in the mirror. As you do, maybe you'll start to notice some things about yourself. You may notice your skin changing color from orange to pink. You may notice your nose becoming flatter. You may notice your ears becoming slightly more pointed. You may feel a twinge at the top of your behind as a coiled tail emerges from it. You may suddenly find yourself hungry beyond belief and unable to stop consuming. You may hear a distinctive squeal coming from your mouth, instead of the boisterous voice you emit.
But your hair will remain. And that will be good for us, because then we will be able to determine just which pig is the worst of the lot.